Explore Austin's Cultural Arts
Austin is an epicenter of creativity, with a vibrant cultural arts scene. The City supports its creative community by providing funding for a variety of cultural attractions and public art projects. Starting at the Austin-Bergstrom International Airport, visitors are greeted by Plume—an artwork commissioned by the Economic Development Department's Art in Public Places Program, created by artists Clay Odom and Kory Bieg, inspired by moontowers, contrails and local fauna of Austin. The exhibit lights up the night and is a bold reminder that Austin is comprised of very unique and natural ecosystems.
By staying in Austin-area hotels, visitors help support Austin's arts through a dedicated portion of the City's Hotel Occupancy Tax. Explore a variety of eclectic art and cultural experiences in Austin all year-round!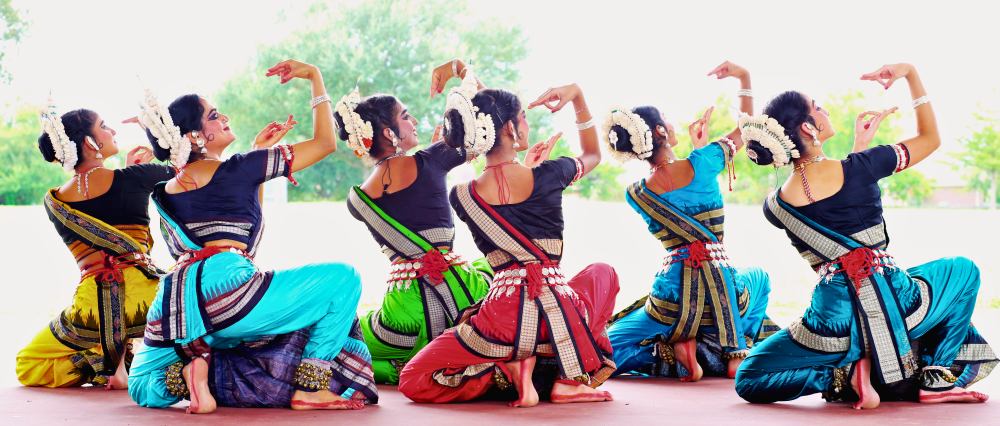 Courtesy of Odissi Dance Company. Photographer: Amitava Sarkar.
Dance, Visual Art & Theater
You'll find dance, theater, and visual art happenings in Austin all year long. Here's just a sampling, find upcoming offerings on their respective websites:
Austin Studio Tour is a celebration of artists that invites the public to experience art and the creative practices of artists around Austin. Free and open to the public, the citywide studio tour encompasses 3 weekends and occurs annually in November. 
For more than three decades, Ballet East Dance Company has remained a performance and training platform for many emerging dance artists. From modern dance to jazz to ballet folklorico, the company presents all kinds of dance genres under one roof.
Dance Africa Fest is a biannual conference of African diaspora dance workshops in the spring and fall. The events focus on African/Black cultural and historical heritage providing dance instruction from some of the most notable and in-demand cultural dance experts. Keep an eye on Dance Africa Fest's website for additional programming throughout the year that showcases work by dancers, musicians, drummers, and artists of the African diaspora.
Odissi Dance Company is an Austin-based Indian classical dance company exploring the traditional and modern indo-western literary classics within the context of traditional Odissi dance with the purpose of introducing audiences to ancient Indian traditions of dance, its enrichment, cultural experience, and preservation. Austin is the host of the annual December North American Odissi Convention, "Kelucharan Guna Keertanam," which gives participants an immersive experience into the world of Odissi dance.
Since 1994, Salvage Vanguard Theater has been creating boundary-pushing and award-winning work in Austin, Texas. Known for their affordable, inclusive, and artistic productions for diverse audiences, foster experimentation and generate conversation.
Spectrum Theatre Company annually creates thought-provoking theater and elevates stories of the human condition as seen through the spectrum of the African American experience.
The VORTEX is an artist-owned repertory theater in East Austin that's internationally recognized for its alternative take on everything from plays to operas. Heading into its 35th season, the Vortex has much to offer all year long: intimate performances, theatrical productions, and workshops.
Women and Their Work Gallery is a nationally recognized art gallery and performance venue and was the first organization in Texas to receive a grant for visual art from the National Endowment for the Arts. You can enjoy art openings and events all year round, check their website.


"REFLECTIONS" by artist Reginald C. Adams. Image by Reginald C. Adams. Commissioned by City of Austin Art in Public Places Program.
African American Cultural and Heritage Facility
Situated within the state-designated Black African American Cultural and Heritage District, the African American Cultural and Heritage Facility (AACHF) offers business support, plus arts, cultural and entertainment programming. The Dedrick-Hamilton House is the restored historic home once owned by one of the first freed slaves in Travis County, Thomas Dedrick, and his son William Dedrick. The home was built circa 1880 in one of the earliest African-American communities in East Austin.
Portraits of Our History, by artist Ryan Runcie, is located on the east wall of the AACHF. The mural features notable African-American figures, including Dedrick Hamilton, Johnny Holmes, Doris Miller, Dorothy Turner, Gary Clark Jr., Mikaela Ulmer and Charles Overton.
Reflections, by Reginald C. Adams and commissioned by the City of Austin's Art in Public Places program, captures important people, places and events in Austin's African-American community. Every year an honoree is selected by the City of Austin's African American Resource Advisory Commission and added to the artwork. See the Reflections portrait guide for more information about the mural. 
The AACHF typically hosts many on-site cultural events beginning in Spring 2023. The facility is open Monday through Thursday from 10:30 a.m. until 2:00 p.m., and Saturday and Sunday by appointment only. Learn more about what's offered at the AACHF in the calendar of events.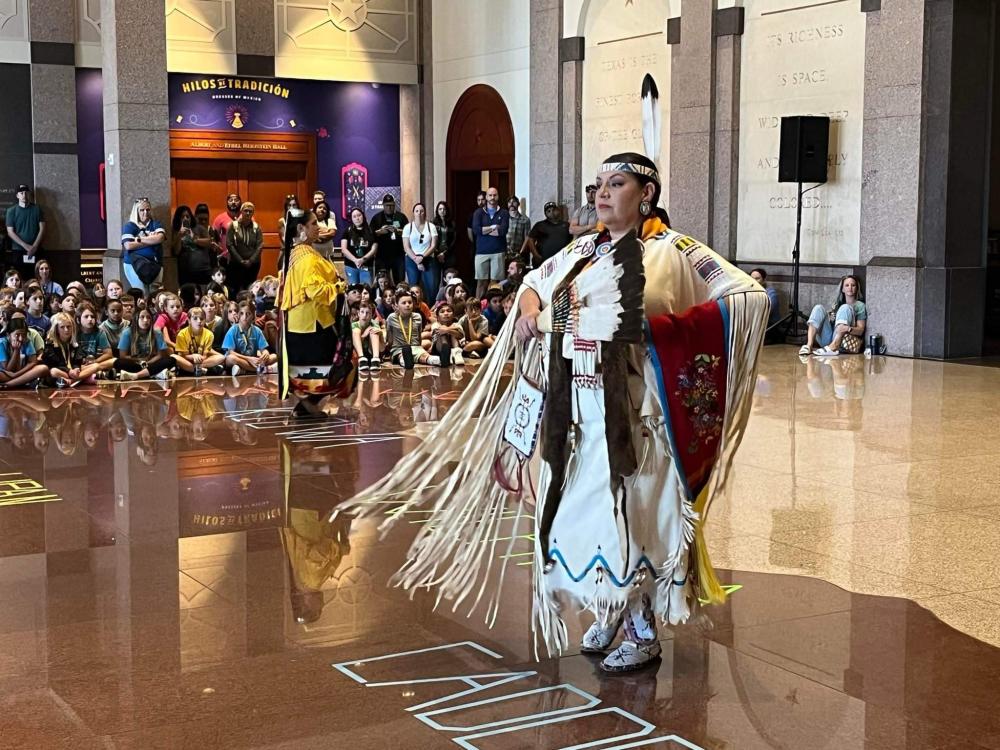 Courtesy of Great Promise for American Indians. Photo by Adam Grumbo.
Cultural Festivals
The Austin Powwow and American Indian Heritage Festival, held annually in early November, presents a fascinating look at the culture of Native American people and is the largest one-day powwow in the United States. The fest includes hundreds of champion dancers from across the country, live music, storytelling, and arts and crafts vendors. Great Promise for American Indians, an Austin 501c non-profit, is the producer of the Powwow.
Centroamericanto Fest takes place annually in early September. The event provides cultural activities from Guatemala, El Salvador, Panama, and more. The weekend includes film screenings, a community fair with food, dancing, vendors, and a music concert.
Annually in September, Eastside Kings Festival occurs in the Rosewood area of East Austin—a location of rich tradition and cultural legacy for Blues and R&B dating back to the post-War era.  The music fest focuses on largely unknown African American musicians and works to present, preserve and promote the cultural heritage of African American Blues, Jazz, and Gospel.
Huapango Sin Fronteras is a family event that occurs annually each Spring, with 2023 marking its tenth anniversary.  The festival features huapango musicians from both the Huasteca and Sierra Gorda regions of Mexico. 
Oita Japan Festival is an annual family-friendly celebration held in late summer, and features Japanese food and drink, kids' activities, JPOP and traditional music, martial arts, and an artisan marketplace. Oita has been a Sister City to Austin since 1990.
OUTsider Film & Arts Festival celebrates the bold originality of LGBTQ+ film, dance, theater, performance art, music, and visual art. This annual festival and conference unites queer artists and audiences from around the globe to exchange ideas and ignite conversations. The festival occurs annually in February.
Rancho Alegre Conjunto Music Festival returns annually for a 3-day festival in the spring, delivering the best and most unique events found anywhere in Conjunto music.
Soul Food Truck Fest was created to unite the community around the African American soul food experience. The family-friendly event coincides annually with East Austin's Juneteenth celebration of African-American food, community, culture, and heritage.
Urban Cultural Fest began as Urban Music Fest, rooted mainly in music. The event is slated for April 2023 and has expanded to include Afrocentric aspects of culture. You can expect not only music—but also cultural markers such as ethnic dance, food, clothing, visual arts, and spoken word—to showcase Austin's diverse Afro-centric culture.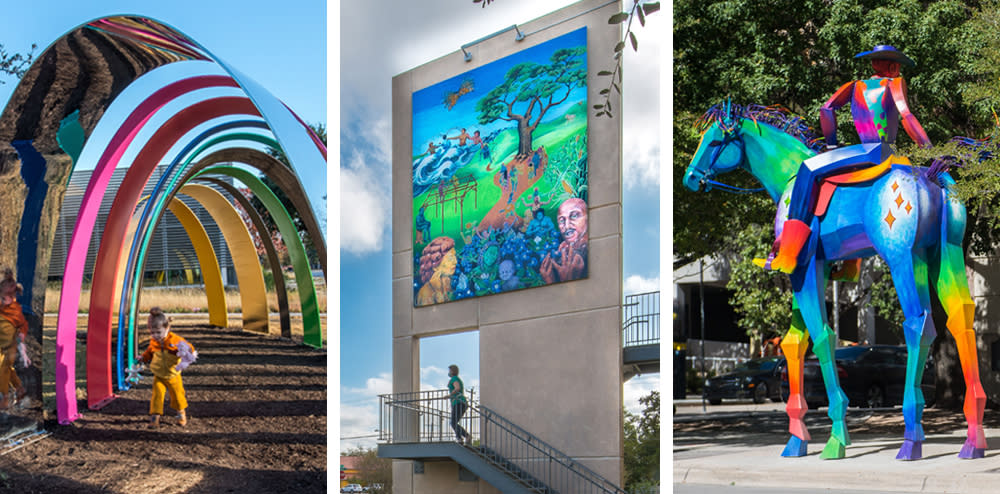 "EVERYWHEN" by artist Agustina Rodriguez; "UNITY AND PRIDE" by artist Peter Ortiz; "END OF THE RAINBOW" by Ion Art. Commissioned by City of Austin Art in Public Places Program. Photos by Philip Rogers.
Art in Public Places
Austin's impressive public art collection, commissioned and conserved by the Art in Public Places program within the City of Austin's Economic Development Department since 1985, offers hundreds of artworks on view 24 hours a day, 365 days a year. The self-guided Art in Public Places walking tour maps and bike routes point visitors to artworks throughout downtown Austin, including the most Instagram-able mural in Austin, Tau Ceti, at the corner of Second and Brazos Streets. Seek out the fun, interactive Kempelen's Owls, a pair of quirky 10-foot sculptures perched one block east of the Austin Central Library. Insider tip: find the hidden mechanism beneath each bench to activate the owls' rotating heads. And tour Austin via Wander, an app-based artwork, that leads visitors on a choose-your-own adventure to learn about historic, quirky and secret sites in Austin, while immersed in a choice of four stories written and illustrated by local authors and artists.
Austin Art in Public Places continually works with local and national artists to commission new artwork. Check out some of Austin's newest public art installations: 
In partnership with the City of Austin's Civilian Conservation Corps, local nonprofit Raasin in the Sun installed the temporary Be Well Murals along the Lamar Underpass to share messages of hope and health in this time of pandemic, created by six local artists: Uloang, Rex Hamilton, Niz G, Samara Barks, Carmen Rangel and Kimmie Flores. (300 N. Lamar Blvd.)
Ambling along Eighth Street just west of Congress Avenue, a rainbow-colored cowboy and his horse harken back to the days when the historic Chisholm Trail passed near Austin. Created by local artists from Ion Art, End of the Rainbow stands over 14 feet tall and features sparkling stained-glass accents. (124 W. Eighth St.)
In the Seaholm EcoDistrict, artist Beili Liu's sculpture Cloud Pavilion visualizes the evaporative process used by the adjacent Austin Energy cooling plant to sustainably provide chilled air for downtown buildings. (812 Electric Dr.)
Explore any of Austin's many neighborhood parks and you will see that nature makes a beautiful and accessible setting for public art. Plan to visit St. John Pocket Park and check out Community Pillar, a sculpture by artist Damon Moseley that tells a visual history of the St. John Community. (889 Wilks Ave).
Artists Gigi Miller's sculpture, Batadillo, can be found by visiting Ricky Guerrero Park. The whimsical, colorful mosaic sculpture stands at seven feet tall and has a 10-foot wingspan! (2006 S. 6th St.)
Chicano Park Mural was recently restored by original artist Ramon Maldonado and Arte Texas artists who share local Chicano history, culture and pride through this vibrant mural found at Martin Pool in Edward Rendon Sr. Park. (1626 Nash Hernandez Senior Rd.)
Everywhen by Agustina Rodriguez tells the unique story of the Montopolis neighborhood's past, present and future, using color, steel and an arched form as cultural code. (1200 Montopolis Dr.)
Austin Art in Public Places isn't the only public art collection in town! Don't miss The Contemporary Austin's inspiring With Liberty and Justice for All by Jim Hodges, installed on The Moody Rooftop at the Jones Center. And plan a visit to James Turrell's The Color Inside Skyspace for a tranquil hour at dawn or dusk, part of the exciting Landmarks public art collection of The University of Texas at Austin.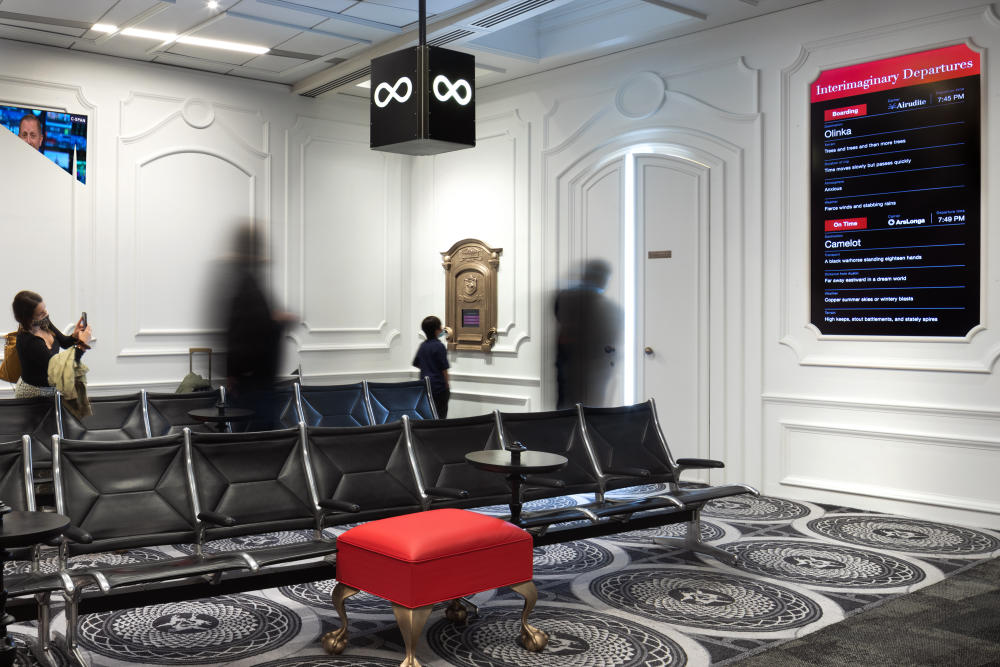 "Interimaginary Departures" by Janet Zweig. Commissioned by City of Austin Art in Public Places Program.
UNESCO City of Media Arts
In 2015, Austin became the first (and only) city in the United States to receive a City of Media Arts designation from UNESCO. The honor underscores Austin's reputation as an innovative global city at the intersection of art, music, film, gaming and multidisciplinary digital experiences.
Festivals such as South by Southwest (SXSW), Austin City Limits Music Festival (ACL Fest) and the Fusebox Festival have made Austin a premier cultural destination.
As a member of the UNESCO Creative Cities Network (UCCN), Austin works individually and in partnership with other UNESCO cities to promote creativity and the integration of culture into urban development plans. Through the designation, Austin artists are given opportunities to exhibit locally and participate in international cultural exchange programs with other UNESCO Creative Cities.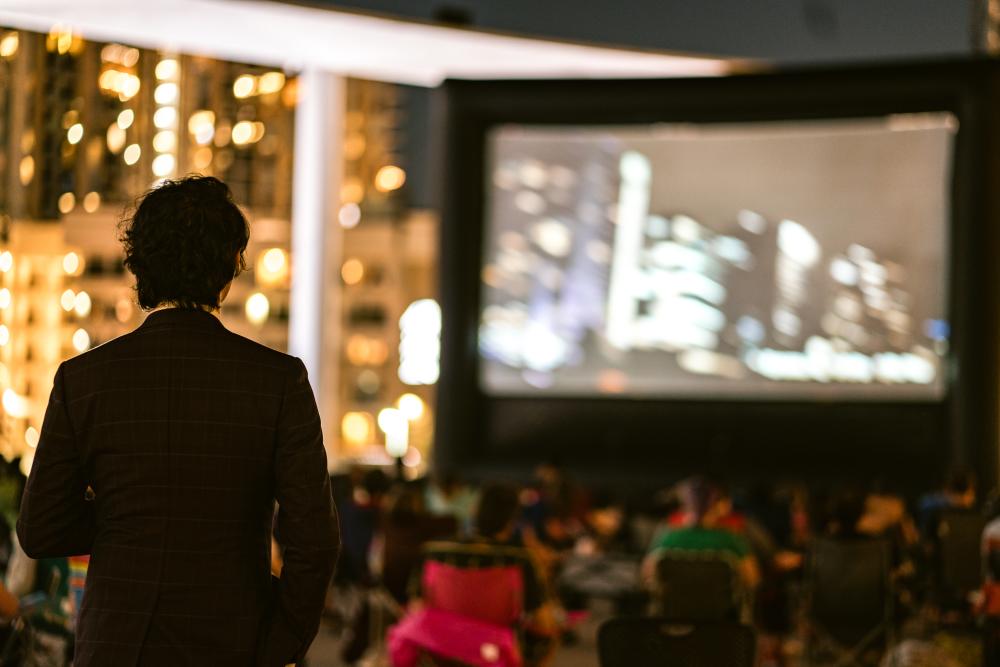 Courtesy of Austin Asian American Film Festival. Photographer: Ray Lloyd.
ICONIC AUSTIN FILM
The Austin Film Society (AFS) was founded in 1985 by esteemed filmmaker Richard Linklater, known for the hit film Dazed and Confused (starring Austin's own Matthew McConaughey), as well as School of Rock and Boyhood. AFS also hosts the annual Texas Film Awards and manages AFS Cinema, an ambitiously programmed repertory and first-run arthouse with broad community engagement. Austin hosts a wide range of film festivals throughout the year. Some fests to check out:
All Genders, Lifestyles, and Identities Film Festival (aGLIFF)
In August 2023, aGLIFF will host Prism 36—a film festival that screens features, documentaries and shorts. Additionally, aGLIFF curates a monthly series called Queer Spectrum, full of screenings and events, which celebrates LGBTQ+ stories year-round.
Austin Asian American Film Festival
With a focus on Asian and Asian-American storytelling via media arts, the flagship annual film festival takes place June 21-25, 2023. Check their website for year-round community screening events, highlighting new Asian and Asian American films.
Austin Film Festival
In addition to an eight-day film festival and four-day conference, the Austin Film Festival offers year-round events, a young filmmakers program, a TV show, radio show, podcast and more. Join for the 30th Annual Austin Film Festival & Writers Conference from October 26-November 2, 2023.
Cine Las Americas Film Festival
Now in its 25th year, this festival celebrates Latino, Latina, American Indigenous and Ibero-American filmmakers and their stories, while showcasing contemporary films and videos from Latin America, as well as those made by or about Latinos in the U.S. and around the world. Check out the festival June 7-11, 2023.
Indie Meme Film Festival
The award-winning Indie Meme Film Festival (IMFF) celebrates independent cinema, bringing the best of South Asian and Iranian cinema to audiences through in-person screenings, Q&A's, mixers and filmmaker events. IMFF2023 is set for April 12-16, 2023. Check out their year-round film events in Austin, too.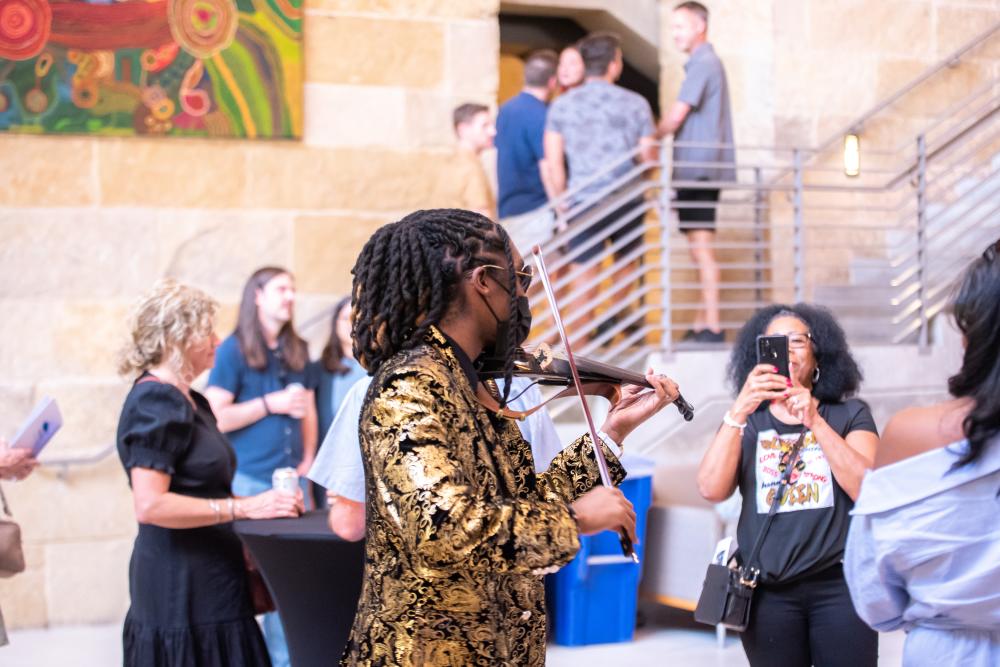 City of Austin People's Gallery Opening Event. Photographer: Dave Pedley.
The People's Gallery
Since 2005, Austin City Hall has hosted The People's Gallery, a showcase of works by Austin artists and arts organizations. The People's Gallery reflects the artistic diversity of Austin, with more than 140 artworks displayed (and many for sale) throughout City Hall.
Learn more about City of Austin Economic Development Department programs and their role in the development of Austin's creative economy. And connect with us on Facebook @CityofAustinArts.
Photo of "PLUME" by artists Clay Odom and Kory Beig; Commissioned by the City of Austin Art in Public Places Program. Photo by Philip Rogers.
Austin Art Events & Shows