Explore Austin's Cultural Arts
The health and well-being of our local community and visitors is vital. Travelers to Austin should continue to observe the recommendations of national and local public health officials. To learn about Austin's health and safety protocols,   click here  . For the latest status of each featured attraction or event, please consult the provided website.
Austin is an epicenter of creativity, with a vibrant cultural arts scene. The City supports its creative community by providing funding for a variety of cultural attractions and public art projects. By staying in Austin-area hotels, visitors help support Austin's arts through a dedicated portion of the City's Hotel Occupancy Tax. Explore a variety of eclectic art and cultural experiences in Austin all year-round!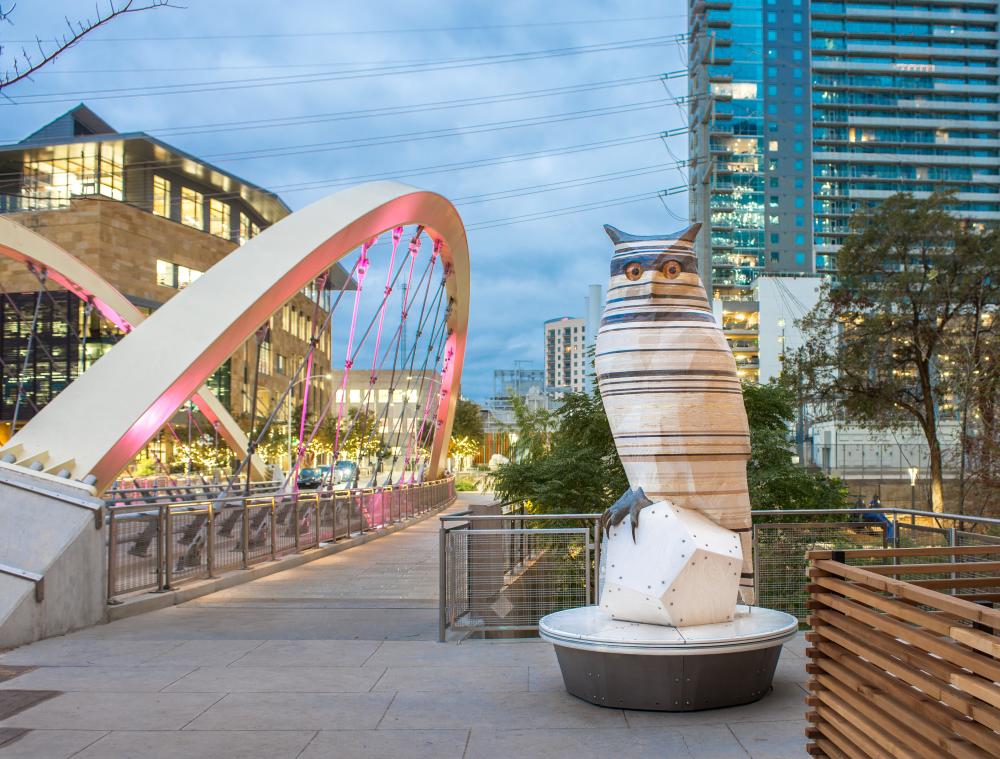 "KEMPELEN'S OWLS" by New American Public Art. Commissioned by City of Austin Art in Public Places Program. Photo by Philip Rogers.
UNESCO City of Media Arts
In 2015, Austin became the first (and only) city in the United States to receive a City of Media Arts designation from UNESCO. The honor underscores Austin's reputation as an innovative global city at the intersection of art, music, film, gaming and multidisciplinary digital experiences. Festivals such as South by Southwest (SXSW), Austin City Limits Music Festival (ACL Fest) and the Fusebox Festival have made Austin a premier cultural destination.
As a member of the UNESCO Creative Cities Network (UCCN), Austin works individually and in partnership with other UNESCO cities to promote creativity and the integration of culture into urban development plans. Through the designation, Austin artists are given opportunities to exhibit locally and participate in international cultural exchange programs with other UNESCO Creative Cities.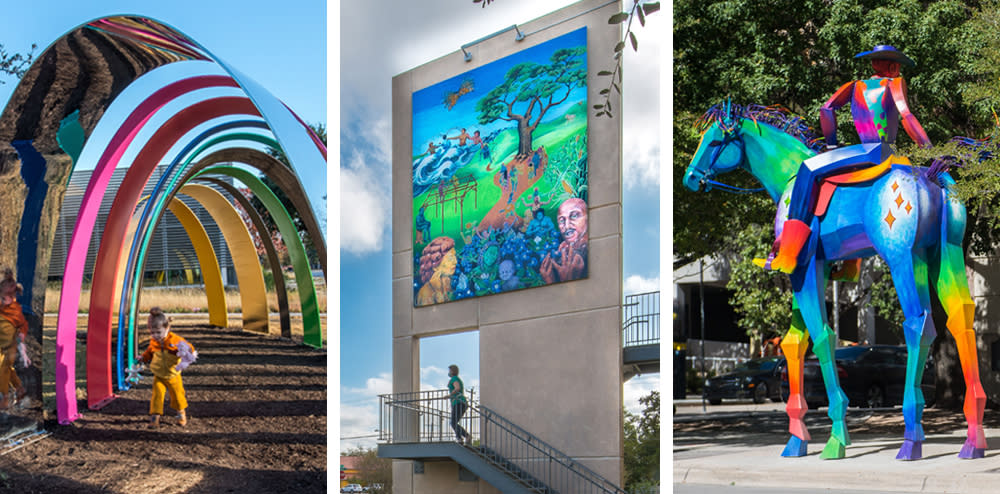 "EVERYWHEN" by artist Agustina Rodriguez; "UNITY AND PRIDE" by artist Peter Ortiz; "END OF THE RAINBOW" by Ion Art. Commissioned by City of Austin Art in Public Places Program. Photos by Philip Rogers.
Art in Public Places
Austin's impressive public art collection, commissioned and conserved by the Art in Public Places program within the City of Austin's Economic Development Department since 1985, offers hundreds of artworks on view 24 hours a day, 365 days a year. The self-guided Art in Public Places walking tour maps and bike routes point visitors to artworks throughout downtown Austin, including the most Instagram-able mural in Austin, Tau Ceti, at the corner of Second Street and Brazos. Seek out the fun, interactive Kempelen's Owls, a pair of quirky 10-foot sculptures perched one block east of the Austin Central Library. Insider tip: find the hidden mechanism beneath each bench to activate the owls' rotating heads. And tour Austin via Wander, an app-based artwork, that leads visitors on a choose-your-own adventure to learn about historic, quirky and secret sites in Austin, while immersed in a choice of four stories written and illustrated by local authors and artists.
Austin Art in Public Places continually works with local and national artists to commission new artwork. Check out some of Austin's newest public art installations: 
In partnership with the City of Austin's Civilian Conservation Corps, local nonprofit Raasin in the Sun installed the temporary Be Well Murals along the Lamar Underpass to share messages of hope and health in this time of pandemic, created by six local artists. (300 N. Lamar Blvd.)
Ambling along Eighth Street just west of Congress Avenue, a rainbow-colored cowboy and his horse harken back to the days when the historic Chisholm Trail passed near Austin. Created by local artists from Ion Art, End of the Rainbow stands over 14 feet tall and features sparkling stained-glass accents. (124 W. Eighth St.)
In the Seaholm EcoDistrict, artist Beili Liu's sculpture Cloud Pavilion visualizes the evaporative process used by the adjacent Austin Energy cooling plant to sustainably provide chilled air for downtown buildings. (812 Electric Dr.)
Chicano Park Mural was recently restored by original artist Ramon Maldonado and Arte Texas artists who share local Chicano history, culture and pride through this vibrant mural found at Martin Pool in Edward Rendon Sr. Park. (1626 Nash Hernandez Senior Rd.)
Everywhen by Agustina Rodriguez tells the unique story of the Montopolis neighborhood's past, present and future, using color, materials and an arched form as cultural code. (1200 Montopolis Dr.)
Austin Art in Public Places isn't the only public art collection in town! Don't miss The Contemporary Austin's inspiring With Liberty and Justice for All by Jim Hodges, installed on The Moody Rooftop at the Jones Center. And plan a visit to James Turrell's The Color Inside Skyspace for a tranquil hour at dawn or dusk, part of the exciting Landmarks public art collection of The University of Texas at Austin.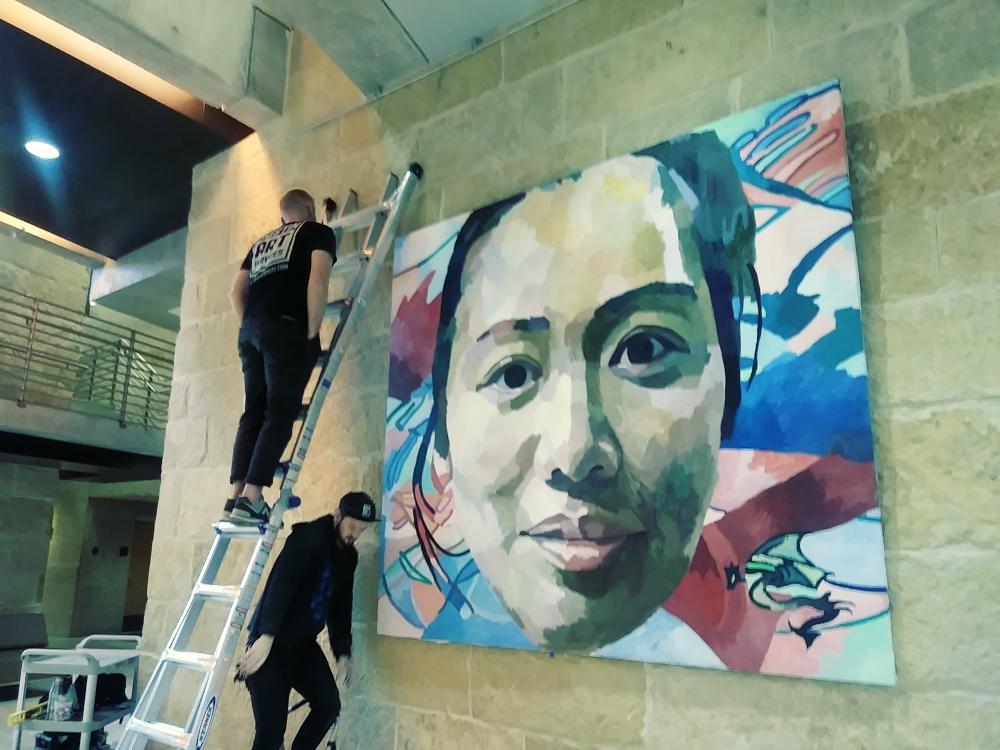 "TRACY" by Owen Dodgen. Photo by Philip Rogers. Courtesy of the artist.
The People's Gallery
Since 2005, Austin City Hall has hosted The People's Gallery, a showcase of works by Austin artists and arts organizations. The People's Gallery reflects the artistic diversity of Austin, with more than 140 artworks displayed (and many for sale) throughout City Hall.

"REFLECTIONS" by artist Reginald C. Adams. Image by Reginald C. Adams. Commissioned by City of Austin Art in Public Places Program.
African American Cultural and Heritage Facility
Situated within the state-designated Black African American Cultural and Heritage District, the African American Cultural and Heritage Facility (AACHF) offers business support, plus arts, cultural and entertainment programming. The Dedrick-Hamilton House is the restored historic home once owned by one of the first freed slaves in Travis County, Thomas Dedrick, and his son William Dedrick. The home was built circa 1880 in one of the earliest African-American communities in East Austin.
Portraits of Our History, by artist Ryan Runcie, is located on the east wall of the AACHF. The mural features notable African-American figures, including Dedrick Hamilton, Johnny Holmes, Doris Miller, Dorothy Turner, Gary Clark Jr., Mikaela Ulmer and Charles Overton.
Reflections, by Reginald C. Adams and commissioned by the City of Austin's Art in Public Places program, captures important people, places and events in Austin's African-American community. Every year an honoree is selected by the City of Austin's African American Resource Advisory Commission and added to the artwork. See the Reflections portrait guide for more information about the mural. 
The AACHF typically hosts many on-site cultural events throughout the year, but currently all City of Austin buildings are closed due to COVID regulations. See the latest AACHF calendar of events, which focuses on virtual events at this time.
In the meantime, The Pivot is a new livestream video podcast hosted by the AACHF that holds space for conversations to be had, with a focus on perspective, equity and inclusion. Each segment also features performances by local musicians. The Pivot airs the first and third Wednesday of the month at 7 p.m. on Facebook @AACHFAustin. Learn more about The Pivot and see a schedule of upcoming episodes.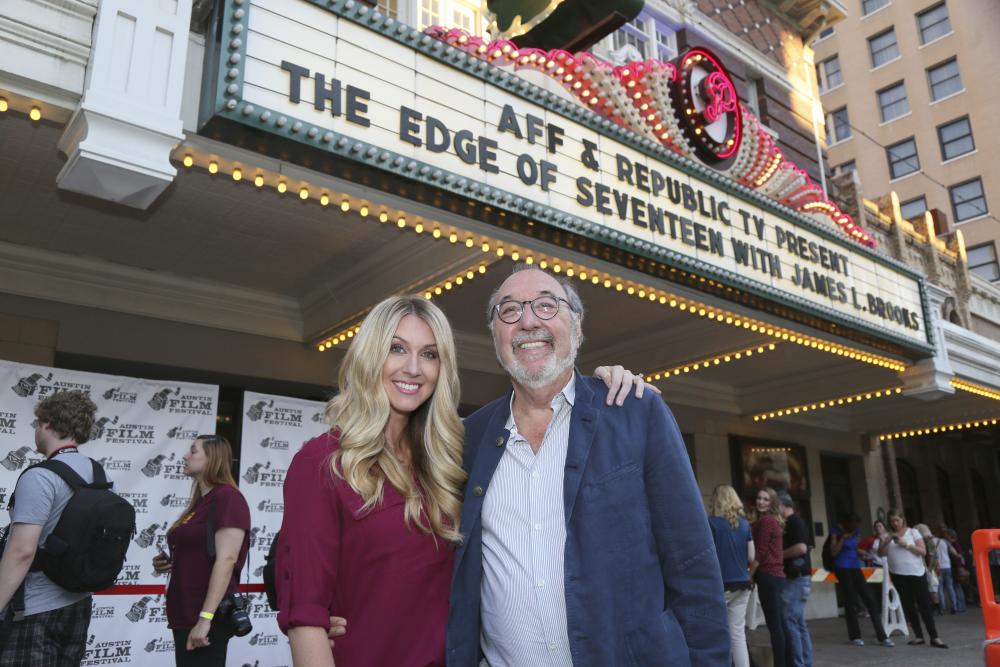 Austin Film Festival. Credit Jack Plunkett.
Iconic Austin Film
The Austin Film Society (AFS) was founded in 1985 by esteemed filmmaker Richard Linklater, known for the hit film Dazed and Confused (starring Austin's own Matthew McConaughey), as well as School of Rock and Boyhood. Although the AFS Cinema is temporarily closed, it's currently showing art flicks and cult classics online.
Austin hosts a wide range of film festivals throughout the year. Check individual festival websites to find out which have pivoted to virtual or drive-in-style during the pandemic. Here are a handful to check out:
Austin Film Festival
In addition to an eight-day film festival and four-day conference, the Austin Film Festival offers year-round events, a young filmmakers program, a TV show, radio show, podcast and more. This year, the Austin Film Festival & Writers Conference is held October 21-28, 2021.
Cine Las Americas Film Festival
Now in its 23rd year, this festival showcases contemporary films and videos from Latin America, as well as those made by or about Latinxs in the U.S. and around the world. Held June 9-13, 2021.
Austin's Capital City Black Film Festival
This festival celebrates the beautiful storytelling and universal perspective of talented African-American filmmakers. Check the festival website for this year's dates.
All Genders, Lifestyles, and Identities Film Festival (aGLIFF)
This festival screens nearly 70 films — including features, documentaries and shorts — over two weekends, while also hosting exclusive online festival events like artist conversations, panels and master classes. The festival typically takes place in August; check the website for dates.
Austin Asian American Film Festival
This festival tells Asian and Asian-American stories via media arts, and helps Asian-Americans explore opportunities in cinema. This year's festival takes place in June 2021, and will be held in a virtual setting, with select film screenings hosted by a local drive-in.
Indie Meme Film Festival
The award-winning Indie Meme Film Festival celebrates independent cinema from South Asia. Held virtually from April 16-18 and April 23-25, 2021, the fest will include screenings of 25 features and shorts, plus live Q&As. See the full schedule.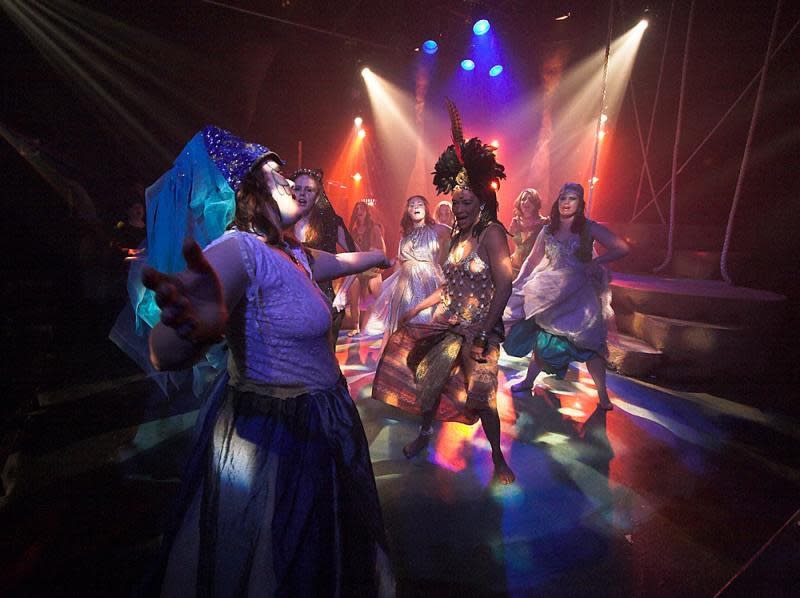 Courtesy of the VORTEX.
You can find cultural arts happenings in Austin any time of year. Here's just a sampling:
The VORTEX is an artist-owned repertory theater in East Austin that's internationally recognized for its alternative take on everything from plays to operas. This year you'll find hybrid forms of theater and ballet, in combination with intimate in-person performances and virtual content, to be enjoyed either masked in the theater or online.
Rancho Alegre Conjunto Music Festival, typically held in spring at Stubb's Waller Creek Amphitheater, presents Conjunto and Tejano performers from all over Texas. The fest is hosted by Rancho Alegre, a nonprofit group devoted to preserving and promoting Conjunto music. See the festival website for this year's dates.
OUTsider Film & Arts Festival celebrates the bold originality of LGBTQ+ film, dance, theater, performance art, music and visual art. This annual festival and conference unites queer artists and audiences from around the globe to exchange ideas and ignite conversations. The festival occurs annually in the spring.
Out of Bounds Comedy Festival Is a week-long deep dive into improv, stand-up and sketch comedy, featuring big-name comedians, as well as rising stars. The festival is currently scheduled to take place September 1-7, 2021.
The Austin Powwow and American Indian Heritage Festival, held annually in early November at the Travis County Expo Center, presents a fascinating look at the culture of Native American people and is the largest one-day powwow in the United States. The fest includes hundreds of champion dancers from across the country, live music, storytelling, and arts and crafts vendors. Great Promise for American Indians, producer of the festival, also presents the Texas American Indian Heritage Day Celebration, held on September 24, 2021 at Austin's Bullock Texas State History Museum.
Austin Music Video Festival (AMVFest) has become one of the top music video festivals in the world, fearlessly showcasing works from independent artists, alongside big names like Childish Gambino, Spike Jonze, The Flaming Lips and Beyoncé. The 6th annual AMVFest will be held December 7-11, 2021.
Learn more about the City of Austin Cultural Arts Division programs and its role in the development of Austin's creative economy. And connect with us on Facebook @CityofAustinArts.
Photo of "Greetings from Austin Mural" (1997). Artists: Stan Brakhage & Rory Skagen.
Austin Art Events & Shows