Taste an Austin Original — The County Line
Since 1975, The County Line has been a tasty staple on Austin's dining scene. The restaurant is best known for its lip-smacking, fall-off-the-bone barbecue served up in generous portions at reasonable prices. And The County Line makes the most of Texas' great outdoors, with two locations that boast scenic views in beautiful, historical settings.
The original location, The County Line on the Hill, is housed in a former speakeasy nestled in the Texas Hill Country. Here, diners can chow down on slow-smoked slabs of pork ribs, extra-lean brisket and spicy German sausage while perched on a breezy stone patio with a breathtaking 20-mile view of rolling hills and spectacular sunsets. Besides barbecue, The County Line on the Hill offers a selection of grilled entrees, including steaks, mixed vegetable skewers and salmon. Sandwiches and tacos (including Tonya's Legendary Brisket Tacos) are also available at lunch.
If you're dining with a group, order from the family-style, all-you-can-eat menu. The Cadillac includes five different smoked meats (including chicken and peppered turkey breast), hefty bowls of potato salad, cole slaw and beans, plus The County Line's famous homemade bread and Blue Bell ice cream for dessert. Large groups of up to 100 people can reserve the private party room, featuring two decks, seven days a week.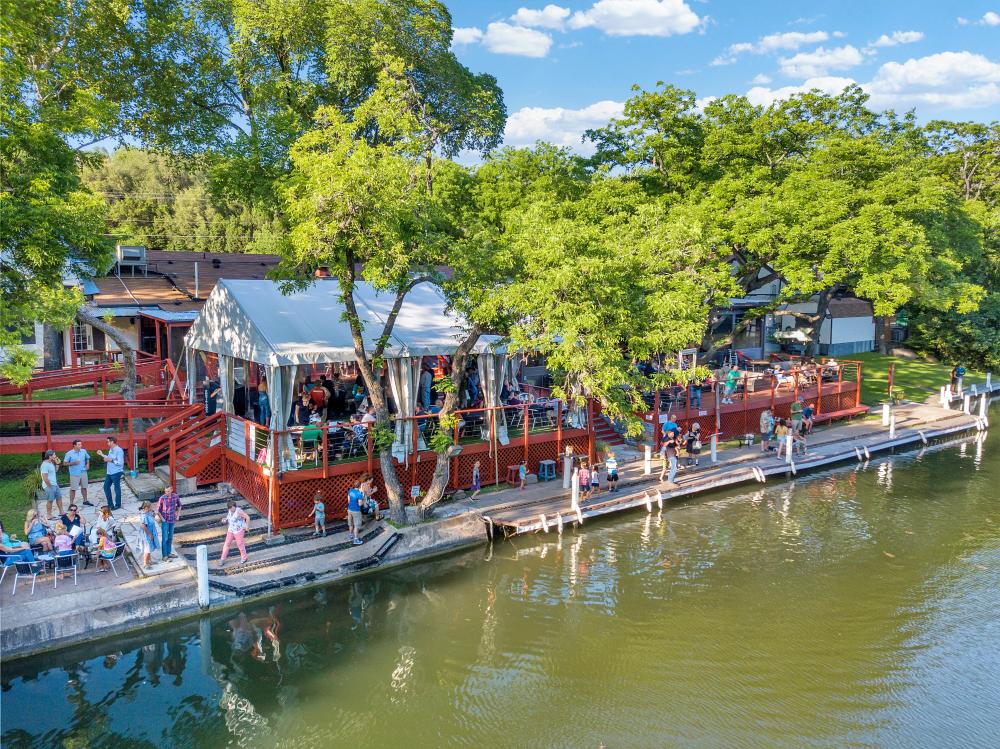 The County Line on the Lake is set in a converted lake lodge that's situated right on Bull Creek, just off Lake Austin. For years, it's been known as the quintessential spot to take out-of-towners visiting Austin. Diners enjoy panoramic water views from the large redwood deck as they sip on cocktails like the Bull Creek mojito or a local craft beer. Begin with an appetizer like Mexican deviled eggs or grilled buffalo wings. Then, dive into one of the Bar-B-Q Platters, including choices like slow-smoked brisket or beef ribs, sided with potato salad, cole slaw and beans. Or, try a Blue Plate Special like the smoked prime rib, offered on the weekends. End your meal with a yummy homemade dessert, such as cobbler or banana pudding.
Several party rooms are available seven days a week for groups of any size. A large party tent can accommodate up to 120 guests, and opens up onto the picturesque lakeside lawn for even larger parties.
Make your reservation at The County Line on the Hill or The County Line on the Lake today (both are only minutes from downtown Austin, but feel so far away)!