VISIT FREDERICKSBURG
A DAY-TRIPPER'S DREAM DESTINATION
Visitors to the Austin area won't want to miss taking a midweek day trip to experience the charm and excitement of Fredericksburg in the scenic Texas Hill Country. Shop and dine along Fredericksburg's famous Main Street, taste locally made wines at picture-perfect vineyards, take off on an outdoor adventure and embrace the history of the town's original German settlers.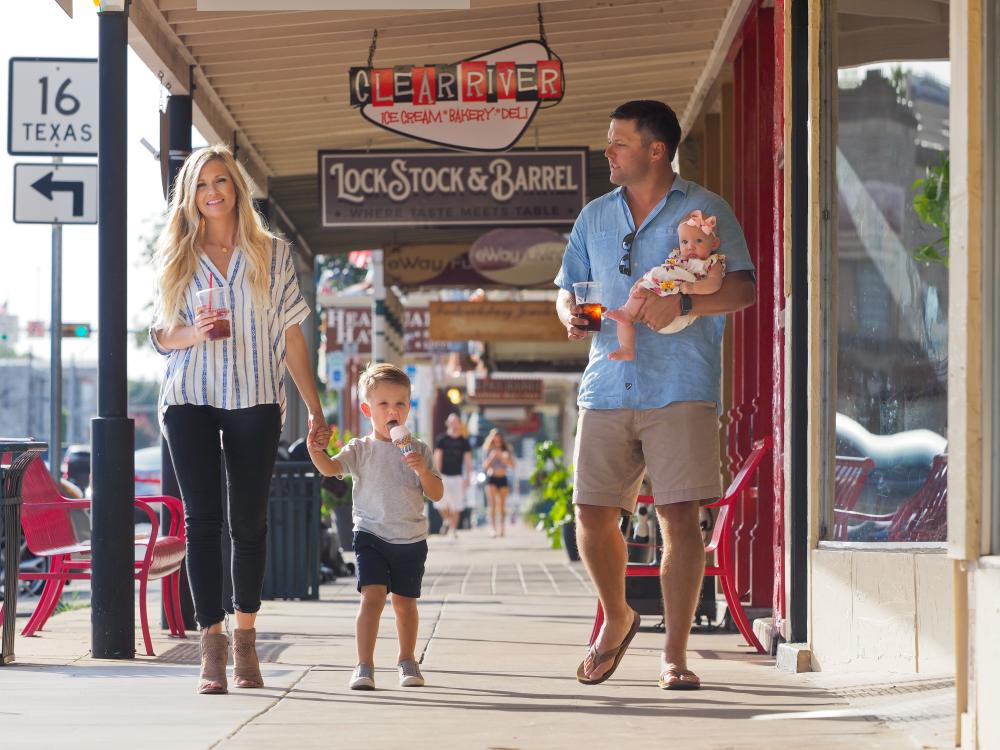 Downtown Fredericksburg. Credit Trish Rawls.
EXPLORE THE TOWN
Fredericksburg, just over an hour west of Austin, is a unique destination in the heart of both the Texas Hill Country and Texas Wine Country. Delight in shopping at more than 150 locally owned boutiques and art galleries on historic Main Street and in the Warehouse District. What treasures can you expect to find? Home décor, antiques, made-in-Germany items and Western wear.
German immigrants arrived in Fredericksburg in the mid-1800s, bringing with them their homeland traditions, including homemade beer and cuisine, and you'll find plenty of that here. But no worries if your palate craves something different — you can't go wrong ordering popular barbecue, Tex-Mex dishes or farm-to-table fare at Fredericksburg's many downtown restaurants. Be sure to check out the town's event calendar as there are great festivals and live music happening year-round.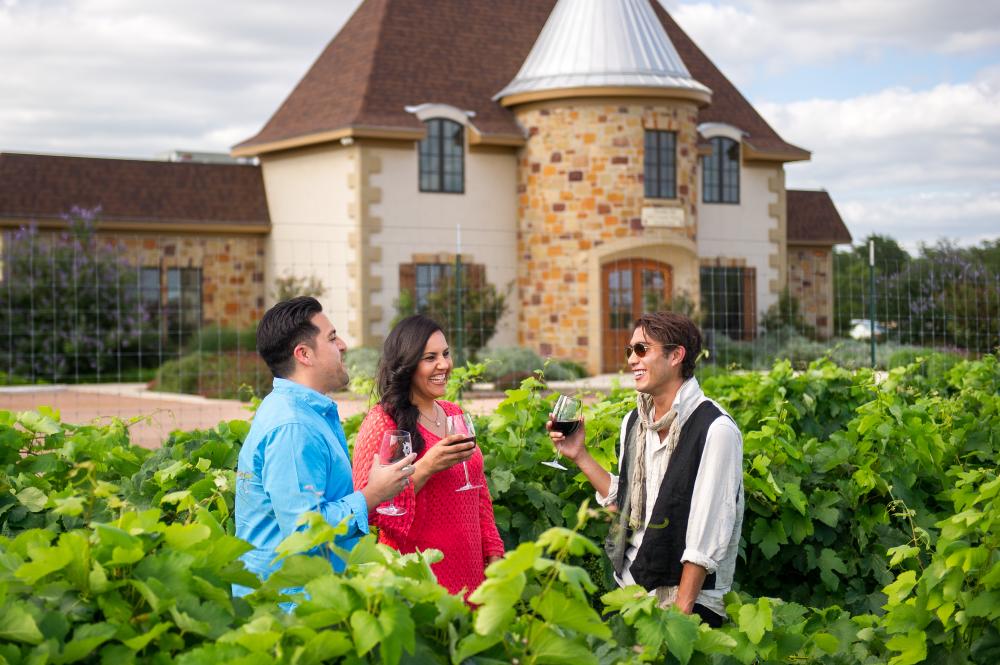 Messina Hof Winery. Credit Blake Mistich.
OUTDOOR ADVENTURES
There are plenty of outdoor activities to enjoy in Fredericksburg. Stop at one of the local orchards in the summer to pick fresh and juicy peaches (a beloved seasonal staple) or walk the endless fields of wildflowers at Wildseed Farms. Visit tasting rooms at more than 60 wineries and vineyards to sip all the award-winning varietals Texas has to offer.
Hike over 8 miles of trails at Enchanted Rock State Natural Area, rewarding yourself with panoramic views from the pink granite summit. While you're in the park, look for lizards and armadillos, explore a cave and spot fairy shrimp in vernal pools. Stay after the sun sets to stargaze at the Milky Way in this designated International Dark Sky Park.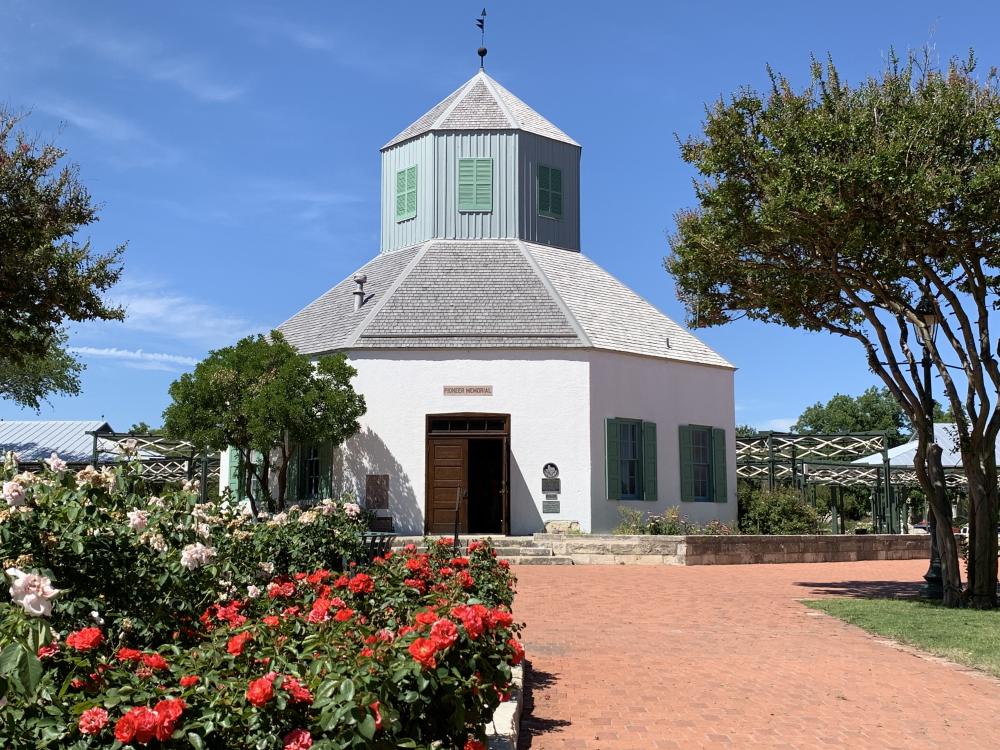 Vereins Kirche Museum. Courtesy of Fredericksburg CVB.
HISTORIC SITES
Infuse some history into your experience by visiting Pioneer Museum to learn about Fredericksburg's fascinating German history. Explore profound exhibits at the Smithsonian-Affiliated National Museum of the Pacific War. Stroll the expansive grounds of the Lyndon B. Johnson National Historical Park to see the birthplace and family home of the country's 36th president. This area also is an International Dark Sky Park, so feel free to linger longer and admire the wonders of the night sky.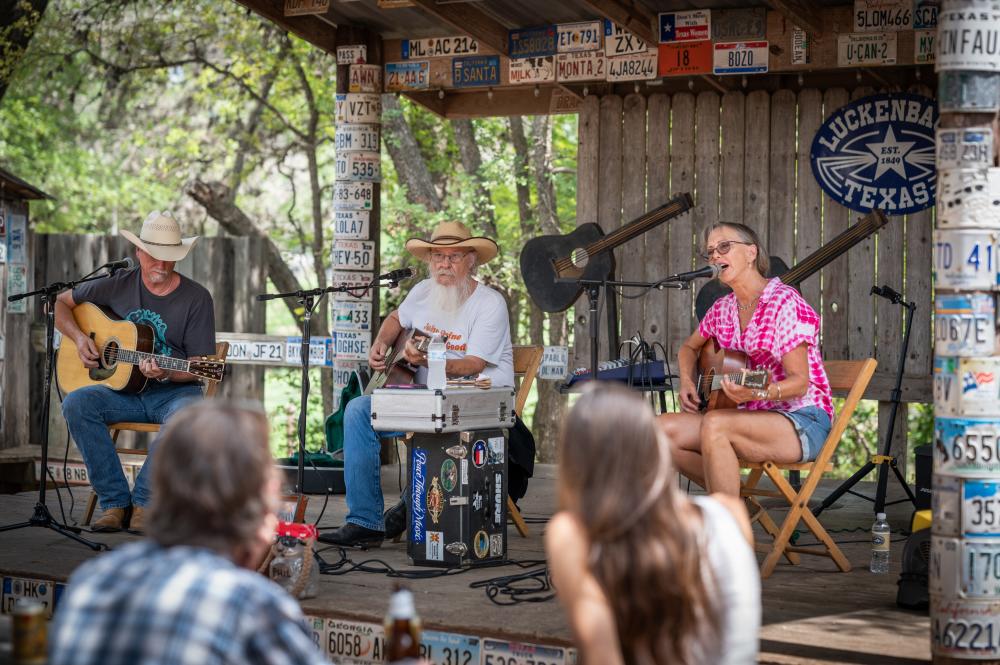 Luckenbach Texas. Credit Trish Rawls.
LUCKENBACH TEXAS
From Fredericksburg, make the 13-mile drive southeast to small but mighty Luckenbach Texas and see live shows nightly at the General Store, Bar and Dancehall, an entertainment venue established in the late 1800s. After Waylon Jennings sang Luckenbach Texas (Back to the Basics of Love) in 1977, travelers put this tiny destination on the map. Check the calendar of events to see when you can catch outdoor acoustic pickers circles and Luckenbach Texas Dancehall shows.
Start planning your trip to Fredericksburg today!
Articles and images courtesy of Visit Fredericksburg.