Get to know Allens Boots Cowboy Boots & Western Wear Retailer on South Congress Avenue
South Congress shopping anchor Allens Boots has been Austin's authentic western wear go-to since 1977. Peruse more than 4,000 boots representing 12 manufacturers (the largest selection of boots under one roof in the world!) at this handsomely rugged, essence of Texas retailer.
We sat down with Online Sales Manager Kristen King to chat boots and beyond.
How does Allens Boots stand out from other Austin shoe stores and designer retailers?
Our selection is top notch. For instance, most people don't realize we have a larger selection of Frye boots than any department store. We truly have something for everyone: riding boots, western, ankle boots, wedges, exotic leathers, custom styles, etc.
Best sellers with locals?
You can't go wrong with the Lucchese Mad Dog Goat. It's the classic western cowboy boot that ages beautifully. With proper care, it will last you for years.
What makes a great pair of cowboy boots?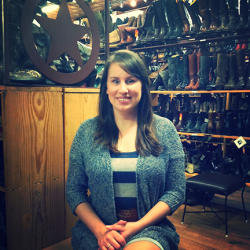 A handmade boot is always best. You simply cannot beat the fit of a handmade boot. Take Lucchese Classics or Old Gringo, for example. More than 100 hands touch the boot over the course of construction.
A boot should be comfortable right from the time you put it on, but slightly snug across the ball (widest part) of the foot. A great pair of boots should fit like a glove and with time, will mold to your foot and feel like a second skin.
You've been called the "Boot shop to the stars." Any celebs pop in during ACL or SXSW? 
We have tons! Lots of bands come in to buy boots with film crews in tow to document the journey. Over the years, we've had Jimmy Kimmel and Guillermo, Robert Plant, members of the Foo Fighters, Aerosmith, Beastie Boys, and Mumford & Sons, Imelda May, Plaxico Burress, Hines Ward, Yoko Ono, Josh Brolin, Guy Kawasaki and the list goes on...
How does Allens Boots represent the growing city of Austin?
Austin is unique in that you meet just about as many native Texans as you do transplants. That being said, you have to appeal to a varied group of people, from the hardcore cowboys to the tourist that wants to buy a pair of boots while they're in Texas.
We offer products for both and everyone in between all the while staying true to who we are.
Go There
Just look for the Big Red Boot on South Congress and you'll find Allens Boots. More than walls of Lucchese, Old Gringo, Frye and Justin boots, Allens also carries hats, clothing and accessories that span ostrich and goat belts, Texas belt buckles, wallets, clutches and totes.
Discover additional authentic Austin shopping to stay up on the latest trends in ATX!