Austin is the home of art, music and even romance! For the couples looking for a little bit of everything, from an intimate dinner to adventures out by the water, this is your perfect romantic weekend destination. MyCurlyAdventures_ and MyCulinaryAdventures_ are here to share some of their favorite things to do for a couples weekend in Austin!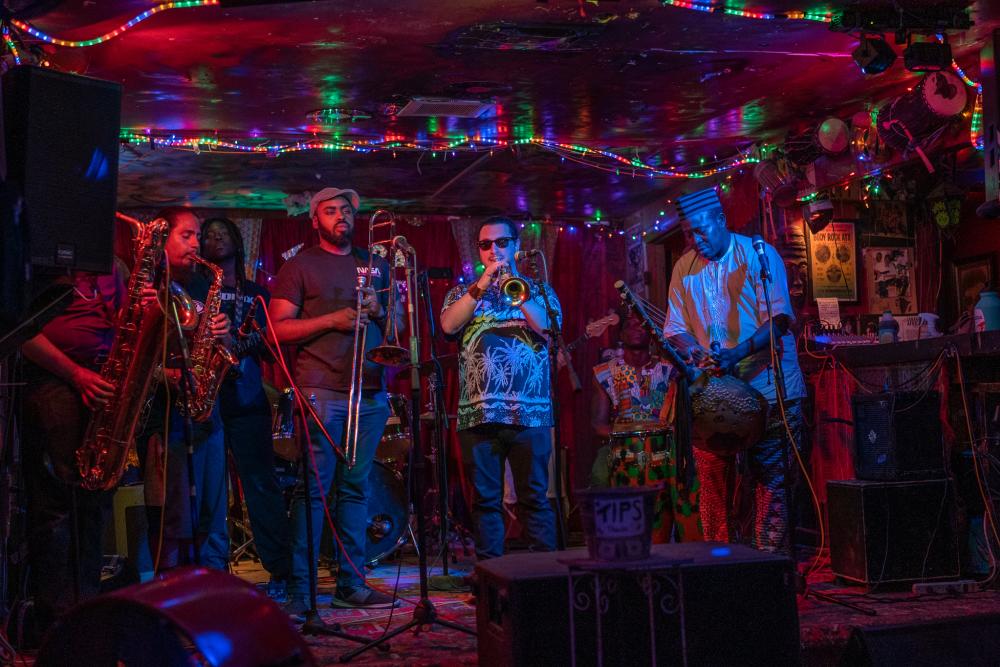 Sahara Lounge.
Day 1
As soon as you arrive in Austin, check into the South Congress Hotel for a beautiful boutique hotel experience located right in the heart of South Congress Avenue. With it's convenient location, there's so much to do nearby and couples don't have to worry about driving if they don't want to. There are also bikes available for rent from the hotel and a beautiful rooftop pool!
Explore East Austin
Filled with vibrant colors and murals, East Austin is a great place to do a little mural hopping and grab some fun couples pictures while taking in local art scene. Visit Austin even has an interactive Instagram filter that brings murals to life on Instagram.
Enjoy a Romantic Dinner at Hestia
For a fine dining experience, head over to Hestia with it's open kitchen concept where you can see everything being made as you walk by (or get a seat at the chef's table for a little dinner and a show). Every dish is ornate, with bold colors and flavors featuring many unique ingredients.
Dance the Night Away
Take your pick of salsa, bachata, kizomba and other Latin dance forms at Esquina Tango!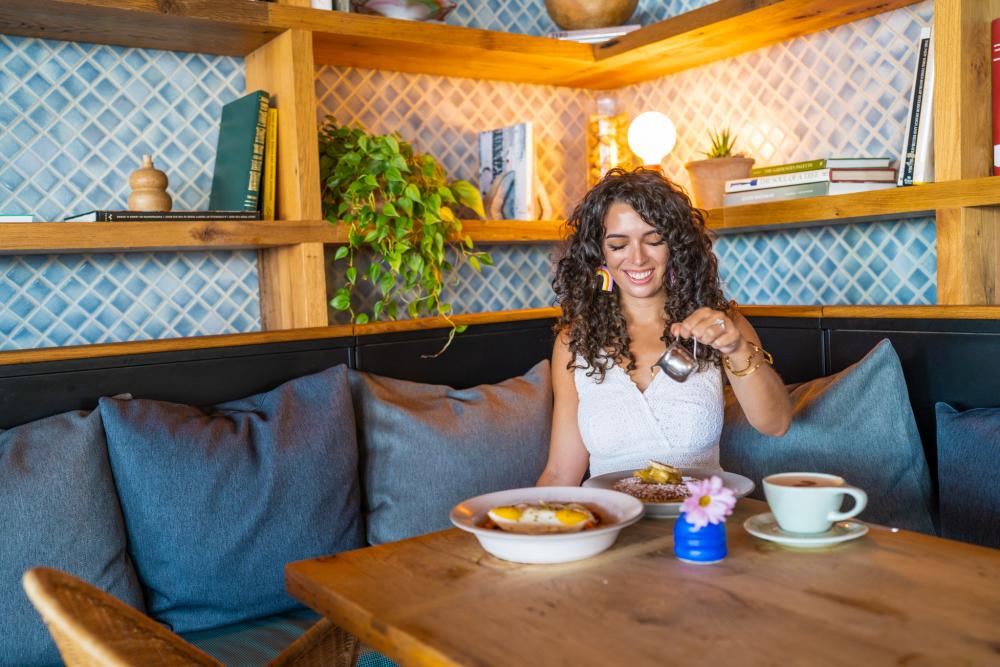 Café No Sé.
Day 2
Breakfast at Café No Sé
Located at South Congress Hotel, Café No Sé is convenient for a nice and quick breakfast with options like lemon ricotta pancakes and butterscotch lattes.
Explore South Congress
South Congress is where it's at for that weird Austin vibe. You can view and purchase local art, shirts with funny phrases and other unique items at shops along the street. Get funky with eclectic toys, gifts and games at Monkey See Monkey Do, or get yourself a pair of matching cowboy boots at Allens Boots.
Lunch At Lucky Robot
While on South Congress, stop in for lunch at Lucky Robot and order some delicious sushi. For couples that like trying different things, you can sample different nigiri or cook your own beef with their hot rock. There are even some delicious vegan nigiri options!
Grab Some Ice Cream at Amy's
After lunch, ice cream is a must; and Amy's Ice Creams is an iconic spot that locals and tourists both love. Mix it up with their large selection of toppings and "chrush'ns."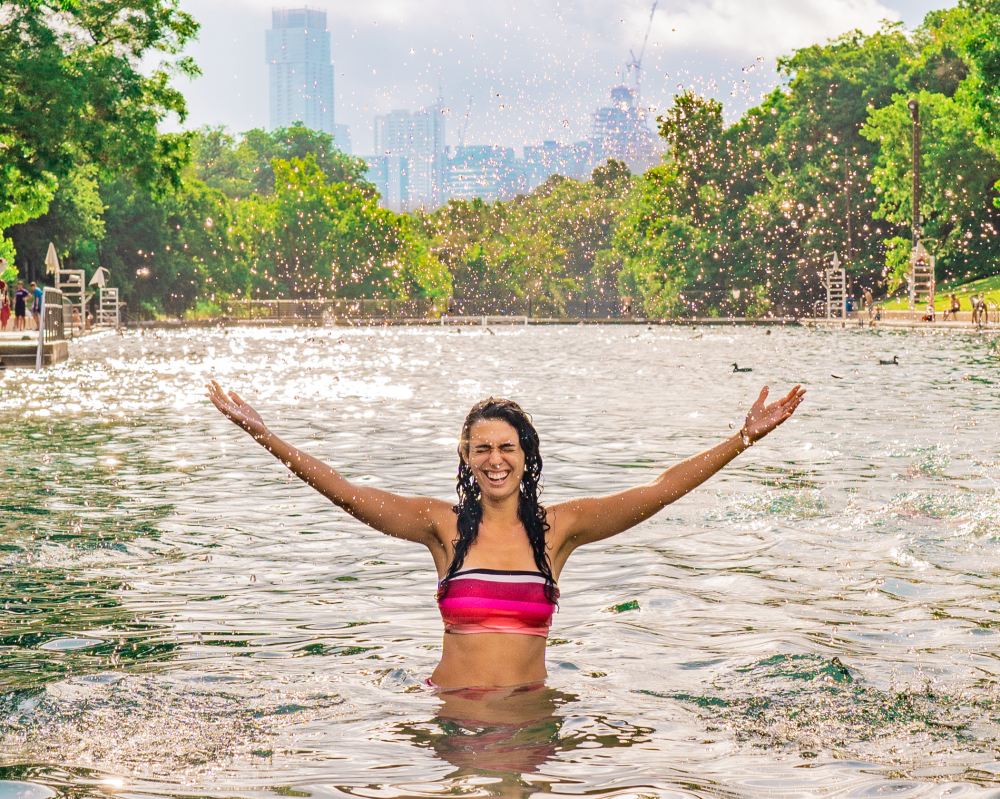 Barton Springs Pool.
Play a Round of Mini Golf
Sure you can play mini golf just about anywhere, but there's something truly unique about Peter Pan Golf—known for its weird sculptures, dinosaurs and, of course, the giant Peter Pan.
Cool off at Barton Springs Pool
Especially in the heat of the Summer, Barton Springs Pool is an absolute must for a little refresh. Feel the joy of being out in nature, while also enjoying the Austin skyline as part of the backdrop.
Try Something New at a Food Truck
Couples will love the amount of good food in Austin. It's not hard to find a new dish, and it's fun to travel around the world (all while staying in Austin) with all the exciting food trucks. Try Shirley's Trini Cuisine for oxtail stew or nosh on biryani at Bombay Dhaba. For a vegan option, check out Wasota Vegan Paradise and opt for the jollof rice.
Watch the Bats
Get a sunset boat tour and bat watching show all in one with Capital Cruises that takes you on the water and guides you to where thousands of bats fly from under the bridge for a spectacular site.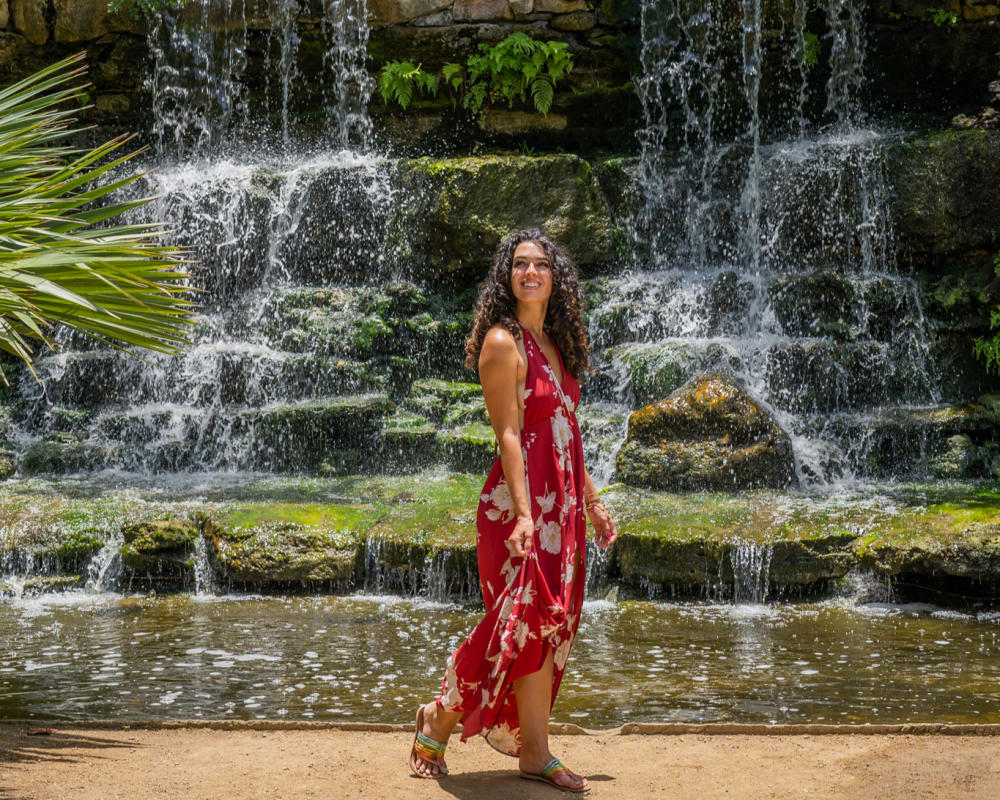 Zilker Botanical Garden.
Day 3
Breakfast at Hideaway
Hideaway is a fun of breakfast spot, featuring rotating waffle specials filled with decadent toppings such as the lemon drop waffle (topped with lemon curd, white chocolate, poppy seeds, whipped cream and a candied lemon).
Ride a Swan
There's just something so romantic about a swan boat ride on the water. Go early to snag one of these highly sought-after  boats from Capital Cruises, or enjoy a couples' kayaking trip or motorized boat ride. Being on the water in Austin is so beautiful because if you float one way, you get the urban city backdrop, and if you go the other, you get to relax in the serenity of nature.
Stroll Through Zilker Botanical Gardens
There is so much to see at Zilker Botanical Gardens—waterfalls, a variety of different roses and even a mini fairy garden that delights the imagination, no matter the age.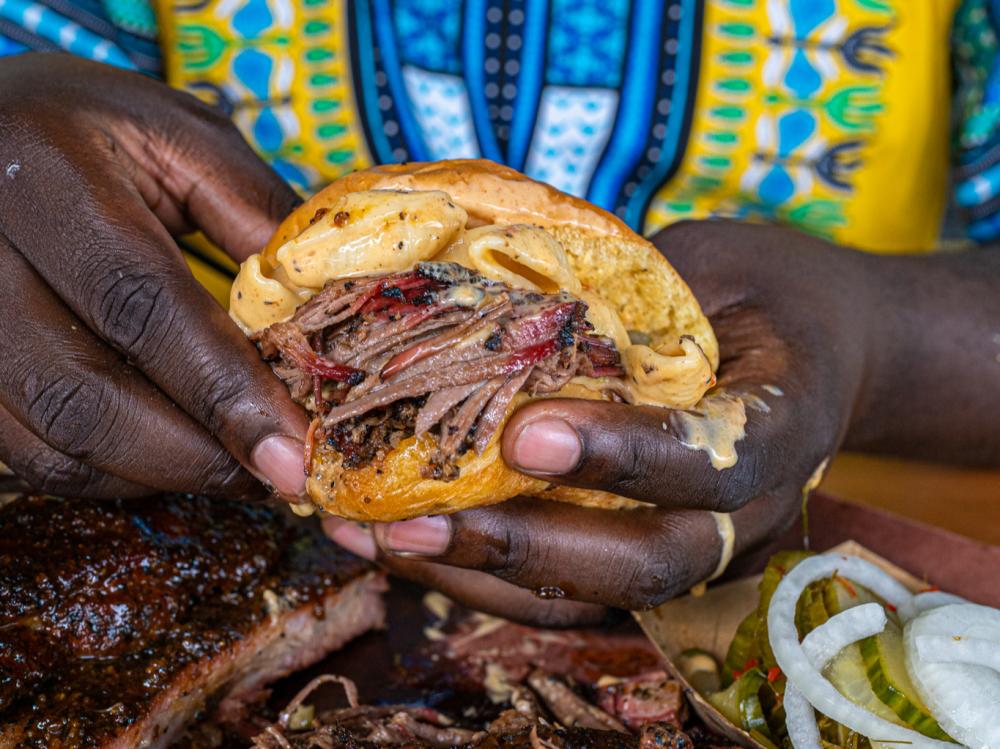 la Barbecue.
Lunch At la Barbecue
It would be a disservice to only visit Austin once, when you really needs to return and try all the different barbecue spots. But there's nothing like couples' bonding time over barbecue-covered fingers and digging into a plate of ribs. The la Barbecue owners come from a long line of Texas Hill Country pitmasters, so it's a little like getting the best of both worlds when visiting here!
Hike to Sculpture Falls
A wonderful thing about Austin is that lovely balance between nature and city. In one moment, you can be shopping through local boutiques or enjoying fine dining and the next, you can be walking through trails, passing waterfalls and hilly terrain. One of the most popular spots to hike is the Barton Creek Greenbelt. Along the way, you'll see the creek passing along the  trail and find swimming spots before emerging into Sculpture Falls—an area where the water has created sculptures and formed the rocks into a waterfall.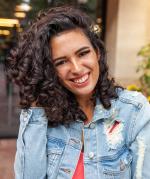 Photos & article contributed by Jessica Serna.
Jessica Serna is the Blogger of MyCurlyAdventures, a Texas based travel brand that inspires people to find magic in the everyday and encourages people to live a travel lifestyle even with a 9-5 through looking for local getaways. She takes readers on adventures throughout her state and beyond with her husband and showcases how sometimes you "travel the world" without having to travel far. Through these trips, she shares married life, managing curly hair, and the excitement of making every moment magical. She has published a magazine to share these adventures and also travels across Texas to speak about travel on local TV.