In the past five years, Wimberley has skyrocketed in popularity, making it one of the most interesting day trip adventures in the Texas Hill Country. Set against a backdrop of our state's natural beauty, it's abuzz with artsy and entrepreneurial energy. Choose your own perfect day—whether it's shopping around the square, swimming in a natural spring, or eating until you pop, you can do it in Wimberley.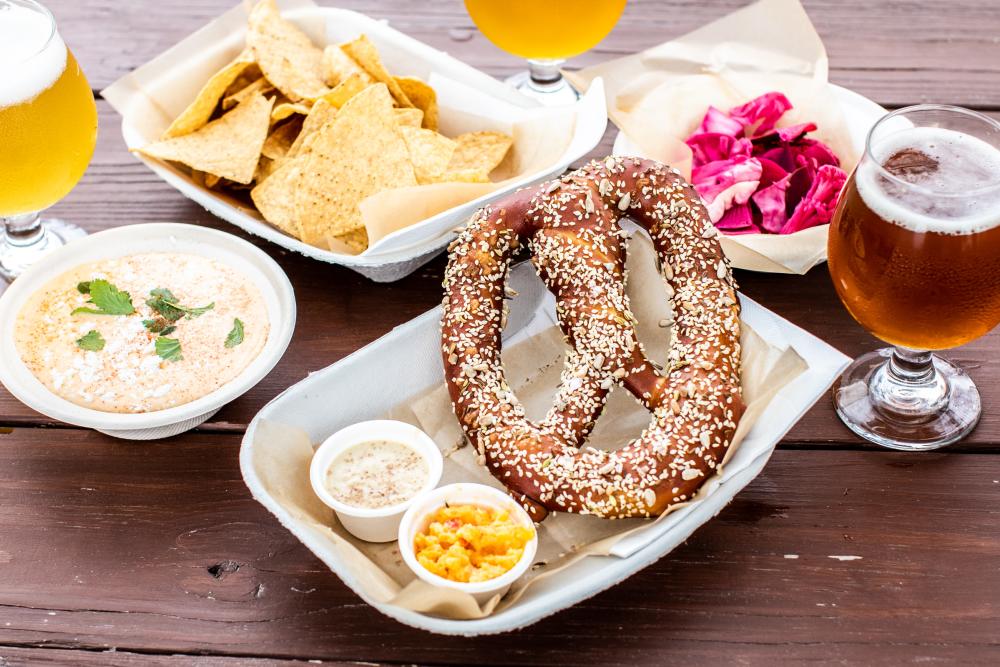 Roughhouse Brewing. Credit Richard Casteel.
Wimberley Restaurants
Ready yourself—Wimberley has some great eateries. If you're going classic, you better make it Wimberley Cafe. Go for the breakfast pork chop. For something more refined, stop into the beautifully contemporary Leaning Pear. Their crab cake is a particular favorite but make sure to check on the weekly benedict. Mima's Kitchen is the choice if you're in a hurry to get to Market Days and you want to BYO with your breakfast taco. For dinner, pull up a bench at a food truck. Make your way to Gringa's Grub Shak for big, tasty burgers or Pho-Lisha's, an Asian fusion spot getting creative and offering a nice veggie menu to boot. Visit local favorite Jobell Café & Bistro, which features locally sourced food and wine on the menu. Sit down (or belly up) at Longleaf Craft Kitchen and Bar. It's one of those places that does a good cocktail, has solid craft beer, and has enough variety on the food side to make even your picky grandma happy. Set beneath the trees and overlooking Cypress Creek, CreekHouse features elevated comfort food dishes in a nostalgic setting.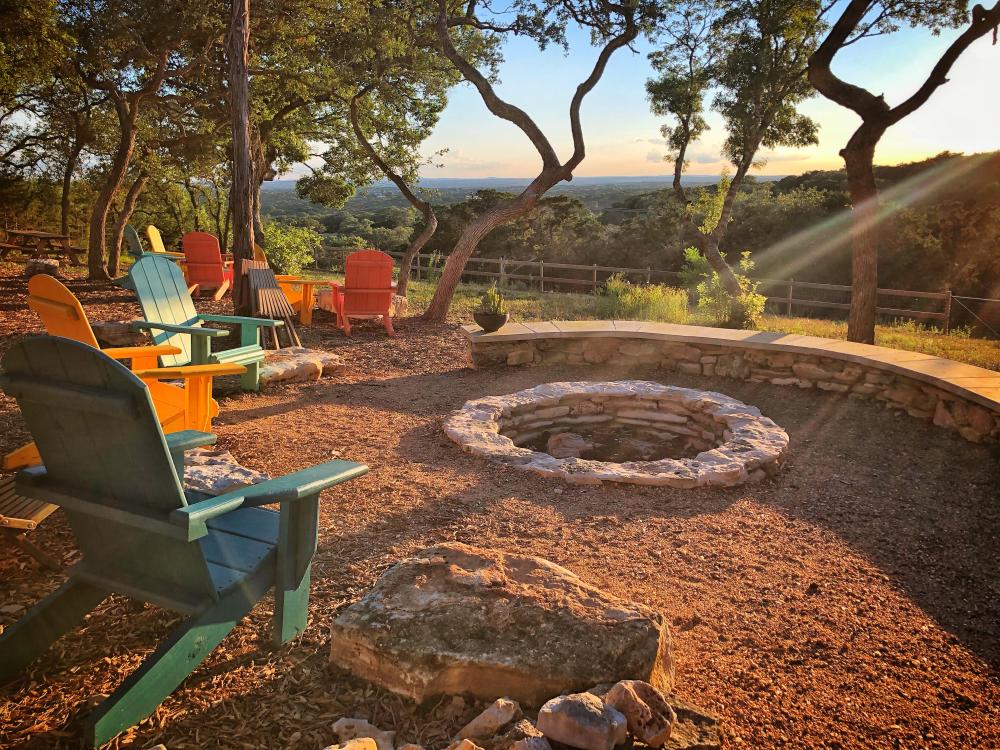 Courtesy of The Shady Llama.
Wimberley Bars & Beverages
You'll love the Shady Llama - and not just because the name is outstanding. It's a huge outdoor venue with food trucks, hammocks, swings, bar games, and a row of beer taps. It's dog and kid-friendly and most importantly, there are llamas! If you're on a wine walk about, definitely include Wimberley Valley Winery. It epitomizes why people enjoy central Texas wineries with a huge outdoor venue, animals for the kids to feed, yard games, and good wines. They also do wine slushes in the summer and spiced wine in the winter. You can pick up a bottle or two at the Hill Country Wine Shoppe, a little tasting room with a lot of vintage appeal. If your buddies are looking for brews, you'll have to go a bit further, up the road to San Marcos for Middleton Brewing and Roughhouse Brewing. It's not far (we promise) and both breweries have their taps listed online so you can choose your own adventure. Los Olivos market is a surprise contender for best spots to get craft beer but you can't argue with 35 craft beers. This little wine, gifts, and sundries shop gives other "real" bars a run for their money. For something a bit stronger and still local, check out Cypress Creek Reserve, a restaurant and rum distillery. Lovely scenery, a shaded patio, and fantastic rum cocktails plus tours.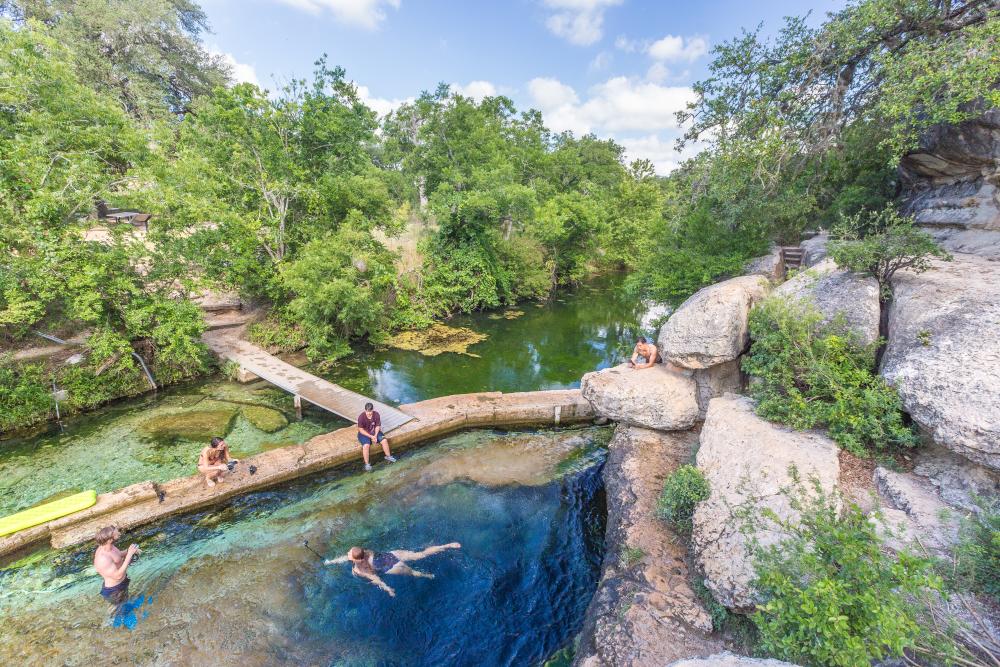 Jacob's Well. Credit Pierce Ingram.
Wimberley Attractions
The most trafficked natural waters in Wimberley are Jacob's Well and Blue Hole, gorgeous swimming holes surrounded by looming ancient Cypress trees. Blue Hole has been rated one of the best swimming holes in Texas and its shady, grassy shores host live performances. Jacob's Well is one of the longest underwater caves in Texas… but don't worry, you won't actually be going into the cave (Iimited activities such as hiking are currently available at Jacob's Well, although swimming is NOT currently allowed). You'll find Old Baldy right in the middle of a residential neighborhood. The 221 steps that lead to the summit are uneven limestone but the hike is worth it to hang out among the cedar, cactus, wildflowers, and take a million Instagram pics of the 360 views. Speaking of amazing views, book some time at Wimberley Zipline to fly through canyons and creeks on 10 separate ziplines. Play a round (or two!) at the semi-private Quicksand Golf Course, surrounded by a natural Texas Hill Country setting; all are welcome to play.  The Emily Ann Theatre and Gardens is the epicenter for art and theater in Wimberley with indoor and outdoor stages, a Veterans Memorial Plaza, a children's memorial, natural paths, and interactive activities. They host numerous events—Shakespeare Under The Stars, drama classes, summer programs, a butterfly festival, trail of lights, and more.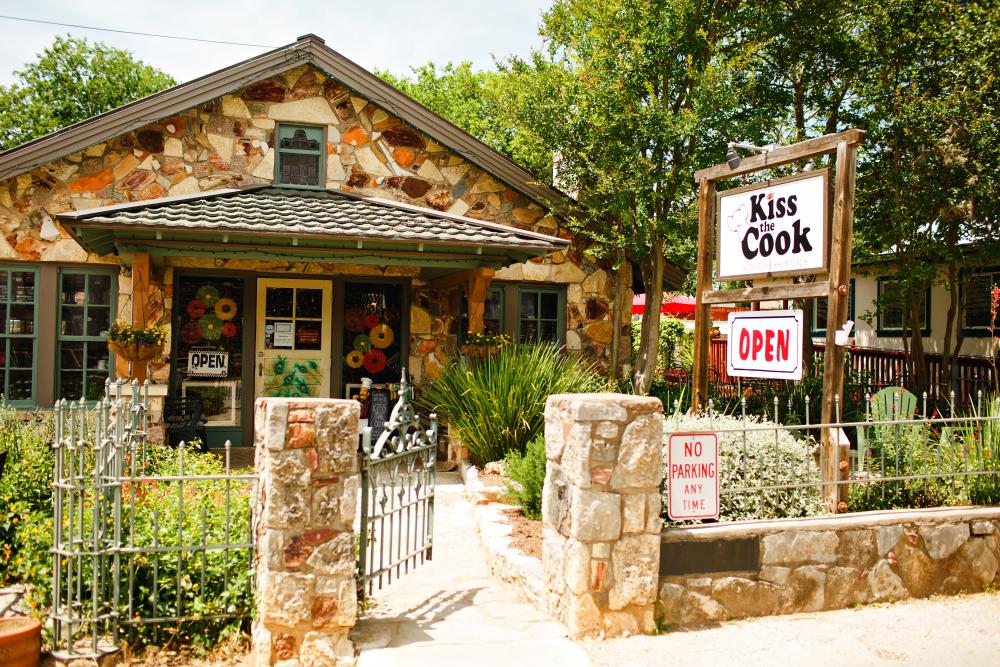 Courtesy of Kiss the Cook.
Wimberley Shopping
The Wimberley Square is home to a jumble of fun, fabulous, fancy boutiques and shops. Definitely start your visit here and stop by the Kiss The Cook Kitchen Shop, The Wild West Store and The Tree House. What began as an antique and gift store has evolved into something much larger. The Old Mill Store sells jewelry, soaps, candles, hand painted pottery, sculpture, textiles and some toys for the kids, too. There's nothing quite like fresh pressed olive oil and you should sample some at Bella Vista Ranch, modeled after a traditional Italian family farm. The ranch has 1200+ on-site olive trees, a winery, a tasting room, and of course, a gift shop. A visit to Wimberley Glassworks will have you in awe of the artists there. Live glass blowing demonstrations, art installations, and a gorgeous shop with lighting, drinkware, and art glass will be a highlight of the trip. For more of a shopping "event", plan your trip around the monthly Wimberley Market Day. Featuring 20+ acres and 490 stalls, Wimberley Market Day is overwhelming and awesome with live music, eats, and drinks—definitely an all day affair.
Stop by the visitor center, located at 14100 Ranch Road 12, when you arrive for local insight about things to do and places to see. Plan your Wimberley visit today at Wimberley.org.