Austin is known for its mouthwatering barbecue and creative breakfast tacos, but not everyone is familiar with the city's complete food scene, one that is just as eclectic and diverse as the Austinites who live here. To get a true taste of what the city has to offer, you must visit Downtown Austin. With more than 80 restaurants in this area of town, there is a different style of cuisine around every corner. Take a peek at these local favorites and try some of best restaurants in downtown Austin.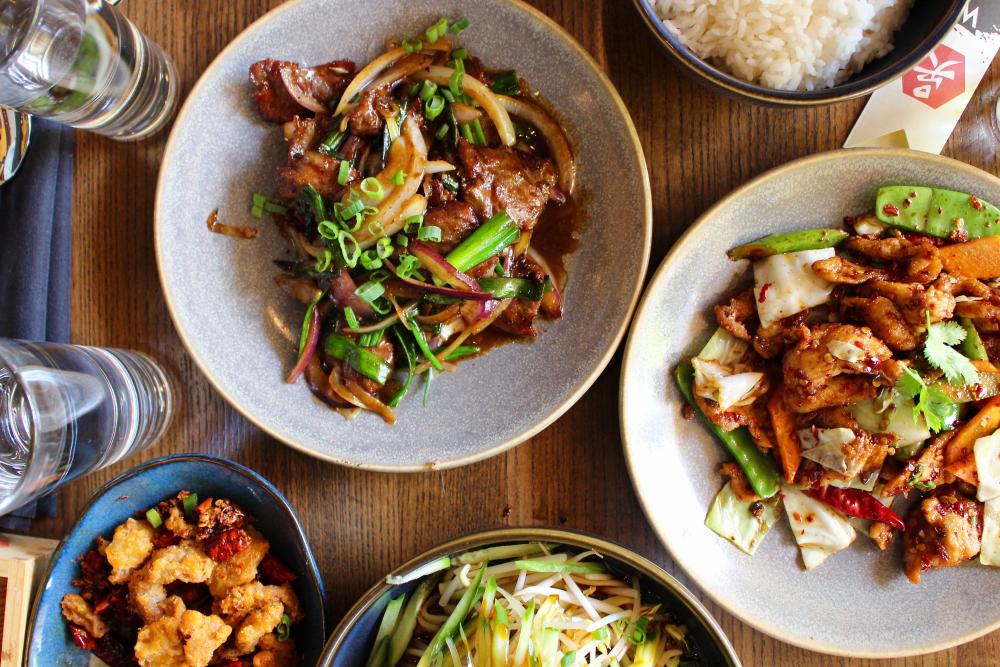 Courtesy of Wu Chow.
This vegan-friendly, Pan-Asian spot was the brainchild of a mother-daughter duo who wanted to bring downtown Austin a restaurant with balanced meals at affordable prices. The miso honey-glazed mahi-mahi is both savory and sweet and is topped with spring greens, rice and a red onion relish. This mom-and-pop-shop is the perfect spot before a night of live music shows on Red River.
Insider Tip: they have free parking out back!
More Favorites: Wu Chow, Chinatown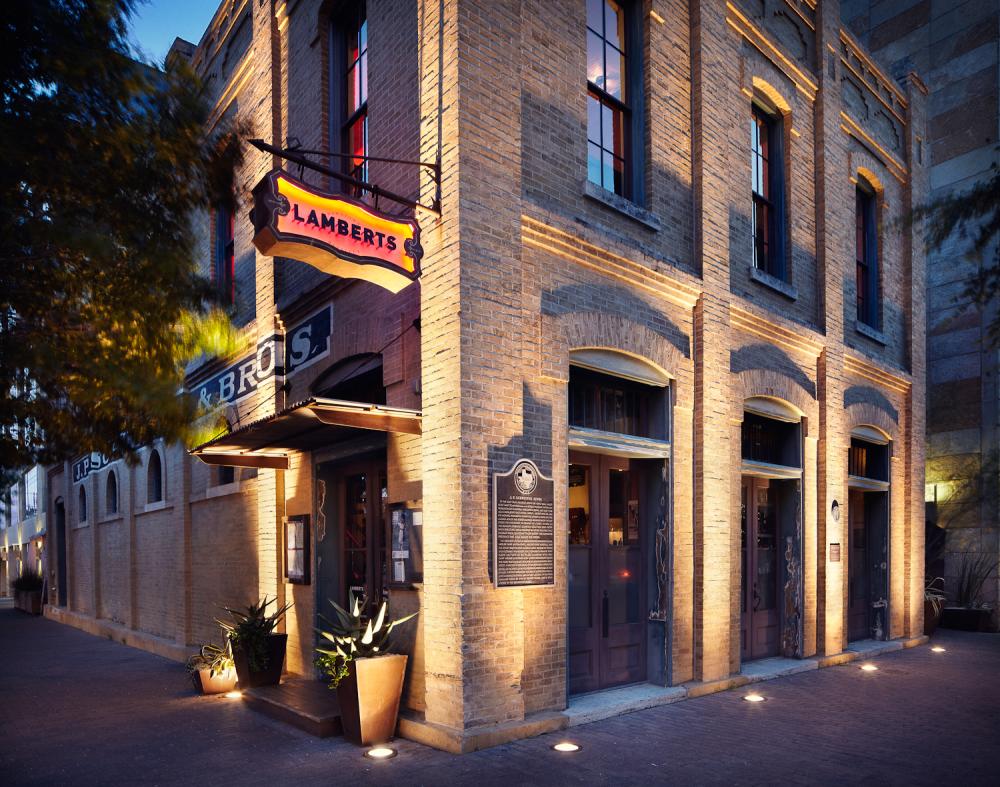 Courtesy of Lamberts.
This refurbished general store is the place to go for smoked meats, craft cocktails and, of course, live music. Starting around 11 a.m., you can smell Lamberts' barbecue from blocks away. Stop in and nosh on spicy deviled eggs and their natural black Angus brisket rubbed with brown sugar and coffee.
More Favorites: Cooper's Old Time Pit Bar-B-Que, Iron Works BBQ, Stubb's Bar-B-Q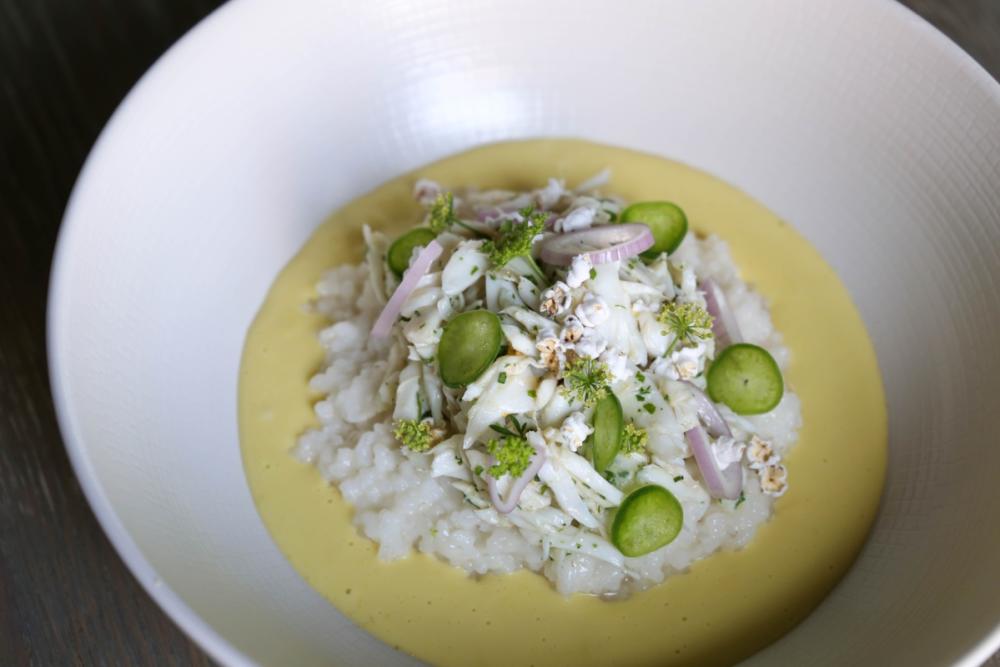 Olamaie. Credit Julia Keim.
Good ol' southern comfort food is pretzels and pimento cheese, chicken fried steak and banana cream pudding. Looking for Texas-sized portions of the comforting classics? At Moonshine, seasoned popcorn will greet you at your table and warm cornbread comes out with every plate. Order one of the house moonshines if you want the full experience.
More Favorites: Fixe Southern House, Gus's Fried Chicken, Olamaie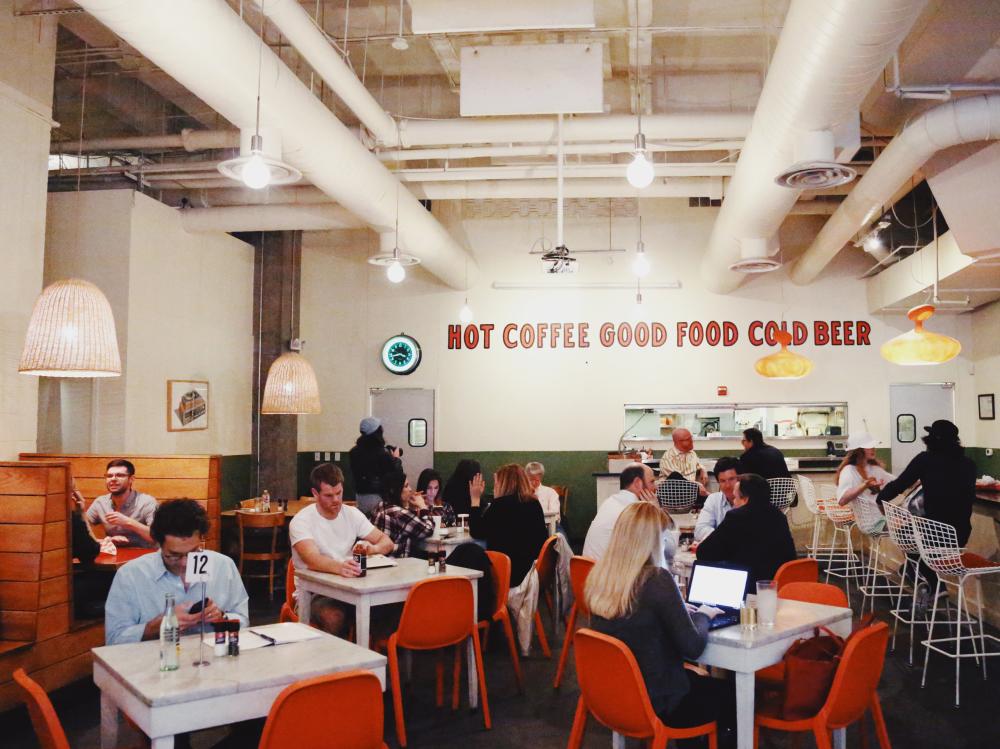 Jo's Downtown. Credit Alison Marlborough.
Situated in heart of the Live Music Capital of the World®, this all-night diner serves nostalgic brunch fare and American classics every day of the week. Stop in after browsing shops in the Market District, then fill up on a big breakfast platter or the sweet potato hash, with roasted poblanos, sausage and Jack cheese. Pop in for breakfast, lunch or a late-night bite.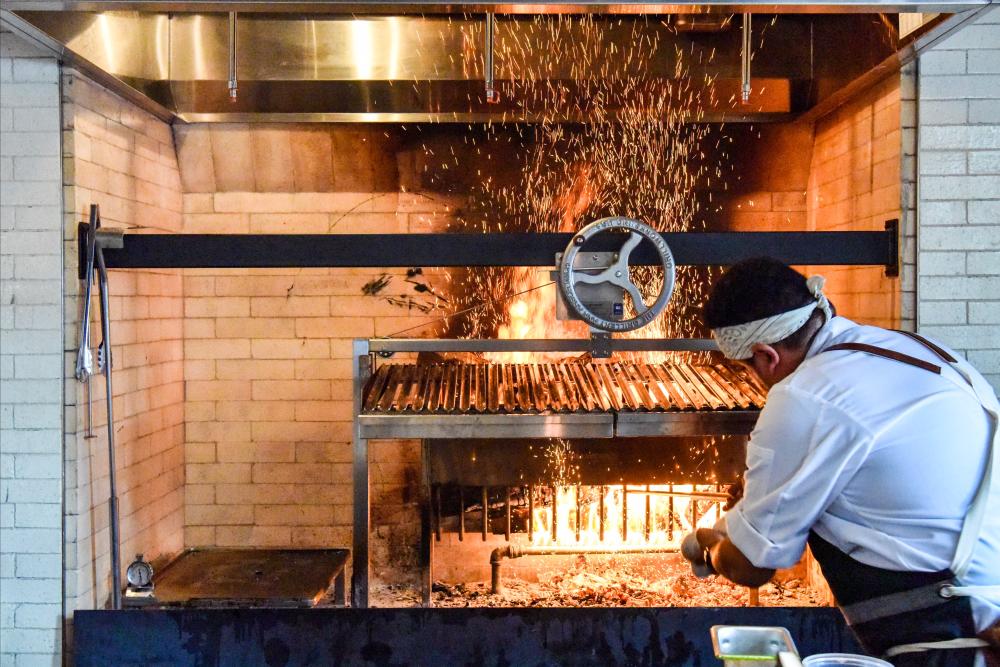 Red Ash. Credit Robert Jacob Lerma.
Rustic, Neapolitan style pizza hidden in the backspace (hence the name) of Parkside restaurant. This intimate spot is right off of Sixth Street and seats less than 30 guests. Seasonal antipasti like the house-made mozzarella or the cauliflower, with pecorino, Calabrian peppers and salsa verde, will get you ready to enjoy that delicious, lightly charred crust.
More Favorites: Red Ash, Numero 28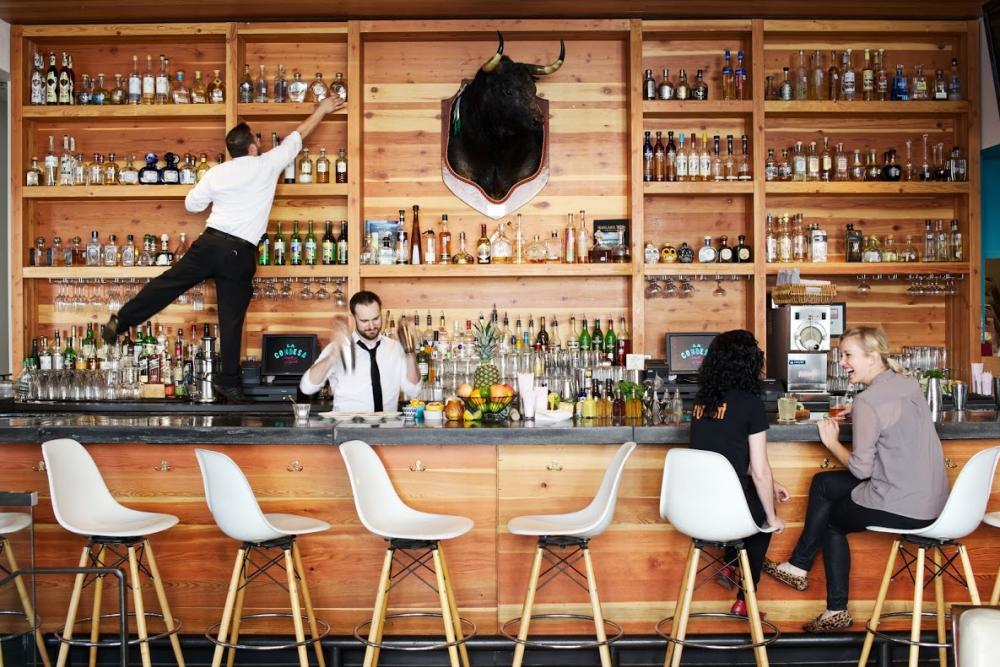 La Condesa. Photo credit Jody Horton.
One of the posh dining spots in the 2nd Street District of Downtown, La Condesa boasts the largest collection of 100% blue agave tequila and mezcal in the city (did someone say margaritas?). The menu is filled with regional Mexican staples like queso fundido, cevices, and elotes. This restaurant is also great for those looking for vegan or vegetarian options.
More Favorites: Iron Cactus, ATX Cocina, Comedor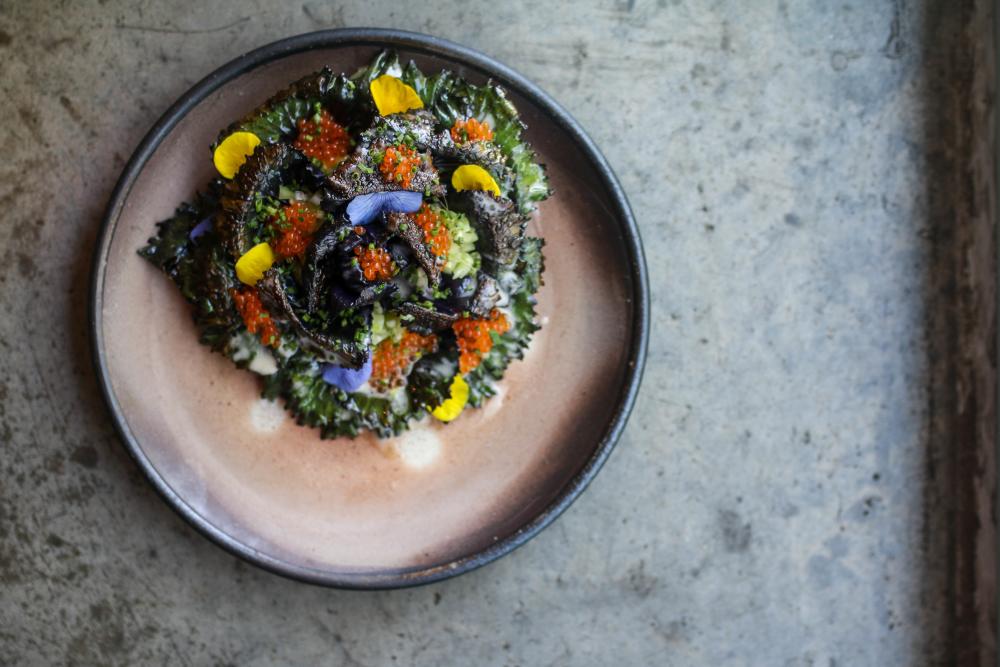 Emmer & Rye. Credit Julia Keim.
This upscale and contemporary farm-to-table restaurant, highlights local Austin produce and meats on Rainey Street. You can find their top dishes served dim sum style, where small portions of fully-cooked dishes are wheeled around the dining room to showcase each tasty creation in person. Paying homage to the name, Emmer & Rye mills heritage grains for their pastas, breads and desserts. The cacio e pepe spaghetti is simple and delicious.
More Favorites: Swift's Attic, Hestia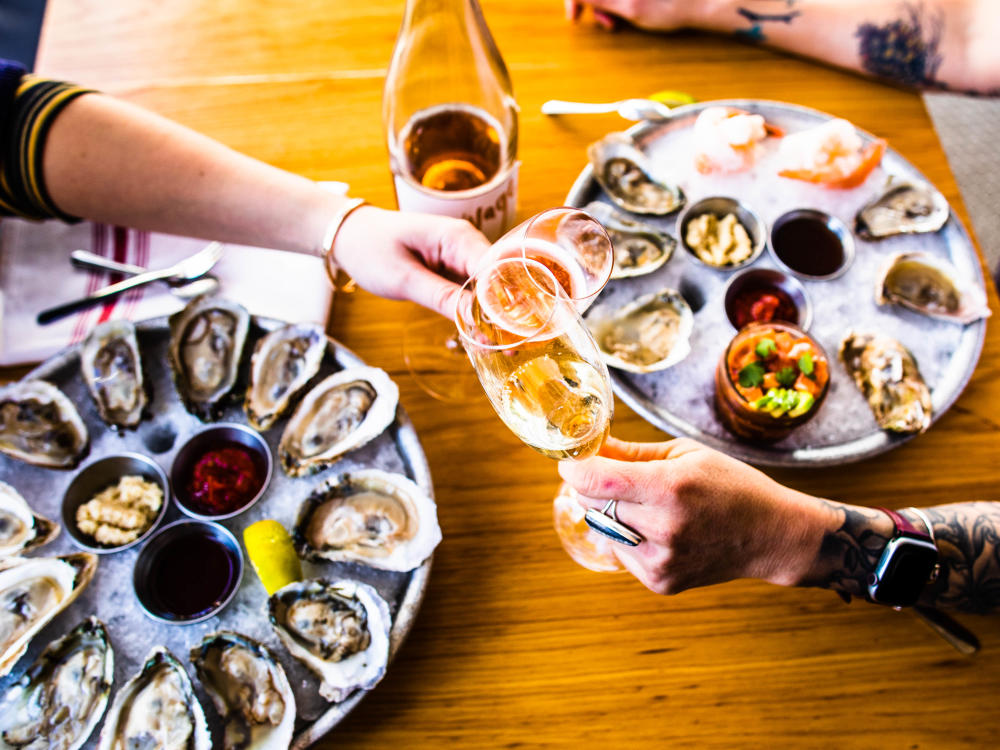 Courtesy of Parkside.
Make date night dinner reservations at Eddie V's, a romantic downtown locale which serves up prime seafood and steak dishes straight from the raw bar and their top-tier kitchen. Enjoy an espresso martini with all of the crab, oysters and caviar that your heart desires, or dive straight into delicacy with a glass of wine and South African lobster served with drawn butter. This hearty and indulgent cuisine is sure to warm you right up.
More Favorites: Parkside, Lavaca Street Bar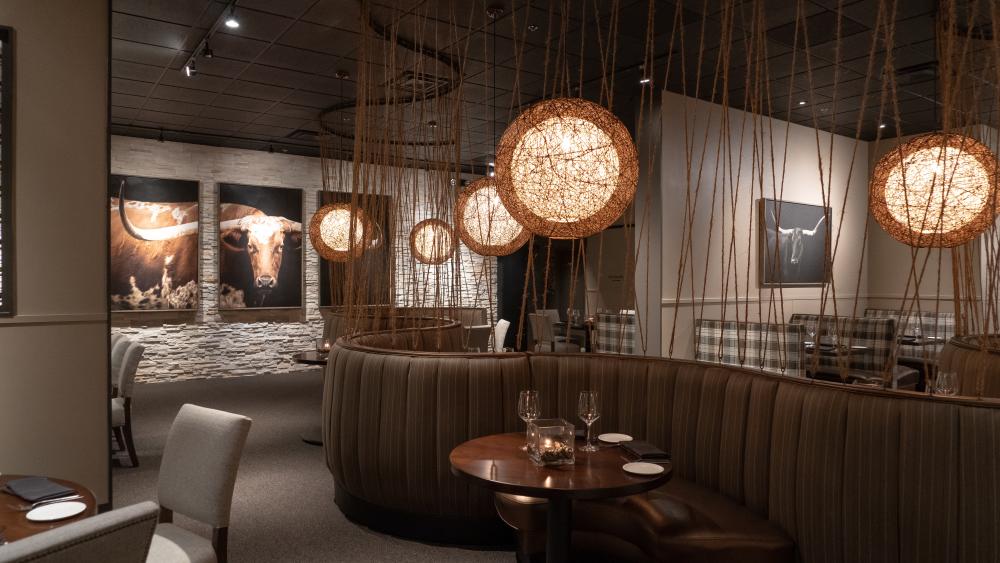 Courtesy of Vince Young Steakhouse.
Locally owned and operated, Vince Young Steakhouse is unique to its kind. Named for former NFL and University of Texas quarterback, Vince Young, the steakhouse sources its ingredients from farms and ranches either in Austin, or as local as possible. The menu is revised daily in order to keep current with seasonal, fresh ingredients. This elegant steakhouse aims to offer a personal, Austin touch.
More Favorites: The Original Hoffbrau Steakhouse, Garrison, Dean's Italian Steakhouse
Hungry for more? Find more downtown restaurants and check out the Austin Insider Guide to stay in the know on what is new and upcoming in Austin!