Although warm Texas temps may not make it feel like December, Austin is ready to celebrate the season big. Light shows illuminate the city skyline and holiday markets are all over town to help you find the perfect gift for loved ones. Even Austin's nightlife scene gets festive with a number of pop-up spots to toast to the season! Grab your ugly sweater and treat your elf to a good time at one of these holiday themed bars.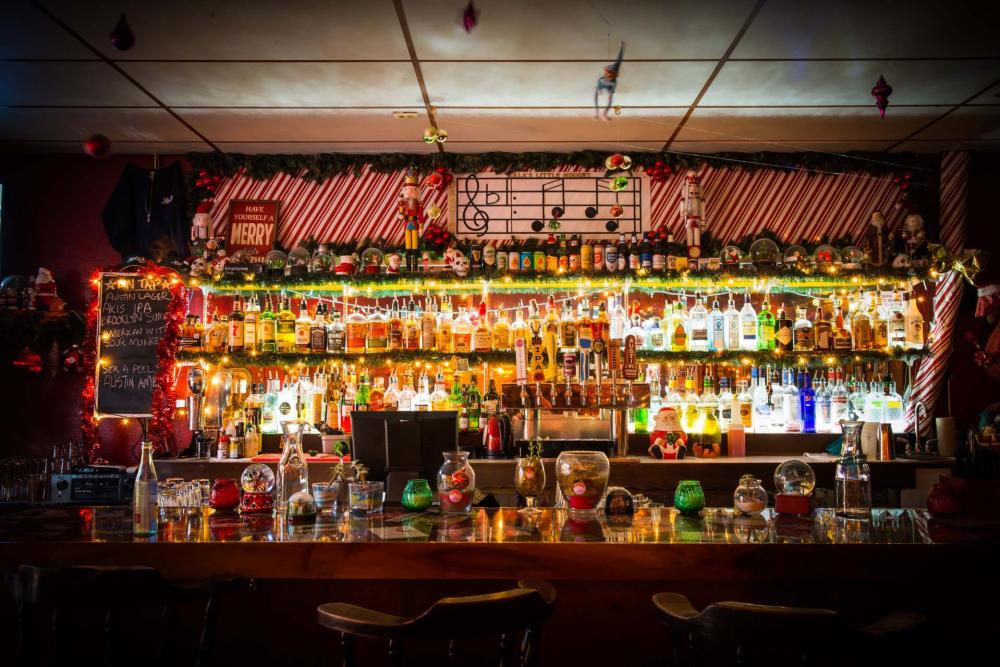 Courtesy of Lala's Little Nugget
Head to Gibson Street Bar for great drinks and an over-the-top decorative display. From the larger-than-life decor to specialty crafted cocktails, this South Lamar stop always celebrates holidays in style.
We love that there's a place for everyone to celebrate this season! Kitty Cohen's "It's Lit" Hanukkah pop-up runs through the end of December. Take pictures with the festive decorations or play a game of dreidel with friends while you sip on a Shabbos Spritz. 
Lala's little nugget raises "spirits" year-round. Grab a drink and take in wall-to-wall decor (including the bathrooms and ceiling!), whether you're in town for the season or want a taste of the holidays in July.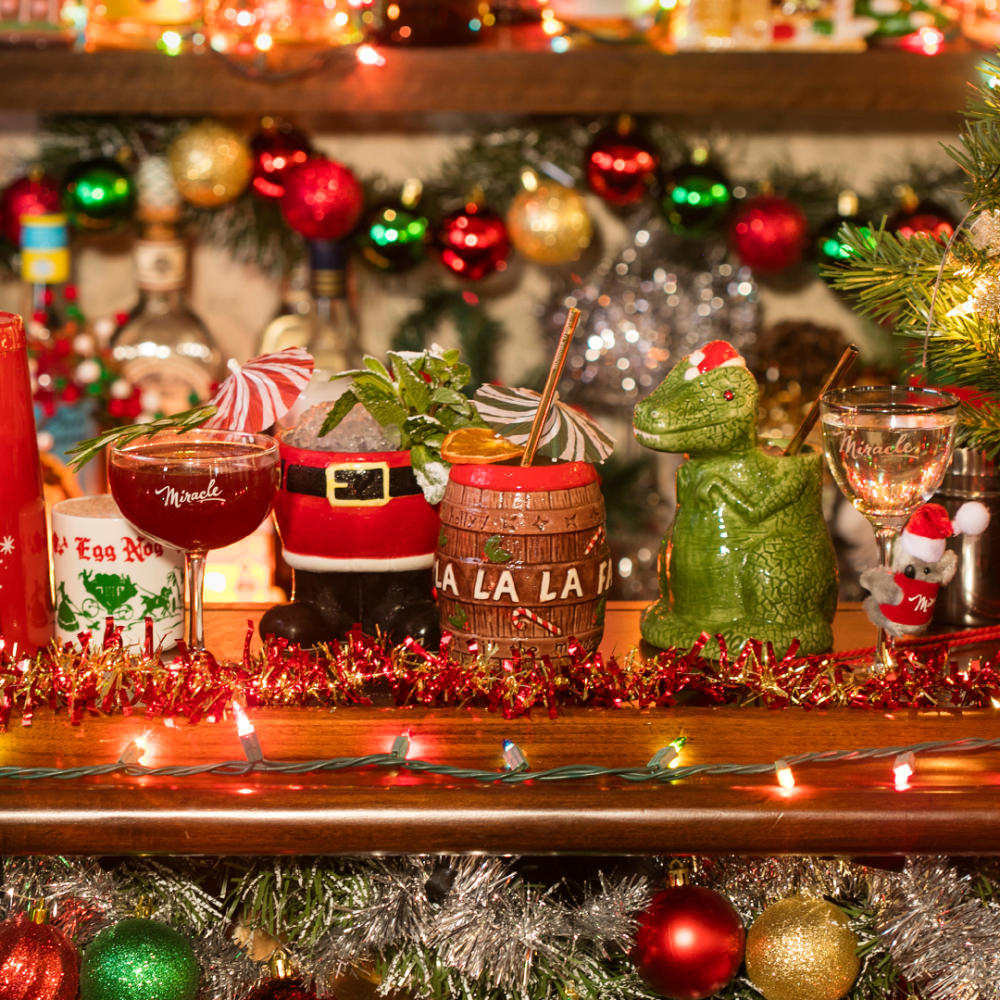 Miracle on 5th Street. Credit Eric Medsker
Located in Austin's Warehouse District, The Eleanor is completely transformed during the month of December. Look for the candy cane striped entrance next door to the Roosevelt Room to enter the extreme Christmas display. While you're there, snap a pic on Santa's throne and try a curated Christmas cocktail, like the Snowball Old Fashioned. 
Old Thousand is spicing things up this holiday season with their Naughty & Nice cocktail list. The nice list is made up of three non-alcoholic mocktails including Elf on the Shelf made with honey, rosemary, grapefruit and lime. Feeling naughty this year? Try the Buttered Up Blitzen made with tequila, chai syrup and hot apple cider.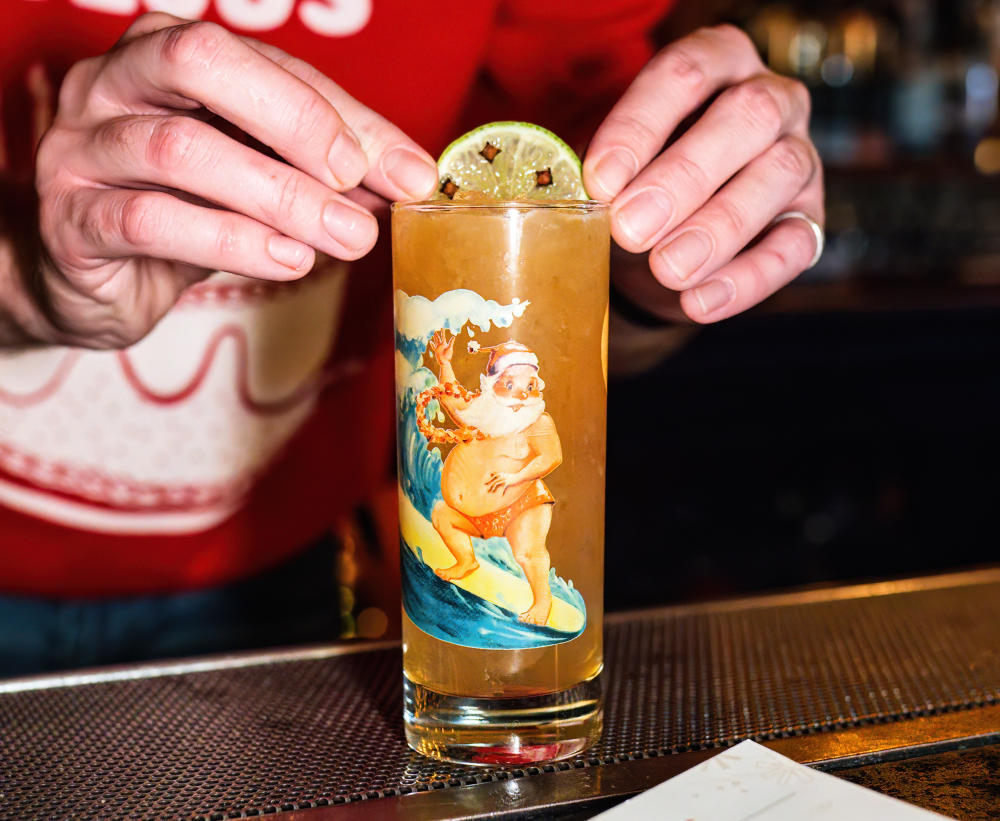 Sippin' Santa. Courtesy of Consumable Content
This hometown dive bar is serving up tiki-Christmas cocktails like the Kris Kringle colada and azul navidad. Sippin' Santa at Nickel City is what we all imagine a mild Texas winter to taste like.  
Ever sipped cocktails in an igloo in the heart Texas? Hotel Van Zandt has transformed their 4th floor pool deck into a winter wonderland complete with igloo cabanas and themed cocktails. Igloos are rentable starting at $50.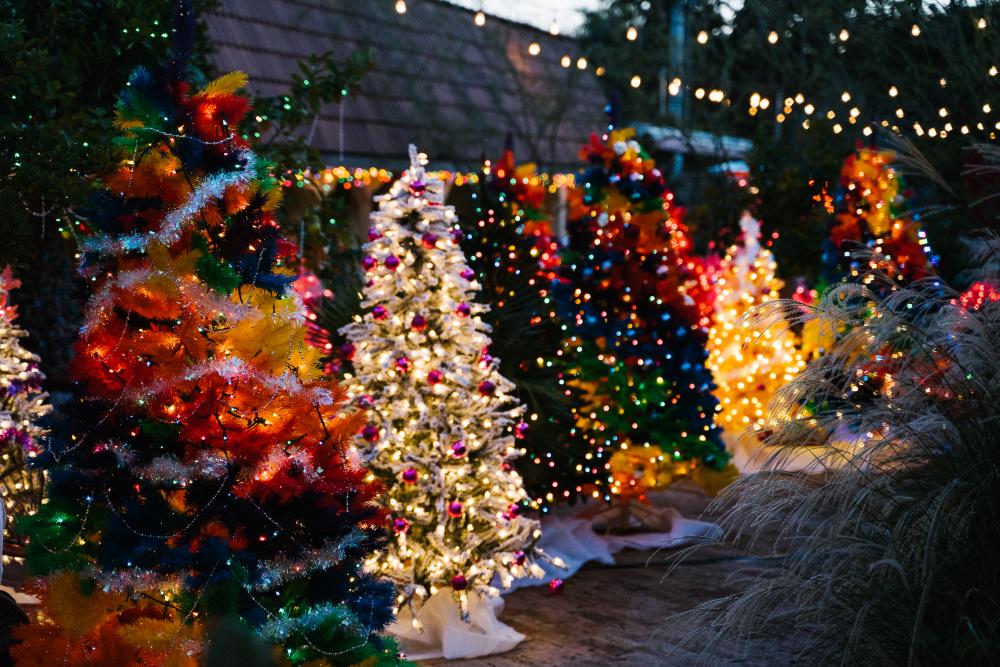 Austin Motel. Credit Jackie Lee Young
Looking for a cheerful holiday experience as colorful as Austin? Visiting Austin Motel's neon rainbow pop-up is a must. The boutique motel's vintage pool and courtyard will be decked out with trees, rainbow lights and weekly film screenings with some of the holiday's best movies. Carol along with Drag Mrs. Claus and taste specialty cocktails from their holiday drink menu. 
Looking for a spot to refuel after a spirited night of holiday bar hopping? Check out our guide to the Best Brunch in Austin for your post-party breakfast meal.