The wind in your hair, the sun on your face... no, we're not writing a country song. We're waxing poetic about horseback riding! Although visitors may be disappointed to learn that most Texans don't ride horses to school, we can still get the equestrian experience in and around Austin. Go for an urban trail ride, or travel just a bit outside of the city limits to become a ranch hand for the day.
Texas Trail Rides let you explore miles of beautiful countryside, without leaving the city. Gather at Lone Star Ranch to meet your mount and get outfitted in safety gear. After a quick lesson, you'll hit the trails of southeast Austin, including a splash across Onion Creek. Take a daytime tour, or book a sunset ride for a little romance.
Lone Star Ranch also has skeet shooting, ATV rides and archery, plus riding lessons and summer camps for kids.
A short, 35-minute drive southeast of downtown Austin, riders can frolic in the fields around Lockhart with Maverick Horseback Riding. And you can feel good about it too; while all equestrian pros love horses, these folks are also passionate about protecting Texas waterways. The horseback riding tours are part of their fundraising efforts to promote the ecological restoration of our creeks and rivers.
Maverick offers several unique trail ride options. The leisurely Ranch Ride includes some light trotting and elevation changes, but the experienced horses will keep you comfortably a-saddle. The BBQ Ride combines a scenic journey with a Texas BBQ feast. Riders will also get a break to do a bit of shopping in Lockhart's historic town square. If you'd like to keep your group intimate, Maverick is also available for private rides.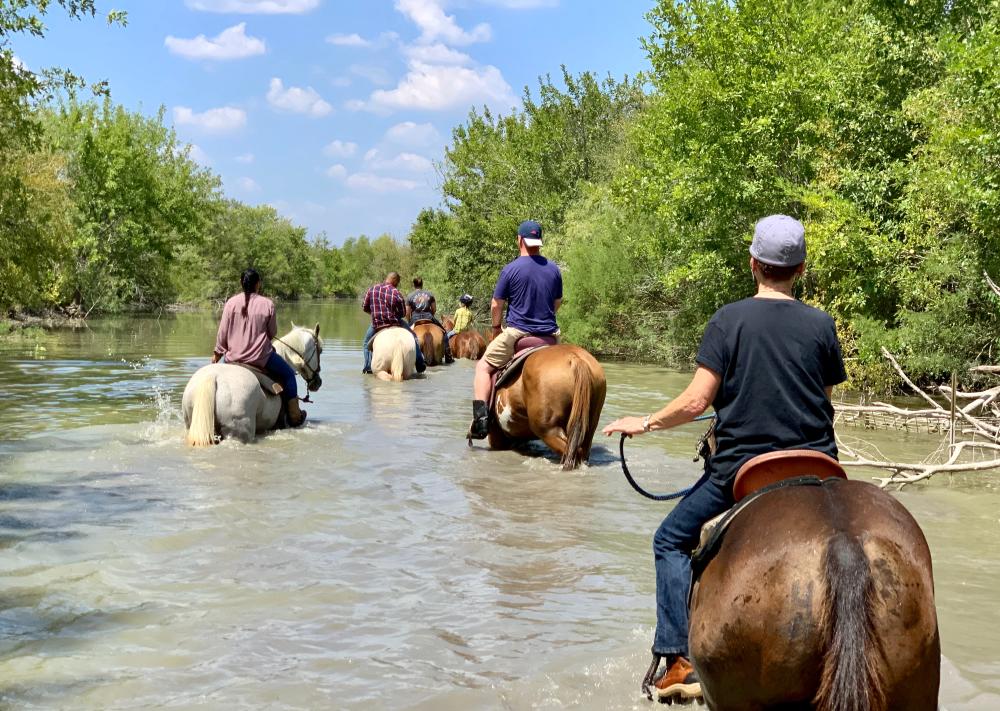 Courtesy of Maverick Horseback Riding.
Horseback riding is often considered a leisure or athletic activity, but it can be a healing one, too. At Miraval Wellness Resort in northwest Austin, both overnight guests and day visitors can experience a unique approach to horseback riding.
Rhythmic Riding involves finding your balance and mirroring the rhythm of your horse, all to the beat of local Austin musicians. The equine program also includes mental challenges, like moving a horse around the pen without use of your voice or hands. Miraval offers private trail rides and arena lessons, available by reservation.
For horseback riding in the Round Rock area, look no further than Tristar Farm. About 40 minutes northeast of downtown Austin, this lovely farm is well worth the drive with over 100 acres of wooded trails available.
Rides are available in 1-hour or 2-hour trips and are suitable for all ages and experience levels. They also offer birthday parties and riding lessons, if a 2-hour ride just isn't enough! Tristar's Austin location on Spicewood Springs Road offers riding lessons and summer camps as well.
Southern Trails is located just 20 minutes from downtown Austin on 100 picturesque acres of land. On your ride, prepare to pass through green pastures, by tall oak trees and around ponds, creeks and wildlife. Learn about Texas history in the area and enjoy a relaxing trail ride with friendly and experiences staff.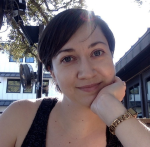 Contributed by Kate McDermott.
Kate McDermott is a local copywriter, content writer, and cocktail enthusiast. She writes about and for restaurants, hotels, event companies, and more from her home in Way South Austin.
Website: eatdrinkandwritecopy.com
Instagram: @eat.drink.writecopy