Austin is no longer just a city full of live music and entertainment. Now, the Live Music Capital has also become a robust foodie city with some of the best smoked barbecue in the state, a surplus of fine dining establishments as well as various walk-in, sit-down, no-frills watering holes to beat. It just goes to show--there's no reason you can't have it all.
Here are some of Austin's best restaurants with live music.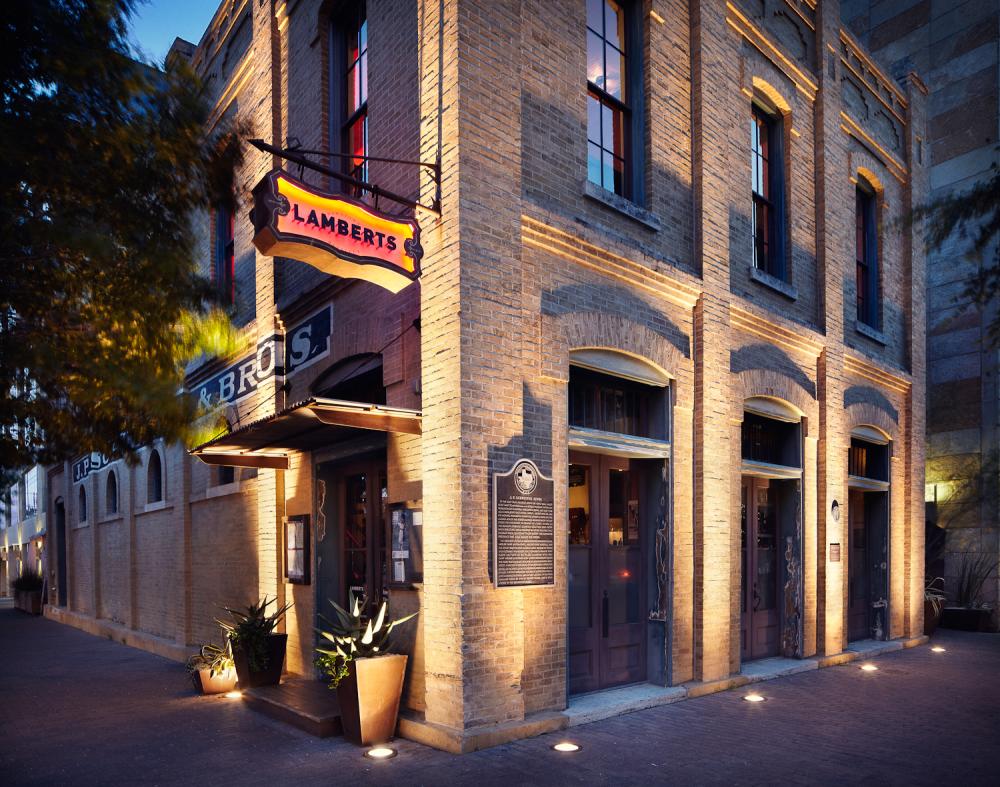 Lamberts. Credit Casey Dunn.
Lamberts Austin, located in the historic Schneider Brothers Building in the 2nd Street district, serves up its live music with slow smoked BBQ & modern Texas cooking. Their bar is stocked with local beers, classic cocktails and new world wines, and the restaurant regularly features live music in its upstairs bar & lounge. Most recently, through their Dinner & Show series, Lamberts has featured local top-shelf musicians such as Mélat and Tameca Jones.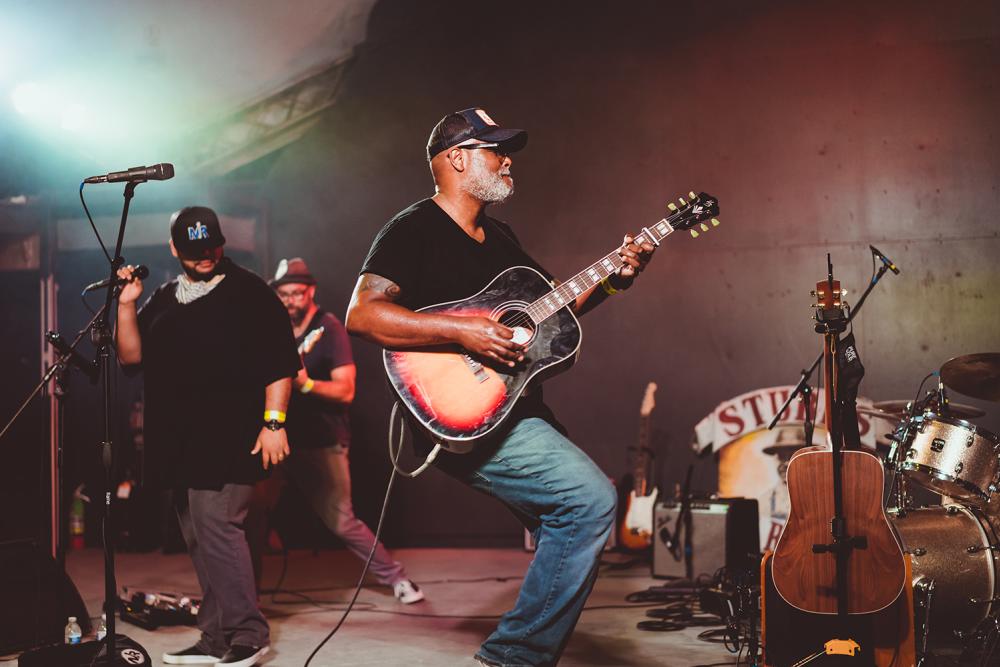 Ray Prim at Stubb's. Credit Ismael Quintanilla III.
If you want to check out more of Austin's barbeque culture, then Red River-centric Stubb's Austin is a must-visit. Decked out with two stages, the restaurant doubles as a venue that hosts both small local acts indoors as well as national touring bands on its large amphitheatre space. Check out one of their many live music events such as their famous Gospel Brunch that happens every Sunday in their backyard space or stop by on any other day of the week to order some world-famous barbeque while you catch a show inside.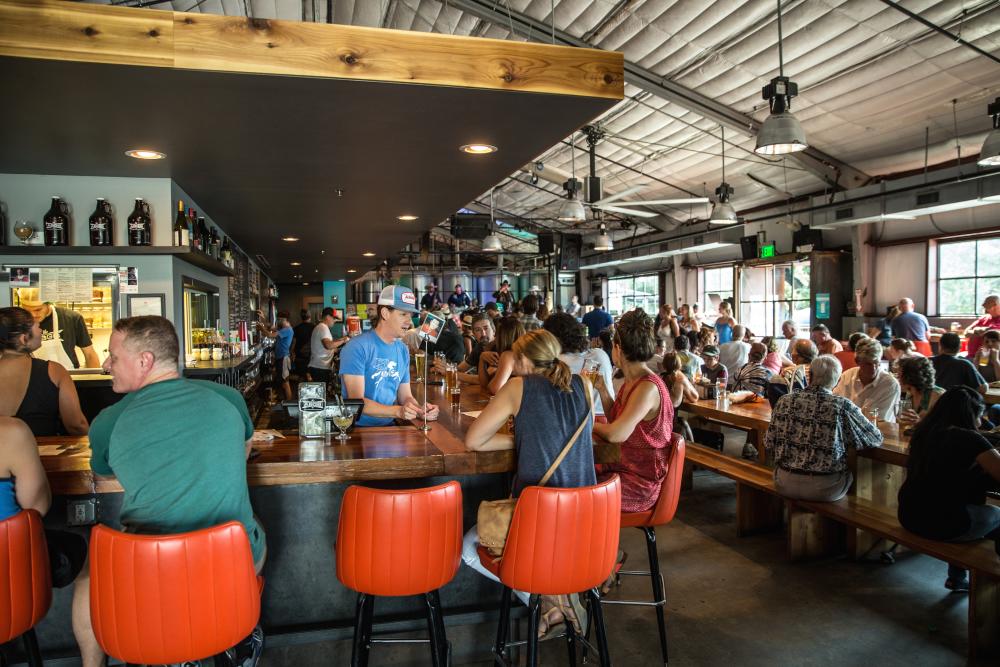 ABGB. Courtesy of Mountain Trout Photography.
At Austin Beer Garden Brewing Co, otherwise known as the ABGB to Austin locals, their guiding philosophy is "Beer Makes It Better!" Holding true to this philosophy, the ABGB donates 10% of their profits every year to various non-profit organizations. On top of that, the venue is known to be top-notch in artist hospitality, their delicious pies, sandwiches, and salads, and their unbeatable selection of craft beers. Check out their events calendar for more information on their weekly lineups of some of Austin's best local artists.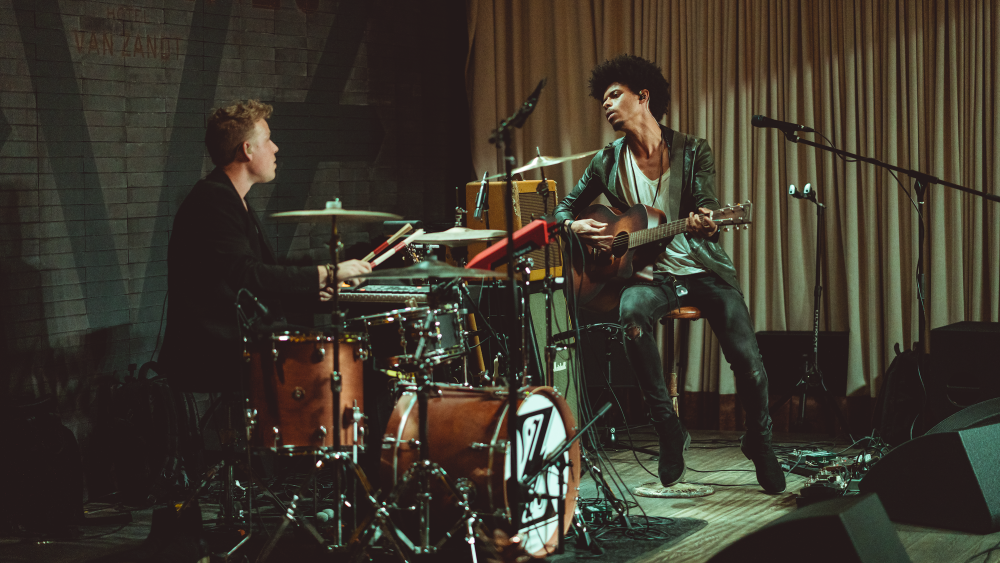 Zach Person at Geraldine's. Credit Ismael Quintanilla III.
Located on Austin's infamously lively Rainey Street within the Hotel Van Zandt, named humbly after one of Austin's most iconic guitarists of all time, Geraldine's hosts local songwriters in their dining room almost every night of the week. The restaurant is the true definition of hyperlocal from their Austin-inspired cocktail program to their menu of contemporary Austin fare. You don't want to visit Austin without experiencing one of Geraldine's famous Saturday jazz brunches.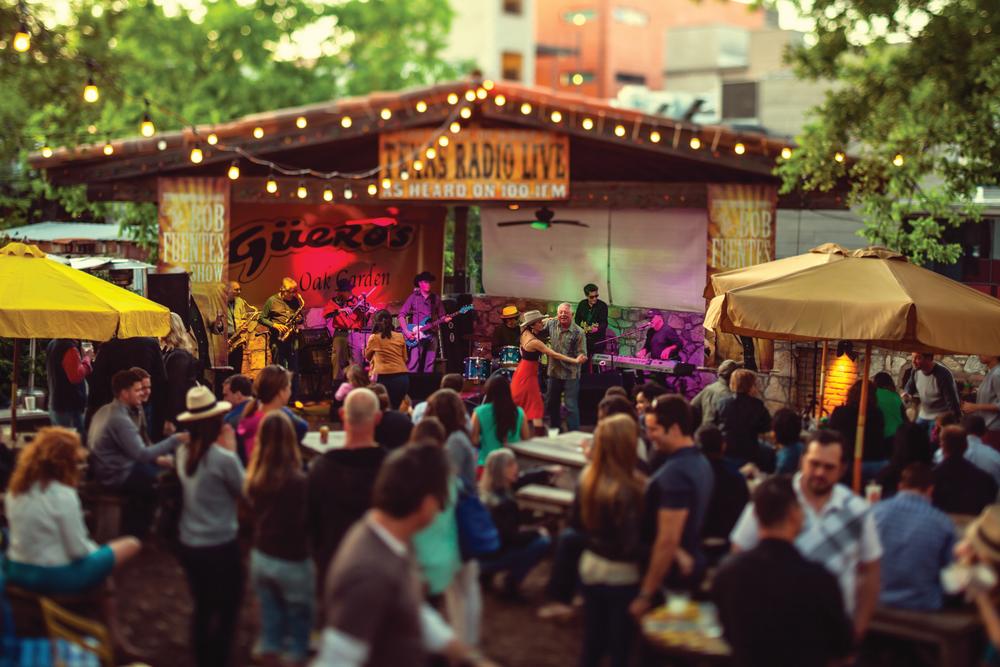 Texas Radio Live at Guero's Oak Garden. Credit Andy Mahr.
Austin summers can get hot, but thankfully Güero's Taco Bar on South Congress provides the perfect shady spot to guzzle down a cold one, order some tacos from their popular taqueria, and listen to local talents like Buenos Diaz or the Amber Lucille band shake the earth below you. Fun fact: Güeros was featured in a scene in the 2014 film Chef featuring none other than Austin hometown hero Gary Clark Jr. performing on the backyard stage!

Central Standard. Courtesy of South Congress Hotel.
Central Standard
Every Wednesday night of the summer season, Central Standard hosts free live local music on a first-come, first-served basis. The swanky South Congress bar & grill is attached to the mid-century modern themed South Congress Hotel. Every month, the hotel hosts its First Thursday celebration keeping with the iconic tradition of South Congress. After you check out all of the local vendors along SoCo, stop by the South Congress Hotel to see Austin's top-league artists perform.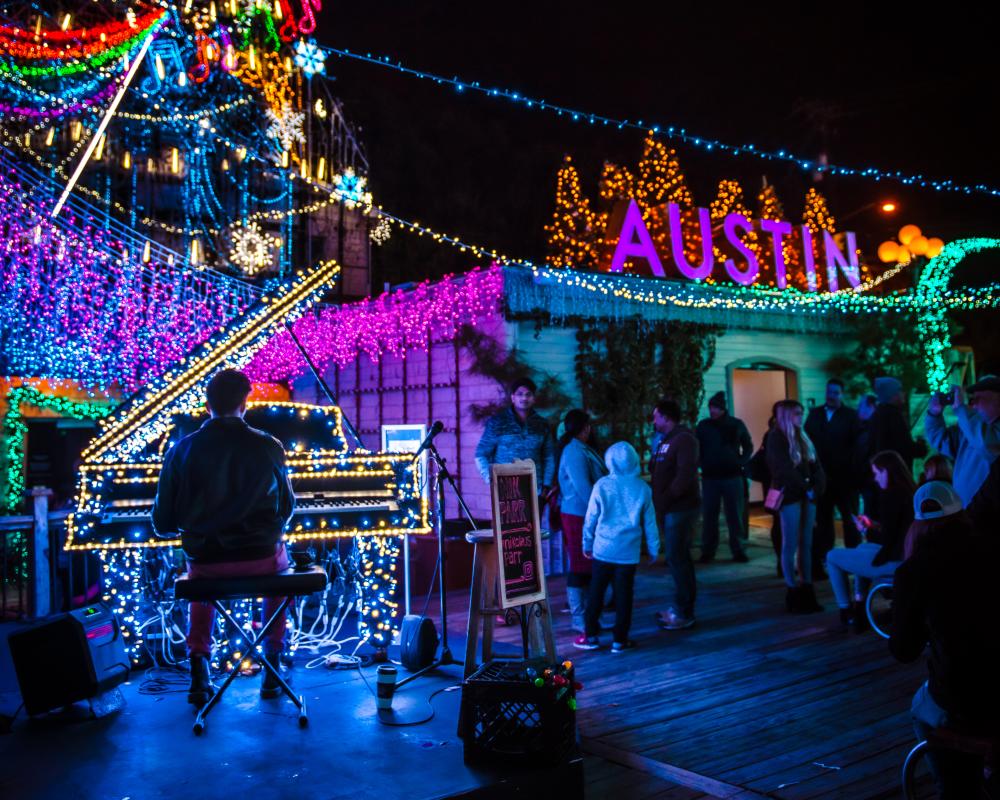 Mozart's. Credit Carlos Hernandez.
If you're in the mood for dessert or need a wake-me-up, there's possibly no place in Austin more picturesque to grab a coffee than the lakeside Mozart's Coffee Roasters which overlooks Lake Austin. This famous coffeehouse destination has some of the best pastries in town and a full schedule of live music almost every day. Notably, Mozart's also hosts an annual holiday light show each year in the winter season.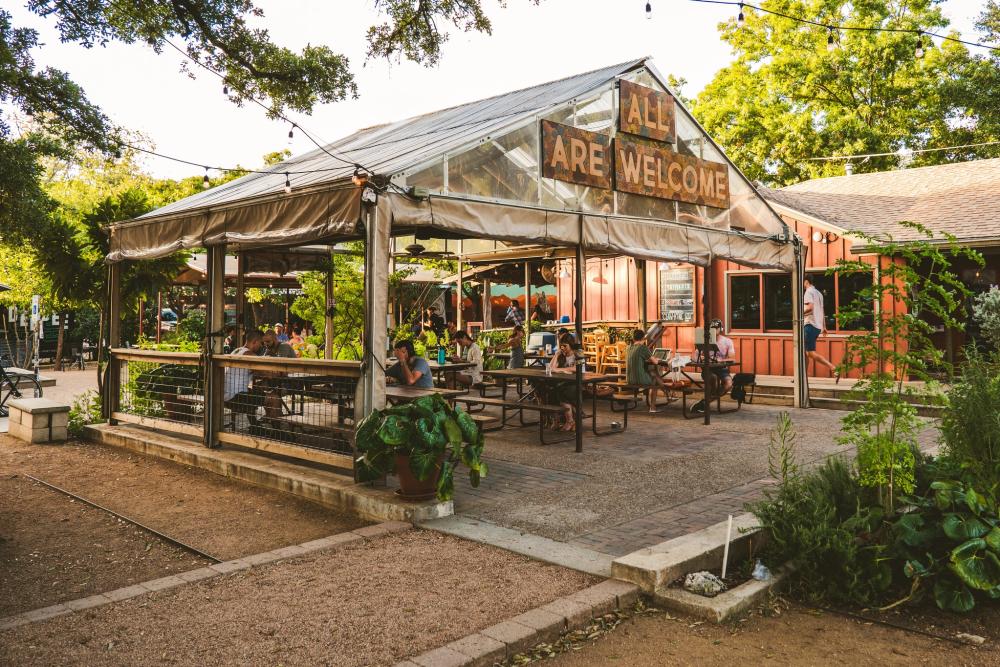 Radio Coffee & Beer.
If you find yourself deeper in South Austin, Radio Coffee & Beer will serve you the perfect cup of coffee while you enjoy their frequent live music events and a well-curated selection of some of Austin's best food trucks: Veracruz Tacos, Dee Dee Thai, and Da Boot Po'Boys. A local favorite, Radio has been a favorite hang spot since 2014 and is known for its specialty espresso, craft beer selection, cocktails, and shady live oak trees. Jack Wilson, a local Austin musician and owner of Radio, created the Radio atmosphere to be warm and inviting for both artists and patrons alike.
Austin's local secret, The Little Darlin' is a no-frills watering hole with frequent live music events, a menu of locally sourced food that will blow your mind, and delicious micheladas. Established in 2016 by an experienced line of bar and music venue owners, it features a beautiful outdoor bar, fun bar games, and friendly service. Bring a couple of friends or your dog and enjoy some backyard fun!
Contributed by Nathalie Phan.

Nathalie Phan is a local music connoisseur and the founder of On Vinyl Media and SoundSync Music. She is passionate about helping Austin musicians and the local music industry.
Twitter: @natphantastic