During this time, the health and well-being of our local community and our visitors is vital. Travelers to Austin – and all destinations – should continue to observe the health recommendations of national, state and local public health officials, as they plan to travel, when they travel and when they are visiting any destination.
For the latest updates about the status of each featured business, please check each location's website. To learn more about local restrictions and closures, click here.
When it comes to dining in Austin, you can't leave town without trying some true Texas barbecue. Whether you like your ribs and brisket done old school-style or with a modern twist, you're sure to find your new favorite among these sizzling barbecue hot spots.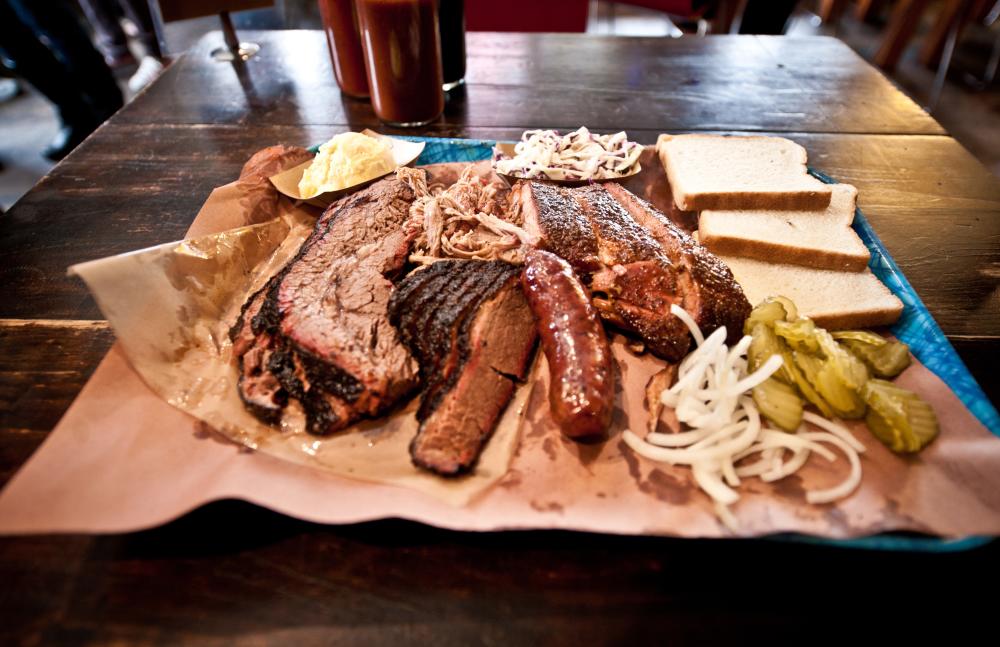 Franklin Barbecue, credit Eric Ellis.
*Offering curbside pickup with online pre-orders only
Sink your teeth into the ultra-tender brisket crafted by James Beard Award-winning pitmaster Aaron Franklin. Bon Appétit magazine and loyal locals call Franklin Barbecue the best of the best, and the lines outside of this Austin star aren't thinning anytime soon. Foodies arrive early to snag their place before Franklin's staff pulls out the "Sorry, Sold Out! Come Back Soon." sign.
*Offering curbside pickup with online pre-orders only
This food truck offers a creative take on barbecue, using seasonal ingredients sourced from local farms and ranches. Meats are sliced to order and served by the pound (try the decadent sliced pork belly or the macaroni-and-cheese-stuffed quail). Playful desserts at LeRoy and Lewis include the brisket chocolate chip cookie.
*Open for dine-in or take out orders
The family-run Sam's is an old-school barbecue joint that's been open in East Austin since 1957. This no-frills spot is known for its fall-off-the-bone ribs and tender brisket that are cooked over an indoor brick pit. Order traditional sides like baked beans or potato salad.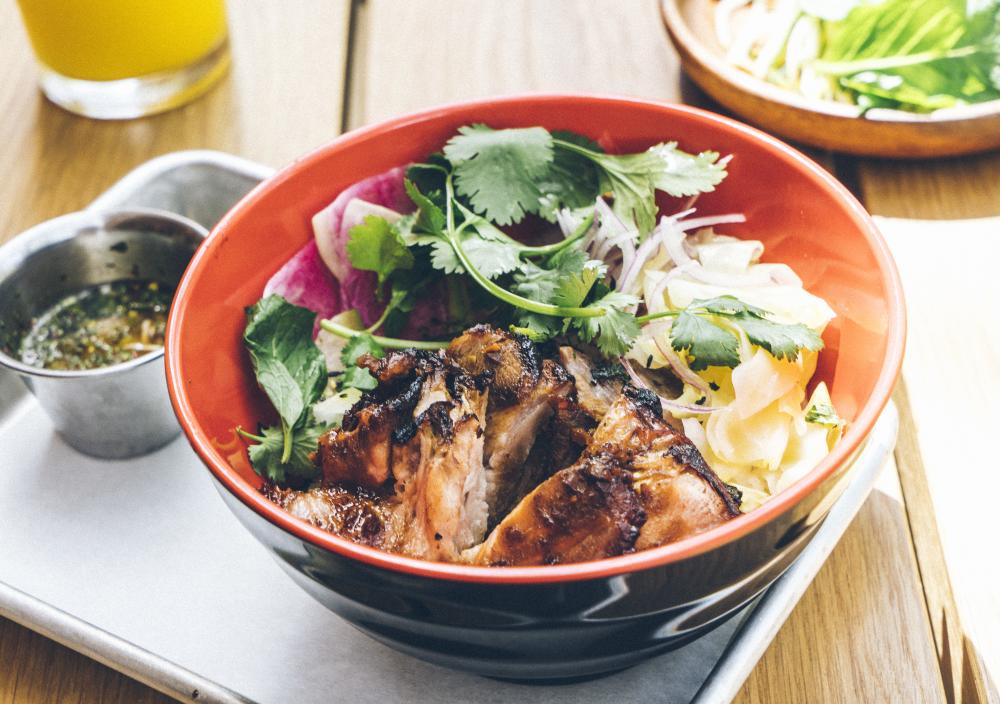 Char Siew Pork Shoulder from Loro. Credit Logan Crable.
*Open for dine-in or curbside pickup with online pre-orders 
This hotly anticipated Asian smokehouse with a casual backyard barbecue vibe recently opened on South Lamar. Headed up by noted Austin pitmaster Aaron Franklin (of Franklin Barbecue) and Chef Tyson Cole (of Uchi fame), the James Beard Award-winning duo turns out traditional favorites with a twist, like smoked beef brisket flavored with Thai herbs and oak-smoked salmon in cucumber-yuzu broth. Exotic sides include garlic rice noodles and coconut rice.
*Open for walk-up orders
Who says you need to have a sit-down restaurant to serve up swoon-worthy food? Walk up to this barbecue trailer outside Corner Bar on South Lamar to put in your order, and leave with a plate piled high with some of the best 'cue around: succulent pulled pork, smoked chicken, juicy ribs and perfectly charred brisket. And don't even get us started on the sauce-slathered brisket-and-sausage sandwich.  
*Open for walk-up or call ahead orders
Step up to the trailer and order meats like lean brisket, spare ribs and sausage by the half-pound. Or opt for the Posse Pack and choose three pounds of meat with a pick of two pint-size sides, including cream corn, pinto beans (dotted with sausage and bacon) or white cheddar mac 'n cheese. Side your meal with a Dr. Pepper or Topo Chico and you're good to go!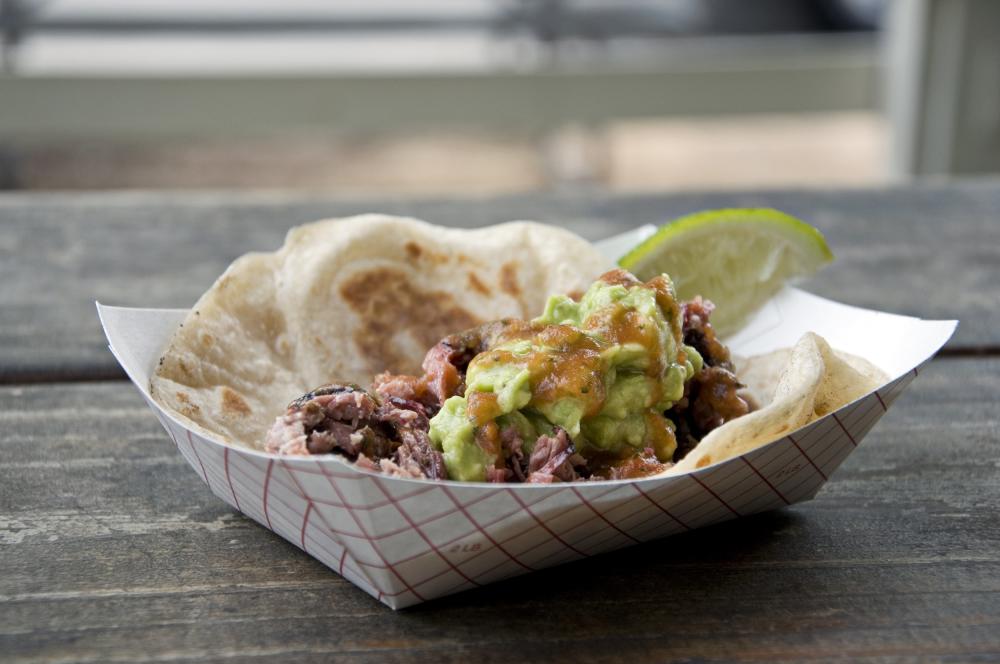 Valentina's Tex Mex BBQ. Credit Rose McIntyre.
*Offering curbside pickup with online orders only
Barbecue for breakfast? You betcha. Cruise up to this food trailer and start your day with The Real Deal Holyfield, a breakfast taco loaded with a fried egg, potatoes, refried beans, bacon and your choice of mesquite-smoked brisket or pulled pork. For lunch or dinner, take your pick from "Tex" sandwiches or "Mex" tacos — or just order juicy meats by the pound, from pulled chicken and pork to beef and pork ribs.
*Open for dine-in or curbside pickup with online orders 
Legendary barbecue runs in the Black family, who passed down their smoky, saucy secrets from one generation to the next. Get a taste of the family tradition at their Austin hot spot near Butler Park, where all kinds of meats - tender brisket, peppered pork ribs, smoked turkey and juicy sausage - are paired with classic sides like creamy mac 'n cheese, creamed corn and baked potato salad.
*Open for dine-in or curbside pickup with online orders 
Boasting two Austin locations - County Line On The Lake and County Line On The Hill - this Texas institution is dedicated to high-quality smoked ribs, brisket, sausage and chicken served with traditional sides of coleslaw, potato salad and beans. The County Line is all about large portions and reasonable prices.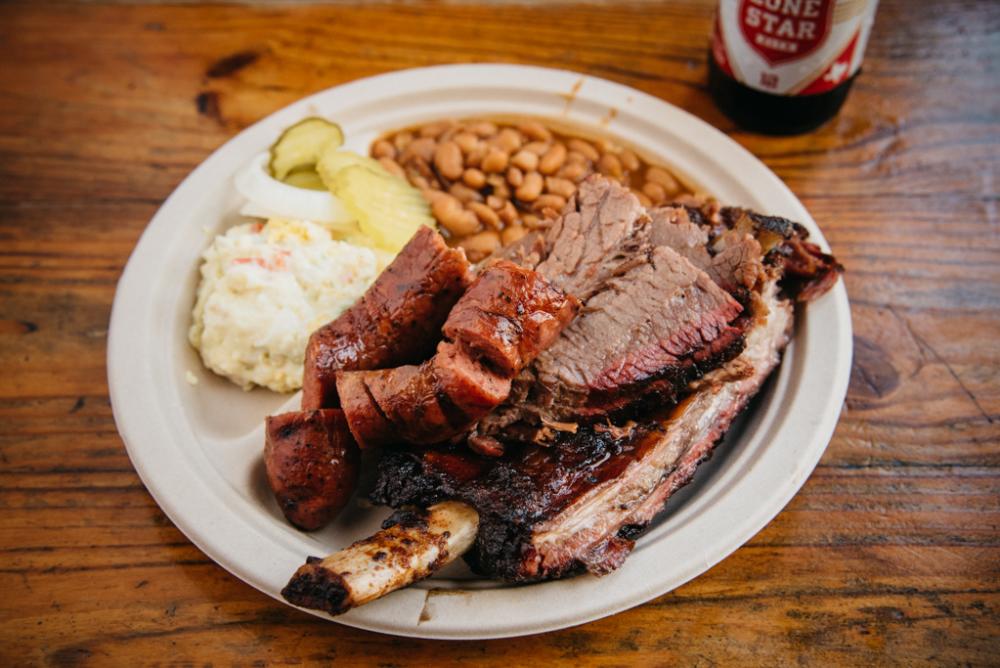 Iron Works Barbecue. Credit Lisa Hause.
*Open for dine-in 
Originally an ironwork shop, this tiny tin building (a state historic site) was transformed into a barbecue haven in 1978. Plates come loaded with famous Texas sliced beef, ribs and more, while the mouthwatering sandwich menu spans smoked pork loin and pulled pork. Can't decide? Order the sampler plate and dig into sliced beef, signature hot sausage and a beef rib served with potato salad, beans, pickle, onion, bread and barbecue sauce.
*Open for local delivery or curbside pickup with online orders 
The Original Black's BBQ in Lockhart now has an Austin outpost, serving barbecue cooked fresh on the Lockhart pits and hand-delivered to Austin daily. Three generations stand behind the slow-smoked recipes, dating back to 1932. Among them: pork spare ribs, chopped beef brisket, turkey breast, pulled pork and Black's famous homemade sausage, crafted from an 80-year-old recipe.
*Open for dine-in or curbside pickup with online orders 
Lamberts' menu spins modern interpretations of Texas cuisine. The smell-it-before-you-see-it bar, restaurant and live music venue serves up fancy barbecue like cold smoked quail and bacon-braised greens, along with wood-grilled steaks, chops and seafood. Side yours with the green chili cheese grits or fried okra with spicy remoulade.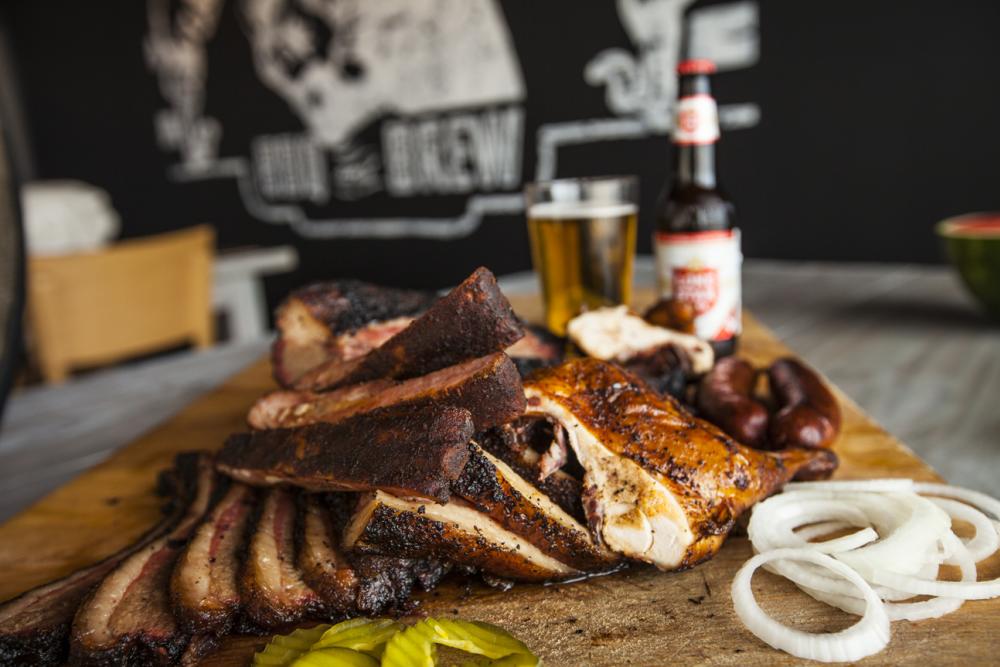 Stiles Switch BBQ & Beer. Credit Brian Fitzsimmons.
*Open for dine-in or curbside pickup with online orders 
Situated in the Art Deco-style Violet Crown Shopping Center (you might recognize it from the 1990s film "Dazed and Confused"), Stiles Switch is named after the historic 1800s I. & G. N. railroad stop. Sip Austin craft brews and try the beef chuck ribs with classic sides such as potato salad, corn casserole and peach cobbler while taking in the nostalgic ambiance.
*Open for takeout with online orders only
Located inside Quickie Pickie, la Barbecue's pitmasters serve up world-class beef, pork, turkey and sausage in a custom-fabricated smoker using local, perfectly seasoned post oak. Sample their El Sancho sandwich (pulled pork or chopped brisket on top of house-made sausage with red onion slaw) and see why they rank among the upper echelons of the barbecue world.
*Open for dine-in and pickup
Open since 1943, west Austin's House Park Bar-B-Que serves up all of the classics, like BBQ sandwiches and chopped beef by the pound. Step back in time when you walk through the doors at Austin's oldest barbecue pit, and enjoy a mixed plate of meats on the patio with their award-winning barbecue sauce and sides like baked beans and 'slaw.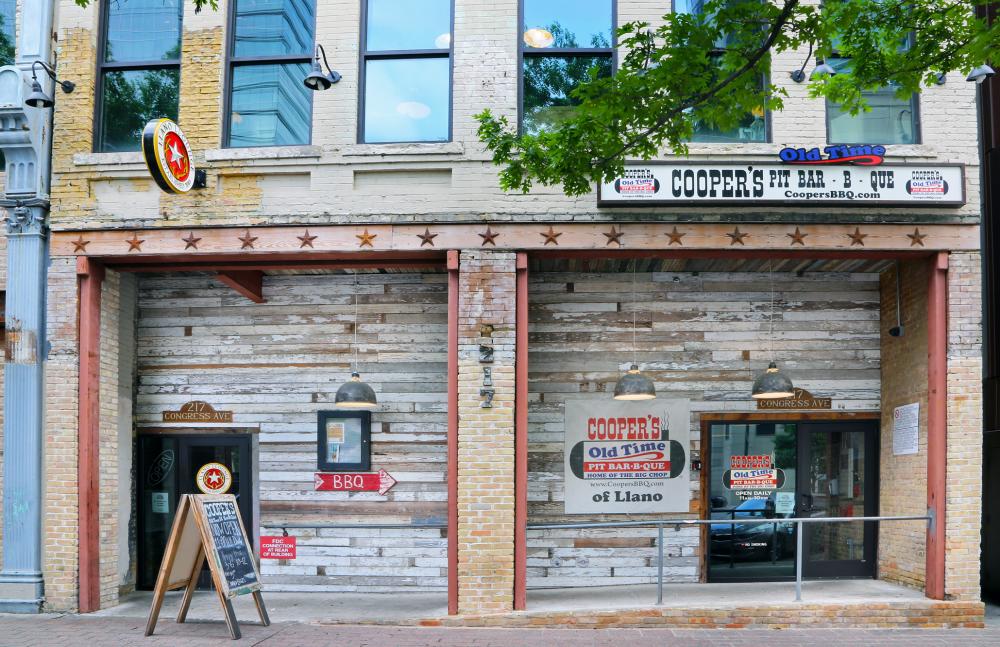 Cooper's. Credit Bruce Malone.
*Open for dine-in and takeout with text-in orders
Home of the world-famous "Big Chop" (a mesquite-grilled, two-inch-thick pork chop), this Hill Country original recently opened its Austin outpost, serving lunch and dinner cafeteria-style. Sit outside and savor the Texas institution's brisket, chicken, sirloin, cabrito (goat) or turkey.
*Opening August 28 for pickup orders
Yes, this quaint food trailer in East Austin has all the classic mainstays: brisket, ribs, pulled pork and such. But it takes barbecue to another level with its specials – such as the Brisket Frito Pie with chili, cheddar and escabeche -–and its gourmet sides, including lemon-poppy seed coleslaw, ranch-style beans and jalapeño cheese grits. If you still have room, don't pass up the decadent house-made desserts (we're talking oatmeal cream pie).
*Temporarily closed. Help support staff here.
Thrillist named Kerlin among the best new BBQ joints in America, and the Austin Chronicle raves about their "transcendent brisket experience." If that's not enough of a draw, the seductive menu built on pork shoulder, beef hot links and prime Angus brisket should seal the deal. Kerlin also goes all out with sides like blue cheese coleslaw, jalapeño dill potato salad, and creamed corn with chipotle and bacon.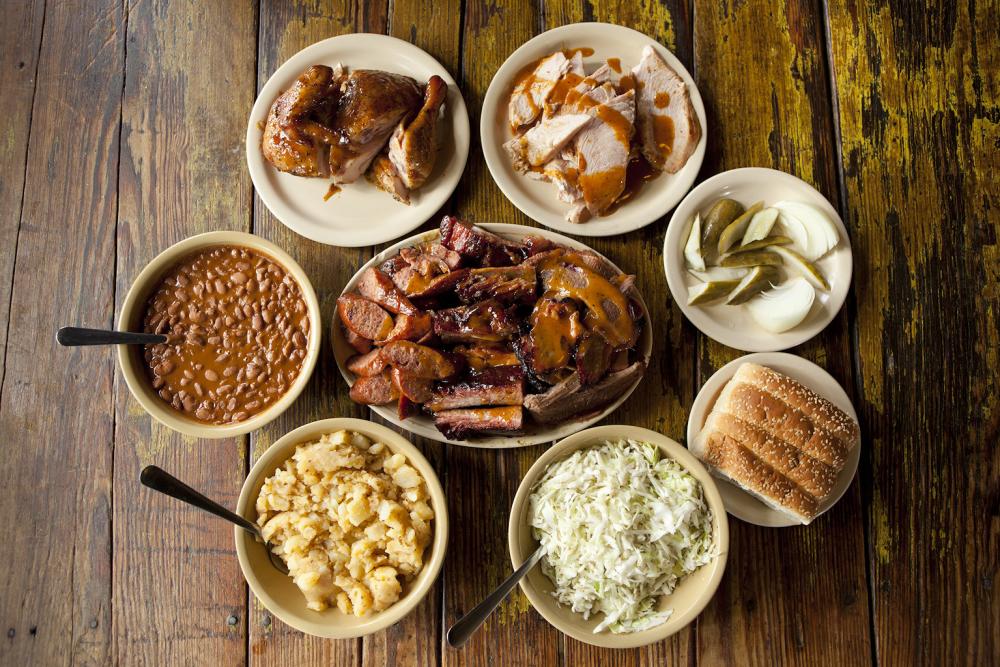 The Salt Lick. Credit Kenny Braun.
Day Trip Idea: BBQ Hot Spots in Texas Hill Country
Austin might be the epicenter of all things barbecue, but we'd be remiss if we didn't let you in on some hidden gems in nearby Hill Country. Take a jaunt over to Kreuz Market (open for dine-in) in Lockhart, a town officially known as the Barbecue Capital of Texas; City Market in Luling (takeout only); The Switch in Dripping Springs  for a Cajun dish with a side of small-town charm (open for dine-in and curbside pickup with online ordering); or the iconic Salt Lick BBQ in Driftwood for a taste of authentic Texas barbecue (open for takeout and outdoor picnic seating).
Craving more? Check out our complete list of Austin restaurants.