The National Register of Historic Places lists more than 3,000 sites in Austin that are important in their own right, or as parts of our 17 National Register historic districts. Few buildings are as easily identifiable as the Texas State Capitol, however, the Capitol is surrounded by many other impressive and noteworthy historic sites. Don't miss these iconic Austin destinations next time you're in town: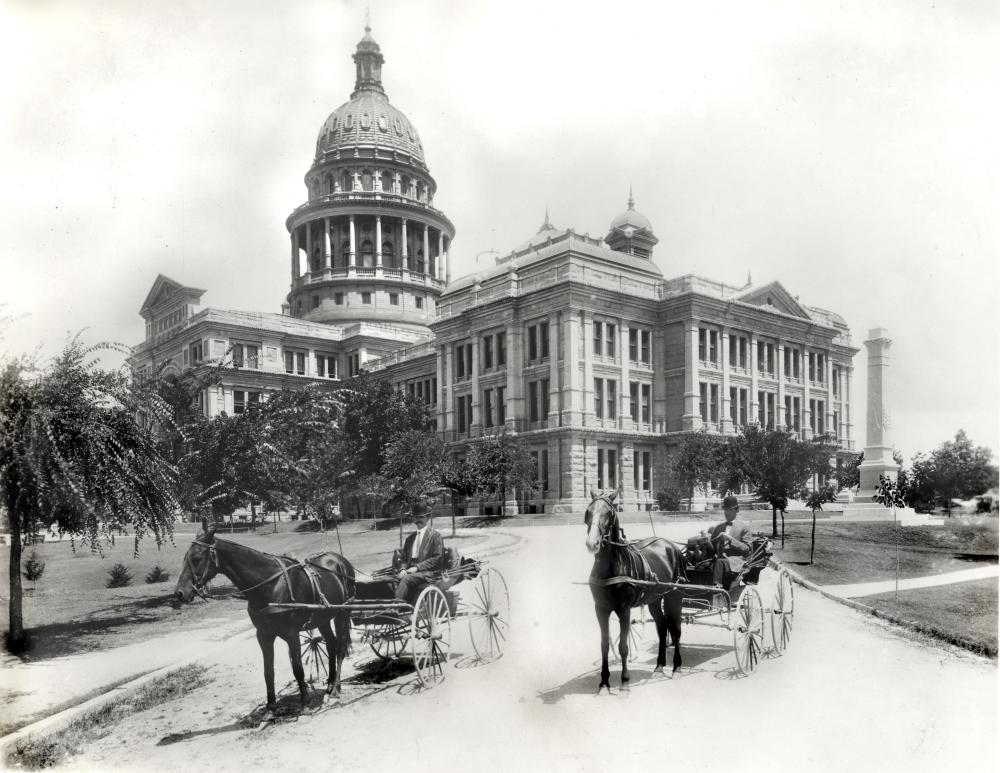 Texas State Capitol. PICA 17958, Austin History Center, Austin Public Library.  
Texas State Capitol Building
Congress Avenue at 11th Street
Detroit architect Elijah E. Myers' 1888 Renaissance Revival design echoes that of the U.S. Capitol, but at 302 feet, the Texas State Capitol is 14 feet higher. The base is made of rusticated Sunset Red Texas granite; the dome is made of cast iron and sheet metal, topped by a Goddess of Liberty statue (the original of which can be found on display at the Bullock Texas State History Museum). The seals on the south façade commemorate the six governments that have ruled in Texas over time: Spain, France, Mexico, the Republic of Texas, the Confederate States of America and the United States.
Multiple memorials decorate the 22-acres surrounding the Capitol, including multiple memorials to service men and women from Texas, and memorials to Tejano and Texas African American history (erected in 2016). Self-guided building and grounds brochures available. Open daily, except major holidays. Free. Building tours available.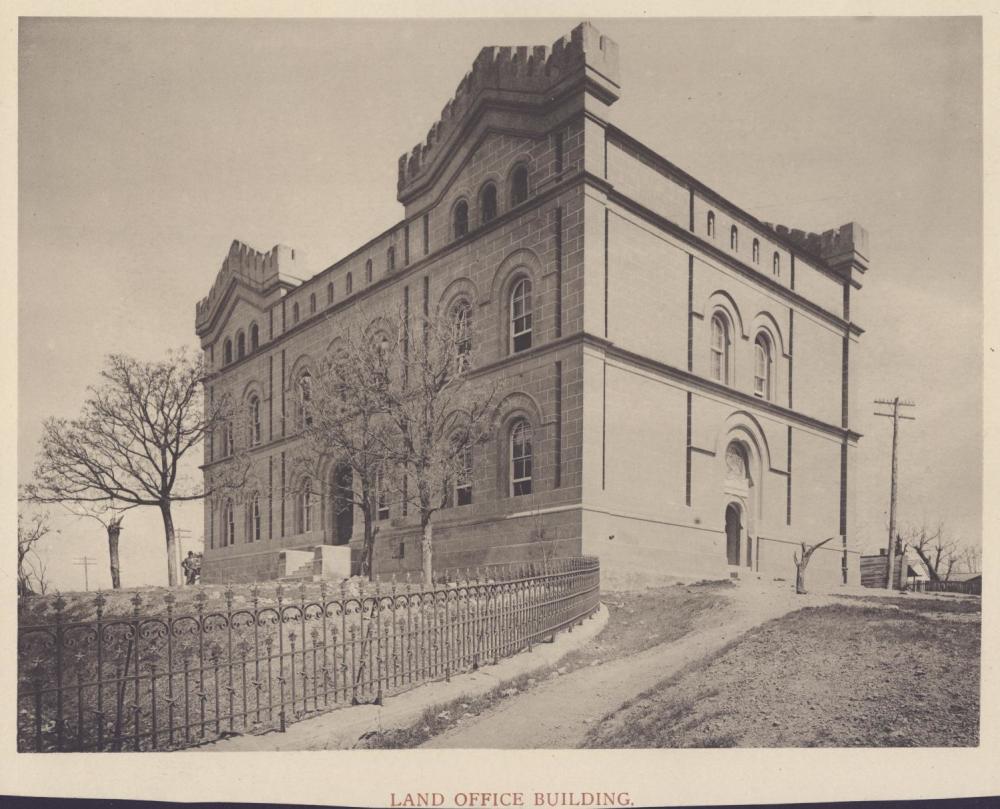 Land Office Building (Capitol Visitors Center) - PICA 05218. Credit Austin History Center.
Old Land Office Building, Capitol Visitors Center & Museum
112 E. 11th St., southeast corner of Capitol grounds
Built in 1857 to house the state's land records, the building now features the Capitol Visitors Center and a museum with fascinating, child-friendly exhibits about early Texas. Its Medieval Revival style reflects the German origins of its architect, Conrad Stremme. The building was recognized as a Texas Historic Landmark in 1962, and was listed on the National Register of Historic Places in 1970. In 1994, the building underwent a full restoration which restored its castle-like glory. Open daily, except major holidays. Free.
Texas Governor's Mansion
1010 Colorado St.
Every Texas governor has lived in the mansion from its construction in 1856 until arson seriously damaged the building in 2008. Precious furnishings and antiques were not in the building at the time, due to a planned repair project. They were returned to the mansion in 2012 after a meticulous reconstruction. This Classical Revival building is important not only as home to state governors, but also as the premier product of its builder Abner Cook. Self-taught and trained by apprenticeship, Cook made his mark on Austin as designer and contractor for 35 Austin buildings, 13 of which are still in use today. Free tours, with 7-day advance reservation required.
HISTORIC THINGS TO DO NEAR THE CAPITOL
Symphony Square
1101 Red River St.
Symphony Square is a collection of 1870s Texas vernacular stone buildings, brought together by the Austin Symphony Orchestra. The Jeremiah Hamilton home, a triangular stone building situated on Waller Creek, was built in 1871 by Texas state legislator Jeremiah Hamilton, one of nine black legislators serving in the 12th Texas legislature. Today, it serves as an outdoor amphitheater.
German Free School
507 E. 10th St.
One block away is the 1857 German Free School building, home of the German-Texan Heritage Society. The historic building (recognized as both an Austin and a Texas historic landmark) houses regular German language classes, educational programs and annual events such as Oktoberfest, Maifest, the Christmas Market and more.
St. Mary's Cathedral
 203 E. 10th St.
Visit the stunning, Gothic-style St. Mary's Cathedral, just one block south of the Capitol Visitors Center. This beautiful limestone structure, designed by architect and Irish immigrant Nicholas Clayton, is registered as a Texas Historic Landmark as well as on the US National Register of Historic Places. The cornerstone was laid in 1972 and is noted for its striking stained glass and design elements which evoke natural places The Cathedral and Ave Maria Gift Shop are open daily (not accessible for during scheduled events and services).
While you're in the neighborhood, stop for iconic Austin eats at Texas Chili Parlor, seen in Quentin Tarantino's 2007 Death Proof and serenaded by Guy Clark in his tune, "Dublin Blues". Be sure to order Texas-style chili, without beans! Or visit Clay Pit for some of the best Indian food in town, along with a historic landmark you're not likely to forget. The restaurant is housed in what was once known as Bertram's general store (built 1853), purchased in 1872 by Rudolph Bertram and converted into a grocery store and saloon. Schmooze up next to lawyers and lawmakers after hours at the The Cloak Room, a dive bar on the edge of the Capitol grounds. The subterranean bar is located in the historic Goodman Building, built in the early 1890s. 
Learn more about historic Austin with our post about 35 Must-See Historic Sites in Austin or take a guided Downtown Walking Tour!