The popular and long-awaited Austin City Limits Festival is back at Zilker Park for its 19th anniversary, with two full weekends of live music (October 1-3 and October 8-10, 2021). With over 130 bands and performances from headliners such as George Strait, Miley Cyrus, Billie Eilish Rüfüs Du Sol, this year's festival-goers have a lot to look forward to. Within this stellar line up of global touring talent, some of the Live Music Capital of the World's® finest performers will take center stage
If you've already purchased your tickets (GA, VIP and Platinum tickets are officially sold out) be sure to catch these 18 local artists to see what the ACL vibe is all about.
Four-time Grammy nominated psychedelic-soul music duo, Black Pumas (made up of Eric Burton and Adrian Quesada), are a rising force to be reckoned with. When these two musicians team up, their energy and captivating live performances are anything but surprising.
In his new album, BLK Vintage, BLK Odyssy shows his personal experiences as a Black musician and applied it to the plight of Black Americans everywhere through smooth vibes and laid-back lyrics. He uses his platform to show the harsh reality of being black in America and how it fuels everything he does, especially his activism.
Truly a remarkable artist to follow, Charley Crockett constantly shows his dedication to his music by staying in the studio and recording storytelling songs, making compelling videos and playing live shows around the U.S. and Europe. His one-of-a-kind voice and mysteriousness leave fans craving for more of his sad-yet-uplifting, complex and delicate music.
Sloan Struble, also known as Dayglow, is a self-made artist who likes to have fun with his talents. His indie-rock music has surpassed over five million Spotify plays and is still moving upward today and has an exceptional sense of optimism and feel-good freedom that is rarely seen in current music. Stream his new album Harmony House today!
The sound of Deezie Brown is what he calls a 'blue collar' style of southern hip-hop and funk with a mixture of the modernism of today's cinematic soundscapes. Exposed to hip-hop at an early age, Deezie gathered blank tapes and used his boombox to record mixtapes from his family's cassette tapes. Be on the lookout for his upcoming album, said to be released later in 2021.
With a new album coming out in September (which means new music at ACL) called A Beautiful Life, Heartless Bastards wants to share a wide-eyed and radiant vision for harmonizing a broken world. Frontwoman and Austin-based songwriter, Erika Wennerstrom, has the power to influence our state of mind by transforming her idealism into potent rock-and-roll songs.
Creating a new name for dance music and widely known for her base-rattling house beats and electrifying live performances is the forward-thinking, boundary-breaking artist LP Giobbi. Known to be an unstoppable force with her host of instruments, including a piano, synth bass and drum machine, you don't want to miss this kind of next-level performance.
Right from the mouth of Mike Melinoe, "creating art and music is something that's always been around, so I cherish this talent and won't stop for no one." This Austin-based hip-hop writer is one of the many voices that make up the music scene today and whose story of perseverance sings louder than anything. He is the true definition of when you put your mind to something, you can accomplish anything.
Missio, meaning "mission" in Latin, is what singer-songwriter Matthew Brue has now set out his side projects to be—his main mission. The sound of this band's music is like no other with an alternative/electronic beat and is loved by many. Visit their set to experience their high-energy live performances and custom-built light shows.
Just by playing cover songs for their friends in college back in 2016, the band Nané came to realize their full music potential. Within the first year as a band, they have headlined countless shows and released their electric debut album to rave reviews. Don't miss what will surely be their first of many major festival performances.
Riders Against The Storm capture the very essence of the cultural phenomenon known as hip hop. This Austin husband-and-wife duo strives to create an all-out party while maintaining the spiritual integrity of hip hop culture within their music.
Making an appearance at ACL 2021 is Sir Woman whose new EP is a mixture between pop, soul, gospel, funk, folk and R&B. In 2020, Sir Woman's much-anticipated debut album was on the path to becoming Austin Music Awards' Best New Act of 2020—just when the world shut down due to the pandemic. Frontwoman Kelsey Wilson plans on celebrating the release of her EP on October 23, 2021 but first, check her out at ACL
TC Superstar is a television performance group and as we can assume, all of their videos, music and merch are on television. The group has free-spirited choreography and boppy synths which makes watching them perform feel as if you've gone out with friends who happened to appear on stage. On a well-weathered weekend in Austin, you're bound to cross paths with TC Superstar at some point; this October, make that at ACL.
Don't miss your chance to experience the return of live music festivals in Austin - purchase your tickets today!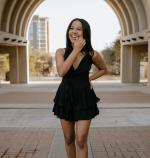 Contributed by Brooke Lewis.
Brooke Lewis is a copywriter and a recent graduate from Texas State University where she was a major in Advertising. As a new resident to Austin, she strives to find new food, music, and nightlife spots every weekend. You can find her work at brookelynnlewis.weebly.com or connect with her on LinkedIn at Brooke Lewis.