A well-kept secret is that Austin is one of the nation's meccas for vintage enthusiasts. From clothing and accessories to home good and furniture, Austin is home to at least 29 vintage shops catered for lovers of the past. Looking for a little nostalgia? These areas of Austin are home to many of our most beloved shops.


Uncommon Objects, Bloomers and Frocks and Passport Vintage.
South Austin
While the vintage shops in South Austin are a bit spread out, it is worth the exploration and walk or short drive between them. South Congress has long been the stop for vintage, with Feathers Boutique and Prototype Vintage dominating the scene. But want to find more local flavor? Head off the tourist drag and discover some hidden gems. Top of the list is Uncommon Objects, which captures Old South Austin with a new address n Fortview Road. This shop will excite the treasure hunter in you with 25 curators of antiques, curiosities, and raw materials. Plan on spending an hour here (at least) to explore every nook and cranny as you find everything from taxidermy to jewelry to oddities your mind can't even imagine.
Vintage clothing boutiques dominate South Austin. Bloomers and Frocks, on the trendy South First Street, is one of the most highly curated women's clothing boutiques in the city, with clothing and jewelry dating 1970s and older. What sets them apart is their level of service, expertise in older eras, and the fact that they clean and measure all garments making it super easy to shop. Also located on South First are Flashback Vintage which carries men's and women's clothing, and Passport Vintage, known for their denim and vintage t-shirts from the '70s-'90s.


Revival Vintage, Room Service Vintage and Big Berthas Paradise.
North Loop
North Loop is a pickers dream. With five vintage shops concentrated across the street from each other, there is something for every vintage lover in this district. Room Service Vintage anchors the street with 3500 sq. ft packed with a massive selection of '50s-'70s furniture, lighting, clothing, jewelry, toys/novelties, records, art, books, magazines, kitchenware and probably some crazy item from your childhood that you didn't even know you needed back in your life. Pro tip: Don't forget to ask for the key to the bunny bathroom before you leave.
Not to be overshadowed by the anchor, this district is packed with vintage fashion at Big Berthas Paradise, Blue Velvet Vintage, Revival Vintage (new location on nearby North Lamar Boulevard), and Ermine Vintage, whom we love because they group their clothing by modern day size.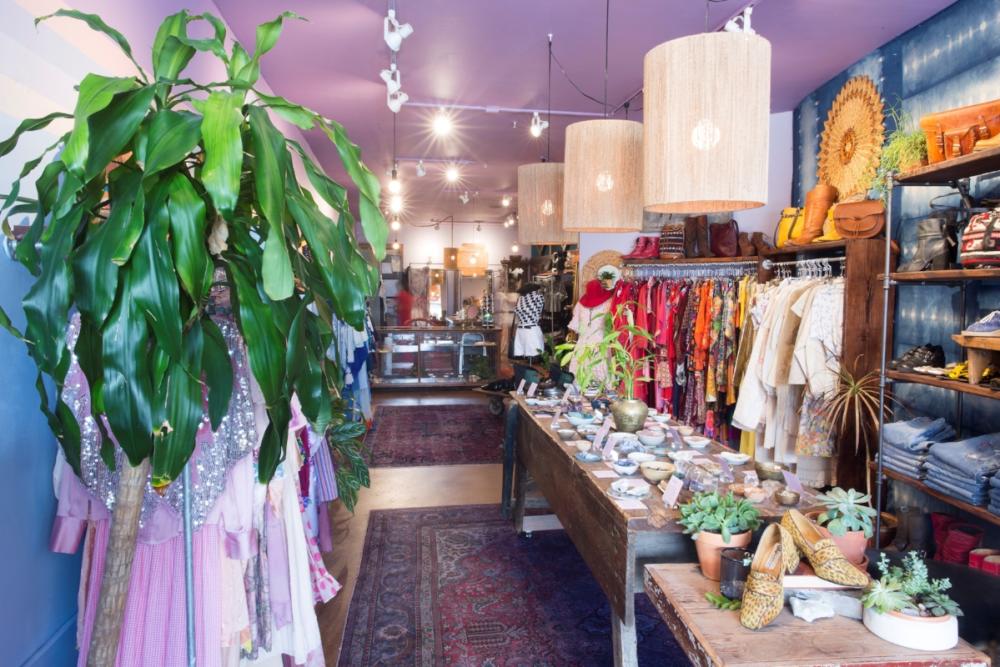 Courtesy of Charm School Vintage.
East Side
The vintage shops on the east side are a bit more spread out, but worth the journey. All focused around vintage clothing, Charm School, Blackfeather Vintage Works and Treasure City Thrift all offer the hottest recycled trends from the 1960s-today. Tucked away in the Govalle neighborhood, Blackfeather Vintage is must see with a curated collection of bohemian and rockabilly goods. And we love the parties and events that Charm School Vintage hosts on a regular basis.
Want to know more about the vintage scene in Austin? Check out the Vintage Around Town Guide, pick up a brochure from any vintage shop, or follow them on Instagram at @vintagearoundtownguideaustin
Contributed by Rebekka Adams, co-producer of the Vintage Around Town Guide.