One of the things that drives Austin's success as a destination is its fiercely entrepreneurial spirit. From funky local businesses to bleeding edge tech startups, it's a city where big dreams thrive. Austin also happens to be one of the best spots for female-led businesses. Check out this list of just a few of the many women-owned businesses in Austin to support, on International Women's Day and every day.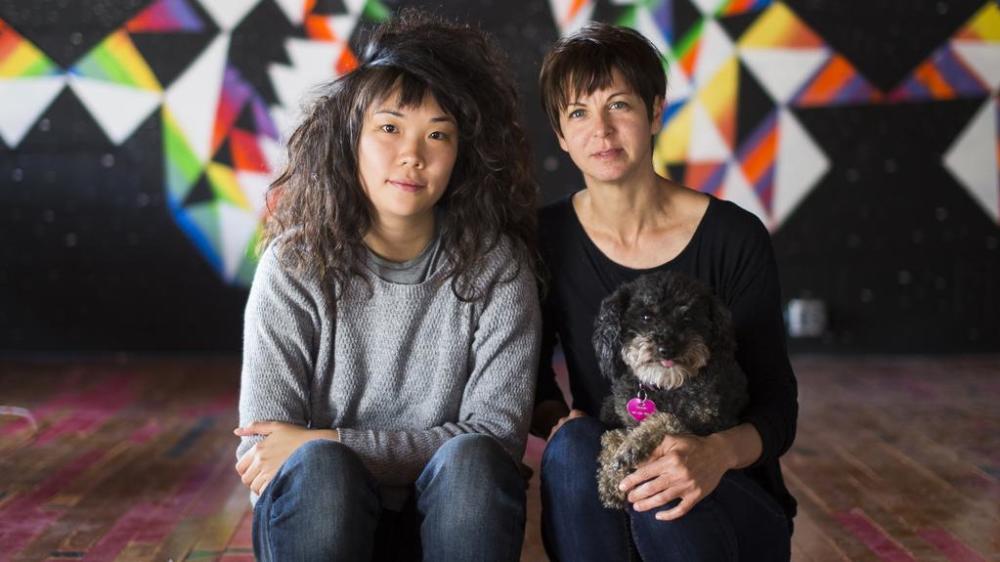 ​Maggie Lea & Tamara Hoover, Cheer Up Charlies. Courtesy of Cheer Up Charlies.
Restaurants, Food Trucks & Bars
Baby Greens
1508 W Anderson Ln
Baby Greens is a drive thru salad restaurant and healthy fast food joint in Austin. Serving made-to-order salads and wraps for carnivores, vegetarians and vegans.
Blue Dahlia Bistro
3663 Bee Caves Rd
A cheery restaurant featuring a European vibe and a menu of French-inspired cuisine, using organic, biodegradable and local products whenever available.
Cheer Up Charlies
900 Red River St
This lesbian-owned bar and music venue with an adorable backyard and Arlo's food trailer. Cheer Up Charlies showcases a diverse range of acts and themed dance parties, billing itself as welcoming to the LGBTQ (and straight!) community.
Counter Culture
2337 E Cesar Chavez St
Counter Culture serves internationally-inspired vegan comfort food which is made daily on the premises. Catering to vegetarians, yet popular with omnivores, Counter Culture offers friendly, informal service in a lively mid-century atmosphere.
drink.well.
207 E 53rd St
Classic and contemporary craft cocktails anchor an inventive menu that also features beer, wine, an extensive spirits selection and shareable American pub fare at this award-winning neighborhood bar.
Ego's
510 S Congress Ave
Karaoke rules at this basic bar and pool venue, which hosts nightly sessions & national tournaments. Once you find it tucked cozily behind a gas station and under an office building, you'll be hooked.
El Alma
1025 Barton Springs Rd
El Alma brings to life a fresh approach to Mexican flavors. The rooftop houses an expansive outdoor patio with a view of the Austin skyline.
El Naranjo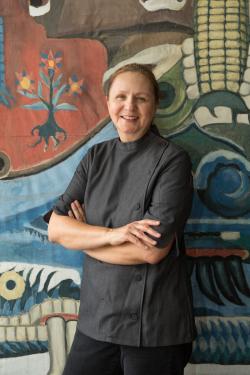 2717 S Lamar Blvd, Ste 1085
El Naranjo Restaurant & Bar serves delicious traditional Mexican food. They create savory salsas and moles in house, and well-seasoned food with great concern for finding a pleasing balance of flavors.
Emoji's Grilled Cheese Restaurant
1818 E 12th St
Hope Green's Emojis Grilled Cheese food truck offers fun and creative spins on the classic comfort food sandwich. Try the 9/13 brisket grilled cheese or a grilled chicken pesto sandwich sided with a refreshing sweet peach tea.
Fluff Meringues
4800 Burnet Rd, #450
The Fluffery is a fusion of a British patisserie with a modern, quirky American spirit. Fluff Meringues offers a wide variety of delicious and unique cafe and party options. Come by for afternoon tea with friends.
Kitty Cohen's
2211 Webberville Rd, #3548
Kitty Cohen's is a patio bar in East Austin. The cocktail lounge, poolside patio and outdoor kitchen has a unique, classy 1970s aesthetic inspired by the rebel women in our lives.
Kreyol Korner
805 Stark St
Experience authentic Haitian culture at this tasty food truck. Try traditional Haitian delights in a colorful Caribbean atmosphere. Try the Lari Burger on a plantain bun with a guava punch. 
la Barbecue
2027 E Cesar Chavez St
la Barbecue was born of fire and controversy and has risen to the upper echelons of the barbecue world. LeAnn Mueller cooks up world class beef, pork, turkey and sausage in a custom fabricated smoker using local, perfectly seasoned post oak.
Sala & Betty
5201 Airport Blvd
Farm to table, wholesome, New American food prepared from scratch with a Southern twist. Chef Teresa Wilson prepares well executed food that's simple yet more elaborate than a typical casual restaurant.
Tiny Pies
2032 S Lamar Blvd
​Tiny Pies bakes up farm fresh, hand-held pies from tried and true family recipes handed down for generations. They're just like Grandma used to make... only much, much, smaller.
Veracruz All Natural
2505 Webberville Rd (multiple locations)
Veracruz All Natural Owners Reyna and Maritza Vazquez, sisters and best friends, opened their food truck on Cesar Chavez in 2010 and lines have formed down the block ever since. They've grown over the past 9 years, expanding to another taco truck and two brick-and-mortar restaurants.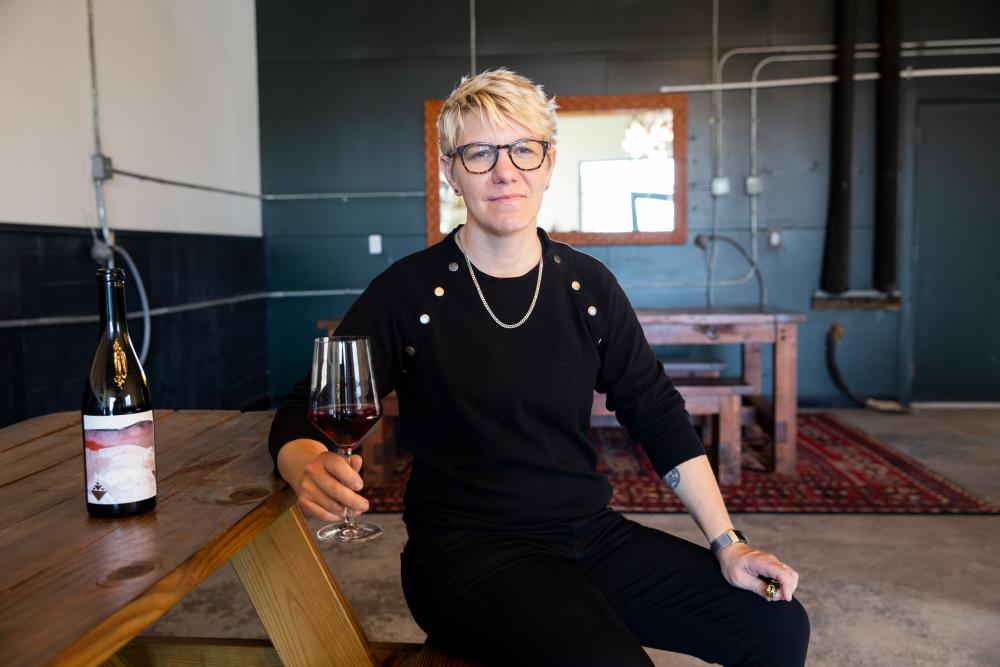 Rae Wilson, Wine for the People. Credit Heather Gallagher Photography.
Breweries & Wineries
Celis Brewery
10001 Metric Blvd
Founded by Christine Celis, this brewery makes Belgian-style ales, including the original witbier that Pierre Celis brewed in Hoegaarden. The brewery is an extension of the Celis family legacy and builds on the award-winning craft beer heritage for which the family is known.
Independence Brewing Co
3913 Todd Ln, #607
Since 2004, Independence Brewing has served the independent thinkers and drinkers of Texas. United by a love of beer and self-expression, Independence beers are bold and loud.
Wine for the People
12345 Pauls Valley Rd
Rae Wilson, Founder/Winemaker of Wine for the People, is a food and wine industry veteran with winemaking experience in Napa Valley and Portugal. Upon her return to Austin, Wilson established Wine For the People which now produces multiple wine brands and offers a new Hill Country tasting room experience.
Shops & Boutiques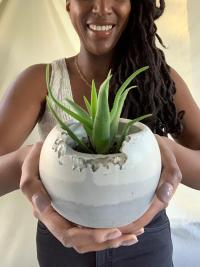 Adelante Boutique
1206 W 38th St, #4104
This mother and daughter owned boutique sells chic women's apparel and accessories plus home decor sold in a breezy, boho-inspired setting.
Altatudes
Temporarily Online Only
Altatudes is proudly sewn into the heart of historic East Austin. The boutique offers thoughtfully curated, uniquely gorgeous, high-quality pieces that are locally and globally sourced. Altatudes is the first African-American owned high-end boutique in Austin.
Antonelli's Cheese Shop
4220 Duval St
Antonelli's is an independent, family owned business located in the historic Hyde Park Neighborhood. Come by to find specialty food including cheese, meat, jam, honey, chocolate, bread, gifts and trays. Or, book a virtual cheese class and enjoy a specially curated cheese plate.
Awkward Auntie
Online
Shop contemporary home decor pieces made with cement and love from Awkward Auntie. Find these chic coconut soy blend candles, succulent planters, jewelry trays and more online or at various boutiques around town.
Austin Flea
Pop Up Locations Around Austin
Kristin Jacobson and The Austin Flea have been featuring local, handmade and vintage vendors in Austin since 2009. Find weekly markets at rotating breweries and cafes around town.
Bloomers and Frocks
1628 S First St
Specializing in rare, unique, and one-of-a-kind vintage finds, this is the must stop shop for any aspiring fashionista who wants to dress uniquely.
Candles & Company
Online
Candles & Co. is a local, women-run Austin business making hand-poured candles. They use as many Texas suppliers as possible and host pour parties at local Austin spots, events and weddings.
Coco Coquette
2109 E Cesar Chavez St, #4513
Find ready-to-wear wigs, makeup, glittering jewelry and crowns, vintage costumes and sequined party clothes at Coco Coquette to create a smashing look.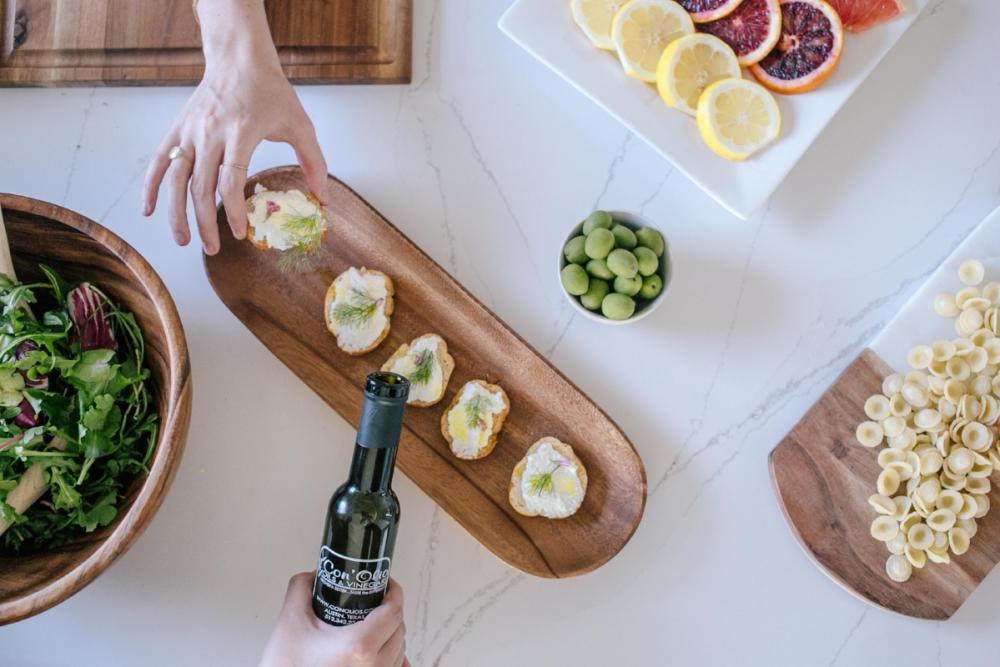 Con' Olio Olive Oil. Credit the Velox Standard.
Con' Olio Oils & Vinegars
10000 Research Blvd, #130
Con' Olio is an olive oil and balsamic vinegar retail store and tasting bar. They carry fine, fresh oils and vinegars from California, the Mediterranean and around the world.
Delysia Chocolatier
2000 Windy Terrace, Ste 2C
Delysia Chocolatier is an award-winning artisan chocolate company based in Austin. From handmade truffles to elegant chocolate invitations, Delysia offers a broad assortment of gourmet chocolate products.
Eliza Page
229 W Second St
Since 2004, Eliza Page showcases curated, fine jewelry collections by select local and international artists. Dedicated to featuring jewelry designed and finished by artisan hands, the shop emphasizes design, quality, sustainability and craftsmanship.
Esby
Online
Esby Apparel is a boutique featuring chic, relaxed clothing and leather goods for women and men. Made in the USA with an emphasis on comfort and wearability.
Estilo (Stephanie Coultress Oneill)
2727 Exposition Blvd, #121
Estilo is a contemporary women's clothing boutique in the heart of Austin's Tarrytown neighborhood that focuses on delivering a curated collection of national and international brands through a trusting, personalized shopping experience.
Garment Modern & Vintage
701 S Lamar Blvd
Garment specializes in designer vintage clothing for women. Whether it's a perfectly worn-in '80s rock tee or a classic Chanel jacket, Garment only selects vintage items that are modern and wearable.
Kelly Wynne
Online
Kelly Wynne is a lifestyle brand featuring quality handbags and accessories designed to dress you with confidence for every chapter in life.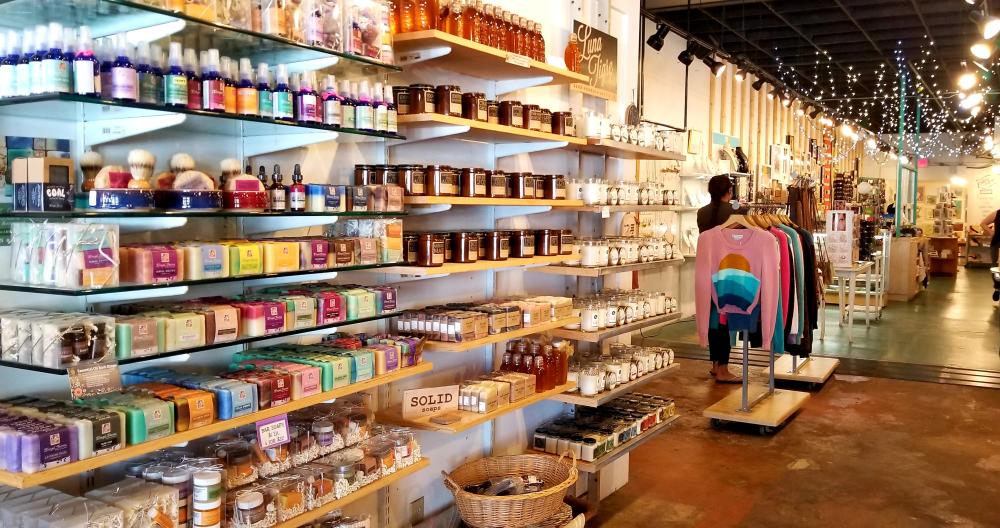 Parts & Labour. Credit Lizelle Villapando.
Miranda Bennett Studio
1211 E 11th St, Ste 101
Miranda Bennett Studio is an ethical and sustainable women's apparel brand based in Austin, creating perennial, plant-dyed apparel for womanhood. Their collection is loved for its combination of rich color, quality fabrics and versatile styles.
Moss
705 S Lamar Blvd
MOSS offers hand-selected consignment merchandise, comprised of both high-end designer labels and popular contemporary labels from past seasons that reflect current trends for women.
Nina Berenato Jewelry
3200 Palm Way, #152
Nina Berenato Jewelry is an all women-owned and operated company based in Austin, specializing in women-made goods and handmade jewelry. Lead by Designer Nina Berenato, each piece of jewelry is crafted using 100% recycled metals and finished in the highest quality 14k gold.
Parts & Labour
1704 S Congress Ave
Established on South Congress in 2004, Parts & Labour is a craft and art store featuring handmade work by Texas-based artists. Shop exclusive apparel, hand-pulled screen prints, artisan jewelry, gifts and more!
Succulent Native
5501 N Lamar Blvd, #A101
What started out as a humble floral stand on South Congress Avenue is now an impressive brick-and-mortar shop. Stop in for unique arrangements and special succulents for your home, office or to gift to friends.
Take Heart
1111 E 11th St, Ste 100
Take Heart is a boutique in East Austin offering a thoughtfully chosen selection of handmade and well-designed objects for the home and person.
Tawa Threads
Online
Tawa Threads' block- and screen-printed textiles reflect the natural beauty, contours and silhouettes of the lands we love to wander. Their bold, exploratory colors seek to elevate BIPOC and LGBTQIA+ communities in outdoor spaces.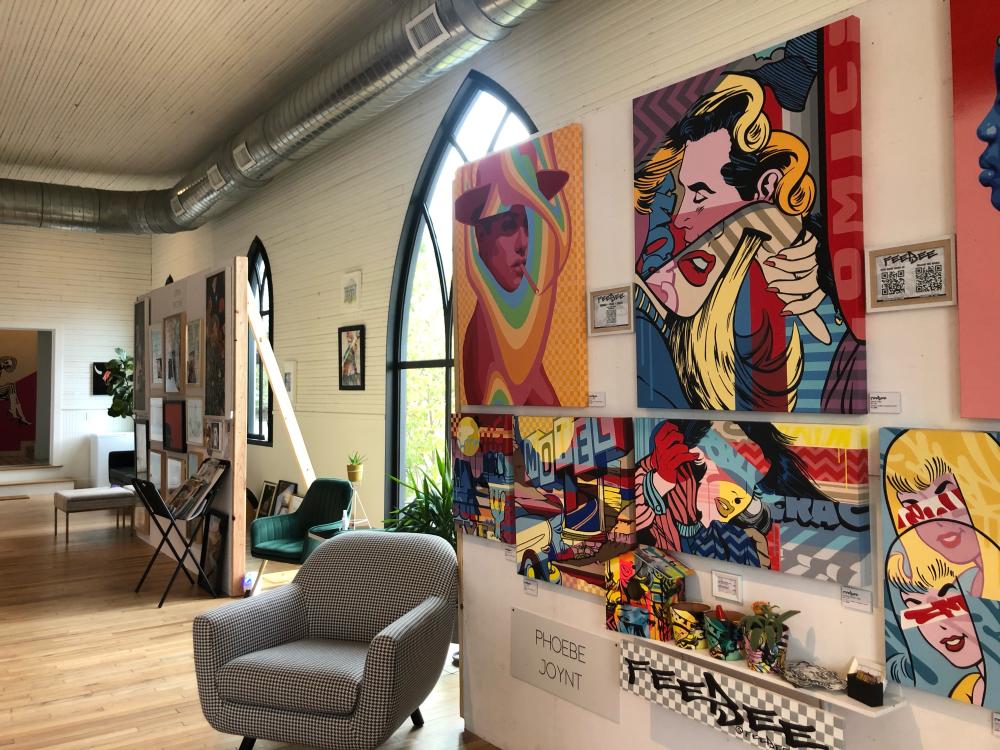 Art Show at The Cathedral. Courtesy of atxGALS.
Art & Music
Art of the Shoes
1002 S First St
The Art of Shoes offers you the opportunity to select a shoemaking kit and create your own unique shoes with guided online instruction.
atxGALS & The Cathedral
2403 E 16th St
atxGALS' mission is to give women artists more recognition in the art world by creating more exposure for them through unique, urban pop-up shows. The Cathedral was created to provide an inspiring space to work and gather, serving as a boutique, co-working space and venue for atxGALS events and more.
Broad Studios
1023 Springdale Rd, #6d
Broad Studios is a multidisciplinary female art collective in Austin that aims to elevate womxn artists and educators in our community through workshops, events and collaboration.
CRAFT
4704 E Cesar Chavez St
Located less than 10 minutes from downtown, CRAFT studio encourages creativity through classes and workshops and provides easy access to an extensive library of DIY tools and supplies.
Gold Rush Vinyl, Ion Art
1321 Rutherford Ln, #130
Gold Rush Vinyl is a record production company focused on high-quality, fast-turnaround vinyl pressings to help bands and brands take advantage of the growing demand for vinyl.
Paper + Craft Pantry
1023 Springdale Rd, Bldg 6B
This locally-owned stationery shop and workshop studio features independent paper designers, makers and small businesses.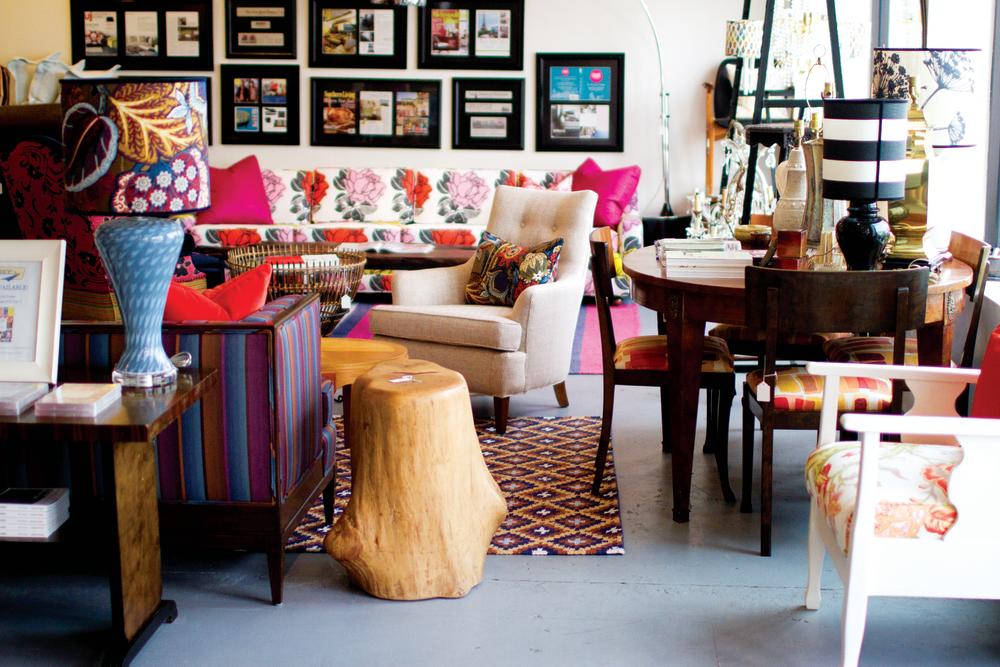 Courtesy of Spruce.
Services & Event Planning
Amurica TX
9506 Dallum Dr
Amurica TX is a photo booth rental company which is available for wedding rentals in Austin, corporate events, office parties, holiday parties and more.
Austin Detours
602 E Fourth St
It would be nearly impossible to fit everything Austin in one trip, but you can try with Austin Detours. Elizabeth Alderson started Austin Detours as a tour company for locals and today offers 20+ tours and team building experiences for visitors and locals alike.
The Cupcake Bar
Online
The Cupcake Bar is an interactive dessert catering service that's part trick, part treat — where they bring the party to you! The original Cupcake Bar is a full-service, interactive dessert experience.
Good Party ATX
Online
Good Party ATX is your source for Austin events that give back. Find volunteer opportunities, community events and parties with a purpose.
Loot Vintage Rentals
3312 Duke Rd
Loot leverages a vast inventory of vintage and modern items, to flawlessly execute your event vision. Winner of "Best Rental Company 2019" at local industry awards, they also have a showroom that's available for virtual filming needs.
RED VELVET
7121 N Lamar Blvd
RED VELVET owner and event strategist Cindy Y. Lo, DMCP doesn't do anything cookie-cutter. Her award-winning, global creative experience agency designs positive, lasting experiences, events and activations that are uniquely Austin and grounded in their partners' brands and missions.
SPRUCE
2005 S Lamar Blvd
Spruce was created to bring an updated approach to upholstery. Their designers combine individual backgrounds in art and a love of design to bring you the perfect updated piece for your space.
Work & Woof
4930 S Congress Ave, Bldg A
A co-working Space, BYOB indoor/outdoor play park and doggie daycare all in one. Work & Woof aims to be a one-stop shop for all pet parents in Austin.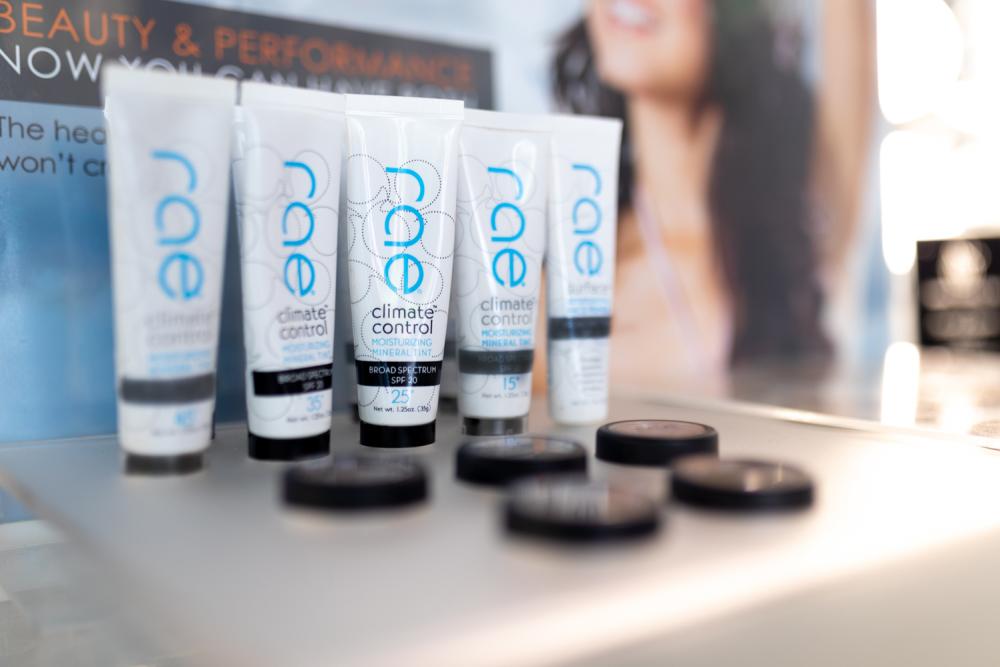 Courtesy of Rae Cosmetics.
Wellness & Skincare
Ace of Cups Massage & Wellness
2121 E Cesar Chavez Street
This woman-owned and operated magical, mystical wellness center provides massage, yoga, herbal apothecary, and tarot services and classes.
Austin Massage
611 S Congress Ave, #205
Austin Massage Company provides quality clinical massage therapy. Through education and experience, Austin Massage Company offers you a medically-based approach to dealing with the multitudes of issues that plague us all.
Barre3
115 Sandra Muraida Way, Ste. 103
This local studio provides a full-body barre workout, leaving your body and mind balanced and empowered. Multiple area locations & virtual classes.
Black Butterfly Bath & Body
811 E 13th St
Black Butterfly Bath & Body creates handcrafted, natural body products blended with shea butter, authentic black soap, dead sea salts and more! Each collection is paired with an organic tea blend and natural soap to deliver you to a clean, healthy and relaxed experience.
Cute Nail Studio
1211 E Seventh St
Cute Nail Studio is a magic rainbow nail art studio, safe LGBTQIA+ and aesthetics happiness space in East Austin.
Dancers Shape
5350 Burnet Rd, Ste 7
Dancers Shape is a fitness program using a blend of barre, pilates and yoga techniques in a low impact, brisk workout resulting in increased muscle tone.
Mantis Massage South Congress
2700 S Congress Ave
Mantis Massage is a locally owned therapeutic massage clinic that specializes in deep tissue massage therapy for performance, pain management, maintenance and recovery.
Olive + M
Online
Olive + M is a clean and natural skincare brand formulated with plant-based oils and botanical extracts. Find effective, affordable vegan products that connect people with the planet.
Peacock Hair Salon
1519 E Cesar Chavez St
Peacock was formed by two friends who wanted to create a space that would be conducive to nurturing both their clients and themselves. Find a welcoming, natural space enhanced by quality products and each stylist's unique personality.
Rae Cosmetics
1206 W 38th St, #3102
Look good while staying active with Rae Cosmetics, which are mineral based and formulated to resist sweat, heat and humidity, providing long-lasting, lightweight coverage.
Sage Blossom Massage
6603 Menchaca Rd
Sage Blossom offers quality, affordable massage therapy, infrared sauna therapy and Austin's first salt therapy lounge.
Discover even more local, womxn-owned businesses with the OurATX Directory.
Contributed by Christina Cava, Visit Austin Convention Services & Industry Relations Manager.