Retail & E-Commerce
Austin is home to some of the biggest success stories in retail, including Kendra Scott jewelry, Whole Foods Market grocery chain, Outdoor Voices activewear, and YETI coolers and drinkware. Their local flagship stores exude the spirit of Austin, with some offering perks like live performances by local musicians. The Austin metro area is also home to a growing e-commerce sector that specializes in creating platforms for merchants to build and manage their own online stores — helping retailers take on giants like Amazon and Etsy. Two of Austin's notable e-commerce companies are Volusion (which creates software for small to mid-sized companies) and BigCommerce, whose clients include big names like Toyota, Gibson and Skullcandy.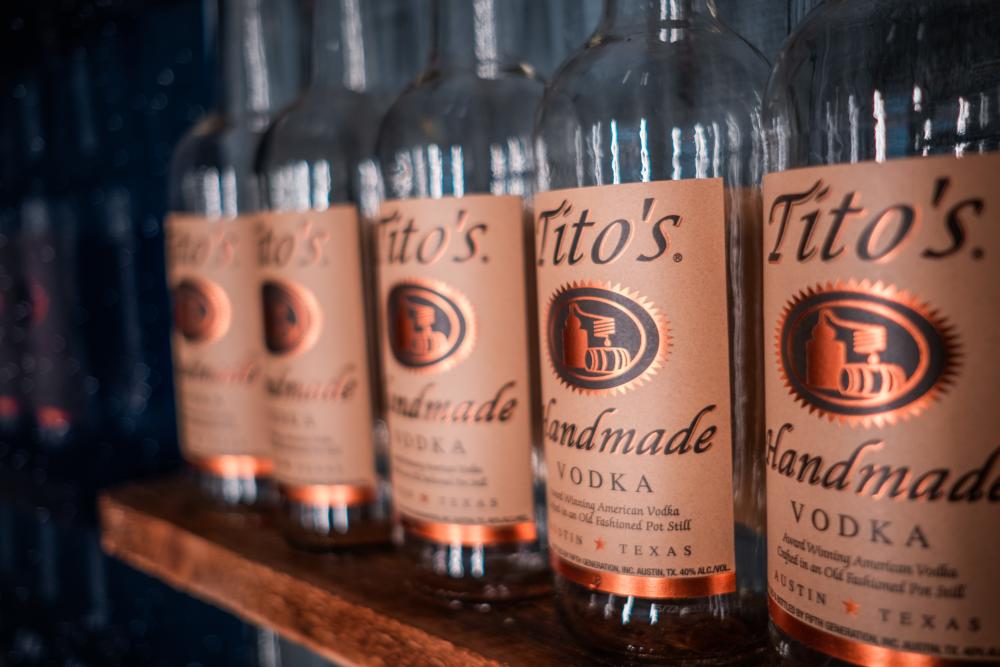 Courtesy of Tito's Handmade Vodka.
Business Spotlight: Tito's Handmade Vodka
215 Lavaca St., Austin, TX 78701
www.titosvodka.com
Tito's Handmade Vodka was founded by sixth-generation Texan, Tito Beveridge. His career track took a few turns, but between oil fields and mortgage lending, he found time to do what he loved; make people smile with spirits. Tito got a kick out of infusing vodka for friends and handing out bottles at parties. He quickly became known as "the vodka guy." Willing to risk it all, he pursued the career of his dreams and set out to build a distillery. Tito found a plot of land in rural Austin, constructed a one-room shack and a homemade pot still, and funded his passion of making "a vodka so smooth you could drink it straight" by opening 19 personal credit cards. He fought Texas laws, took on nearly $90,000 of debt, and for several years, played a one-man show to get his dream going, overseeing all distilling, hand-bottling, and selling during the hours in between. In 1997, he sold his first case. Over two decades later, Tito's Handmade Vodka has gained a reputation for its high-quality product, charitable contributions, and its goal to make people happy while making the world a better place.
With the advent of COVID-19, Tito's Handmade Vodka stepped up in a big way. At the height of the pandemic, its Austin-based distillery was churning out 60 tons of hand sanitizer per week, donating cases to critical front line organizations in Austin along with community members in need throughout the country. Tito's continued its support by identifying important research initiatives happening in its home state of Texas. Since efforts began, Tito's has donated a $1 million grant to the Baylor College of Medicine to accelerate research on a COVID-19 vaccine, funded a 2-year grant of $2.5 million to The University of Texas at Austin COVID-19 Modeling Consortium to improve preparedness for future pandemic threats, and funded $400K for the development and production of ventilators for immediate use in Central Texas.
Tito's Handmade Vodka has continued to offer support, raise glasses from afar, and send love and goodness wherever and whenever it can.