Retail & E-Commerce
Austin is home to some of the biggest success stories in retail, including Kendra Scott jewelry, Whole Foods Market grocery chain, Outdoor Voices activewear, and YETI coolers and drinkware. Their local flagship stores exude the spirit of Austin, with some offering perks like live performances by local musicians. The Austin metro area is also home to a growing e-commerce sector that specializes in creating platforms for merchants to build and manage their own online stores — helping retailers take on giants like Amazon and Etsy. Two of Austin's notable e-commerce companies are Volusion (which creates software for small to mid-sized companies) and BigCommerce, whose clients include big names like Toyota, Gibson and Skullcandy.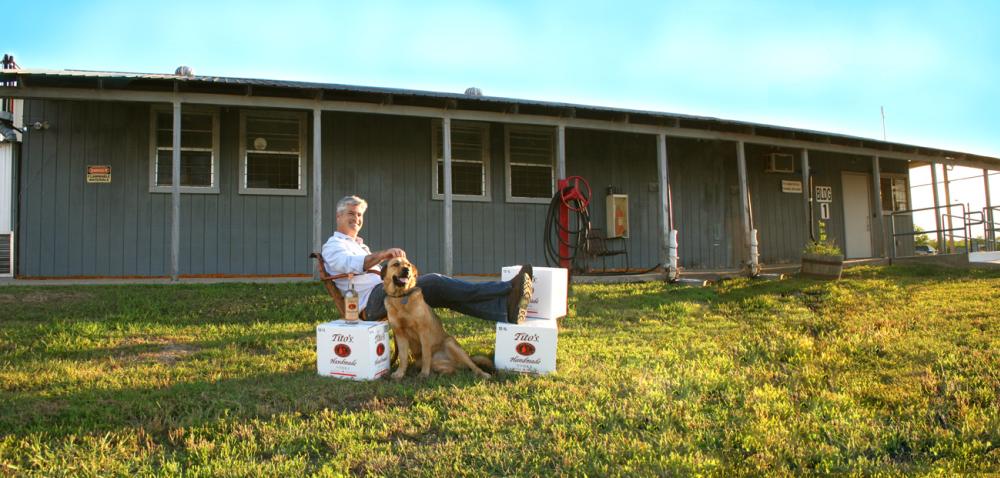 Courtesy of Tito's Vodka.
Business Spotlight: Tito's Handmade Vodka
12010 Moore Rd., Austin, TX 78719
www.titosvodka.com
Before he became known as "the vodka guy," Tito Beveridge had done career turns in the oil and mortgage industries. But when he began making flavored vodkas as gifts for friends, and unsuccessfully tried to sell them to local liquor stores in Austin, he set out to make a vodka so smooth you could drink it straight. Tito obtained his permit to distill in Texas in 1995 and began to teach himself how to craft vodka. He built an old-fashioned pot still and began cooking corn-based vodka, working on the recipe until it rivaled those of vodkas sold in stores. After eight years of hard work, Tito's Handmade Vodka garnered critical acclaim and soon became one of the most successful micro-distilleries in the U.S. It's still distilled and bottled to this day on the same piece of land in Austin where Tito's venture first began.
With the advent of COVID-19, Tito's Handmade Vodka stepped up in a big way. At the height of the pandemic, the distiller was churning out 60 tons of hand sanitizer per week, donating it to critical front line organizations in Austin and throughout the country. Its philanthropic arm, Love, Tito's, has given Houston's Baylor College of Medicine a $1 million grant to accelerate research on a COVID-19 vaccine. It's also funding a two-year, $2.5 million grant for the University of Texas at Austin's COVID-19 Modeling Consortium, which is focused on improving preparedness for future pandemic threats.