Austin's Latin Music Scene
Austin is the soul of Texas, and we earn the title of Live Music Capital of the World® by showcasing bands seven nights a week in hundreds of live music venues across the city. Along with Latin night at local clubs, DJs and music venues, we are also home to world-class festivals such as Austin City Limits Music Festival, South by Southwest®, and Carnaval Brasileiro, where we deliver the best in music, dance and culture.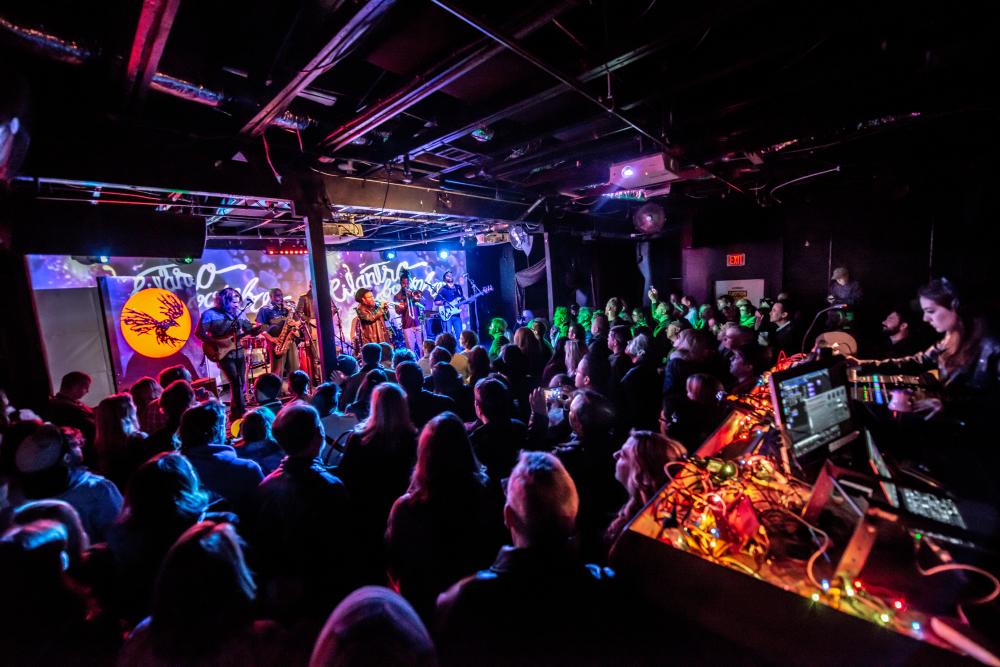 Cilantro Boombox at Empire Control Room. Credit Nicola Gell.
Clubs, Bars & Venues for Latin Music in Austin
Find some of the best Latin clubs, bars and venues showcasing Latino/a and Hispanic musicians and DJs in Austin.
Cielo Nightclub
Want to get down to grade A reggaeton or silky smooth bachata? Check out Cielo, a nightclub with an international vibe that plays many diverse genres of Latin music.
Club Carnaval
Ready to dance all night? Look no further than Club Carnaval. With live music on the weekends and a totally banging dance floor, Club Carnaval is a must for fans of cumbia, banda and reggaeton.
Continental Club
If you're looking for a night of eclectic music in a quintessentially Austin bar, then Continental Club might be right up your alley. Be sure to get there early, it can fill up pretty quickly on the weekends!
Empire Control Room & Garage
This expansive venue hosts live music, special events, artists' markets and everything in between.
Flamingo Cantina
For 23 years, the Flamingo Cantina has been known as the people's favorite Austin venue for "good vibes music" – live reggae, ska, Latin and worldbeat music, as well as rock, hip hop, alternative and more. 
Sahara Lounge
Run by local musicians Eileen Bristol and her son Topaz McGarrigle, Sahara Lounge features music in almost every genre seven nights a week: African, Brazilian, Middle Eastern, as well as DJ Dance Parties once or twice a month.
For more live music venues and nightlife explore the Austin Insider Blog and our Events Calendar.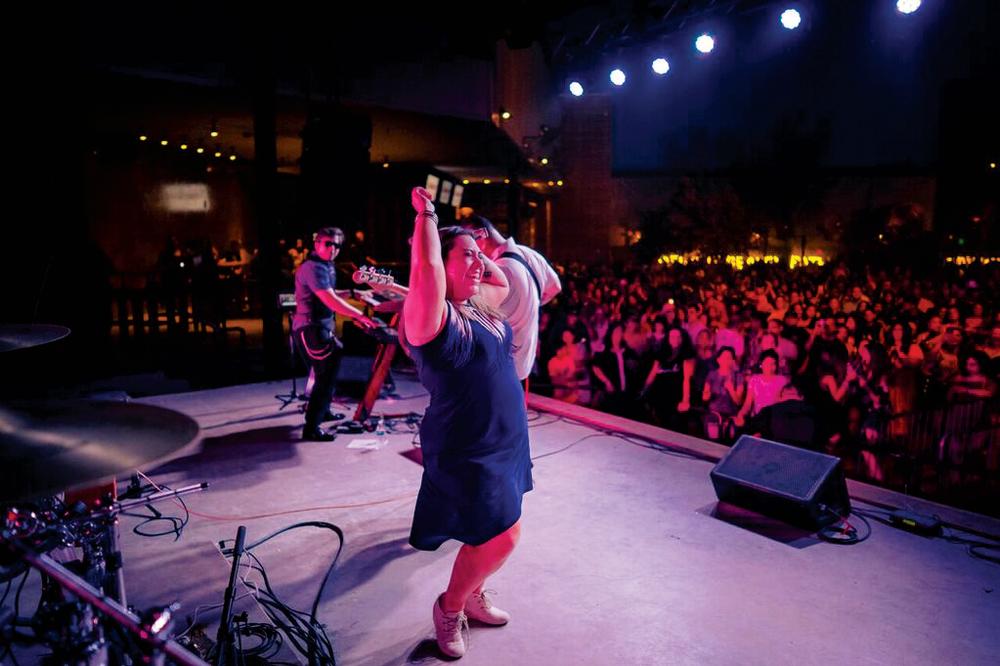 Stephanie Bergara with Bidi Bidi Banda. Credit Eric Celedon.
Local Musicians & Bands
Here are just a few of the many amazing local artists to know. Find even more on the playlist below, and learn more about the history of Tejano and Latin music in Austin here.
Bidi Bidi Banda
Dance along to some of your favorites with Austin's all-star Selena tribute band, Bidi Bidi Banda. Prepare yourself, you'll be singing at the top of your lungs all night long.
Cilantro Boombox
Funk-brass band Cilantro Boombox makes music with an electric energy that flows from the stage to the dancefloor. Each bandmember is extremely talented, respectfully, and they all come together to create an ensemble that you don't want to miss.
DJ Chorizo Funk
Texas born and raised, DJ Chorizo Funk, is one of the premiere sound selectors in the lone star state. He's a four-time Best of Austin winner, the 2022 winner for the Austin Chronicle's readers poll for Best DJ, and the 2020 Austin Music Award winner for best DJ. Inspired by his deep passion for music and technical skill behind the turntables, he guarantees a soulful experience for music lovers and dancers alike.
Gina Chavez
Gina Chavez is an internationally-acclaimed Latinx pop artists who is redefining Latin music in Texas and beyond. Chavez's first all-Spanish language album marks a sonic and visual evolution for an artist whose musical journey began in Austin coffee shops.
Oscar Ornelas
Blues artist Oscar Ornelas knows how to lay down a tune. Catch him at venues around town ripping on his saxophone or piano, or singing a soulful set from his album.
p1nkstar
Since moving from Mexico in 2014, p1nkstar has quickly become an electro-pop sensation in Austin nightlife. Through a mix of pop and house styles and bilingual lyrics, p1nkstar tells stories of her Latinx, queer, trans and immigrant identities through music.
Superfónicos
Local band Superfónicos brings the vibey sounds Colombian Funk to Austin and beyond. With inspiration from Indigenous and African roots and influences from the band's Colombian heritage, their music can be described as "Caribe Soul". Your body won't be able to help but move to their grooving tunes.
Events & Festivals 
Carnaval Brasileiro 
February 
Carnaval in Austin is one of the biggest Brazilian Carnaval celebrations outside Brazil. Brasileiro-style samba, costumes and wild abandon can all be seen in the heart of Texas. 
sambaparty.com
Latino Music Month
May
The many Latino music genres are showcased during performances on the Plaza at Austin City Hall each Friday at noon. Other special events throughout the month are presented as well.
Cine Las Americas International Film Festival
June
The festival showcases contemporary films and videos from Latin America (North, Central, South America, and the Caribbean) and the Iberian Peninsula. Films and videos made by or about Latinos and Latinas in the U.S. or the rest of the world, as well as films and videos by or about Indigenous groups of the Americas are also invited to participate.
cinelasamericas.org
Austin Summer Carnival
September
A samba dance party celebrating African heritage and Brazilian, Latin and Caribbean music with DJs, guest musicians and plenty of spectacular costumes.
austinsummercarnival.com
¡VIVA Mexico!
September
The Emma S. Barrientos Mexican-American Cultural Center will host its annual Viva México celebration to showcase visual art, dance and musical performances that explore Mexico's history through cultural art traditions.
maccaustin.org
Polkapocalypse!
October
The Elisabet Ney Museum's annual POLKAPOCALYPSE! is a joint celebration of Oktoberfest, Dia de los Muertos and Halloween the Elisabet Ney way. Expect incredible Polka bands, family-friendly games and activities and much more.
texasfolklife.org
Annual Dia de los Muertos​ Exhibition
October
Hosted by the Mexic-Arte Museum, the long-running annual Día de los Muertos (Day of the Dead) exhibition pays tribute to the tradition that celebrates the return of the dead by their families and friends. Celebrations continue at the Viva la Vida festival and parade with a grand procession, food, music, live performances and more.
mexic-artemuseum.org
Find more events on the full calendar.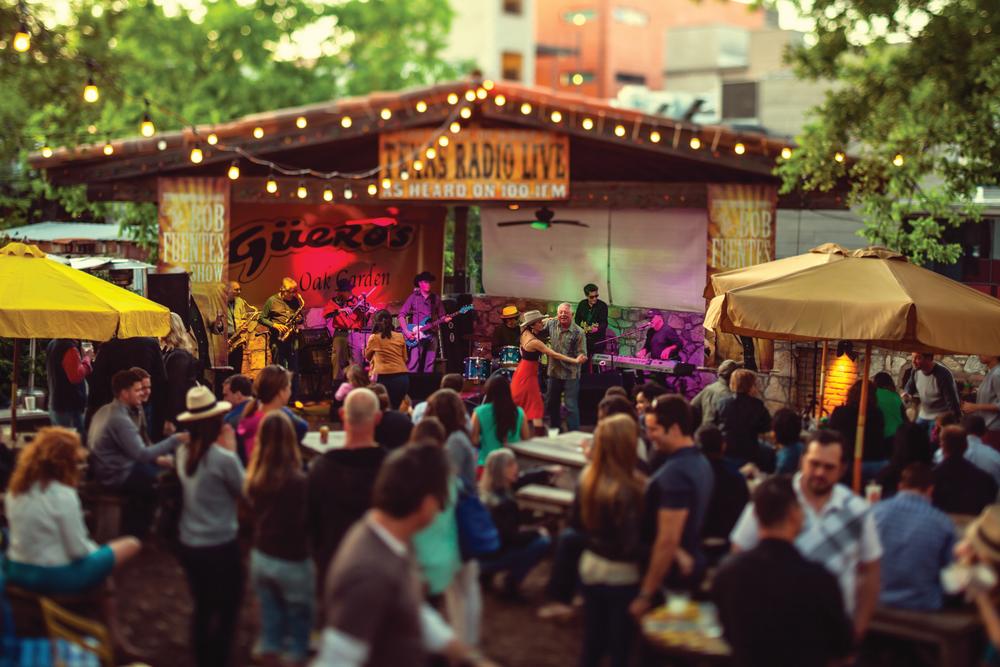 Guero's Oak Garden. Credit Andy Mahr.
WEEKLY HAPPENINGS
Chulita Vinyl Club Parties
An all-girl, all-vinyl group of self-identified womxn DJs bringing together the community of vinyl loving mujeres. Be sure to check out Chulita Vinyl Club's social media for upcoming events.
Club Bantu
Club Bantu, inside of the W Austin hotel, hosts Thursday Latin Night weekly featuring top DJs and live music artists from around the world. Arrive early for a free Salsa and Bachata dance lesson before the party begins. 
Esquina Tango
Esquina Tango is a non-profit organization and cultural center providing the Austin community with a variety of events focused on Argentine and other Latin American cultures. They offer a unique variety of Latin dance classes such as Tango, Samba and Salsa Aerobics.
Gloria's Latin Cuisine
When dinner ends, the party begins! Every Saturday, night dress to impress and dance the night away with live, local Latin bands and DJs throwing down the hottest dance tracks.
Güero's Taco Bar
Stop at Güeros's Oak Garden on South Congress Avenue Wednesday though Sunday for live music on their al-fresco patio. Güero's often hosts Latin bands such as 70s-inspired rock band Buenos Diaz, jam band El Tule, and funk band Ex Romantika. 
For more things to do explore the Austin Insider Blog and our Events Calendar.
Listen to Some of Austin's Latin Musicians