Austin is a haven for outdoor lovers. With the Texas Hill Country close by, several rivers and lakes bisecting the area and a handful of state parks within short reach, there's an abundance of ways to spend your days outside with your family. We put together a guide outlining some of the best ways your family can share a memorable adventure in Central Texas.
Go Underground
People may not initially think of caves when they think of Austin, but they are, in fact, plentiful. From those tucked away within the Barton Creek Greenbelt to Georgetown's Inner Space Cavern to Westcave Preserve, you'll find options for families who want an underground adventure. You can explore the rock walls within the Greenbelt on your own or book an off-trail caving tour with Inner Space that takes visitors into undeveloped sections of a cave hidden for more than 10,000 years.
Spend a Day on Lady Bird Lake
With 10 miles of the Hike and Bike Trail surrounding Lady Bird Lake and a plethora of water activities on the lake itself, downtown Austin's Lady Bird Lake is a perfect destination for family outings. Take a stroll along the banks of the lake whether you prefer to cruise on two feet or two wheels, or, rent canoes, kayaks, or SUPs for a day on the water.
Cool Off at Barton Springs Pool
Barton Springs Pool is an Austin classic. A spring-fed pool in the middle of Zilker Park just off of Barton Creek, Barton Springs maintains an average 68-to-70 degree temperature year-round. While the cool water may be a relief on a hot, summer day, it's also home to the New Year's tradition of a "polar bear plunge," with folks of all backgrounds and ages taking a plunge on the first day of the New Year.
Explore Kid-Friendly Parks
Located just south of Lady Bird Lake in Butler Park you'll find Alliance Children's Garden, a uniquely designed park specially for kids' imagination to flourish. The park features climbing walls, musical play equipment, tunnels, a splash pad and more, perfect for kids to explore. Or check out Pease District Park and explore the unique, spherical two-story treehouse. Head to the second level observation deck and  lounge among the trees on a cargo net that you can walk across.
Camp and Stargaze at Pedernales Falls State Park
Pedernales Falls State Park is a wonderful getaway for many activities. Pack up the car and set up camp for a weekend of camping, hiking, and stargazing amid one of the area's most beautiful landscapes. Enjoy white sandy beaches, giant boulders and rock formations, and overlooks that offer expansive vistas over the curvature of the Pedernales River. At night, it's a popular spot to enjoy the wide-open sky full of stars. Without light pollution near the state park, the night sky reveals incredible displays of the Milky Way and planets. Reservations are recommended for camping and day-use.
Take a Hike Through a Tropical Forest
Just one hour southeast of Austin, you'll find Palmetto State Park, an unusual forest overgrown with tropical vegetation like the palmetto plant. The only park with tropical vegetation in the state, it's a beautiful and mysterious park that has a Jurassic feel to it. As you stroll along the flat trails that cut through the forest with algae-covered swamps beneath the palmettos, it feels like another world—certainly not one you'd expect to find in Central Texas. Alternatively, rent a canoe or kayak to take on the murky swamps. Reservations are recommended for camping and day-use.
Canoe the Lower Colorado
About 20 minutes outside of Austin you'll find Cook's Canoes in Webberville—an old school canoe outfitter situated on the banks of the Lower Colorado. You can rent canoes or kayaks for 7-mile, 11-mile, and overnight trips along the river, which is a wide, generally calm section of water. Prefer to stay closer to town? Rent a kid-friendly canoe from the Rowing Dock on Lady Bird Lake.
Picnic atop Mount Bonnell
Mount Bonnell is another longtime Austin favorite, which overlooks Lake Austin. A steep climb up concrete stairs, it's a relatively short hike with an amazing reward at the top. Why not pack a picnic and head up late in the afternoon? It's a beautiful place to watch the sunset! Insider tip: while you're in the area, stop by Laguna Gloria, which is part of The Contemporary Austin. The beautiful grounds feature an outdoor sculpture gallery, and neighboring Mayfield Park is home to incredible gardens and peacocks, both of which make for wonderful photo opportunities.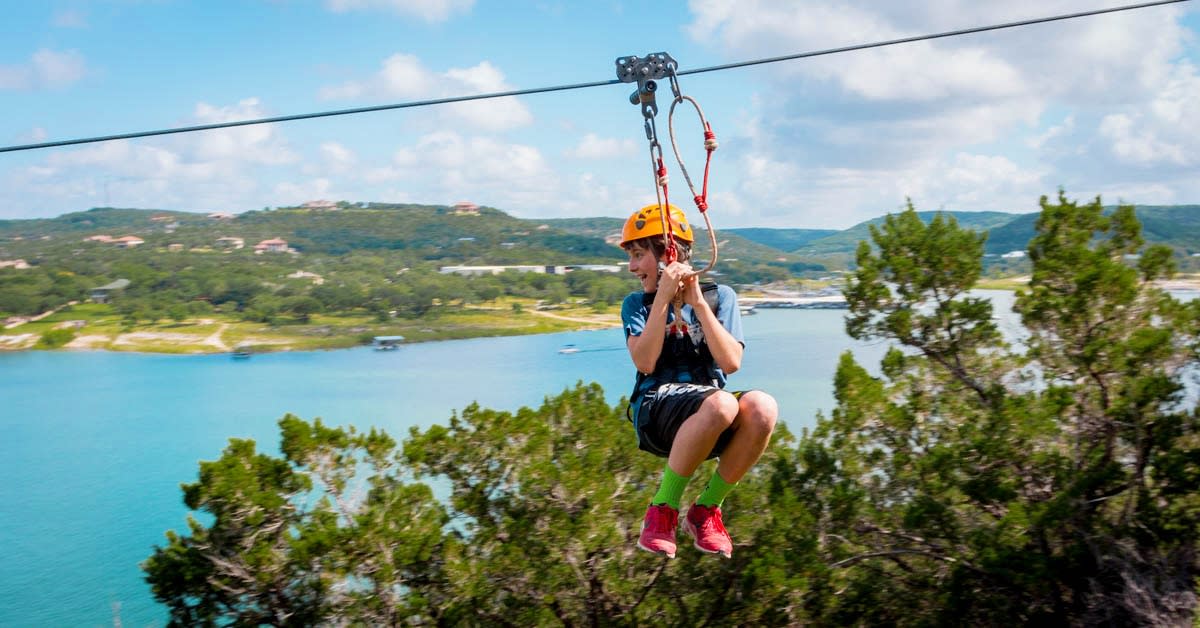 Courtesy of Lake Travis Zipline Adventure.
Zipline through the Treetops
West of Austin located on Lake Travis you'll find Lake Travis Zipline Adventure, home to the longest and fastest zipline in Texas. After a heart racing tour zipping over Lake Travis, spend the rest of the day at the Zipline Adventure property playing lakeside, swimming on the private beach or relaxing in a hammock.
Explore the Hill Country on Horseback
Immerse yourself in the stunning Texas Hill Country and explore off the beaten path on a horseback trail ride. Maverick Horseback Riding offers a unique variety of trail riding options including a Historic Downtown Lockhart BBQ Ride, featuring a ride through the charming countryside then into Downtown Lockhart to try a few of the legendary barbecue spots along the way.
If you're looking for more kid-friendly activities check out this list of the 30 things to do in Austin with kids.