2021 is quickly approaching, and Austin knows how to celebrate in style. From live music and exclusive dinners to virtual celebrations, ATX has a range of events so you and your loved ones can ring in the New Year the right way. Check out some of the events we've highlighted so you can start planning your New Year's Eve in Austin!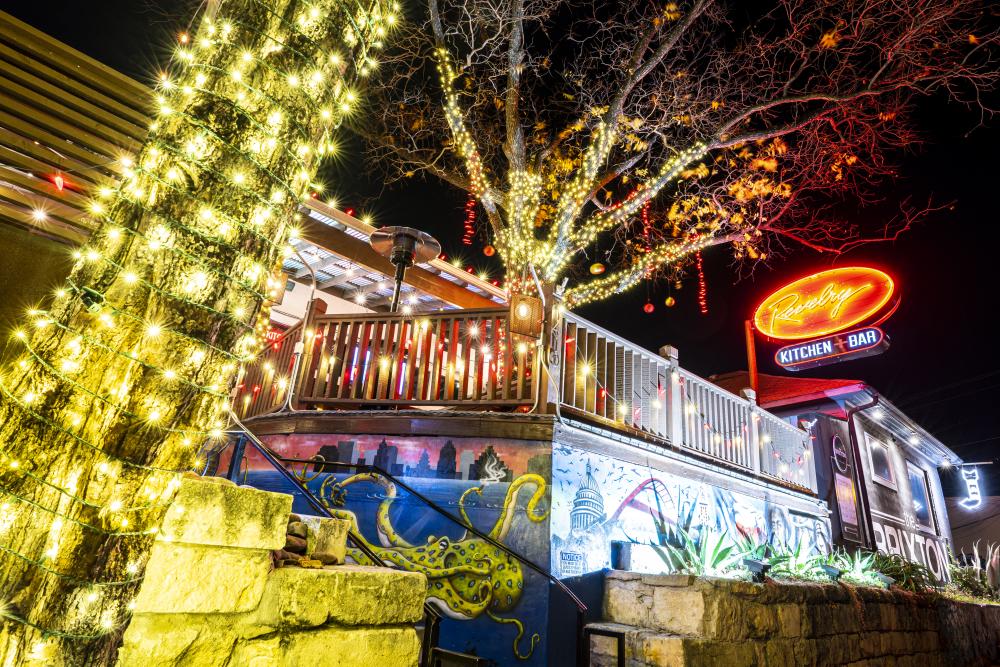 Revelry on the Boulevard. Credit Nate Beels.
New Year's Eve Parties
Virtual Austin's New Year
Virtual Event
You don't have to wait until midnight to celebrate New Year festivities. Tune in from the comfort of your own home to watch a star-studded lineup of local musicians, performing from some of Austin's most iconic venues. The evening will be streamed for free on ATXN Youtube, the City of Austin Facebook and IGTV, cable TV and online at austintexas.gov/any.
New Year's Eve with HearyByrne
ACL Live at the Moody Theater
Say goodbye to 2020 and hello to 2021 with HeartByrne: A Tribute to Talking Heads at Austin City Limits Live at the Moody Theater! Safely ring in the New Year with a distanced dance party to remember in the most Austin way – with good music and good vibes at this iconic venue.
Goodbye 2020 Party
Inn Cahoots
Spend New Year's Eve with your closest friends in a fun, COVID safe environment at Inn Cahoots! Reserve a private, heated table for groups of ten or less on the outdoor Bar Mischief roof deck and enjoy individual dance areas, contactless ordering, music by DJ Phoenix, a bottle of craft cocktails for the table and a champagne toast at midnight.
NYE Pig Roast & New Year's Day Jazz Brunch
Revelry On The Boulevard
Chef Dom will be roasting a whole pig on New Year's Eve, so join the $20 all-you-can-eat pig roast with house-made salsa bar (full menu also available). Plus, enjoy a DJ playing all night and a complimentary midnight champagne toast. Revelry on the Boulevard will also be open on New Year's Day with the full brunch menu and a live jazz band. Email RevelryBlvd@gmail.com or call 512-861-5685 to reserve a private table for up to 6 people.
Speakeasy's New Year's Eve Bash
Speakeasy
Since 1997, Speakeasy has been hosting a legendary New Year's Eve blowout to ring in the New Year. Celebrate with a seated/socially-distanced experience and enjoy tunes from local bands and DJs, festive hats and noisemakers, bottle service and a complimentary champagne toast at midnight. Be sure to purchase your pre-sale tickets for seated reservations and VIP upgrades before the party sells out!
Corner Bar's NYE Bash
Corner Bar
Ring in the New Year with an intimate party at Corner Bar, where the DJ is playing all night. Watch the ball drop and have a champagne toast at midnight. Reservations for private tables are available (up to 6 people) and include a complimentary bottle of champagne and midnight champagne toast. Email cornerbusiness1901@gmail.com or call 512-445-9500. Walk ins will also be available with limited and socially-distanced space allowing.  
New Year's Eve 2021 at The Dogwood
The Dogwood
Both locations of The Dogwood (West Sixth and Rock Rose) are hosting a NYE to remember, with bottle service table packages for small groups. Ring in the New Year with a champagne toast at midnight!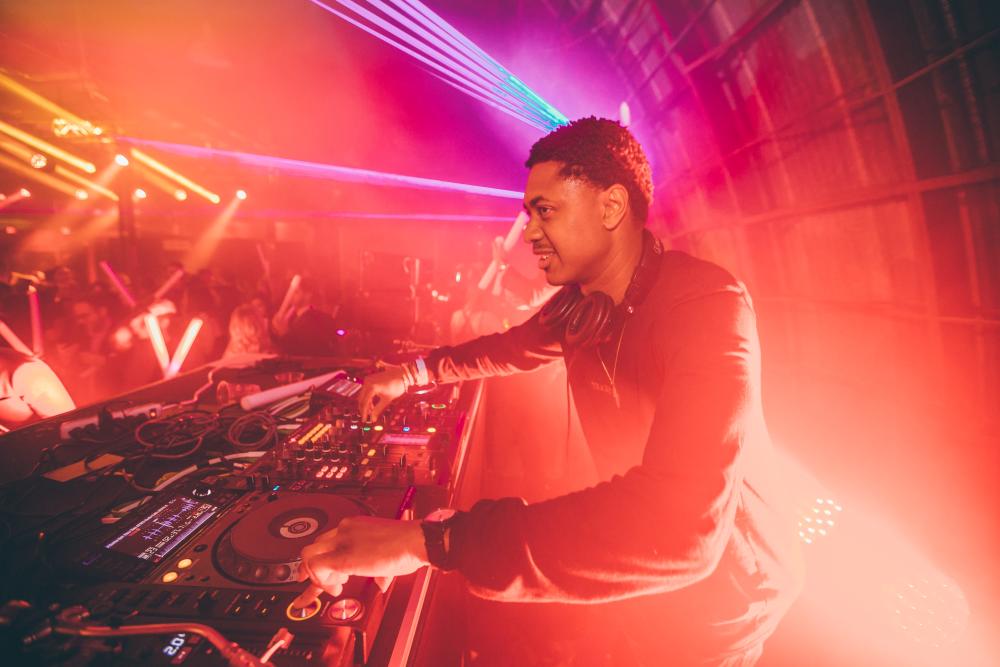 Credit Alex Parker.
New Years Eve Silent Disco @ W Austin
W Austin Hotel
Don't miss the ultimate New Year's Eve Silent Disco experience at the W Austin. Austin Silent Disco will be showcasing three local DJs spinning three different genres of music streaming through colored LED, wireless headsets. Admission includes the Silent Disco, a pair of sanitized headphones and a complimentary champagne toast at midnight.
Hotel Van Zandt Presents: Twenty Twenty Done
Hotel Van Zandt
Drink in 2021 with a festive cocktail tasting during an overnight stay at Hotel Van Zandt! Safely ring in the New Year with cocktails, games and a DJ, in a physically distanced setting while safely taking the elevator home for the evening. Book your NYE stay online.
Revelry Kitchen & Bar's NYE Party
Revelry Kitchen & Bar
Dance to DJ Gorilla playing all night at Revelry Kitchen & Bar, with ball drop and champagne toast at midnight. Plus, enjoy the full food and drink menu until 2 a.m. Reservations are open for private tables (up to 6 people), and includes a complimentary bottle of champagne and champagne toast. Reserve by calling 512-322-5223 or emailing revelryatx@gmail.com.
Roaring '20s New Year's Eve
The Roosevelt Room
Ring in 2021 in classic fashion at The Roosevelt Room's annual formal Roaring '20s party. Celebrate the New Year while sipping on a classic cocktails from the 1920s and listening to DJ Beatsmode fill the room with upbeat Electro-swing. Then, watch the ball drop at midnight on the projector above the bar.
New Year's Eve at Otopia Rooftop
The Otis Hotel
Toast to 2021 at Otopia Rooftop Bar, located in The Otis Hotel in Austin's Campus District. Ring in the New Year with a safe and sophisticated celebration. Admission includes a Moet champagne toast, a live DJ spinning vinyl all night, a photo booth, complimentary valet and one of the best views in the city. Oh, and did we mention a $50 dining credit to Acre 41?
NYE at 77 Degrees
77 Degrees
From 8 p.m. to 2 a.m., guests can celebrate the end of 2020 at 77 Degrees Rooftop in the Rock Rose district of Domain NORTHSIDE. This limited capacity party is taking place on the rooftop bar and guests can reserve a table (VIP options available) or opt for GA, all tickets include food and beverages.
Twenty Twenty Done: New Year's Eve at Geraldine's
Geraldine's
Ring in the New Year with indulgent bites, a midnight toast and live music from Paul Val at Geraldine's. Space is limited, so make a reservation today online or by calling 512-476-4755.
New Year's Day Black Eyed Pea Cook-Off
William Chris Vineyards
Join a truly southern celebration at William Chris Vineyards with the Annual Black Eyed Pea Cook-Off on New Year's Day. All GA tickets include a New Year's toast with the winemaking team, a sampling of all black-eyed pea dishes, one vote to cast for your favorite and live music.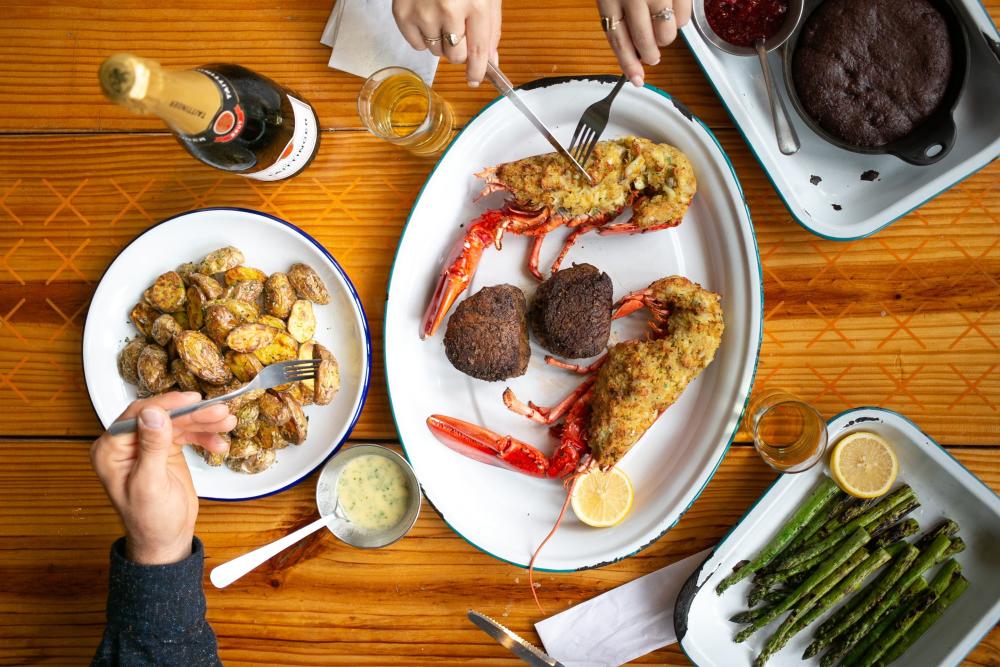 TLC Austin. Credit the Velox Standard.
New Year's Eve Dinner To Go
Andiamo
Enjoy a decadent Italian four course dinner menu that includes choices of seared scallops, prociutto di parma, lobster risotto, pan-seared fresh halibut, veal osso bucco, tiramisu and panna cotta. The meal includes one bottle of prosecco, red or white wine per order.
Call (512) 719-3377 or email andiamoitaliano@gmail.com to preorder by December 27
Buenos Aires Café
Buenos Aires Café is offering two NYE packages, for parties of 15-20 or smaller gatherings of 4-6. Check out both menus online (both include a champagne toast). And don't forget to add on a drink kit for two from the Milonga Room feat. NYE party favors, hats, feathers and confetti.
Pre-order online: www.toasttab.com/buenos-aires-cafe-east-6th/
L'Oca d'Oro
Celebrate the holiday with L'Oca d'Oro at home with a special holiday subscription bag. The New Year's offering will be an elegant dinner featuring the sort of luxe items you'd expect dining at L'Oca d'Oro on the last holiday of the year. More details to be shared on their social media pages. Holiday subscriptions are available as meals for 2 or 4, with additonal wine add-ons.
Sign up for a subscription by December 26 at table22.com/loca-doro
Parkside
Join Parkside this New Year's Eve and indulge in a special, chef-curated holiday menu. Pick up a meat and cheese board or a  seafood platter for your at-home celebration, with east coast oysters, king crab legs and more. And don't forget the specialty cocktails to-go, like the sage advice featuring Still Bourbon, Rittenhouse, clarified citrus, ancho reyes and sage.
Order online: parksideprojects.revelup.com
Rebel Cheese
Join Rebel Cheese on New Year's Eve for a virtual New Year's Eve wine and cheese tasting, hosted by owners, Kirsten and Fred. This exclusive event will feature four house-made cheeses from Rebel Cheese, bread, crackers, olives and fruit, paired with a bottle of sparkling wine.
Space is limited, so get your tickets today: https://bit.ly/3qT5UVj
Salt & Time
The east Austin butcher shop, recently named one of Food & Wine Magazine's Best Butcher's Shops in America, will be offering a 3-course prepare-at-home meal for ringing in the New Year in style. The package includes a charcuterie and cheese board; 85-day dry aged, cold-smoked Texas angus porterhouse steak (approximately 2.5 lbs cooked to medium rare for easy at-home cooking) with a choice of sides; seasonal panna cotta; a cocktail kit of your choice (makes 2 full drinks) and your choice of sparkling wine. 
Package will be available for preorder in December at saltandtime.com/seasonal-orders
Sazan Ramen
The Airport Boulevard ramen and craft cocktail spot will be open for takeout on NYE from 11:30 a.m. to 9 p.m. The full menu is available to go, so don't miss the steamies dumplings and indomitable fries to start, then try the spicy paitan ramen (spicy, creamy broth with cilantro, aji tama, cashews, roasted tomato, and choice of chicken or pork chashu). Vegan options available.
Order online here
Scholz Garten
This year, Scholz Garten is catering to the party people who are staying home on New Year's Eve with a Bubbles & Bites party pack! The to-go option will include a charcuterie spread with meats, cheeses, nuts, haus pickled goods, pretzel chips, and more in addition to a bottle of bubbles and NYE-themed party favors. Plus, pick up a Hangover Helper pack for a hair of the dog hangover cure - everything you need for morning after Bloody Marys.
Email order@scholz1866.com to pre-order before December 30
South Congress Cafe
Take a trip around the globe from the comfort of home (or your hotel!) with South Congress Cafe's New Year's Eve "Threesome" Packages, available for dine-in, pick-up or delivery via Doordash. Pick from the Texas Threesome, Mexican Threesome, French Threesome or Italian Threesome and add a bottle of house sparkling wine.
Make your reservation online or call (512) 447-3905 to order for pick-up
Southside Flying Pizza
Order in for NYE with Southside Flying Pizza's New Year's takeout & delivery special, available 12/31/21 to 1/3/21. Opt for any two large pizzas for $20.21, available at all locations. They'll be open New Year's Eve from 11 a.m. to 10 p.m. and New Year's Day from 12 p.m. to 10 p.m.
Order online here 
TLC Austin
Treat yourself to an amazing dinner for two by TLC, including two 8 oz tenderloin filets, two crab-stuff lobster halves, tarragon lemon butter, rosemary fingerling potatoes, asparagus, chocolate brownie with winter-spiced strawberry compote and a bottle of Taittinger Brut Champagne.
Pre-order online here until December 31, pick up on New Year's Eve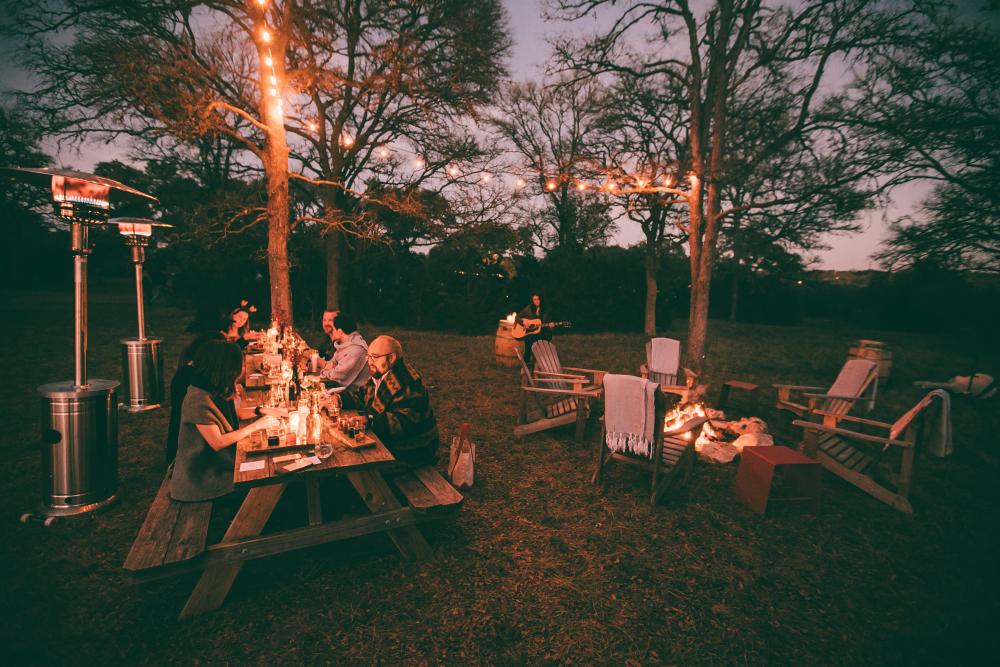 Courtesy of Vista Brewing.
Restaurants Open on New Year's Eve
B.D. Riley's (Mueller)
The Aldrich Street Irish pub will be open on NYE from 11 a.m. to 1 a.m., serving dinner until 11 p.m. Spot by for pub fare and perfect pints of Guinness on the spacious patio. No cover or reservations required.
The Cavalier
The Cavalier will be open with their full menu on New Year's Eve from 3 p.m. - 10 p.m. Specials include 2-for-1 burgers (includes the all-beef Cavalier Burger + the Veggie Burger) and holiday cocktails to-go, including boozy horchata and boozy chai, frozens, hot toddies, wine and more. Pre-order special NYE ready-to-heat features by the quart like black-eyed peas, gumbo and chicken & dumplings.
Order online here
DipDipDip Tatsu-Ya
New-school shabu-shabu restaurant DipDipDip Tatsu-Ya is now open for daily dine-in service at reduced capacity with safe social distancing. The restaurant will offer a chef selects menu, including two omakase and a menu of curated sake pairing options and beverages to add to the experience. Reservations are highly recommended and available via Resy or by calling (512)298-6289.
Reservations available on Resy
Garrison
This New Year's Eve, the acclaimed Garrison at the Fairmont Austin Hotel will celebrate with the launch of its highly-anticipated pop-up dinner series featuring a decadent, six-course tasting menu and wine pairing options. Recognized as a Wine Spectator Restaurant Award-winner for its wine program, Garrison redefines dining in the heart of Austin.
See the full menu and reserve online at garrisongrill.com/menus
Group Therapy at Hotel Zaza Austin
Hotel Zaza Austin will host a NYE Supper Club celebration and package that includes an elevated in-room bubbly turndown, valet parking and a reservation to the NYE Supper Club at Group Therapy. The NYE Supper Club will offer a delicious pre-fixe menu, champagne toast and live music to enjoy at the comfort of your own private and physically distanced table. The package also includes a $50 breakfast credit. Guests looking to celebrate on their own can enjoy the Toast for Two package with a complimentary bottle of bubbly, valet parking and $100 in-room dining credit, with knock and drop service.  
Huckleberry at Vista Brewing
Huckleberry is popping up at Vista Brewing from noon - 6 p.m. Chef Davis Turner will be serving up seafood paella with grilled bread, and vegetarians will have an option for tomato bisque soup. Vista will be offering $1 off .5L draft pours of Hensel Helles Lager, and their regular menu will be available.
Table reservations are required. Reserve online 
Juliet Italian Kitchen
Raise a glass (or 3) to the end of 2020 at Juliet. Make a reservation for NYE and enjoy a delicious menu including features like prime beef carpaccio, duck torchio, seared sea scallops and pork belly, tiramisu gelato and more. Plus, plenty of bubbles and cocktails!
Reserve online: resy.com/cities/atx/juliet-ristorante
Kemuri Tatsu-Ya
Kemuri Tatsu-Ya's Omakase Club, a new dining experience, features three different set menus to choose from, with options that suit vegetarians and pescetarians. Kemuri has also revamped their space to operate only on their covered patio space, with tables at a minimum of six-feet apart. With the typical events and gatherings not possible this year, Kemuri Omakase Club is a great option for an intimate and special way to celebrate leaving 2020 behind.
Reservations available on Resy
The Water Trough at Lone Star Court
Celebrate New Year's Eve with a Hill Country spin at Lone Star Court. The retro-inspired hotel is offering a Goodbye 2020 package with a bottle of sparkling wine and party favors. The package also includes access to The Water Trough on New Year's Eve which will host safety-conscious live music from the Drew Moreland Trio alongside dozens of delicious Southern dishes and craft cocktails. In the morning, Lone Star Court will offer a great pick-me-up breakfast with a complimentary beverage station.   
No matter the celebration you're looking for, Austin has you covered. Here's to a new year with even more groovy tunes, tasty food and fun with friends and family in Austin!