Food truck eats are a must when you visit Austin. Whether you're looking for a family-friendly food truck park or tasty late night bites on the patio at a nearby bar, here are 25 to add to your Austin dining itinerary.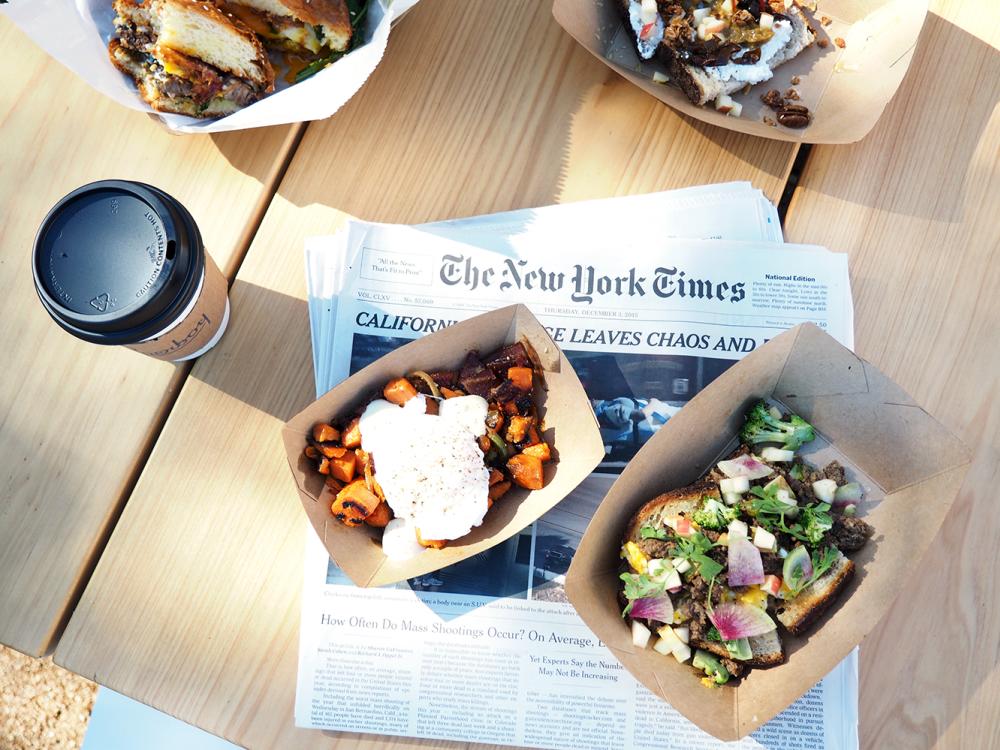 Paperboy. Courtesy of Jane Ko.
1. Wake up with a migas breakfast taco at Veracruz All Natural, named one of Food Network's Top 5 Tacos in America.
2. Long-time staple El Primo dishes up tacos, tortas and burritos. Try the popular pastor (pork) or the lengua (beef tongue).
3. The Turkish-style wraps at Kebabalicious include the savory beef-and-lamb nestled in a pita, sided with hummus or crispy fries.
4. At Luke's Inside Out, try one of Chef Luke Bibby's creative bites, like the spicy Szechwan fried chicken sandwich.
5. Paperboy is a breakfast hot spot with early-morning eats, such as the sweet potato hash with pork shoulder and a poached egg.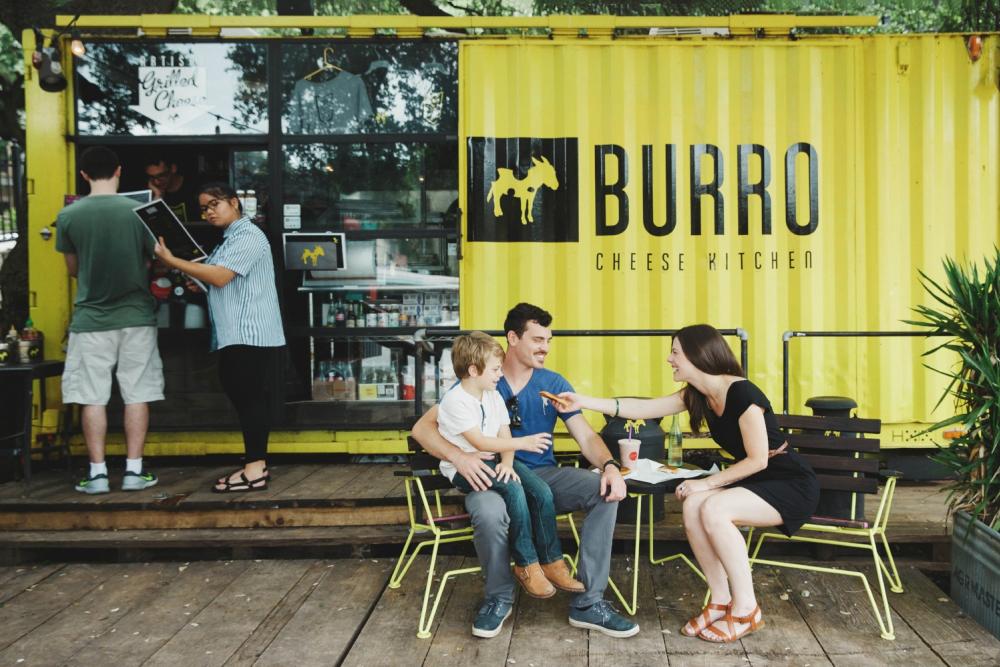 Burro. Credit Geoff Duncan.
6. The Mighty Cone serves its foods in a handy paper cone, like the chicken tenders wrapped in a tortilla.
7. Tommy Want Wingy is all about the chicken wing lollipops that come in a variety of flavors, including garlic parmesan.
8. For kid-friendly food on the run, find the Burro Cheese Kitchen food trailer on South Congress Avenue and savor the inventive grilled cheese sandwiches. 
9. Detroit-style square pizza is the specialty at Via 313, owned by two brothers who grew up on the stuff.
10. The hip Whisler's bar pairs its cocktails with Asian food from Thai-Kun, including green curry with jasmine rice.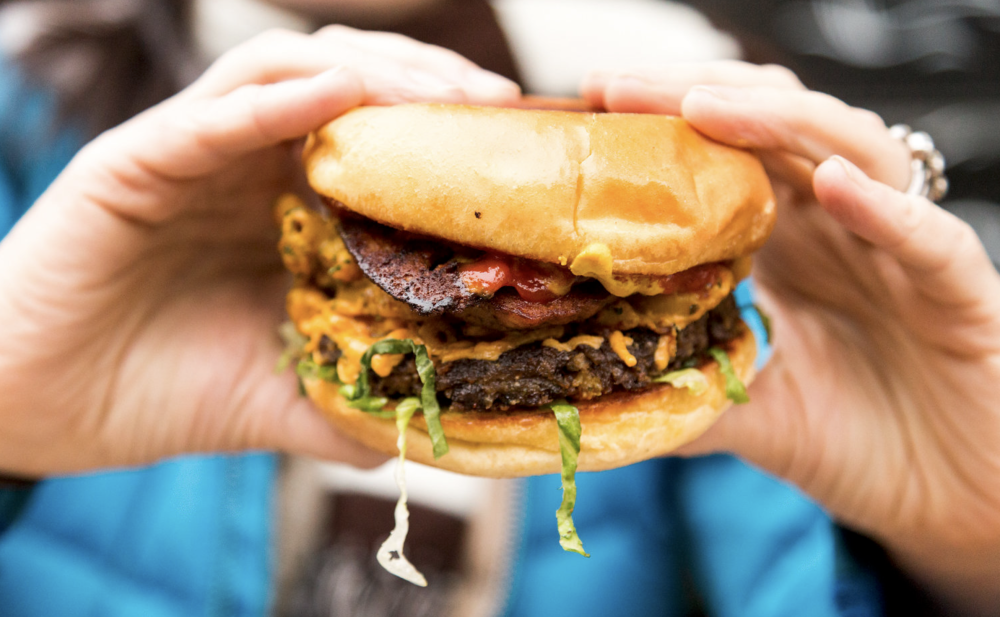 Vegan Bac'n Cheezeburger. Courtesy of Arlo's.
11. Find your barbecue fix at award-winning East Austin trailer Micklethwait Craft Meats, named one of Texas Monthly's 50 Best BBQ Joints in Texas.
12. The Picnic food trailer park offers perks like shady pavilions and food trucks that include Hey Cupcake! and Acai Hut.
13. LeRoy and Lewis offers a creative take on barbecue with a seasonally changing menu of meats sliced to order, such as the decadent smoked beef cheeks and pulled whole hog.
14. Indulge in family-style Italian from Patrizi's, which uses secret family recipes to create its homemade sauces and pulled-to-order pastas.
15. Find Arlo's food truck at Cheer Up Charlies bar, known for its delicious vegan bac'n cheezeburger, chik'n tacos and tater tots.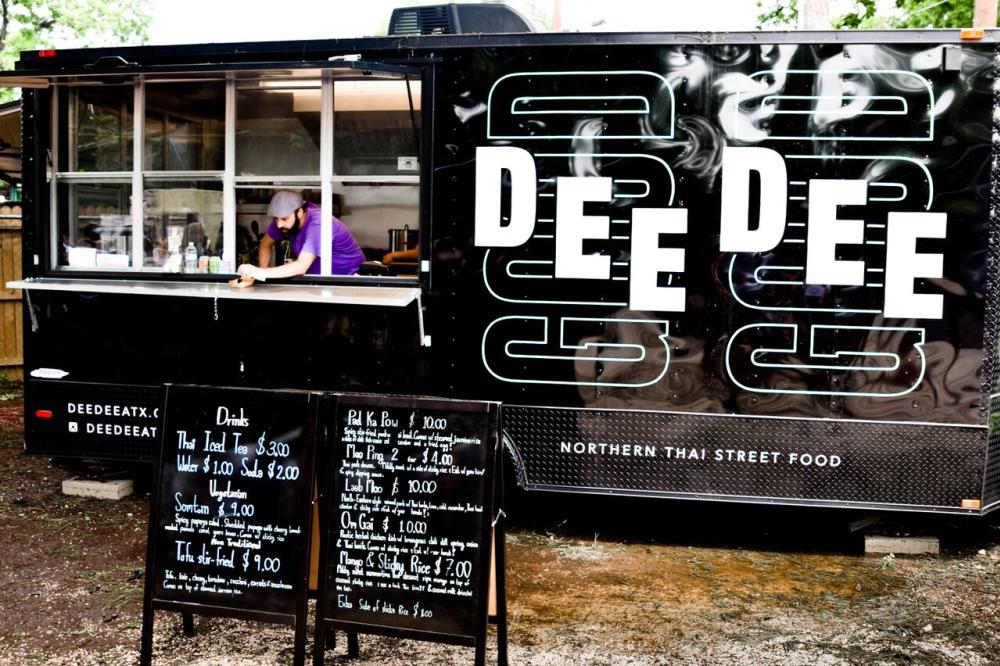 Courtesy of Dee Dee.
16. Garbo's serves up New England cuisine, including fresh lobster rolls prepared Maine style (chilled, with homemade mayo) or Connecticut style (warm, brushed with lemon-tarragon butter).
17. At Bananarchy, build your own frozen banana confection with dips like chocolate and peanut butter, along with toppings that include a selection of candies, nuts and cookies.
18. Authentic Northern Thai street foods like pad kaprow (spicy stir-fried pork sauteed in homemade chili paste) are the specialty at the husband-and-wife-owned Dee Dee Thai.
19. The Vegan Nom is Austin's first all-vegan taco trailer, offering plant-based breakfast tacos throughout the day, bomb nachos topped with black beans and house-made queso.
20. Step up to the Airstream and treat yourself to a sweet donut treat (like the Miss Shortcake, with cream cheese icing and fresh strawberries) at Gourdough's.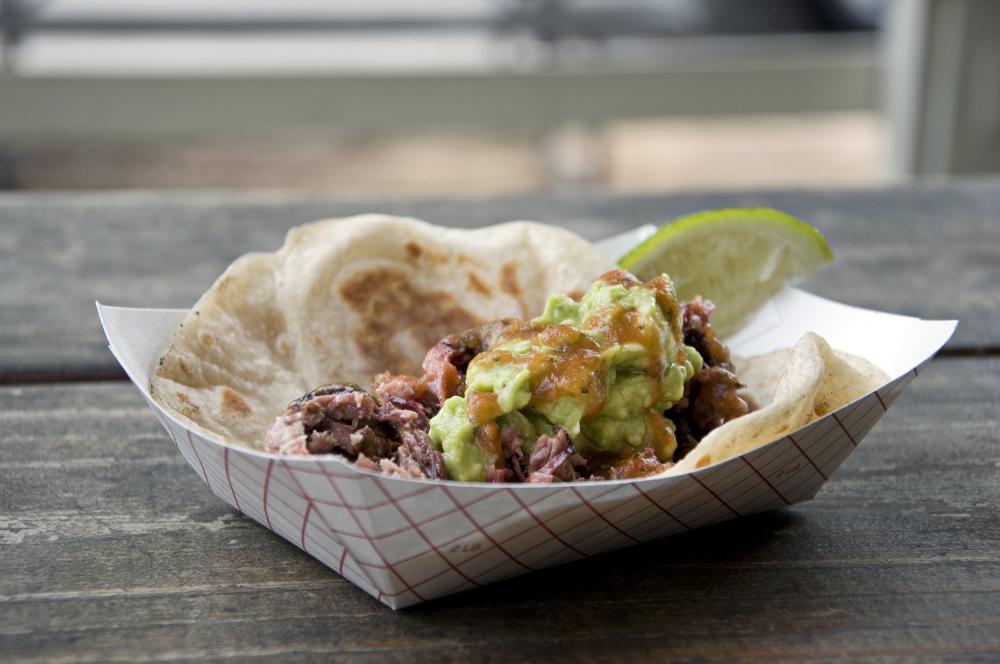 Valentina's Tex Mex BBQ. Credit Rose McIntyre, BFA Photography.
21. The Peached Tortilla offers Southern comfort food with Asian flare, including the banh mi bowl layered with Vietnamese braised pork belly, sriracha mayo and cilantro-lime rice.
22. At Valentina's Tex Mex BBQ choose from tempting taco fillings like smoked brisket topped with guacamole, tomato serrano salsa and sea salt.
23. Julie's Handmade Noodles specializes in Chinese dishes featuring fresh house-made noodles, including chicken chow mein and beef noodle soup.
24. Sample Mediterranean fare at Abo Youssef. Make sure to snag a glass of mint tea and say "Hi" to the owner, Samir, who will always greet you with a smile.
25. Inspired by the Latin street cuisine of the Rio Grande Valley, Cool Beans offers Mexican vegan dishes, including chorizo-and-potatoes tacos and grilled street corn with homemade lime mayo.