West Austin is a National Register Historic District, positioned north of Lady Bird Lake and west of downtown. Established in 1853, the district is one of the oldest neighborhoods in the city. Texas Governor Elisha Peace owned several plantations in the region which he later sold to former enslaved people who built homes there. The northern edge of West Austin was later named Clarksville in honor of Charles Clark, a former enslaved man who helped build the community.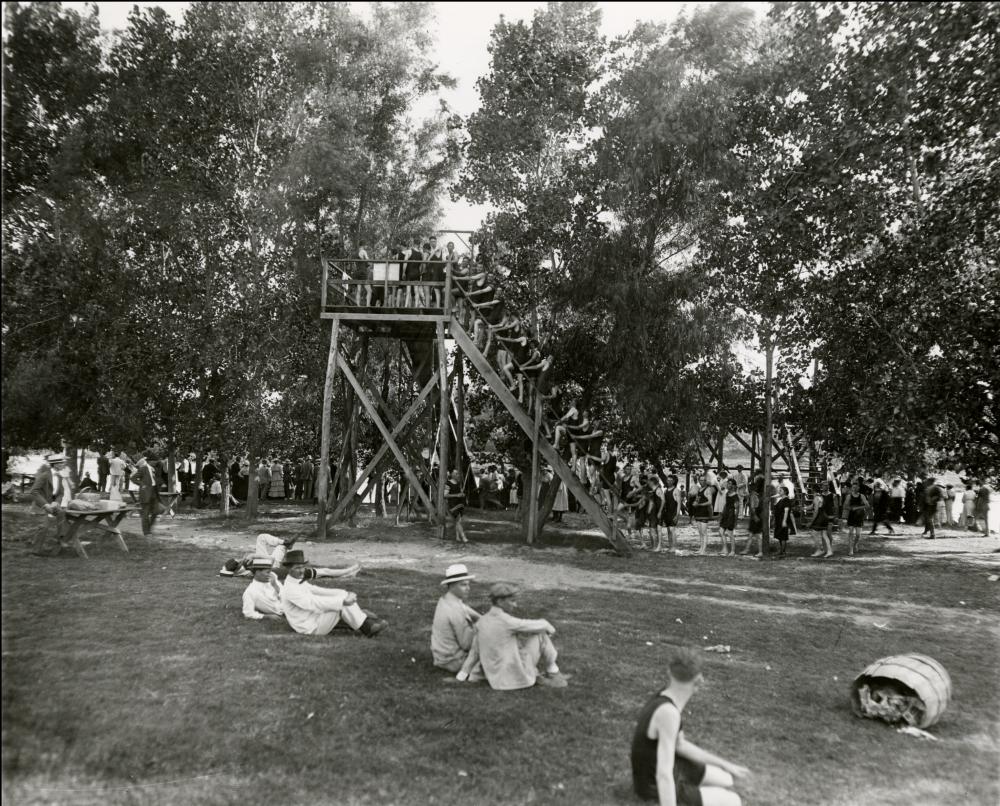 Deep Eddy Pool. Courtesy of the Austin History Center, Austin Public Library,  C0 1786.
Today, the district contains nearly 106 blocks of residential and park land, located in Austin's central business district. The area is composed of three main sections: Enfield, Pemberton Heights, and Bryker Woods. The Old West Austin historic district is also well-known for the preservation of its mid-20th century homes that directly reflect the city's steady growth. The neighborhood is now home to some of the city's most beautiful landscaping which makes for a perfect spot for visitors to explore.
Historic Neighborhoods
The Balcones Escarpment, a dramatic uplift that runs along the west side of downtown Austin, has long been a desirable place for homes, from antebellum plantations and freedman's communities to showplaces for the wealthy of several generations. National Register Historic Neighborhoods Old West Austin, West Line and Clarksville contain more than 2,000 contributing properties.
Private residencies, viewable from the street. Approximate boundary: West Sixth Street to West 35th Street: Lamar Boulevard to MoPac.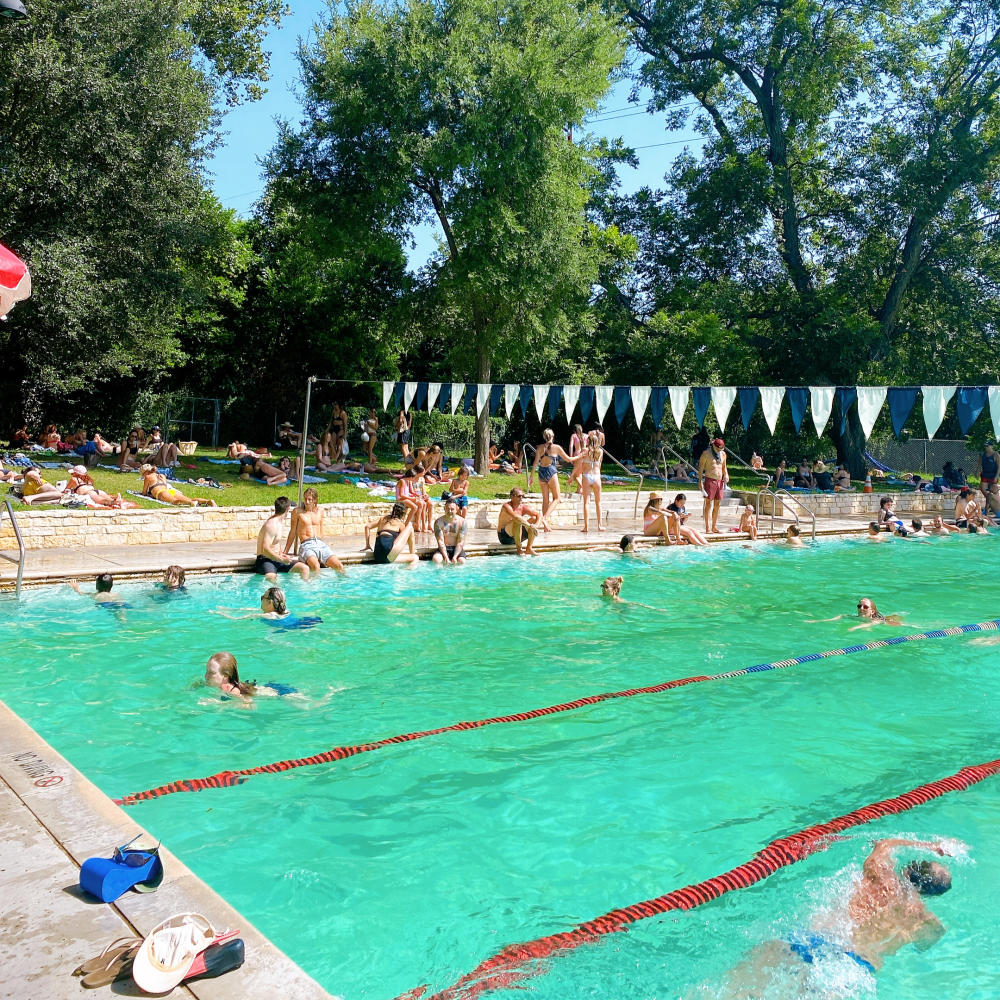 Deep Eddy Pool. Credit Alexandra Reichek.
Historic Sites in West Austin
Deep Eddy Pool
401 Deep Eddy Ave.
Just west of MoPac (Loop 1), Sixth Street becomes Lake Austin Boulevard, leading to a landmark swimming pool. Built in 1916 and spring-fed, it replaced a once-popular swimming pool hole in the Colorado River (now Lady Bird Lake). A 1935 Works Progress Administration project improved the pool and added a bathhouse. Eilers Park and the Hike and Bike Trail adjoin the pool.
Camp Mabry
2200 W. 35th St.
This 800-acre site has been a military center since 1892. The camp also houses the Texas Military Forces Museum in a 1918 building.
Neill Cochran House
2310 San Gabriel St.
Abner Cook, the architect responsible for the Governor's Mansion, designed this beautiful 1855 Greek Revival house. Originally built as a residence, it was the first home for the Texas School for the Blind and a Reconstruction-era military hospital. Now the house serves as a museum with Texas-history-centered exhibits, rotating artist features and family-friendly events.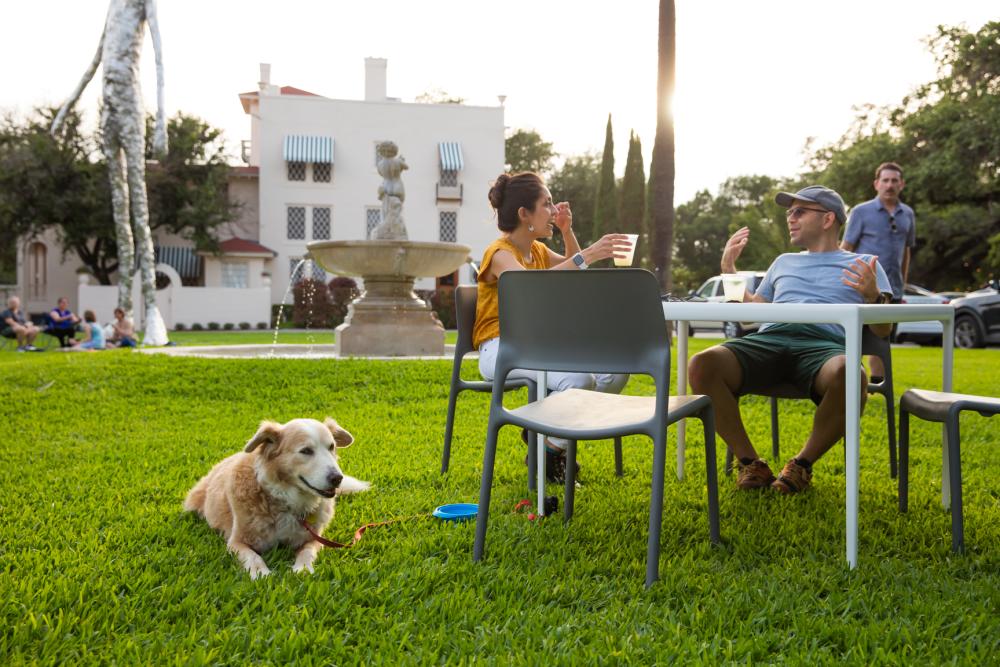 Courtesy The Contemporary Austin: Laguna Gloria.
The Contemporary Austin: Laguna Gloria
3809 W 35th St.
The Contemporary Austin art museum makes its home in this 1916 Mediterranean villa. Explore the outdoor sculpture park situated right on the banks of Lake Austin, and grab a bite at their onsite cafe.
Mayfield Park
3505 W. 35th St.
Adjacent to Laguna Gloria is a 23-acre nature preserve with wooded trails and a historic cottage. Meander along the manicured grounds and snap a pic with one of the wandering peacocks that calls Mayfield Park home.
Mount Bonnell
3851 Mount Bonnell Rd.
The historic hilltop has magnificent view of Lake Austin and surrounding hills. Hike up the 106 stone steps for a rewarding view — especially at sunset!
Learn more about historic Austin with our Historic Brochure, or take a guided Downtown Walking Tour!