Just because we are staying in for the next few weeks doesn't mean we can't still enjoy a special meal to celebrate Easter and Passover. If you're looking for some of the best places to order takeout for Easter Brunch and Easter Dinner or your Passover meal, check out these Austin restaurants below and help support our local hospitality industry!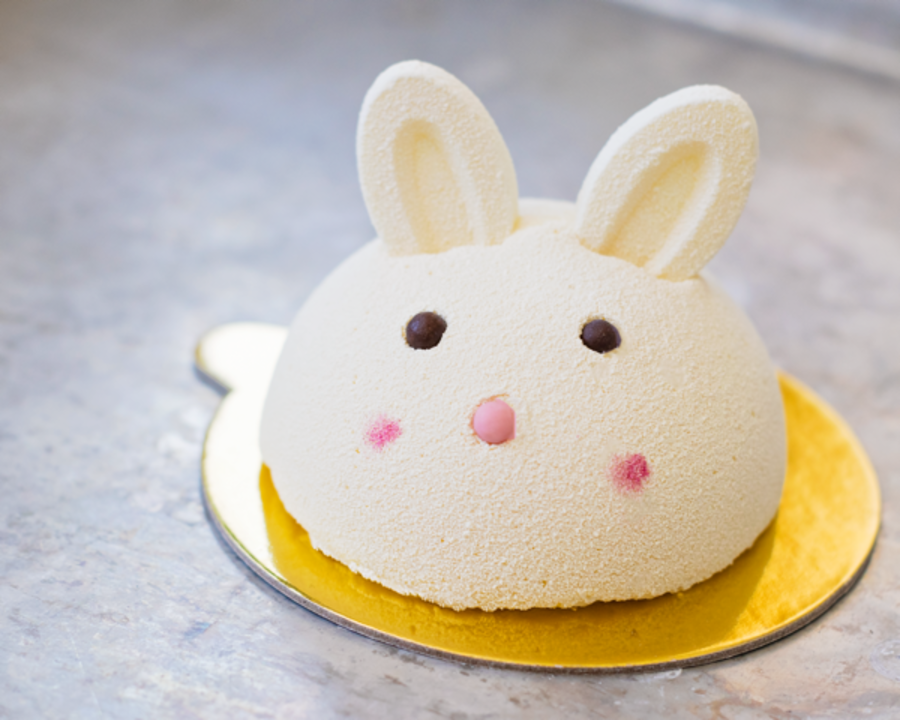 Courtesy of Bakery Lorraine.
Easter Menus
34th Street Cafe & Catering
34th Street Cafe will be offering an Easter Family Meal for pickup or delivery between 2-5 p.m. on Saturday, April 10. The meal feeds 6-8 guests for $295 or 8-10 guests for $395. Highlights include: Deviled eggs with fresh herbs, capers and paprika, a bourbon maple glazed ham, homemade potato salad and coconut cake. Orders will be taken until Tuesday, April 7th at 4pm.
Order at http://www.34thstreetcafe.com/, email goodfood@34thstreetcafe.com or call 512-415-1752
Andiamo Ristorante
Andiamo's Easter brunch menu includes a baked pasta and tiramisu family meal to-go on Sunday April, 12. $40 for 2 people, $60 for 5, $100 for 8. Add a bottle of prosecco for $20.
Order by calling 512-719-3377
Austin Catering
Austin Catering is offering gourmet meals for Easter, prepared in house and ready to re-heat in your home oven; available for pickup or delivery. Order by Wednesday, April 8th at 2pm for pickup or delivery within 15 miles of the kitchen (fees may apply). Check the website for Easter menus and pickup/delivery information.
Order online: http://www.austin-catering.com/request-meal-delivery/
Bakery Lorraine
To keep spirits up, Bakery Lorraine will continue to offer its signature Easter treats for pick up or delivery. They're also offering a special Easter-themed meal for pick up or delivery, available for either 2 or 4 people. All Easter treats and meals will only be available Friday-Sunday of Easter weekend. Limited supplies each day.
Pre-order online: https://www.bakerylorraine.com/custom-orders
Buenos Aires Cafe at Hill Country Galleria
Take-and-bake Easter dinner for four, $100. Pre-order by Friday, April 10 and pick up on Saturday, April 11 from 12-8 p.m. Includes the following, plus directions on how to warm it to perfection: a salad of your choice; four empanadas of your choice; certified Angus beef tenderloin with chimichurri on the side or roasted chicken, Argentinian-style; green bean casserole and yukon gold mashed potatoes; four leches or dark chocolate mousse cake. Compliment your dinner by adding wine by the bottle, half price.
Call (512) 441-9000 or order online: https://www.toasttab.com/buenos-aires-cafe-bee-cave/v3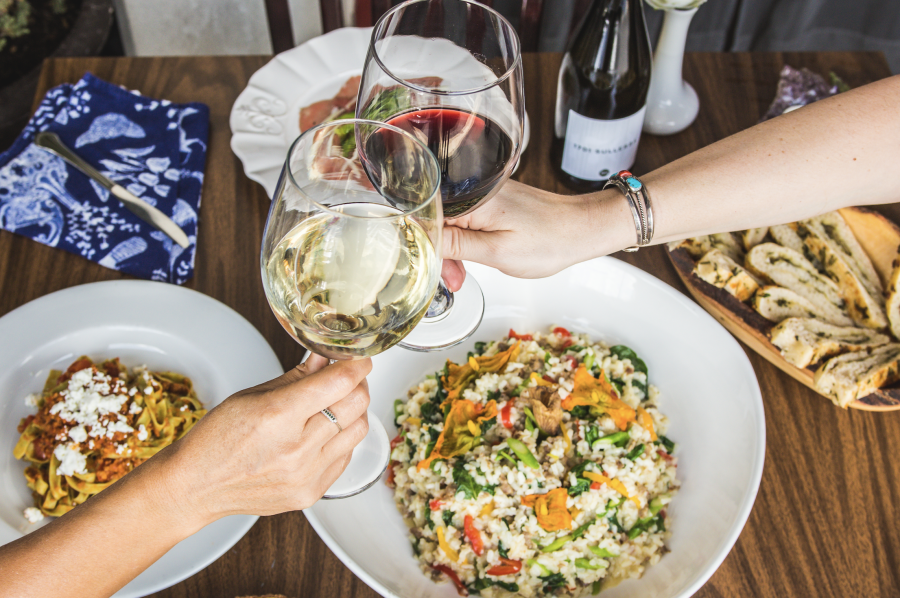 Courtesy of Andiamo Ristorante.
Cafe Blue at Hill Country Galleria
Get the Easter Family Dinner Deal from Cafe Blue. The meal feeds four and includes crab stuffed mushrooms; a mixed green salad; ancho-brown sugar glazed ham with Creole honey mustard, and lemon-parmesan baked salmon with creamy lemon horseradish; garlic whipped potatoes, creamed spinach and sautéed green beans; key lime pie for dessert; and wine features (add-on). Curbside pick-up only. Orders and payments must be received by Friday, April 10 at 3pm.
Order online at https://www.cafebluetx.com/order-now or by calling 512-366-5230
The Cavalier
The Cavalier is celebrating with a carry-out Brunch Menu featuring Chicken & Waffles, Southern Poutine, Shrimp & Grits and more. Plus they'll have the "Austin's Best Bloody Mary" kit available as well (they won in three categories at last year's Bloody Mary Fest!).
Order online at www.theCavalierATX.com or call 512-696-4318
Clark's
Pre-orders available until April 9 at 5 p.m. Enjoy Chef Josh Hines' Fried Chicken Pop-Up with fresh baked biscuits & honey butter, garlic roasted marble potatoes, mint julep & Pimm's cup cocktail kits and rosé & white wine.
Order by emailing easter@clarksoysterbar.com
Colleen's Kitchen at Aldrich Street
Colleen's is serving an Easter heat + serve all-day brunch for $125. Pick-up on Saturday, April 11 or have delivered via Favor. Enjoy a tenderbelly applewood smoked half ham (approx 4.5lbs),  and Easter strata casserole, four buttermilk biscuits with wild orange butter and tomato jam, haricot verts, mac + cheese and a pound cake with fresh strawberries and chantilly cream. Add ons will be available.
Pre-order online: https://app.upserve.com/s/colleens-kitchen-austin
Con' Olio
Chef Fer Candil of Con' Olio's popular cooking classes, "Paellas, Tapas & More," will be preparing her famous paella for this special Easter celebration. What better way to come together than over a delicious and authentic Spanish dish meant for sharing and enjoying! Leave the cooking to Chef Fer! And a bonus… the Paella is gluten-free! Available for pick up at the Arboretum location only. You must pre-order by Thursday, April 9 and orders can be picked up Saturday, April 11.
Order here: https://www.conolios.com/paella-dinner/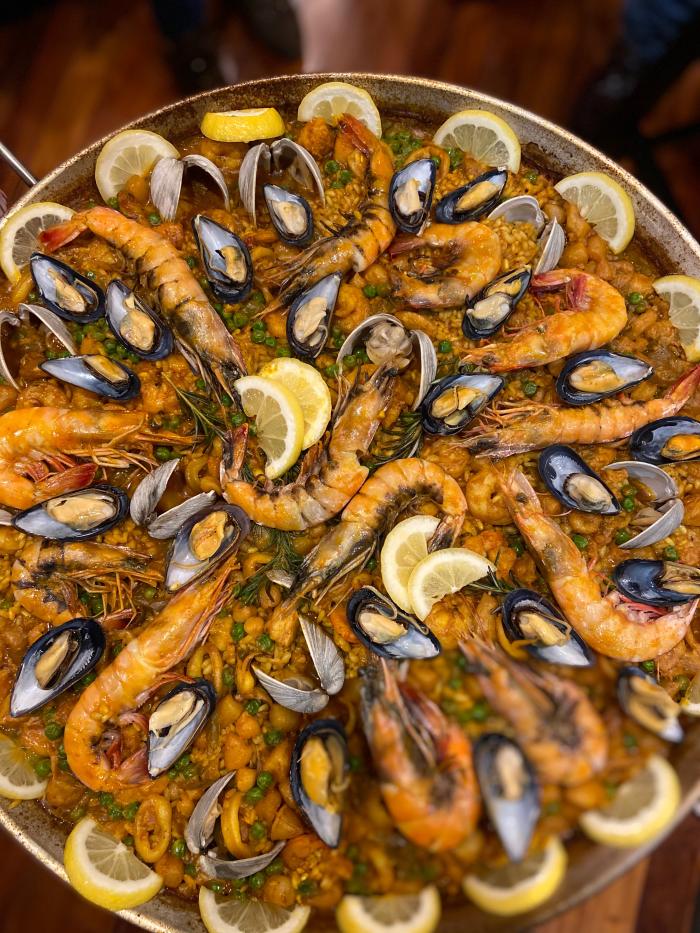 Courtesy of Con' Olio.
Contigo Dispatch
Contigo's new delivery service, Dispatch, is delivering a special Easter Brunch menu which comes with the following: bacon, herb & manchego quiche (8-10 servings); pecan sticky buns; asparagus & pea salad; coriander rubbed whole chicken, lemony lentils & rice; chile rubbed pork; smashed cucumber & green beans, citrus yogurt; cantaloupe agua fresca and grapefruit cake (8-10 servings).
Order online: https://www.contigodispatch.com/s/order?location=11ea67ce5fe9b96aa53a0cc47a2b63cc
Halcyon Coffee at Aldrich Street
The Mueller coffee shop and cafe is taking pre-orders for Easter Dinner. Orders must be placed by April 9. The Turkey Dinner Menu feeds 2-4 people and includes an Herb Roasted Turkey (+ gravy), Halcyon mac n cheese, broccoli casserole, a house salad and sweet cheddar cheese cornbread. Ask for the Nitro Package to get a bottle of Champagne and orange juice for mimosas. The Easter Brunch Special feeds 2 people and is available all-day. Enjoy waffles topped with buttermilk ranch-battered chicken breast, plus two slices of Texas smoked hickory bacon and regular or bourbon syrup.
Order online: https://halcyonathome.square.site/ or call in 512-400-0445
Jeffrey's
Pre-orders available until April 9 at 5 p.m. Enjoy a fancy brunch with leg of lamb, orecchiette and cheese gratin, jumbo shrimp and king crab, martini kits and Champagne and caviar options.
Email easter@jeffreysofaustin.com to place your order
Juliet
Juliet's Easter Meal Kits will be available for purchase between April 10th - April 12th. All meals are served chilled with cooking instructions. For Easter brunch, enjoy a frittata served with garlic brunch potatoes. And for Easter dinner, they're offering a braised bone-on pork chop over tomato sauce and cannellini beans, finished with an herbed balsamic glaze and served with roasted rosemary potatoes.
Order online: https://ordering.app/julietaustin/
Juniper
Juniper is reopening with a new takeout and delivery menu—perfect for an Easter meal. Order a la carte or order a customizable family meal. Customizable family meals serve four people and include a choice of one starter, a main entree/protein, two sides and a dessert for $80. See the menu online. First responders and medical professionals can receive 25% discount by showing ID; plus, get 20% off your first order for opening weekend: April 10-12.
Order online at juniperaustin.com, call 512-220-9421 or order for delivery on Favor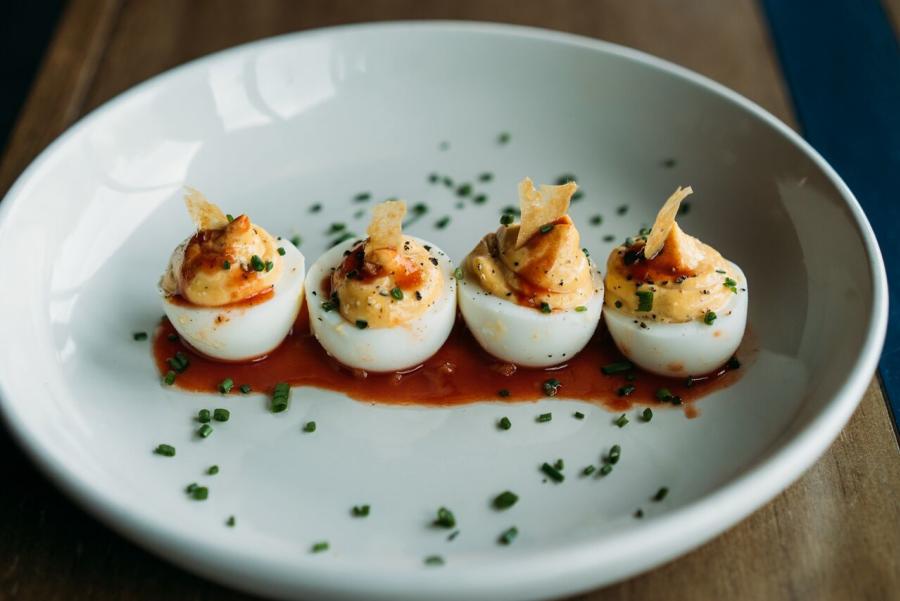 The Cavalier. Credit Alison Narro.
Lamberts
Pre-orders available until April 9 at 5 p.m. Highlights include: oak smoked prime rib with other Lamberts brunch buffet favorites such as hot smoked gravlax, mac & three cheeses, country-style pork ribs, bloody marys, micheladas & mimosas to-go.
Order online at https://ordering.app/lamberts/
The League Kitchen & Tavern
All locations are accepting pre-orders through Friday, April 10 at 8 p.m. The meal feeds 4-6 people and includes a salad with choice of dressing, biscuits, a prime rib dinner served with au jus and horseradish sour cream, mashed potatoes with jalapeno gravy, green beans and carrot cake. Get a $10 bonus gift card with every $50 of gift cards purchased.
Pre-order: https://www.leaguekitchen.com/delivery
Micklethwait Craft Meats
Pre-order your Easter meal from the barbecue trailer by Thursday, April 9. The limited Easter menu includes a whole smoked, boneless leg of lamb, one quart of rosemary potato salad and one quart of lemon poppy slaw, pickles, onions, bread and sauce for $75. Feeds 6-8 people.
Order online at 512-791-5961
Old Thousand
Old Thousand's Easter Brunch includes an Easter basket of chicken & waffles, mimosas and a choice of dumpling (lo bak go, cubano or chili wontons) for $40.
Order for delivery or pickup by calling the restaurant
The Peached Tortilla
The restaurant will be offering an Easter Brunch Family Meal available for pre-order. Each meal feeds 4-5 and meals come with instructions to re-heat. Packages include one entree, two sides, seasonal fruits, mini pastries. Meals can be pre-ordered online and picked up at the restaurant from 5-9 p.m. on Saturday, April 11th.
Pre-order online: https://thepeachedtortilla.com/easter-preorder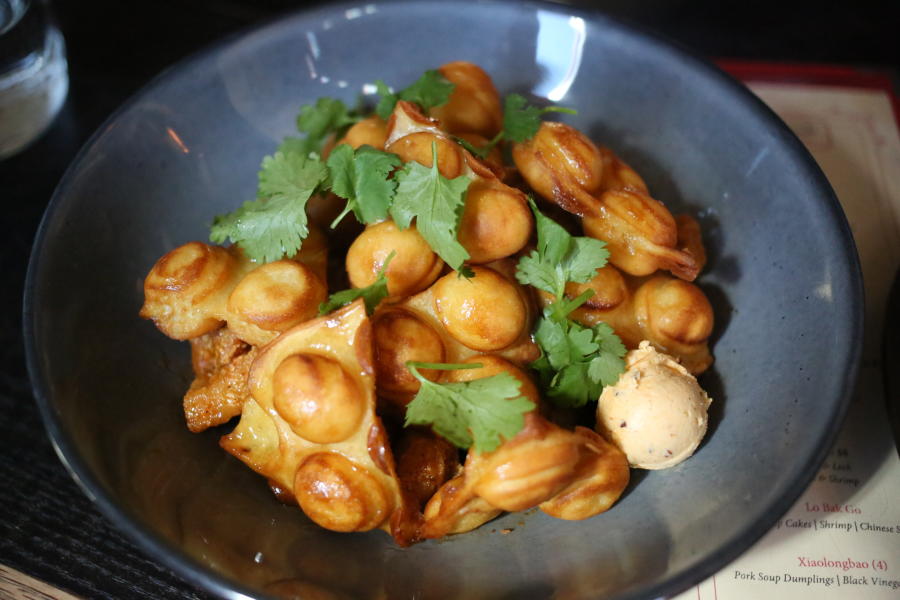 Courtesy of Old Thousand.
Swedish Hill
Pre-orders available until April 9 at 5 p.m. Build your own spread with a cheese & charcuterie board, maple glazed ham, rotisserie leg of lamb, scalloped potatoes, Parker House rolls and hot cross buns and don't forget the beer and wine! Pick-ups available Saturday and Sunday; full weekend bakesale and all-day menus will also be available starting at 10 a.m.
Place your order
Tony C's at Hill Country Galleria + Avery Ranch
Tony C's is accepting pre-orders through Friday, April 10 at 8 p.m. The meal feeds 4-6 people and includes an antipasto tray, a house or Caesar salad, eight garlic knots, half pan take-and-bake lasagna and an Italian cream cake. Plus, get a $10 bonus gift card with every $50 of gift cards purchased.
Pre-order online: https://www.tonycs.com/
Passover Menus
Austin Catering
Austin Catering is offering gourmet meals for Passover, prepared in house and ready to re-heat in your home oven; available for pickup or delivery. Order by Tuesday, April 7th at 2pm for pickup or delivery within 15 miles of the kitchen (fees may apply). Check the website for Passover menus and pickup/delivery information.
Order online: http://www.austin-catering.com/request-meal-delivery/
Contigo Dispatch
Contigo's new delivery service, Dispatch, is delivering a special Passover Dinner menu which comes with the following: matzo ball soup; garlic oil whole chicken; red wine braised brisket; smoked portobello mushroom & herb confit tomato; lemon & parsley rice; onion oil roasted asparagus; roasted carrots, nuts & seeds; herb roasted potatoes; chocolate macaroon cake (serves 8).
Order online: https://www.contigodispatch.com/s/order?location=11ea67ce5fe9b96aa53a0cc47a2b63cc