Whether you're planning on celebrating Easter out and about or in the comfort of your own home, Austin has a ton of delicious options to choose from for your brunch or dinner meal. Check out these Austin restaurants, and continue to support your local hospitality industry this holiday weekend!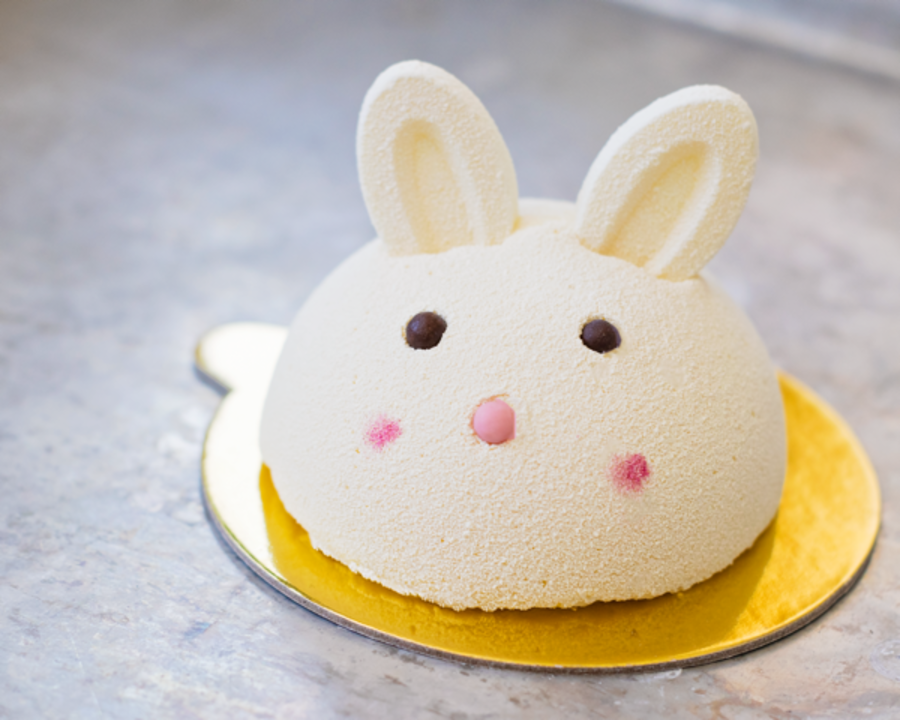 Courtesy of Bakery Lorraine.
Restaurants Open for Easter Brunch
Fleming's
Itching to go out? Dress in your Easter best end enjoy a decadent 3-course meal, featuring a hand-cut filet mignon paired with crab stuffed shrimp or lobster tail scampi. Open for brunch on Saturday and Sunday.
Reserve your table online: flemingssteakhouse.com/promotions/easter-weekend
Jeffrey's
Treat yourself to a 4-course brunch on Easter Sunday. The special occasion menu highlights include foie gras, wood-fired lamb chops, spring pea and new potato salad and a dobos torte. Reservations available from 10:00 a.m. to 1:30 p.m. on April 4.
Call 512-477-5584 to reserve your table
Juniper
Juniper will host brunch on Easter Sunday from 11 a.m. to 3 p.m. Arrive hungry to enjoy their prix-fixe menu that includes fresh pastries, some classic Juniper dishes and fun Italian brunch items, like breakfast lasagna.
Reserve your table online: opentable.com/r/juniper-austin
Olive & June
Enjoy Easter brunch on the picturesque patio at Olive & June. Their special holiday menu features deviled eggs, a brioche cinnamon roll, eggs benedict, Tuscan home fries and a classic carrot cake.
View the full menu and make reservations online: oliveandjune-austin.com
Second Bar + Kitchen
For those who would prefer to enjoy their meal at the restaurant, Second Bar + Kitchen Domain Northside is offering a special dine-in brunch option. Their menu has a mix of the classics, paired with some inventive spring additions - deviled eggs; an arugula, asparagus and sun-dried tomato tart; smoked ham; and an orange honey cheesecake for dessert.
View the full menu and make reservations online: secondbarkitchen.com/domain-northside
South Congress Cafe
South Congress Cafe is serving up all of your brunch favorites this Easter Sunday! Enjoy tunes from an onsite DJ from 12-3 p.m. while sipping on your favorite cocktail or mimosa before ordering a delicious entree, like the shortrib hash or carrot cake French toast.
Reservations available: southcongresscafe.com
TLC Austin
TLC's menu has always been centered around comfort food, with an emphasis on great seafood. It's no surprise, then, that their exclusive Easter menu items fall into those categories as well; enjoy lobster deviled eggs, jumbo crab cakes and the TLC Cubano sandwich, dine-in or take-out.
Call 512-580-0971 to reserve your table
Trudy's Tex Mex
Hop on down to Trudy's for a Tex Mex feast, featuring migas enchiladas, chilequiles, bloody Mary's, mimosas and more. Families can snap a pic with the Easter Bunny and post it on social media for 10% off their order. Kids 12 and under eat free!
Open for dine-in or order online: trudys.com/mobile/order-online.php

Courtesy of Intero.
Easter To-Go
34th Street Cafe
34th Street Cafe will be offering an Easter Family Meal for pickup or delivery on Saturday and Sunday (April 3-4). The meal feeds 6-8 guests. Highlights include: deviled eggs with fresh herbs, capers and paprika, a bourbon maple glazed ham, homemade potato salad and coconut cake. Pre-orders will be taken until March 31 at noon.
Order online: 34thstreetcafe.com/easterContact.php
Aba
One of the newer spots on South Congress has prepared a special menu for Easter weekend to enjoy at home. This menu includes spicy hummus, salad, za'atar roasted chicken, beef tenderloin kebab, brussels sprouts, and a double chocolate cake. Add ons, specialty items, and cocktail kits are also available. Order a day a head for pick up or delivery the following day.
Order online: exploretock.com/abaaustin
Austin Catering
Austin Catering is offering gourmet meals for Easter, prepared in-house and ready to re-heat in your home oven; available for pickup or delivery. Order by Tuesday, March 30 at 2 p.m. for pickup or delivery within 15 miles of the kitchen (fees may apply). Check the website for Easter menus and pick up/delivery information.
Order online: austin-catering.com/services/easter-meals
Bakery Lorraine
Bakery Lorraine will continue to offer its signature Easter treats for pick up or delivery. Their Easter pastry box is filled with five delightful confections that are almost too cute to eat. All Easter treats will only be available Saturday-Sunday of Easter weekend. Limited supplies each day.
Pre-order online: bakerylorraine.com/store/easter
Chicken Salad Shoppe
Born summer 2020, the Chicken Salad Shoppe is an online restaurant boasting the most diverse menu of chicken salads in the city. Make Easter easy with the help of their sandwich platters, and finish your meal off with their ½ pound passion fruit stuffed sugar cookie aptly named "Passion of the Peep."
Order online:   chickensaladshoppe.com/catering  
Confituras Little Kitchen
This South Austin bakery, famous for their small batch, locally sourced jam and biscuits, is offering a number of menu items for your Easter meal at home. Offerings include a brunch picnic kit, quiche with ricotta and herbs, strawberry shortcake and more. You can even donate a meal for just $5 more, if you're feeling generous this season.
Order online:  confituras-little-kitchen.square.site
Contigo Catering
Contigo's delivery service, Dispatch, is delivering a special Easter brunch menu which comes with the following: tomato, mushroom and spinach frittata, morning buns, sugar snap pea salad, honey & clove glazed pork loin, rosemary & garlic whole chicken with spiced quinoa and roasted broccoli and salted caramel chocolate tart. Mimosa kits, wine and a la carte menu items also available.
Pre-order online: contigodispatch.com
Dai Due
Support farmers and ranchers this Easter with an order from Dia Due. Pre-orders are available for items from their butcher and bakeshop. Their mixed kolache pack puts a twist to the Texas favorite with flavors like strawberries and cream, and lamb and spring greens.
Order online: daidue.com/easter-specials
Fleming's
Looking for an elegant and elevated to go option? Fleming's is offering a takeout menu that will have your home kitchen feeling like a prime steakhouse. Choose between the 3-course filet menu or the filet wellington family menu for curbside pickup.
Order online: flemingssteakhouse.com/promotions/easter-weekend
Gati
If you're in search of gluten free and vegan options, look no further than Gati. Pre-order gluten free Easter cakes, pies, tarts and more. Gati requests 48 hour notice for special orders.
Order online:  gatiicecream.com/gluten-free-bakery
Intero
Make Easter at home a special event with a family-style meal from Intero. Brunch options include a florentine egg tart, deviled eggs, and biscuits with homemade jam. If Easter dinner is more your style, their dinner menu includes roasted lamb, mushroom soup and Chef Ian's signature mashed potatoes. Finish off your meal with the addition of Intero's chocolate assortment, or carrot and pistachio cupcakes. Orders can be picked up throughout the day on Easter.
Pre-order online: interorestaurant.com/happenings
Launderette
This east side favorite is offering Easter lunch and desserts to-go. Take your pic of arctic char or pine nut crusted lamb loin served with ricotta pound cake, deviled eggs, haricots verts, heirloom carrots, mint chutney and honey wheat pull-apart rolls.
Order online: exploretock.com/launderette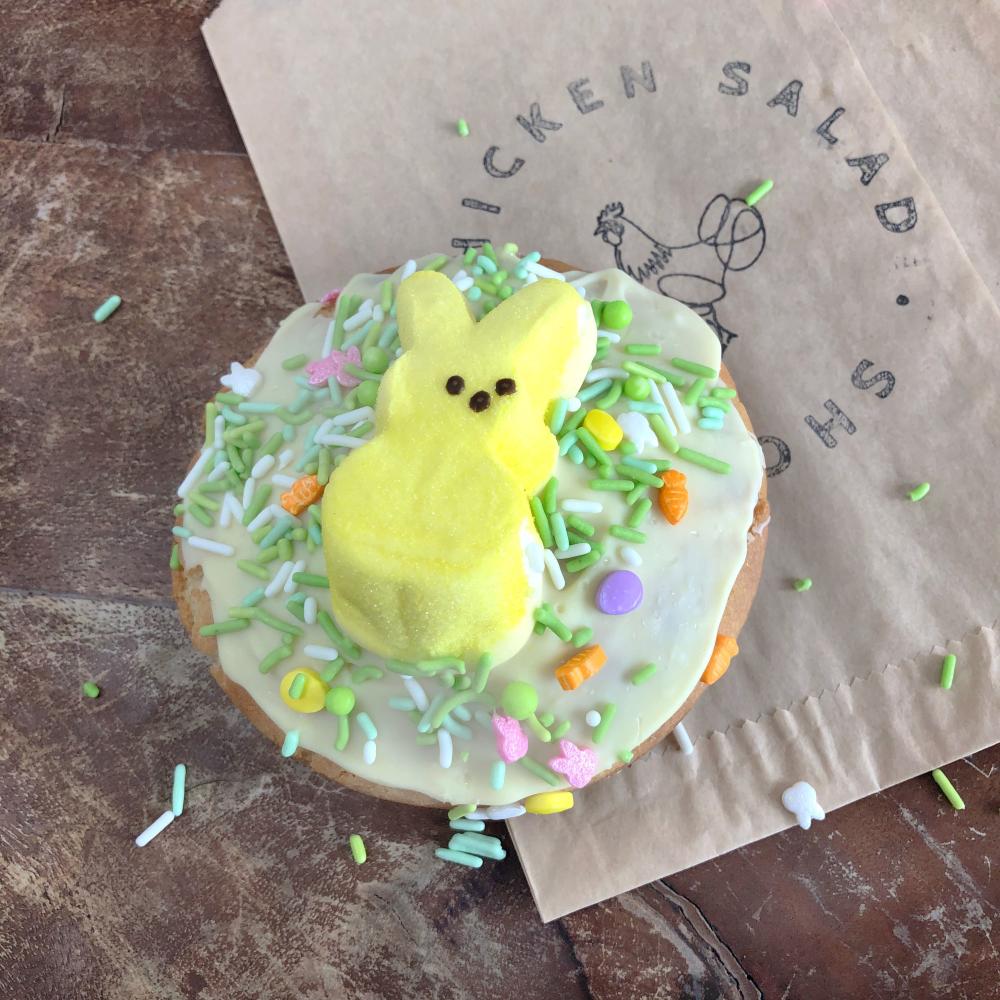 Courtesy of Chicken Salad Shoppe.
Quack's Bakeries
Looking to satisfy that holiday sweet tooth? All three Quack's Bakery locations (Lady Quackenbush's Cakery in Mueller, Quack's 43rd Street Bakery and Captain Quackenbush's Coffeehouse) are offering up a sugary selection of Easter-themed goodies for a limited time. Additionally, they have picnic baskets, including sandwiches and sides, desserts and drinks, so you can enjoy your Easter with the ones you love outside.
Order online: quacksbakery.com
Second Bar + Kitchen
Enjoy a delightful heat and serve meal for in the comfort of your own home from Second Bar + Kitchen. This menu for two includes deviled eggs; arugula asparagus and sun-dried tomato tart; spring salad; smoked ham; sides; and an orange honey cheesecake for dessert. Add ons are available for those feeling extra peckish on Easter Sunday.
Pre-order To Go by 3/31: direct.chownow.com/order/24384/locations/35900
Swedish Hill
Pre-orders available until March 31. Build your own spread with a cheese & charcuterie board, maple smoked ham, rotisserie leg of lamb, scalloped potatoes, Parker House rolls and hot cross buns and don't forget the beer and wine! Pick-ups available Saturday and Sunday.
Pre-order online: exploretock.com/swedishhillold
TLC Austin
TLC's menu has always been centered around comfort food, with an emphasis on great seafood. It's no surprise, then, that their exclusive Easter menu items fall into those categories as well; enjoy lobster deviled eggs, jumbo crab cakes and the TLC Cubano sandwich dine-in or take-out.
Order online: toasttab.com/TLC-austin/v3
Uroko
Celebrate Easter with Uroko for an unconventional holiday meal. Uroko features a special roll, Easter bunny shaped sushi, exclusive to those who order their fresh sushi and sashimi for Easter takeout.
Order online: toasttab.com/uroko/v3