Famous for its rivers and lakes, Austin and the surrounding Texas Hill Country is bisected by its countless waterways. Here's a quick guide to enjoy a kayaking, paddle boarding, swimming and boating on the water in the Texas state capital.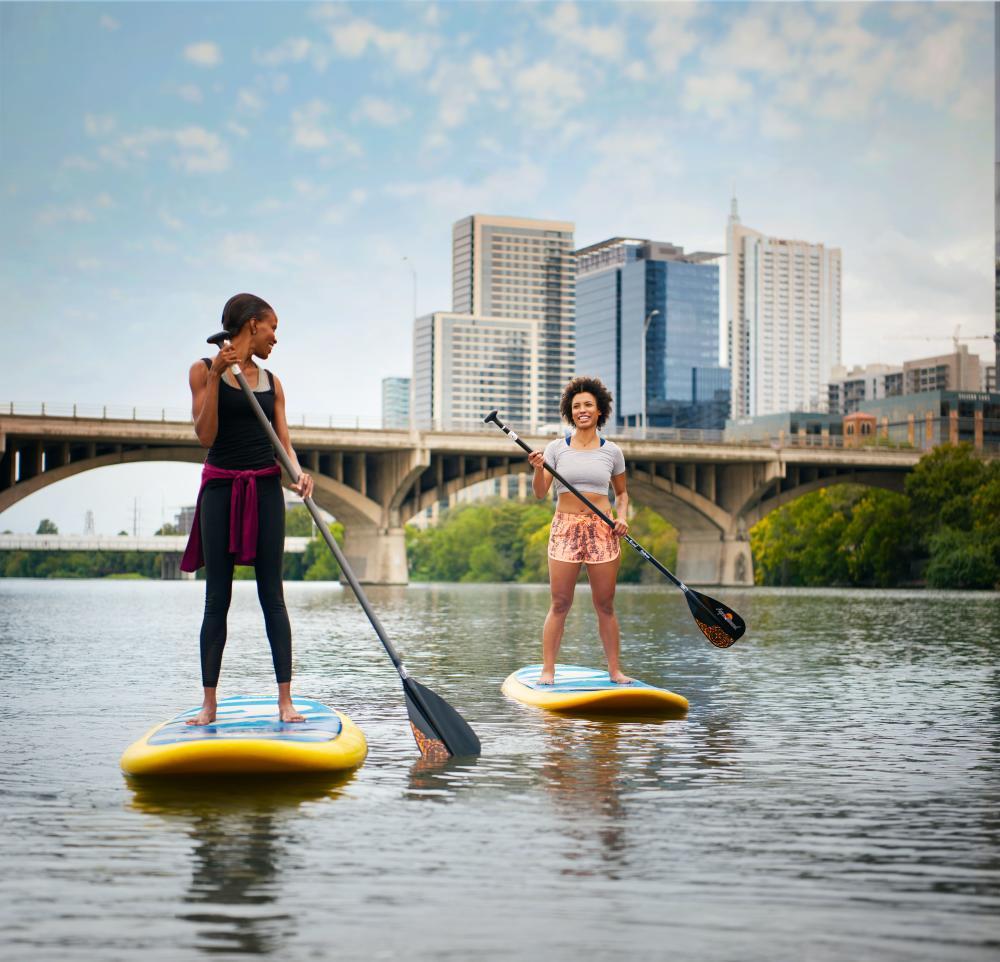 Paddle Boarding on Lady Bird Lake.
Lady Bird Lake
There are three lakes in the Austin area formed by dammed portions of the Lower Colorado River, all of which are great places to spend sunny days. Lady Bird Lake in downtown Austin does not allow motorized boats, making it a great place for flat-water paddlers to take advantage of calm waters - all backdropped by the downtown skyline and bordered by both Zilker Park and Auditorium Shores. This section of lake is perfect for canoes, kayaks, SUP, dragon boats and even paddle-board yoga, which is a much-loved activity by locals.
With eight official access points along its 11 miles of lake-side trail, accessing Lady Bird Lake is easy. Along those 11 miles are endless places to take a break in the shade, be it the cypress-lined Red Bud Isle, which doubles as an off-leash dog park, or the sandy shores of Festival Beach.
Barton Springs Road follows Lady Bird Lake on its western side, leading straight to Zilker Park and Barton Springs, and it houses some of the best shaded patios in the city. Whether taking a break for a microbrew, kombucha or a snack, between food trucks and restaurants, you'll find an oak-shaded table where you can kick back and relax. Austin's Hike and Bike Trail follows the lake on both sides, providing 11 miles of trails to explore. If you don't have your own canoe, kayak, or SUP, you'll find several local businesses providing rentals all along the lake.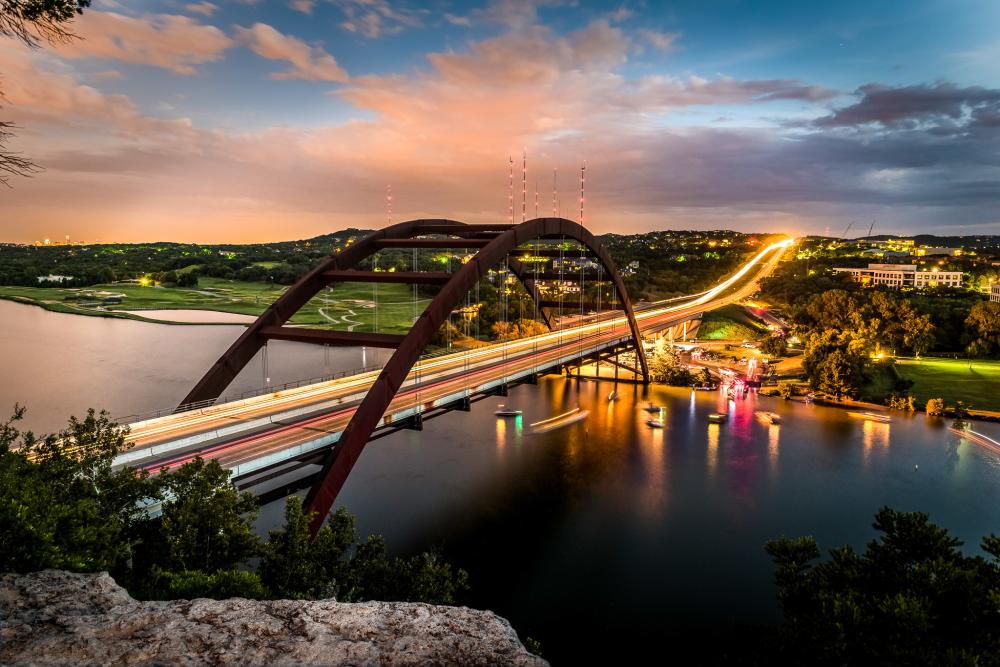 Lake Austin and 360 Bridge. Credit BrianDooley.com, courtesy of RootsRated.
Lake Austin
Lake Austin is another reservoir created by dams along the Lower Colorado, although this lake allows motorized boat traffic, too. Because of this, Lake Austin is often busy with boats of all kinds. Visitors can rent motorized boats, including pontoons, at several area businesses. All throughout the year, you'll see pontoons full of people, waterskiers and boats speeding along the corridors of Lake Austin.
Beyond that, there are several restaurants with docks along the lake, giving folks the opportunity to check out local staples like those along Lake Austin Boulevard. In a single complex, you'll find Mozart's Coffee Roasters with an incredible shaded patio overlooking the lake; Hula Hut, a low-key Tex-Mex-meets-Caribbean restaurant that offers dockside dining; and Abel's on the Lake, a restaurant and bar offering pub fare on the water. Emma Long Metropolitan Park on the shores of Lake Austin features shore-side camping sites, giant cypress trees, and facilities for picnics and grilling. The park is a great place to have a picnic or set up camp.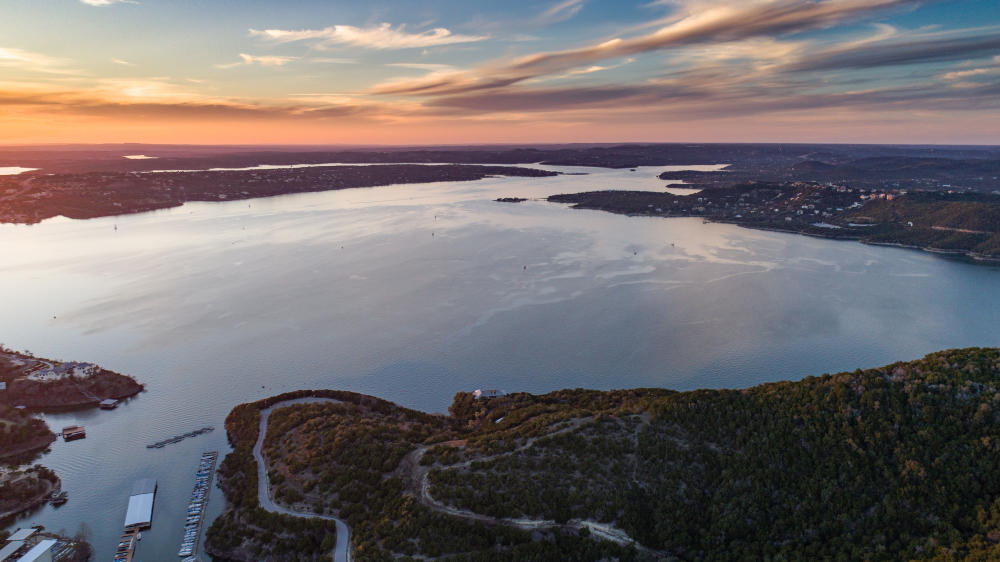 Lake Travis. Credit Trey Perry, courtesy of RootsRated.
Lake Travis
Northwest of downtown, Lake Travis is Austin's largest lake and a longtime favorite of both locals and visitors. Common water activities like boating, water skiing, and fishing are all prevalent, but because of the immense depths at lake Travis (a maximum depth of 210 feet), visitors can also SCUBA dive. On Lake Travis, you'll find sailboats, houseboats, party barges, racing boats and luxury watercrafts out in the open, and lots of canoes, kayaks and SUPs closer to its shores and within the lake's countless coves. You can rent any and all of the above at several watercraft suppliers along Lake Travis.
There are several parks surrounding Lake Travis, allowing visitors a number of recreation opportunities both on and beside the lake. Parks like Windy Point, Pace Bend, Narrows Recreation Area, and Hippie Hollow are all popular places to visit, though there are many others along the lakes meandering shores. Some of the parks offer lakeside meadows and campsites, while others boast rocky cliffs that overlook the lake.
And, if you'd like to anchor up and grab a beer or a bite while enjoying the lake, there are several restaurants that have docks, views, expansive menus, and cold drinks. From Austin to Spicewood, Texas, you'll find just about everything along the shores of Lake Travis.
For water lovers, Austin's lakes offer a perfect getaway, whether for a day, a weekend, or even a week. Even more, the Blanco, San Marcos, Guadalupe, Frio, Nueces and Medina rivers are all nearby, too. Factor in Austin's esteemed spring-fed pools and nearby swimming holes and you can spend countless hours enjoying the water in Austin.
Contributed by RootsRated.