Explore Austin's storied roots with a visit to some of the town's many historic sites. One of the best places to experience the story of Austin is at the University of Texas, home to unique architecture, museums for all interests and some of the best barbecue in the city.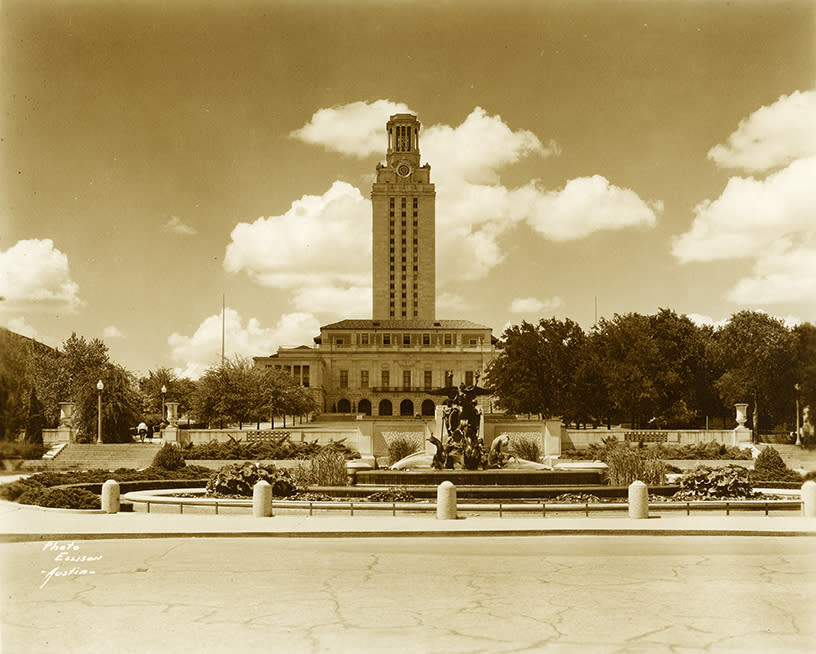 C06254, Austin History Center, Austin Public Library.
The University of Texas was founded in 1883. The architectural character of its landmark buildings was determined early in the 20th century by architect Cass Gilbert, followed by Paul Philippe Cret. They designed buildings with limestone walls, red tile roofs and Spanish-Mediterranean details. Cret incorporated Deco style with his 1937 Main Building Tower – it is the symbolic center of the university, with a variety of tower lighting schemes to signal athletic victories, academic honors and other special occasions.
The original forty-acre campus has grown to encompass more than 350 acres, with large-scale buildings added to accommodate 50,000 plus students. One such building is the 1999 Myers Track and Soccer Stadium. Its architect was John Chase, who in 1950 was UT's first African American enrollee. 707 Clyde Littlefield Dr.
Darrell K. Royal Memorial Stadium was built in 1924 to hold 27,000 people. Enlarged over the years and renamed to honor legendary football coach Darrell K. Royal, record attendance of 101,851 was recorded in 2012. The Little Campus holds a building occupied by U.S. Army officer George Armstrong Custer during post-Civil War Reconstruction. MLK, Jr. Boulevard at I.H. 35.
Historic campus walking tours are available through the University's Visitor Center. 405 W. 25th St (Walter Webb Hall).
Public Museums on Campus
The Harry Ransom Center, Blanton Museum of Art, Texas Natural Science Center's Texas Memorial Museum, Briscoe Center for American History and the LBJ Presidential Library and Museum are all open to the public – some charge an entrance fee.
Nearby Sites
The Neill-Cochran House Museum is a close relative of the Texas Governor's Mansion. Both were built by Austin's master builder Abner Cook, within two ears of one another, in 1855. Restored by the National Society of Colonial Dames, the house is open to visitors. Small admission fee. 2310 San Gabriel St.
Scholz Garten has been a popular place for beer and socializing since 1866. 1607 San Jacinto Blvd.