Take a walking or driving tour to witness examples of Austin's most notable architecture. Each building has a unique story to tell, from the historic buildings on the University of Texas campus to the hard lines of downtown's Contemporary Ausitn Jones Center. Plan to visit each location for a fun (and free!) sightseeing adventure.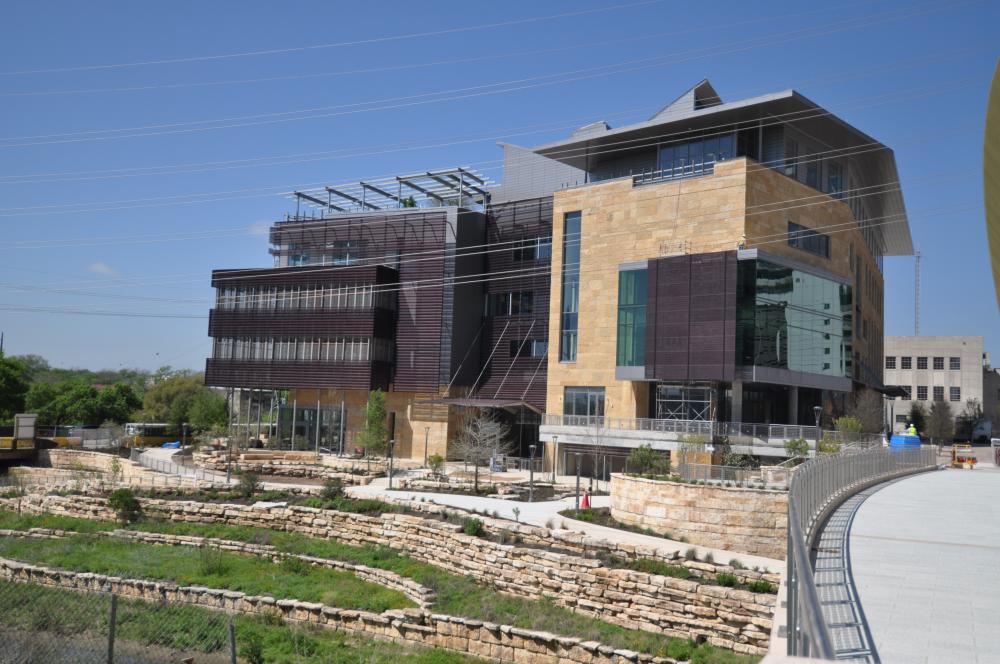 Courtesy of Austin Public Library.
710 W Cesar Chavez St
Austin Public Library's new Central Library, designed by Lake Flato-design, features six floors of literary fun all housed within a modern exterior and native Texas landscaping to match. Since its completion in 2017, the building has been met with widespread acclaim and was even named one of the 2018 World's Greatest Places by Time Magazine. The inside is home to thousands of books and digital resources, a giant wall clock, a gift shop, a literary-themed restaurant and what appears to be floating stairs.
301 W 2nd St
Completed in 2004, architects Antoine Predock and Cotera Kolar Negrete & Reed created a unique design that sports modern, clean lines for Austin's City Hall. The space uses solar panels and was built with recycled materials. When visiting City Hall, take note of the 49-foot medal structure sticking out of the back of the building; the whole building is designed to represent an armadillo, the official small state mammal of Texas. While on site, check out the People's Gallery at City Hall, a showcase of works by Austin artists and arts organizations with more than 140 artworks displayed throughout the building.
401 Congress Ave
Considered Austin's first skyscraper this 515-foot, LEED Platinum certified building was designed by Duda/Paine and HKS Architects and completed in 2004. During construction, the Frost Bank Tower was the tallest building in the country post-9/11, and is covered in a unique mirror-like Low-e Glass Skin exterior. Local legend rumors that the architects attended Rice University, and thus designed the building with an owl-like shape - although this one has yet to be proven true! Step inside to grab a latte at Houndstooth Coffee or a quick lunch at JuiceLand, OneTaco or Mod Market.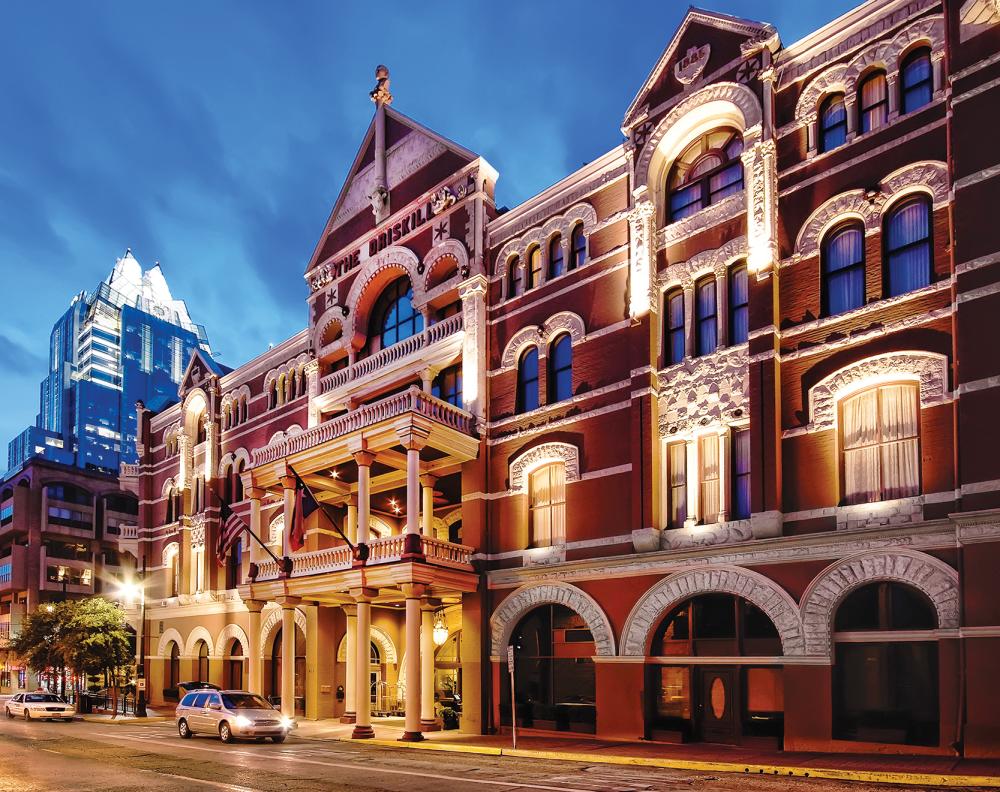 Courtesy of the Driskill.
604 Brazos St
Colonel Jesse Driskill, a wealthy Austin landowner, opened the lavish Driskill Hotel in 1886. For decades, The Driskill has been the place to stay for celebrities or public figures who need to rest their heads in Austin. J. N. Preston's Romanesque building design features portrait busts of Driskill and his sons. An annex was added in 1930 to compete with the 1924 Stephen F. Austin Hotel on Congress Avenue. The Driskill will celebrate its 135th Anniversary in 2021. Step inside to dine on famous original recipes at the charming 1886 Café & Bakery, or experience live music at The Driskill Bar, named the Best Bar in Texas by Southern Living. Or, return at night with one of Austin's ghost tours, several of which include the hotel on their haunted tours! If you are staying in your car, the exterior alone is enough to amaze.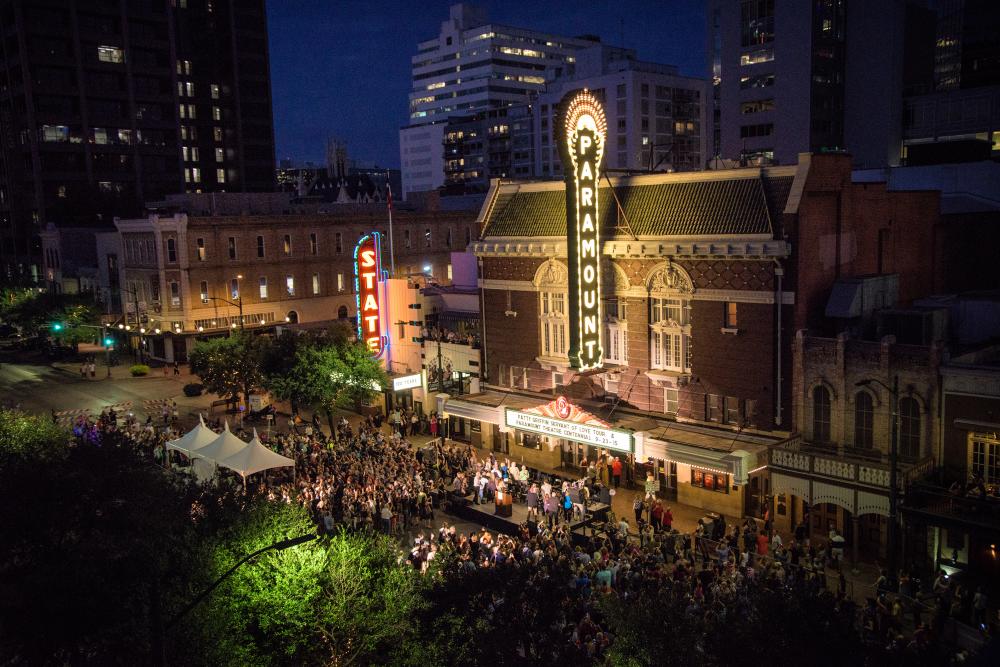 Courtesy of the Paramount Theatre.
713 Congress Ave
Built in the Classical Revival Style and designed by architect John Eberson, the Paramount Theatre was opened in 1915 and has since played host to a multitude of stars. The historic stage has been graced by sitting presidents, Academy-, GRAMMY-, Tony- and Golden Globe-winning performers, magicians (we're talking Houdini) and more. Originally conceived as a Vaudeville theatre and named the Majestic Theatre, the theatre also showed silent films with live orchestration and was later remodeled in 1930 to add air conditioning, upholstered seats and more. When they aren't advertising for a show Paramount leaves uplifting messages on its marquee sign for people walking by to enjoy. While in the area, take note of additional historic structures along Congress Avenue, including the neighboring 1935 State Theatre which was the first theatre in Austin designed for movie screenings.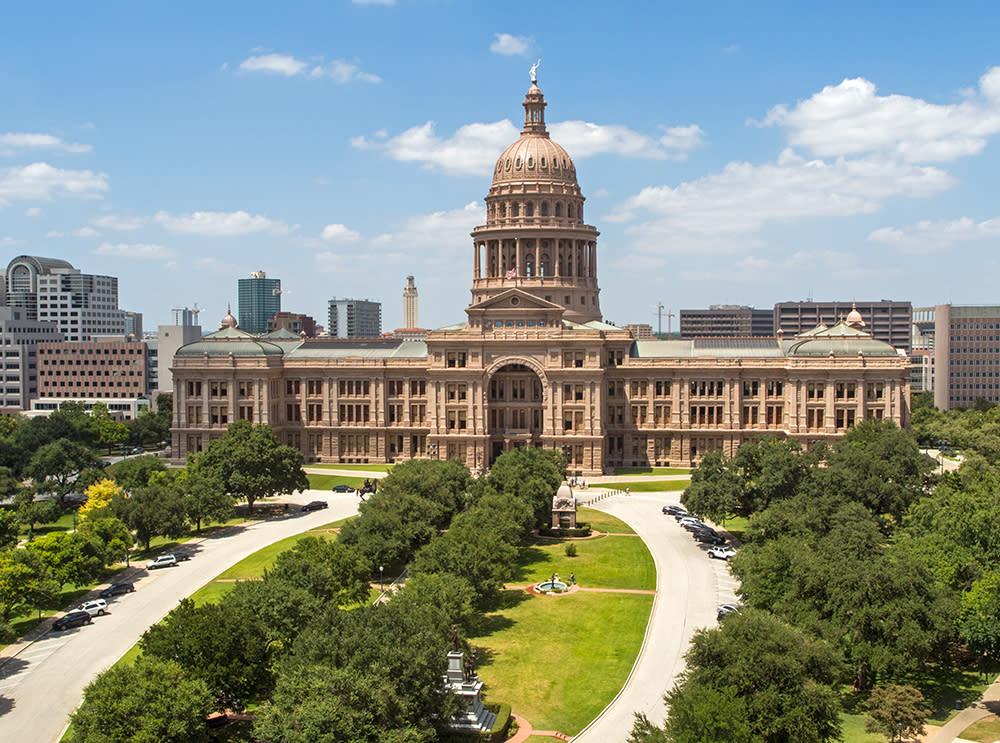 Courtesy of the Texas State Preservation Board.
1100 Congress Ave
Few buildings in town are as easily identifiable as the Texas State Capitol. Modeled after the United States Capitol (with a Texas twist), the Texas State Capitol opened in 1888 and is 14 feet higher than the nation's capital. Architect Elijah E. Myers' 1888 Renaissance Revival design includes a base of rusticated Sunset Red Texas granite, sourced from Granite Mountain in the Texas Hill Country. While the dome is made of cast iron and sheet metal, and topped by a Goddess of Liberty statue (the original of which can be found on display at the Bullock Texas State History Museum). The seals on the south façade commemorate the six governments that have ruled in Texas over time: Spain, France, Mexico, the Republic of Texas, the Confederate States of America and the United States. While in the area, be sure to walk the entire Capitol Complex to explore even more history and stunning architecture.

Moonlight Towers
Throughout the city - stop by the tower at 1498 San Antonio St during your tour
Austin's moonlight towers are the only known surviving and working moonlight towers in the world. The 165-foot-tall structures are a unique sight, purchased by the city in 1894 to illuminate the city at night. As of today, there are 13 towers around town, all listed on the National Register of Historic Places. The moonlight tower in Zilker Park serves as the base for the spectacular Zilker Holiday Tree each year.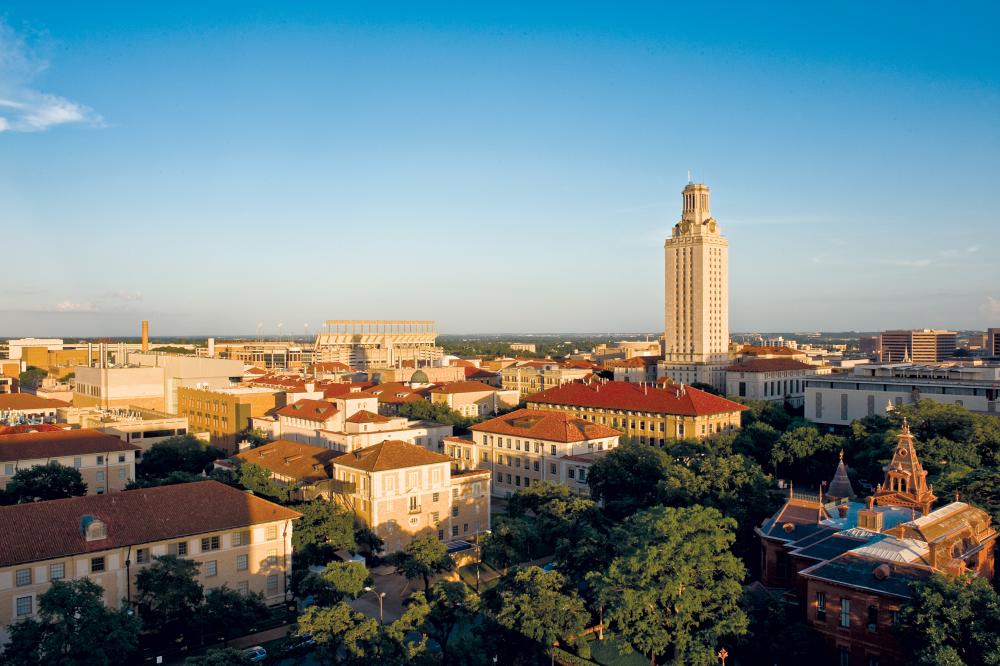 Courtesy of Dell Medical School.
110 Inner Campus Dr.
Standing tall with 27-floors, the UT Tower is the most recognizable building on the University of Texas campus. The original main building was constructed in Victorian Gothic style and utilized from 1882-1934. The new building, designed by architect Paul Cret and completed in 1937, was first used as a library and houses a 56-bell carillon which is still be played daily. Take a tower tour and catch a glimpse of the full campus from the observation deck. Also, be sure to spot the Tower glowing burnt orange for special events and after any Longhorn win.
End your tour with a panoramic view of the downtown skyline at Auditorium Shores, overlooking Lady Bird Lake.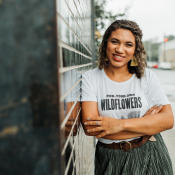 Contributed by Alyssa Jarae.
Alyssa Jarae is a native Austinite, and wedding and lifestyle photographer in the area. She enjoys exploring the multiple coffee shops around town and anything to do with Willie Nelson.