Take a drive around Austin and you will see a mix of eclectic and colorful murals. Check out this guide for a casual, self-guided tour of the most photo-worthy murals in town.
Greetings From Austin
1720 S. First St.
Start the day with this South Austin gem, one of the most photographed murals in town. Located on the side of the Roadhouse Relics gallery, this giant vintage postcard is one of Austin's oldest and most frequented murals.
Love From Austin
1912 S. Congress Ave.
From South First, cut over to South Congress Avenue (SoCo), home to many of the city's most iconic murals. Located on the side of Austin souvenir shop Prima Dora, the black and white Love From Austin mural is simple but has become a favorite.
I Will Love With an Open Heart
1701 S. Congress Ave.
After breakfast at the iconic Magnolia Cafe, walk over to this heartwarming mural at the SoCo Kendra Scott flagship store. Although Kendra Scott's jewelry has become popular throughout the nation, they still show their hometown pride whenever possible, and this mural (depicting the downtown Austin skyline) is no exception.
Smile! Even If You Don't Want Too
1511 S. Congress Ave.
Located near the tasty Hey Cupcake! food truck, this positive message reminds SoCo visitors to keep smilin' when in Austin.
Willie for President
1415 S. Congress Ave.
Willie Nelson is a hometown hero in these parts, so artists Jacqui Oakley, Erick Montes and Joe Swec painted a mural to prove it. Located on the side of STAG Provisions shop, this is a must-visit mural for country music fans.
I love you so much
1300 S. Congress Ave.
The mural first went up in 2010, when Amy Cook, an Austin musician, painted the sweet words for her partner Liz Lambert, who owned Jo's Coffee at the time. Since then, it has been a bucket list attraction for any Austin visitor.
Women Vote
111 E. Cesar Chavez St.
From South Congress, bike or walk across the Congress Avenue Bridge to view the massive Women Vote mural on the side of the LINE Hotel. Austin's largest mural to date, featuring a depiction of Wonder Woman, was created by artists Shepard Fairey and Shandra Chevrier to celebrate the 100th anniversary of the 19th Amendment, which granted women the right to vote.
Tau Ceti
East Second Street & Brazos Street
Tau Ceti, by artist Josef Kristofoletti, turned a city parking garage into a stunning (and massive) piece of public art. The color spectrum effect reflects differently throughout the day, making this a constantly changing piece of art.
Selena & Loteria
1619 E. Cesar Chavez St.
From Downtown, head East to view even more street art. Located on the exterior wall of Flat Track Coffee, the Queen of Tejano is paired with colorful Loteria Cards to honor the deep-rooted Hispanic culture and history in East Austin.
We Rise
East 12th and Chicon Streets
After a lunch break in East Austin, visit the powerful We Rise mural by local artist Chris Rogers. The giant piece depicts multiple Black, Latino, Latina and Indigenous figures representing East Austin heritage. Figured include Beyoncé, Barbara Jordan, Muhammad Ali, Prince and many others.
You're My Butter Half
2000 E. Martin Luther King Jr Blvd.
A little further north, You're My Butter Half is the perfect mural to visit with that special someone. Plus, there's even a phone holder at the mural to get that perfect self-timer photo!
Hi, How Are You?
Guadalupe Street & 21st Street
After exploring East Austin, head west towards the University of Texas at Austin campus for one of the most iconic murals in the city. Daniel Johnston, a local artist and musician, created this frog (named Jeremiah the Innocent) for an album cover and was commissioned to paint the mural on 21st Street in 1993. The simple greeting has captured the attention of Austinites, students and visitors for decades. Although Johnson died in 2019, his work still lives on in his Hi, How Are You Project, dedicated to inspiring conversations around mental health.
Kobe & Gianna
2912 Guadalupe St.
For your final stop of the day, honor the late basketball legend and his daughter by visiting this memorial mural, featuring Kobe and Gianna Bryant. The mural is painted in the classic LA Lakers purple and gold, and features other details that represent Bryant.
These are just a few of the murals Austin has to offer. As you explore the city, you are bound to find other beautiful public art pieces.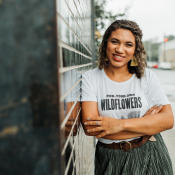 Contributed by Alyssa Jarae.
Alyssa Jarae is a native Austinite, and wedding and lifestyle photographer in the area. She enjoys exploring the multiple coffee shops around town and anything to do with Willie Nelson.