Learn about Austin's important African American heritage by exploring Six Square, the city's Black Cultural District. While Black history and contributions by Black Austinites are spread far beyond East Austin and Six Square, this area is well worth exploring for its wealth of Black-owned businesses, public art and historic sites.
Historic Six Square comprises six square miles of East Austin, originally created in 1928 as the Negro District by the Austin City Council. The Six Square district is bordered to the north by Manor Road, to the south by Seventh Street, to the east by Airport Boulevard and to the west by Interstate 35. It's dotted with notable historic homes, churches, commercial buildings, schools, cemeteries and parks.

Attractions & Historic Sites
Take time to walk around Six Square and discover a variety of attractions and historic sites.
The African American Cultural and Heritage Facility is housed in the historic Dedrick-Hamilton House, once owned by one of the first freedmen in Travis County, Thomas Dedrick. The fully restored historic house, built around 1880, now serves as an African American Visitors Center and retail shop. The Dedrick-Hamilton House Visitors Center is the centerpiece of the AACHF and is framed by the complementary modern structure, which houses the Greater Austin Black Chamber of Commerce and the Office of Arts & Cultural Resources.
The George Washington Carver Museum, Cultural and Genealogy Center collects, preserves and interprets the African American experience in Austin, and hosts a number of community events throughout the year. The museum first opened in 1980 as Texas' first neighborhood African American museum, showcasing collections and exhibits.
Austin's Historically Black College and University (HBCU), Huston-Tillotson University opened in 1875 as the very first institution of higher learning in Austin. It began as two schools, Tillotson College and Samuel Huston College, until merging in 1952. Notable alumni include Bobby Bradford, James A. Harris, Dr. June H. Brewer, Dr. Zan Wesley Holmes and Volma Overton, among many distinguished others. Perhaps most famous is Jackie Robinson, who coached basketball here from 1944–45. The Ira Evans Hall and the Anthony and Louise Viaer Alumni Hall are both listed in the National Register of Historic Places. Campus tours are given on request.
Established 1851, the Texas State Cemetery is the final resting place of Texas statesmen, military veterans and other individuals who have contributed to the rich culture of Texas. Check out Monument Hill, site of the grave and monument of Austin's namesake, Stephen F. Austin. Other notable grave sites include those of the legendary Barbara Jordan, the first African American who was interred in the Texas State Cemetery, and Willie Wells, who was born in Austin and who played baseball in the Negro Leagues.
Downs Mabson Field has been synonymous with baseball and the East Austin African American community since the 1940s. The Austin Black Senators, whose team included National Baseball Hall of Fame inductee Willie Wells, played on the original stadium site. Today, Downs Field is home to the Huston-Tillotson University Rams and the Austin Metro Baseball League. Check out Downs Field's amazing murals and catch a game.
Nearby, historic Rosewood Park is located on land that was originally a homestead for local store owner Rudolph Bertram in the 1870s. Today, Rosewood Park is a focal point of the East Austin African American community, offering a recreation center, pool, tennis courts, baseball fields and a bandstand. Join in the annual summertime Juneteenth Park Celebration.
The Texas Music Museum is a treasury containing a unique historical collection that tells the story of the musicians who helped make Austin the Live Music Capital of the World®. The museum collects and preserves artifacts, documents and reference materials surrounding the diverse traditions of Texas music, and utilizes these collections in the presentation of exhibits, educational programs and performances.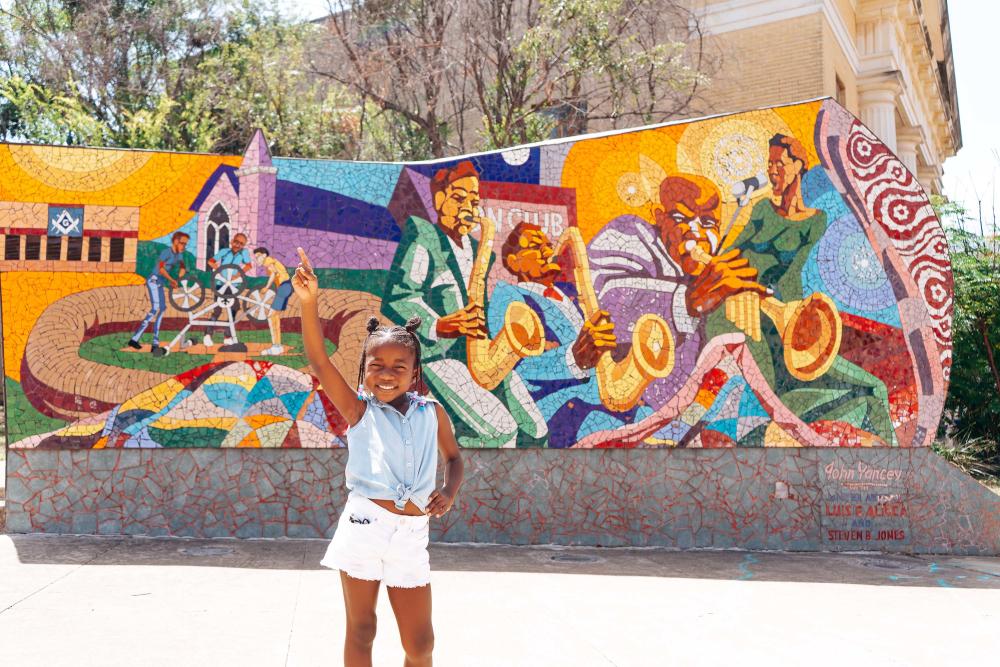 Rhapsody Mural. Credit Monet Hambrick.
Murals
Several murals found around Austin are colorful homages to Austin's Black community and achievements. Take a self-guided tour and discover these gems.
Rhapsody, constructed of gorgeous mosaic tiles that make up an animated tribute to East Austin's musical past, is located along East 11th Street. The vibrant Chicon Mural, at the corner of 12th and Chicon streets, features Black icons like Muhammad Ali, James Brown and Texas native Beyoncé. Look for the mural of Dr. Martin Luther King Jr., accompanied by the quote "We may have come on different ships but we're in the same boat now," painted on the side of Sam's Bar-B-Que, an East Austin mainstay since the 1940s. Seek out the thought-provoking mural at the downtown Native Hostel, dedicated to victims of police brutality that include George Floyd and Eric Garner, created by Austin artist Chris Rogers. Voyage to Soulsville, painted on the side of the Austin Public Library's Carver branch, illustrates the Black community's journey from pre-Columbian times to present day.
Tours
Take a guided tour and get an in-depth history lesson on Black culture in Austin.
Black Austin Tours ensures that Black histories, experiences and contributions are included in Austin's story. Black Austin Tours founder and guide, Javier Wallace, provides both in-person and virtual experiences surrounding popular places like Barton Springs, Zilker Park and the Texas State Capitol Building.
Join a tour with Six Square Historic Tours and learn about the history of the people, places and stories that have contributed to the cultural diversity of Austin. Six Square offers tours that encompass landmarks of Black architecture and design, historic cemeteries in the District, sites of slavery and emancipation, churches, juke joints on the Chitlin' Circuit, and other distinctive places in Central East Austin.
Black-Owned Restaurants
Find Black-owned restaurants of all cuisine types throughout the city, including soul food, seafood, barbecue, Southern food and more. Or experience mouthwatering flavors from around the world at eateries and food trucks specializing in Ethiopian, Jamaican and Haitian dishes. Check out some below and discover how you can support even more local Black-owned restaurants.  
Billed as "the best baked potatoes in Austin," the Anything's Baked Potato food truck uses quality ingredients in its stuffed russet potato creations. Try the Cajun, loaded with shrimp, fried chicken, andouille sausage and corn, topped with a Cajun cream sauce.
The Big Easy Bar and Grill is Austin's original New Orleans po' boy and gumbo shop. This family-owned eatery specializes in authentic Cajun cuisine, such as crawfish etouffee, red beans and rice with sausage, boudin links and char-grilled oysters.
Lawrence Eguakun, former owner of World Beat Cafe, recently opened Wasota Vegan Paradise. The food truck specializes in freshly cooked and natural Nigerian and West African vegan food. Opt for the jollof rice, with an order of fried plantains to share.
Get yourself some soul food at Hoover's Cooking. The Jamaican jerk ribs are a must order, or try Southern specialties like the fried catfish or smothered pork chops. Ask about the day's margarita special, and leave some room for the yummy banana pudding.
Nightlife & Music
Austin's original Victory Grill was a stop on the Chitlin Circuit, a network of African American juke joints that brought big-name blues and R&B performers to Austin in the 1940s. Over the years, Victory Grill provided a stage for legendary talents like Billie Holiday, James Brown, Ike and Tina Turner, Etta James and Chuck Berry. Today, the historic club is home to The Rolling Rooster, a Southern comfort food restaurant known for its chicken and waffles that pays homage to the venue's legacy by showcasing blues performances.
The Skylark Lounge is one of East Austin's best known, real deal blues clubs. Part off-the-beaten-path dive bar, part live music venue, The Skylark Lounge hosts the best in local and touring blues music performers in a laid-back atmosphere with a cool vibe.
Named for the legendary jazz trumpeter and East Austinite, Kenny Dorham's Backyard is DiverseArts' outdoor music venue, located in the heart of the historic East End cultural district and just down the street from Kenny Dorham's last home in Austin. Home to the Austin Jazz and Arts Fest, East End Summer Music Series, SoulFest and the Backyard Blues Series, the live music programming honors the traditional African American music community.
Find even more information about how you can experience Six Square. Plus, check out our guide to Austin's Black history and culture.