Where can you visit cultural attractions such as the oldest house in Austin, the first neighborhood African American Museum in Texas, the Arlington Cemetery of Texas, and the oldest institution for higher learning in Austin?
The answers to all the above may be found by visiting Six Square, Austin's Black Cultural Historic District. Historic Six Square comprises six square miles of East Austin, originally created in 1928 as the Negro District by the Austin City Council. East Austin was already the home of the majority African Americans who built a vibrant and rich culture that included businesses, churches, schools, two colleges, and fraternal organizations, but also boasted ethnic neighborhoods consisting of Swedes, Germans, Italians and Lebanese.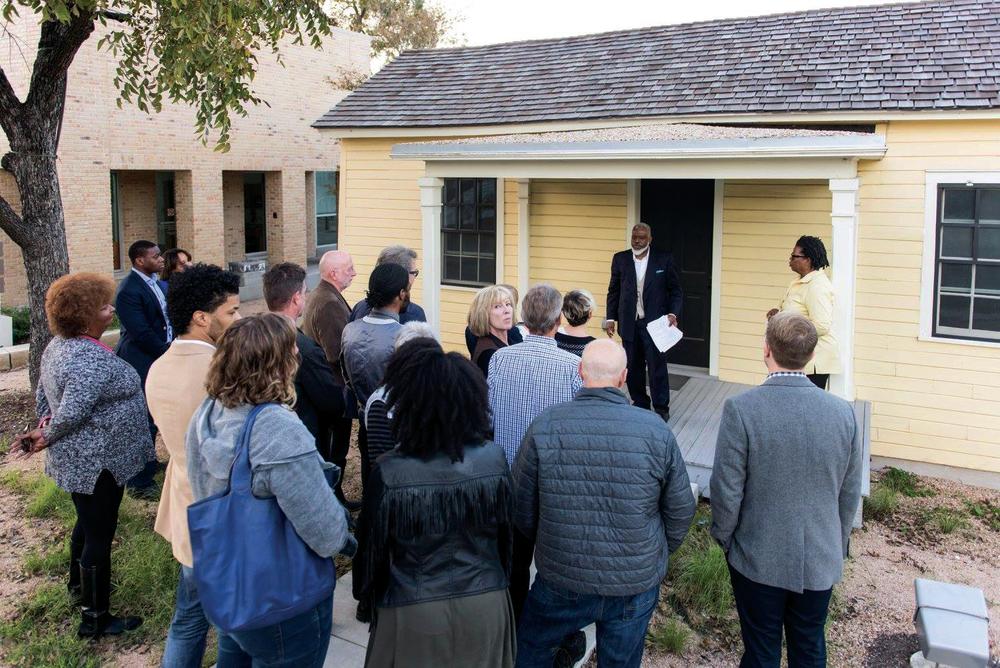 Dedrick Hamilton House. Courtesy of Six Square.
Visit Austin's African American Cultural Heritage District and discover these gems:
African American Cultural and Heritage Facility
912 E. 11th St.
The African American Cultural and Heritage Facility is housed in the historic Dedrick-Hamilton House, once owned by one of the first freed slaves in Travis County, Thomas Dedrick. The fully restored historic house, built about 1880, now serves as an African American Visitors Center and retail shop. The Dedrick-Hamilton House Visitors Center is the centerpiece of the AACHF and is framed by the complimentary modern structure, which houses the Greater Austin Black Chamber of Commerce and the Office of Arts & Cultural Resources.
George Washington Carver Museum & Cultural Center
1165 Angelina St.
The museum first opened in 1980 as Texas' first neighborhood African American museum, showcasing African American collections and exhibits. It also serves to collect, preserve and research African American culture. Check out the Genealogy Center, an extension of the George Washington Carver Museum & Cultural Center.
Huston-Tillotson University
900 Chicon St.
Chartered 1877 and opened 1881, this historic African American university is two years older than Austin's best known school, the University of Texas. Samuel Huston College merged with Tillotson College in 1952 to form Huston-Tillotson University. The Ira Evans Hall and the Anthony and Louise Viaer Alumni Hall are both listed in the National Register of Historic Places. Campus tours are given upon request.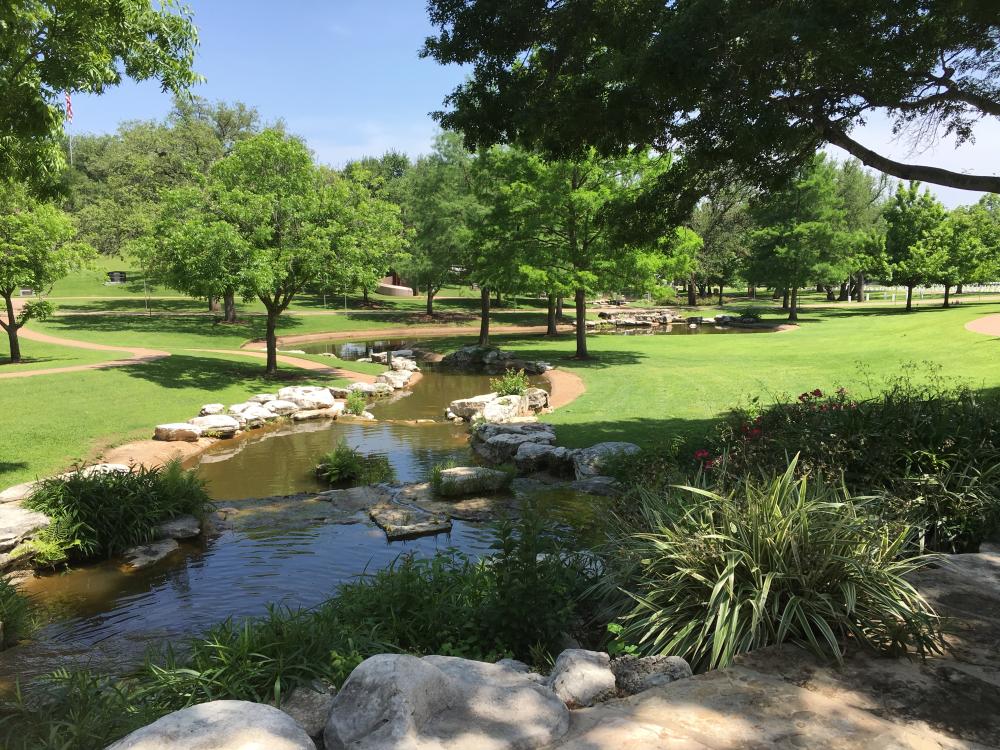 Texas State Cemetery grounds.
Texas State Cemetery
909 Navasota St.
Established 1851, the Texas State Cemetery is the final resting place of Texas Statesmen, Military Veterans and other individuals who have contributed to the rich culture that is Texas. Check out Monument Hill, site of the grave and monument of Austin's namesake, Stephen F. Austin. Other notable grave sites include those of the legendary Barbara Jordan, the first African American who was interred in the Texas State Cemetery, and Willie Wells, who was born in Austin and who played baseball in the Negro Leagues. Elsewhere are grave sites of Civil War veterans both North and South as well as monuments to Texans who died in wars fought afterwards. Other special monuments include the Black Legislators Monument, the Vietnam Veterans Memorial and the September 11, 2001 Monument. Its nickname, the Arlington Cemetery of Texas, is justified.
Downs Baseball Field
2816 E. 12th St.
Also known as Downs-Mabson Field, this historic field was once the home of the Austin Black Senators baseball team. Negro Baseball League games were played here as well. Baseball notables who took to the field there include Satchel Paige, Buck O'Neil, Willie Wells (born in Austin and buried in the Texas State Cemetery), Smokey Joe Williams and Willie Mays. Currently, Downs Field is the baseball home of the Huston-Tillotson University Rams baseball team.
Victory Grill
1104 E. 11th St.
Victory Grill opened on Victory over Japan Day in 1945 as a restaurant and bar for returning Black servicemen. A popular venue for local musicians and major performers on the Chitlin Circuit, past performances include Billie Holiday, James Brown, Ike and Tina Turner, Etta James, Chuck Berry and Janice Joplin.