Nothing says Austin like an icy margarita enjoyed on an outdoor patio. The city offers countless great places that mix amazing margaritas. But how do you pick just one (or two, or three!)? To help you navigate, we've compiled a list of the top 25 margaritas in Austin. Now get to sipping!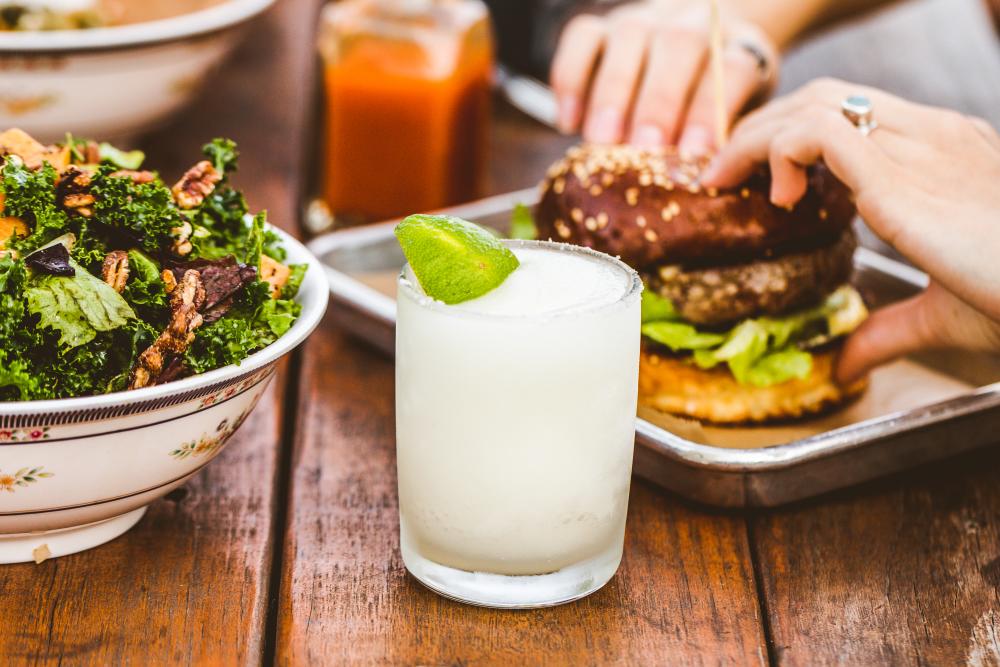 Sour Duck Market Margarita. Credit Richard Casteel.
Sour Duck Market
Dine on delicious dishes made with locally sourced ingredients, like the braised lamb served on a fresh-baked baguette with pickled fennel and garlic mayo. Side your meal with Sour Duck's draft margarita (mixed with Lanazul tequila, Pura Vida Naranja, lime, orange and agave), served in a chile-salt-rimmed glass.
Taco Flats
With three Austin-area locations, Taco Flats makes it easy to drop in for a margarita. Try the signature spicy frozen margarita, made with 100% agave tequila, triple sec and hand-squeezed lime juice, crowned with a fresh jalapeño slice.
Fresa's
Sit under a shady tree on the lovely patio at Fresa's South First location and sip a refreshing cucumber-cilantro margarita. It's made with Cimarrón Tequila Blanco, lime juice and orange liqueur, served in a glass with a sugar-lime salt rim. A perfect accompaniment to Fresa's famed tacos.
Tamale House East
This family-run Tex-Mex spot has been an Austin institution since 1958, known for its popular Mom's Migas & Queso breakfast tacos. Snag a seat in the courtyard and order a fruity frozen margarita made with your choice of tequila.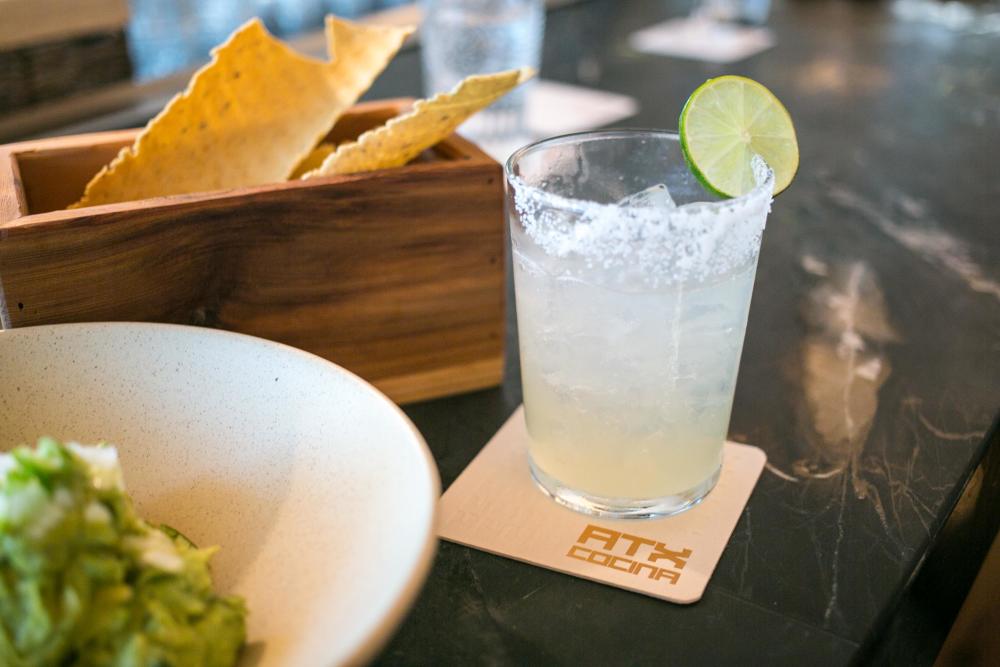 ATX Cocina. Credit Bethany Ross Photography.
ATX Cocina
Focused on clean, modern Mexican dishes. ATX sources its heirloom corn from small family farms in Mexico to make its tortillas (try the duck carnitas). Be sure to order a hand-shaken margarita, made with organic agave and curated tequila (ATX has a huge list of tequilas to choose from).
Hopdoddy
We know what you're thinking. A burger bar? But no list of Austin margaritas would be complete without Hopdoddy. Stop by the South Congress location while exploring the neighborhood and pair the Doble Fina margarita with an order of green chile queso fries.
Licha's Cantina
Licha's is known for its Mexico City-style street food and mezcal craft cocktails in East Austin. The house margarita, made with tequila silver, lime and combier (triple sec), is a steal during the $8 Happy Hour held Tues.-Fri.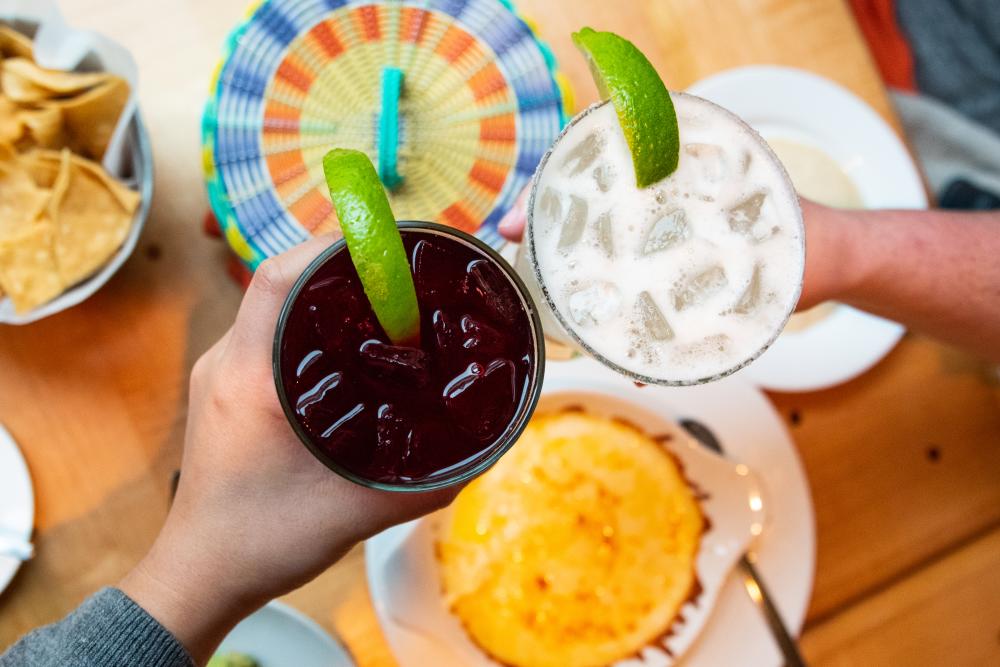 El Naranjo. Credit Resplendent Hospitality.
El Naranjo
Pair one of this award-winning South Austin restaurant's fantastic mole dishes (inspired by the owners' Oaxacan roots) with the Durazno margarita made with Cimarron Silver tequila, white peach puree, Naranja liqueur and fresh-squeezed lime juice.
Matt's El Rancho
Matt's El Rancho has been serving up true Austin Tex-Mex since 1952, which means they have had plenty of time to perfect their margaritas. For a fun variation on a classic margarita, order the Knockout Martini, made with 100% Milagro Reposado tequila.
El Alma
El Alma delivers modern Mexican fare with a unique Austin twist. Spend a sunny afternoon or a starlit evening on the beautiful rooftop patio where the views of downtown Austin can't be beat, sipping a Barton Springs Best margarita on the rocks.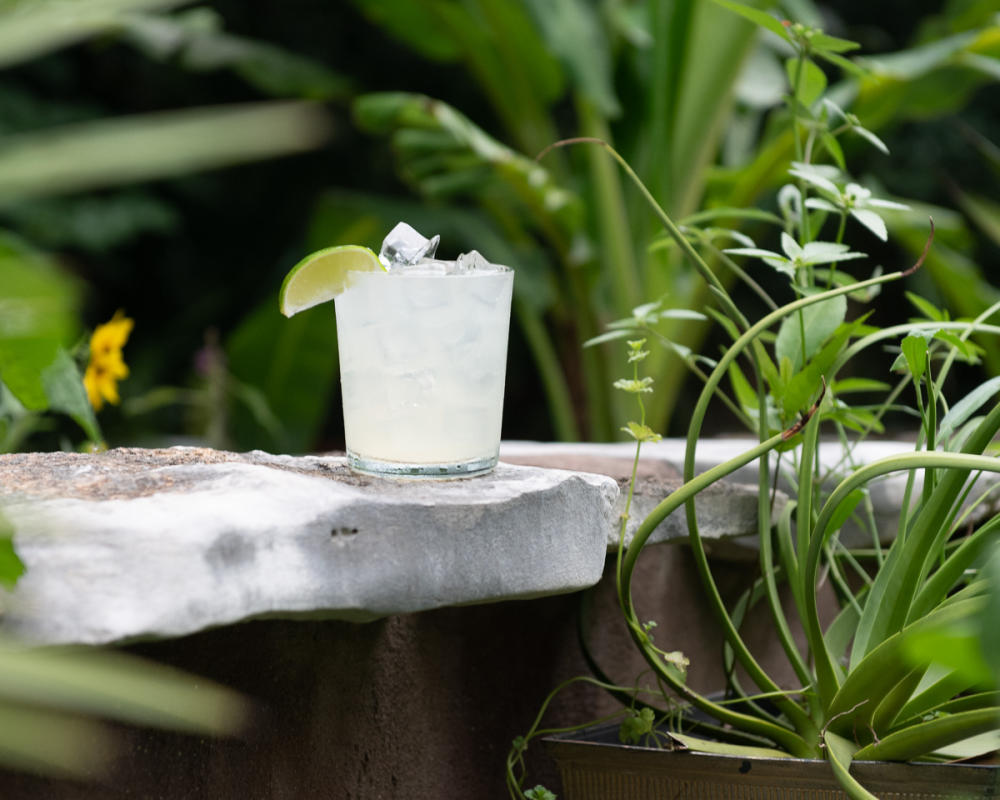 Courtesy of De Nada Cantina.
De Nada Cantina
Kick back in the greenhouse at this casual taco joint and order the El Chingon, touted as the "Cadillac of margaritas." It's mixed with El Tesoro Silver Tequila (made especially for De Nada) and Mathilde XO.
Fonda San Miguel
A local favorite since 1975, this charming traditional Mexican eatery serves up its signature Silver Coin margarita: a refreshing watermelon-infused version blended with Patron Silver, Cointreau and fresh lime juice.
Curra's Grill
This unassuming South Austin staple is located near the St. Edward's University campus. Curra's is famous for its colorful salsa sampler and unique frozen avocado margarita—try them both for the full experience.
Sazón
Dig into regional Mexican cuisine sided with a frozen coconut margarita or a Mexican martini (a blend of tequila, orange liqueur, lime juice and a few house surprises!) served on the rocks in a shaker tin.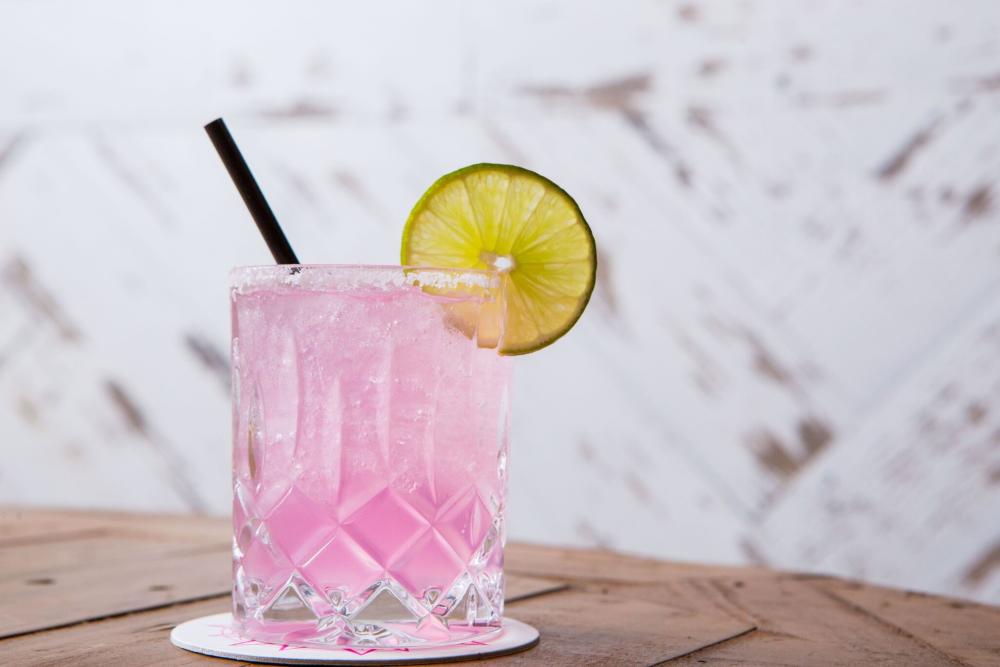 Grizz Mizz Margarita. Courtesy of Grizzelda's.
Grizzelda's
Make your margarita a frosty one with the Fro-Mo, a house frozen margarita that can be dressed up with a Grand Marnier floater, sangria or fruit puree. Then kick back and drink in Grizzelda's breezy ambiance, with pops of pink and palm trees for a tropical vibe.
Iron Cactus
Relax on the balcony overlooking Sixth Street and see why Zagat's named Iron Cactus home to one of the best patios in Austin. Sample one of their many hand-squeezed fresh lime juice margaritas, like the El Pepino margarita (Milagro Silver, muddled jalapeño, cucumber and cilantro with fresh lime juice and agave nectar) or any one of the signature cocktails that have earned them a nod as one of the best tequila bars in the nation.
Santa Rita Cantina
You'll find an intriguing list of margaritas at Central Austin's Santa Rita. Frozen must-tries include the prickly pear and sangria versions made with fresh fruit puree. A local on-the-rocks favorite is the Tito's Rita, crafted with Tito's Handmade Vodka, Paula's Texas Orange liqueur and house-made margarita mix.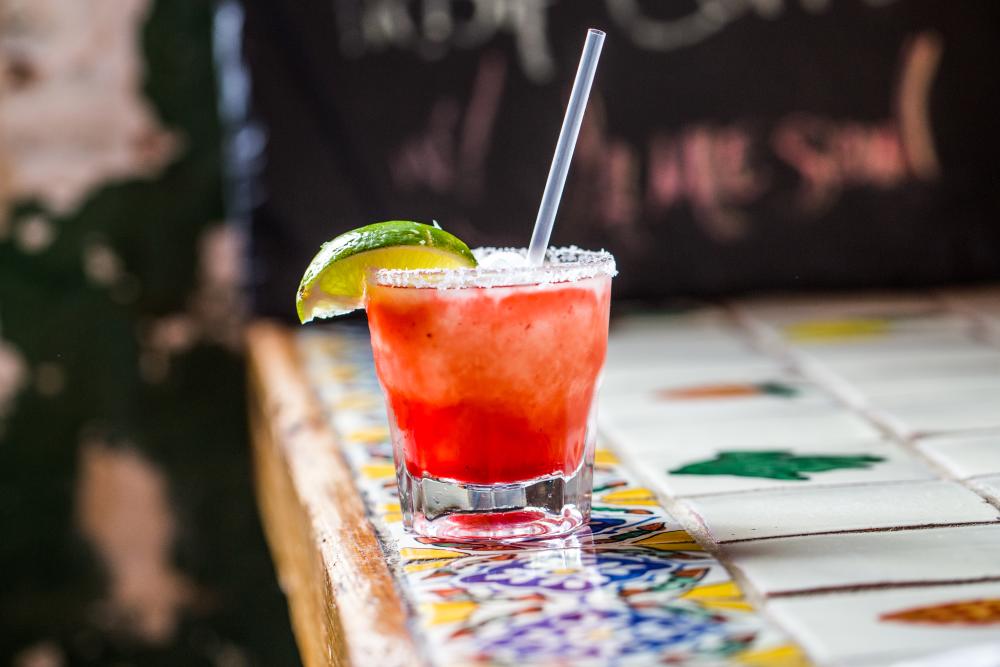 Guero's. Credit Richard Casteel.
Güero's Taco Bar
Güero's is a modern South Congress icon, known for its margaritas, as well as its regular live music in the Oak Garden. Try the SoCo Rita, and be sure to order a bowl of delicious queso.
Hecho en Mexico
Regional dishes influenced by Mexican street food and traditional markets are best sided with the Margarita Organica Fresca, a blend of Casa Noble organic silver tequila, Bauchant orange liqueur, and fresh lime juice.
Jack Allen's Kitchen
Jack Allen's is famous for putting a modern twist on classic Texas fare (how about that house-made pimento cheese?), and their margaritas are no different. The house frozen margarita, with salt, of course, is always a good bet. But if you're in the mood for something fun and refreshing, try the cucumber-jalapeño 'rita.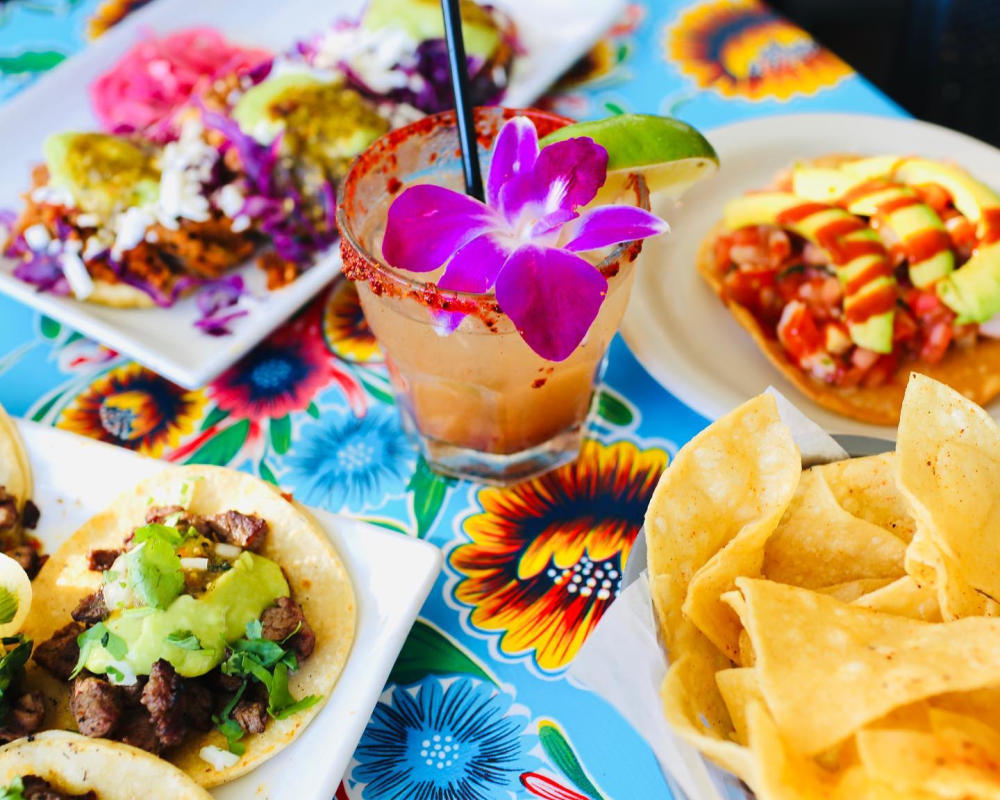 Courtesy of Gabriela's Downtown.
Gabriela's Downtown
The expansive patio at Gabriela's Downtown is the place to enjoy Michoacan-inspired dishes made from family recipes. Try one of the margaritas made with fresh-squeezed juices like lime, tamarind and grapefruit. Or get a margarita flight and sample a bit of everything.
Polvos
Open for breakfast, lunch and dinner, Polvos is known for its street tacos and huge fajitas wrapped in house-made tortillas. Try the popular frozen margarita that's similar to a boozy slushy and comes in unique flavors like coconut and cantaloupe. And be sure to check out the salsa bar.
Comedor
This Downtown darling — named one of Esquire's best new restaurants — serves cutting-edge Mexican cuisine in a chic industrial setting. Witness Comedor's inventive take on traditional dishes, such as the bone marrow tacos laced with smoked butter. Order the Oaxaca margarita, mixed with Reposado tequila, crema mezcal, Cointreau, and lemon and lime juices.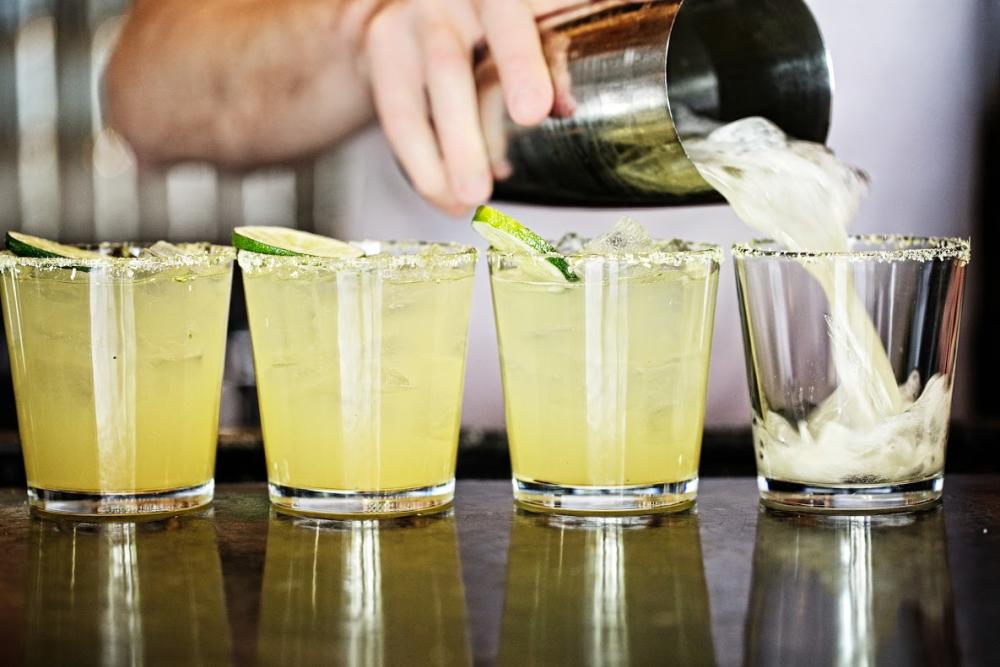 La Condesa. Credit Jody Horton.
La Condesa
This chic restaurant is the perfect place to stop for a margarita while exploring Downtown Austin. Order a bowl of chipotle guacamole and try the Margarita La Clásica (on the rocks), or the Margarita La Condesa with fresh pineapple juice for a twist.
Chuy's
For the authentic Chuy's experience make a trip to the original flagship location on Barton Springs Road. There's usually a wait, but it's well worth it to get your hands on a Chuychanga, sided with a Chuy's Brew — a frozen lime margarita topped with a Coronita bottle of beer.
This list is a great start for planning an Austin margarita adventure. Where do you go for your favorite margarita while in town? Let us know @VisitAustinTX and send us a snap!