If you're planning to spend Thanksgiving in Austin, let our award-winning chefs minimize your time in the kitchen and dine in or order in from these local restaurants. Find Austin restaurants that are open on Thanksgiving, plus great places to order Thanksgiving meals to take home.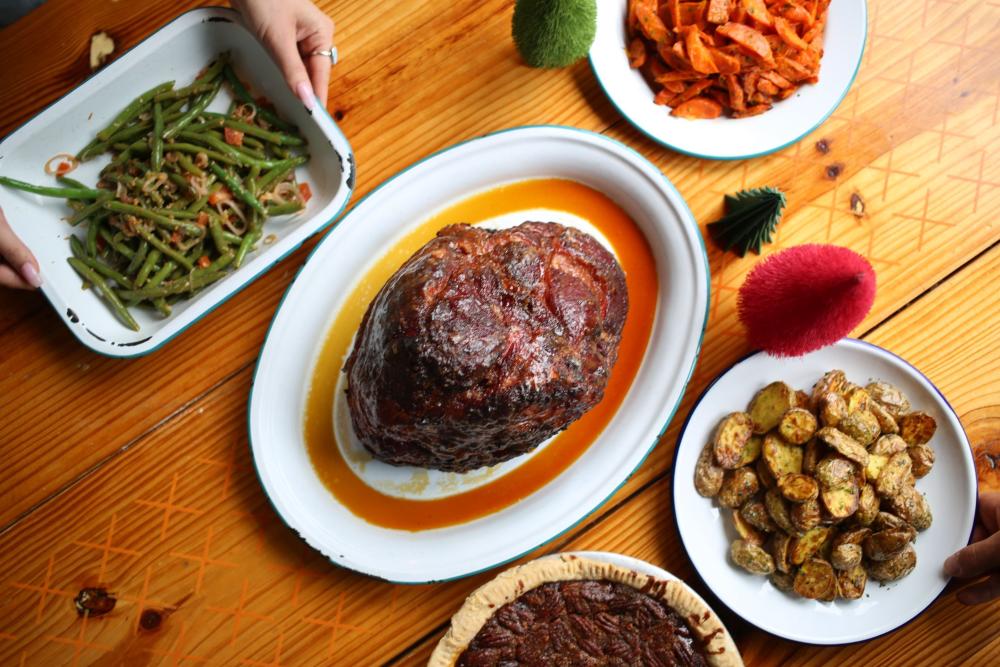 Courtesy of TLC Austin.
THANKSGIVING MEALS FOR DINE IN
Carpenters Hall
A delicious Thanksgiving feast will be served up this year at Carpenters Hall at the Carpenter Hotel. The menu features butternut squash bisque, carved roasted turkey, plenty of sides and pumpkin pie all to be enjoyed as a three-course prix-fixe or a la carte. Additionally, a special Holiday Punch cocktail will be available.
Make your reservation: carpenterhotel.com
Fleming's Prime Steakhouse & Wine Bar
Fleming's locations will be open on Thanksgiving Day to serve a special 3-course menu. Guests can choose between traditional roast turkey, filet mignon or prime bone-in ribeye.
Make your reservation: flemingssteakhouse.com
Geraldine's 
Geraldine's at Hotel Van Zandt is festive all month long with a specialty Friendsgiving cocktail menu. This new cocktail menu is inspired by the famous Friends sitcom, with all drinks named after popular dialogue and scenarios throughout the series. Sip on the How you Doin?, featuring jalapeno infused Union Viejo mezcal, house-pressed carrot juice, ginger and agave syrup. Or try the I Make Jokes When I'm Uncomfortable, made with Blackland Texas Pecan bourbon, Aberfeldy scotch and lemon honey.
Make your reservation: opentable.com
Hotel Viata
Get your Thanksgiving Day brunch on with Hotel Viata's brunch buffet full of festive favorites. Buffet items include a raw bar, carving stations, apple cider brined duck breast, sweet potato casserole, holiday sides and an array of sweets, like bourbon pecan pie and more. A drink package addition is available featuring bottomless bubbly.  
Make your reservation: eventbrite.com
Kalahari Resorts & Conventions Round Rock
Join Kalahari Resorts & Conventions Round Rock for their annual Thanksgiving Celebration Buffet. This year's menu features Thanksgiving favorites like turkey, herb stuffing, garlic mashed potatoes, green bean casserole, candied yams, a children's buffet. Finish off your meal at the impressive dessert station.
Make your reservation: exploretock.com
Nido
Austin's newest rooftop restaurant Nido at The Loren at Lady Bird Lake is serving up a seated four-course Thanksgiving meal. The meal consists of chestnut soup, a fall salad, savory Heritage turkey, classic family-style sides and a pumpkin tart to finish. Guests will be treated to a complimentary glass of champagne upon arrival and can choose to indulge a little more with a wine pairing.
Reservations can be made by calling 512-580-1183.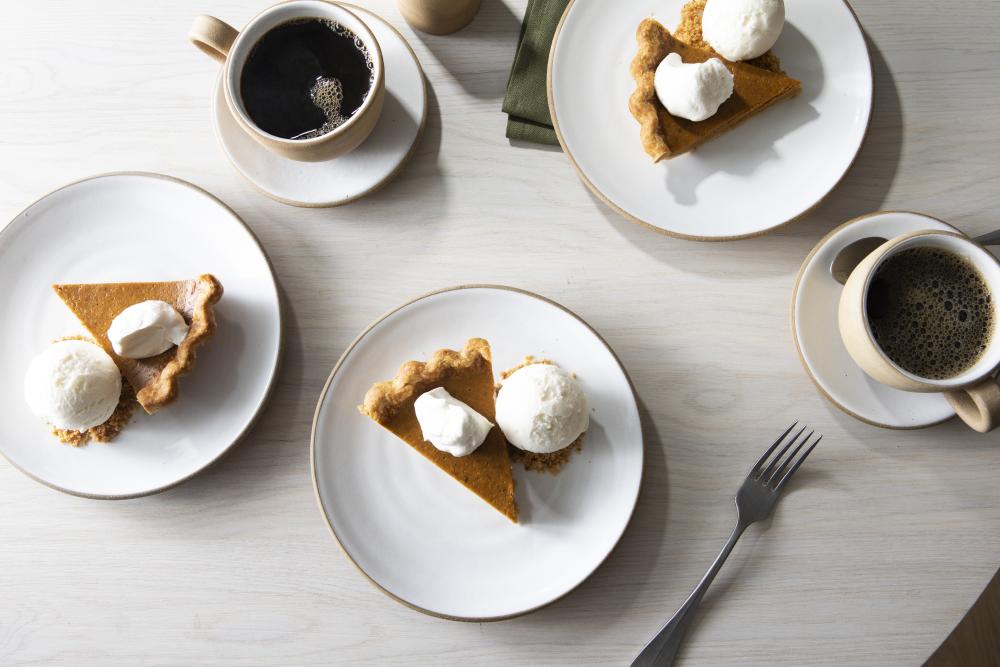 Summer House on Music Lane. Credit Jessica Attie.
Old 290 Brewery and Restaurant
Carter Creek Winery Resort & Spa's Old 290 Brewery and Restaurant will be serving up its regular menu on Thanksgiving Eve and Thanksgiving day, but dinner guests may also order from a special 3-course Thanksgiving menu starting with an autumn salad, smoked turkey entree and pumpkin pie for dessert.
Make your reservation: cartercreek.com
Peacock
Grab the family and head over to Austin Proper Hotel for the Peacock's Texas-style Thanksgiving. On top of serving their traditional Mediterranean dining menu, the Peacock is offering Thanksgiving specials featuring lemon-brined, natural roasted turkey, gravy, mashed potatoes, veggies and stuffing, all to be finished off with a pumpkin spiced date pudding.
Reserve your table: opentable.com
Summer House on Music Lane
Start a new holiday tradition on South Congress Avenue this year. Summer House on Music Lane at Hotel Magdalena is serving up a festive feast with courses like fennel and black pepper focaccia, mushroom soup, seasonal family-style veggies for the table, and a choice of smoked turkey, prime rib or smoked hen of the woods mushroom with parsnip puree for our veggie lovers. Their pre-fixe dinner also includes delightful desserts like pumpkin pie or pistachio cherry cake.
Make your reservation: resy.com
Second Bar + Kitchen
For your home away from home, head to Second Bar + Kitchen at the East Austin Hotel. They are serving up a unique menu including baked brie with apricot mostarda and crispy brussels sprouts with smoked bacon. For a delicious entree choose from herb grilled chicken or a bone-in cowboy ribeye with crispy truffle potatoes.
Make your reservation: resy.com
TLC
Head to TLC on Thanksgiving day for their dine-in turkey plates with all the fixings. Enjoy a classic Thanksgiving feast with honey-sage whole roasted turkey, andouille cornbread stuffing, rosemary garlic mashed potatoes, classic mac & cheese, citrus-vanilla cranberry sauce, classic giblet gravy, and Texas pecan pie. Feel like staying home? Scroll down for information on their to-go packs featuring all the same delectable goodies.
Make your reservation: tlcaustin.com
Trace
Trace at the W Hotel will be offering a pre-fixe menu this Thanksgiving. The menu features potato leek soup or a kale salad to start, choice of apple cider glazed turkey, smoked prime rib, grilled salmon or barley risotto for entree as well as sides for the table and an assortment of pies and puddings for dessert.
Make your reservation: opentable.com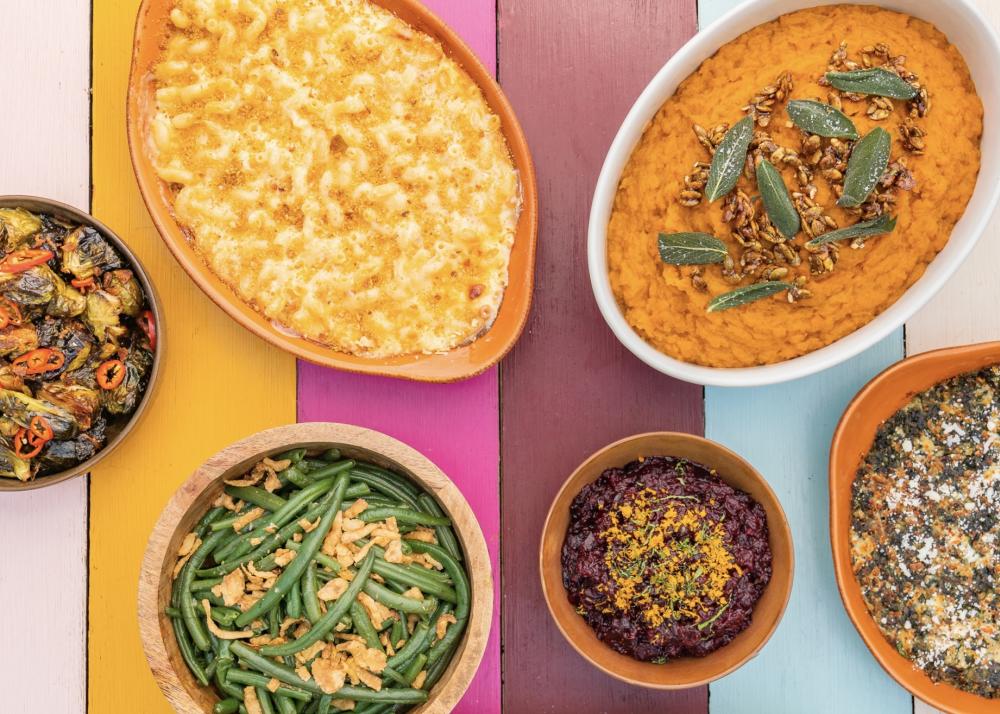 Courtesy of Fresa's.
THANKSGIVING MEALS FOR PICK UP
Aba
Aba is offering a Thanksgiving Feast to-go with a Mediterranean twist. Each dinner package serves two guests and includes menu items like pumpkin hummus, black truffle orzo and crispy brussels sprouts, beef tenderloin kebab, crispy chicken thighs and a sticky date cake. Orders must be placed by Sunday, November 20 at 9 a.m. and pick-up is Wednesday, November 23 from 11 a.m. to 4 p.m. The Thanksgiving Feast to-go comes with reheating instructions.
Order your meal for pick up: exploretock.com
Aviary Wine Bar
Pop corks all Thanksgiving long with Aviary's holiday 3-packs of wine. The pack features a bottle of Patrice Colin 'Perles Grises' Rosé Pet Nat, a bottle of Zlatan Otok 'Marina Cuvée Bijeli', and a bottle of Les Vignerons D' Estézargues 'Carambouille. You and your guests won't be thirsty this holiday!
Order your Thanksgiving wine pack in-store or by calling 512-916-4445.
The Carillon
Make Thanksgiving easier than ever this year by ordering The Carillon's curbside pickup Thanksgiving Family Feast for four. The package includes sliced smoked turkey breast, sage and fennel cornbread stuffing, butter potatoes, gravy, numerous sides and two pies with more a la carte add-ons available. Pre orders end November 13 for pickup on either November 23 or 24. Warming instructions will be included.
To place your order, fill out the ordering form here.
Dai Due
The Manor road favorite will have all of your Thanksgiving staples, as well as charcuterie, turducken sausage, brined quail, wild boar ham and much, much more. If you still want to have one home baked item on the holiday table, be sure to add one of their pie doughs (yes, they're made with butter and freshly rendered lard) to your order allowing you to bake your own pie. All orders will have cooking and/or reheating instructions attached. Pick-ups will be available November 21 to November 23  from 12 p.m. to 4:30 p.m.
Pre-order online: exploretock.com
Fareground
This year, Fareground food hall is taking a new approach on Thanksgiving consisting of menu options from five of their different eateries, allowing you to pick and choose your favorite offerings. The menu options consist of rosemary chicken or duck, gravy and green Beans from Austin Rotisserie; maple miso sweet potato casserole and roasted brussels sprouts from Henbit; whipped potatoes and truffle mac and cheese from Little Wu; chorizo and cornbread stuffing and classic pumpkin pie from Taco Pegaso; and za'atar cornbread and spiced cranberry sauce from TLV. Preorder by November 18th to pickup on November 22 or November 23.
Pre-order online: faregroundaustin.com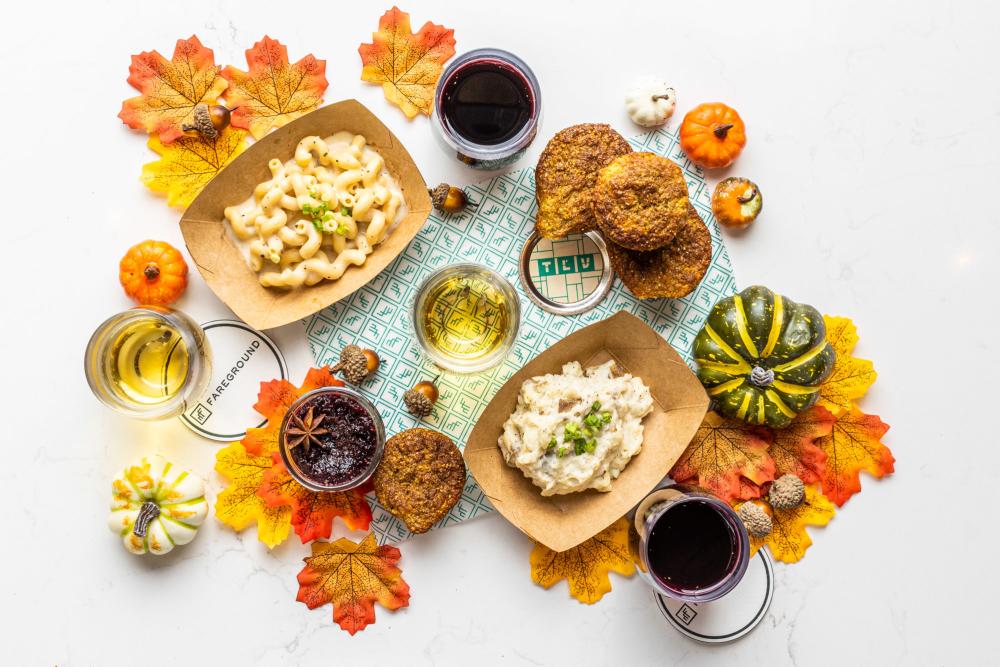 Fareground. Credit FOH NY.
Fresa's
Fresa's will be offering a special holiday menu of meals, sides and desserts like homemade pies to-go with two prepared Thanksgiving dinners to choose from: the signature roasted turkey meal (serves 8-10) or the roasted turkey breast meal (serves 4-6). Don't forget the fixings with a plethora of sides to choose from. Be sure to add a sweet treat too, like brown butter pumpkin or chocolate pecan pies. Orders must be placed no later than November 21 to be picked up on November 23 at Fresa's on South First Street between 10 a.m. and 5 p.m. Just reheat and enjoy!
Pre-order online at fresaschicken.com or by phone at 512-915-0362.
Salt & Time
Pre-order your Thanksgiving menu from the East Austin butcher shop and salumeria. Meats range from a dry aged wagyu standing rib roast to rack of lamb, and don't forget the mouthwatering sides like roasted sweet potatoes, green bean casserole with mushroom gravy or homemade cranberry sauce.
Order online: saltandtime.com
Schmidt Family Barbecue
If you'll be in the Bee Caves area, let the pitmasters at Schmidt Family Barbecue handle the turkey this year. Order smoked whole turkeys or smoked whole hams, along with poblano cream corn and scallop potatoes and pecan, pumpkin and buttermilk pies to feed the family. Pre-order deadline for whole turkeys, whole hams and pies is November 20, and pick up is available November 20-23 by 3 p.m.
Pre-order online or by calling 512-263-4060.
Southside Market & BBQ
Southside Market & BBQ will be offering holiday meal options for Thanksgiving, available to order through November 19. Pick up days include November 22 and November 23 from 10 a.m. to 6 p.m. The dinner offerings include the whole turkey dinner (feeds 8-10), the turkey breast dinner (feeds 4-6) or half pork loin dinner (feeds 4-6). A la carte meats are available along with sides including sausage dressing, roasted garlic mashed potatoes, green bean casserole, turkey gravy, rolls and pies. All meats are slow smoked over Texas post oak and all sides are handmade​.
Order online for the Austin Arbor walk location here.
TLC
Feed the whole family this year with a Holiday Family Meal Pack from TLC. Packages consist of offerings like honey-sage basted turkey, citrus-vanilla cranberry sauce,  andouille cornbread stuffing, giblet gravy, sides and dessert enough for 8-10 people to enjoy. Pickup starts at noon on November 23rd.
Pre-order online: toasttab.com
Walton's Fancy & Staple
Order a holiday meal from this quaint deli and flower shop complete with Cajun-spiced airline turkey, white cheddar herb mac and cheese, brown sugar with rosemary carrots and handmade pies. All of their holiday offerings are available in individual or family style portions. Preorder now through November 21 for pickup on November 22nd and 23rd.
Order by calling 512-542-3380 or email catering@waltonsfancyandstaple.com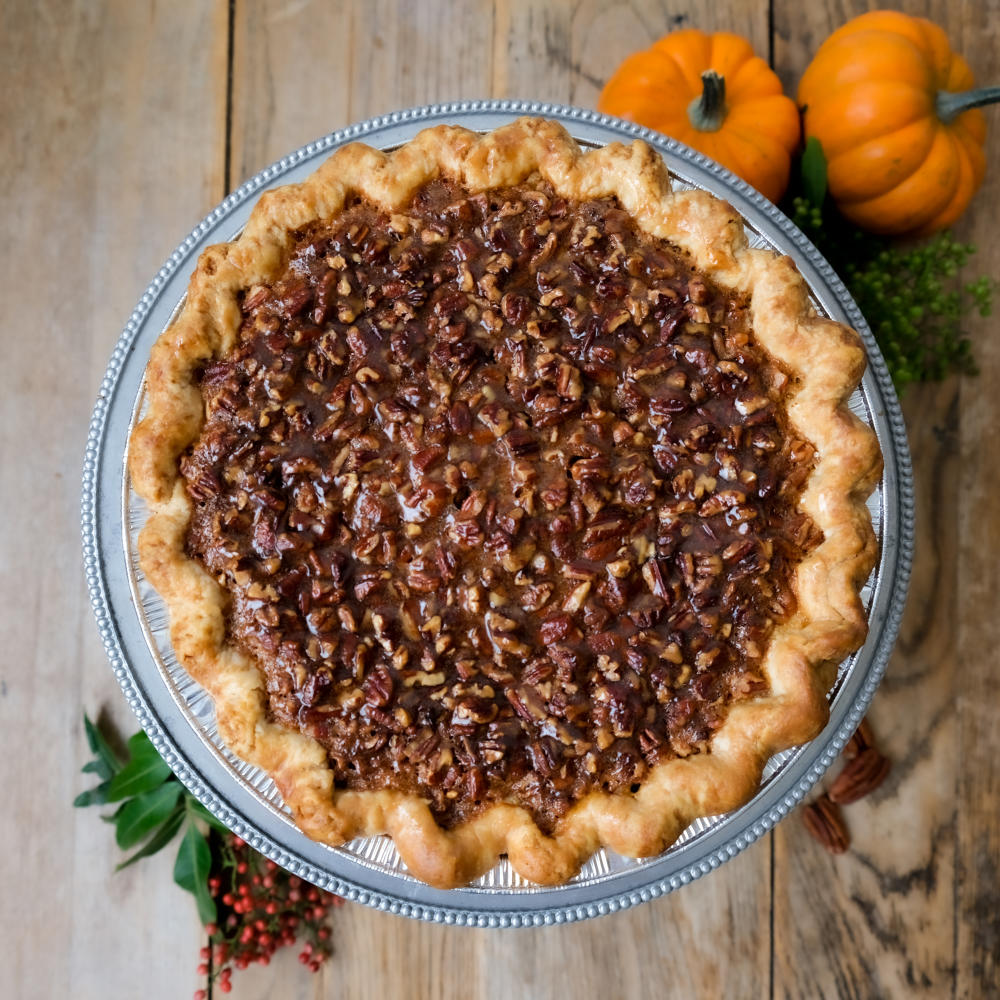 Bakery Lorraine. Courtesy of Giant Noise.
HOLIDAY DESSERTS
Bakery Lorraine
This Thanksgiving, Bakery Lorraine at Domain NORTHSIDE will have their famous 9-inch Dutch apple pie, a decadent, roasted in-house pumpkin pie and their signature whiskey pecan pie, a boozy twist on the classic pecan pie. Pies are available for pre-order and must be placed by Sunday, November 20. Pre-order pickups in-store will take place on Wednesday, November 23. Additional pies will be available at the store on a first-come, serve basis. While ordering, start a new tradition and snag one of their first ever advent calendars.
Pre-order online: bakerylorraine.com
The Driskill Hotel
For Thanksgiving, the historic Driskill Hotel is offering a 10-inch homemade apple pear pie or a 12-inch Texas pecan pie from their 1886 Cafe & Bakery. Pie pickup is either Tuesday, November 22 or Wednesday, November 23 from 7 a.m. to 2 p.m.
Pre-order online: exploretock.com
Tiny Pies
Thanksgiving time is Tiny Pies' time to shine, serving up what they do best, pie. Their Thanksgiving menu includes a 12-pack of mini, individual pies with two pies of six different flavors. They have Not So Tiny Pies to share in specialty fall flavors such as pumpkin chai, apple lattice, Texas pecan and cherry crumb. Additionally, a gluten free pumpkin pie is available. If you prefer to eat your Thanksgiving dinner in pie shape, snag some of their five-inch Thanksgiving pot pies full of turkey, veggies gravy and mashed potatoes. Thanksgiving orders will be available for pickup on November 21 through November 23.
Pre-order online: tinypies.com