If you're planning to spend Thanksgiving in Austin, let our award-winning chefs minimize your time in the kitchen and order in from these local restaurants. Find Austin restaurants that are open on Thanksgiving, plus great places to order Thanksgiving meals to take home.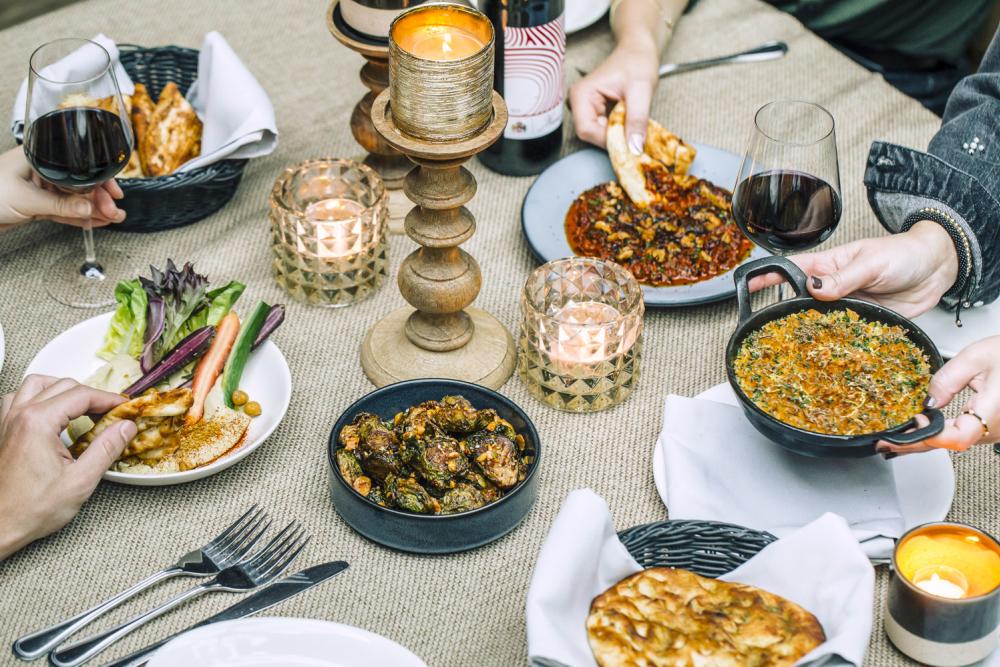 Aba. Credit Samantha Brauer.
Thanksgiving Meals for Dine In
Fleming's Prime Steakhouse & Wine Bar
Fleming's locations will be open on Thanksgiving Day to serve a special 3-course menu. Guests can choose between traditional roast turkey, filet mignon or prime bone-in ribeye.
Make your reservation: www.flemingssteakhouse.com
JC Smokehouse
Carter Creek Winery Resort & Spa's JC Smokehouse will be serving up its regular menu on Thanksgiving, but dinner guests may also order from a special Thanksgiving menu including smoked turkey, green bean casserole, yams with marshmallows and a maple brown sugar glaze, traditional stuffing and more.
Call (830) 856-2647 to make your reservation
Second Bar + Kitchen Domain Northside
Join Second Bar + Kitchen on the second floor of Archer Hotel Austin for a Thanksgiving family feast. A seasonally-inspired traditional Thanksgiving buffet will be served with carving stations with family-style starters. Looking for something sweet? Enjoy Second's signature hot apple cider and cinnamon doughnuts on the outdoor terrace.
Make your reservation: www.resy.com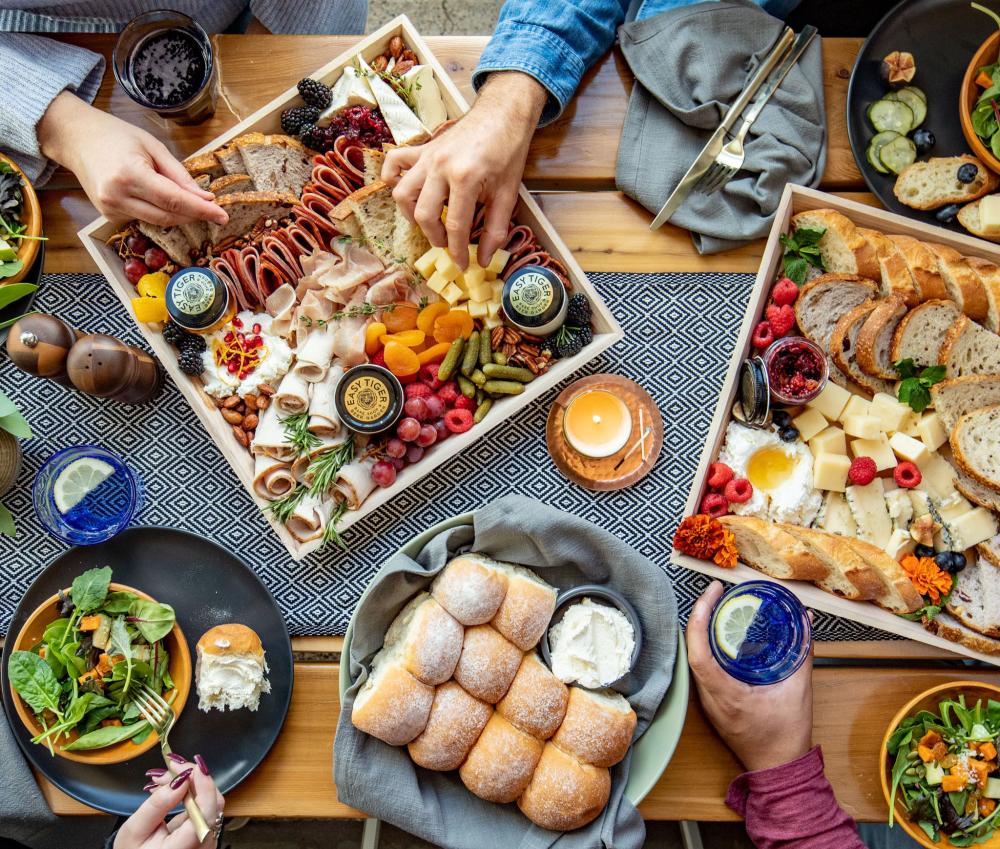 Easy Tiger. Credit Heather Barnes.
Thanksgiving Meals for Pick Up
Aba
Aba is offering a Thanksgiving Feast to-go with a Mediterranean twist. The menu can be ordered for two, four or six guests and includes menu items like pumpkin hummus, truffle baked orzo and crispy Brussels sprouts, beef tenderloin kebab, and the honey pie. Orders must be placed by Sunday, November 21 at 9 a.m. and pick-up or delivery is Wednesday, November 24 or Wednesday, November 25 from 10 a.m. to 4 p.m. The Thanksgiving Feast to-go comes with reheating instructions.
Order by calling 737-273-0199 or order Aba's Thanksgiving Feast for pick-up here
Dai Due
The Manor road favorite will have all of your Thanksgiving staples, as well as charcuterie, turducken sausage, brined quail, wild boar ham and much, much more. All orders will have cooking and/or reheating instructions attached. Pick-ups will be available Nov. 22 from 12 - 4:30 p.m., Nov. 23 from 12 - 4:30 p.m. and Nov. 24 from 12 - 4:30 p.m.
Pre-order online: www.exploretock.com
Easy Tiger
Gather with friends and family around an Easy Tiger holiday spread. Order a full meal complete with sides, pies, a stuffing kit and more. If you're looking for a crowd pleasing app, grab one of the curated grazing boards perfect for entertaining. Pick-ups will be available at Easy Tiger North on Nov. 23-26.
Pre-order online: www.easytigerusa.com
Emmer & Rye and Hestia
Emmer & Rye and Hestia are pairing up to offer a Thanksgiving Kit for two (includes choice of one main, plus sides and dessert for two). Picks from mains like a whole heritage chicken roast or smoked lions mane mushroom. Kits are par-cooked and include reheating, assembly and cooking instructions. All orders must be picked up on Wednesday, November 24.
Order online at emmerandrye.com or by calling 512-366-5530
Fresa's
Fresa's will be offering a special holiday menu of meals, sides and desserts like homemade pies to-go with two prepared Thanksgiving dinners to choose from: the signature roasted turkey meal (serves 8-10) or the roasted turkey breast meal (serves 4-6). You can also order just the whole roasted turkey or turkey breast, if you plan on tackling the sides at home. Orders must be placed no later than November 22 to be picked up by November 24 at Fresa's South First. Just reheat and enjoy!
Order online at fresaschicken.com or by phone at 512-915-0362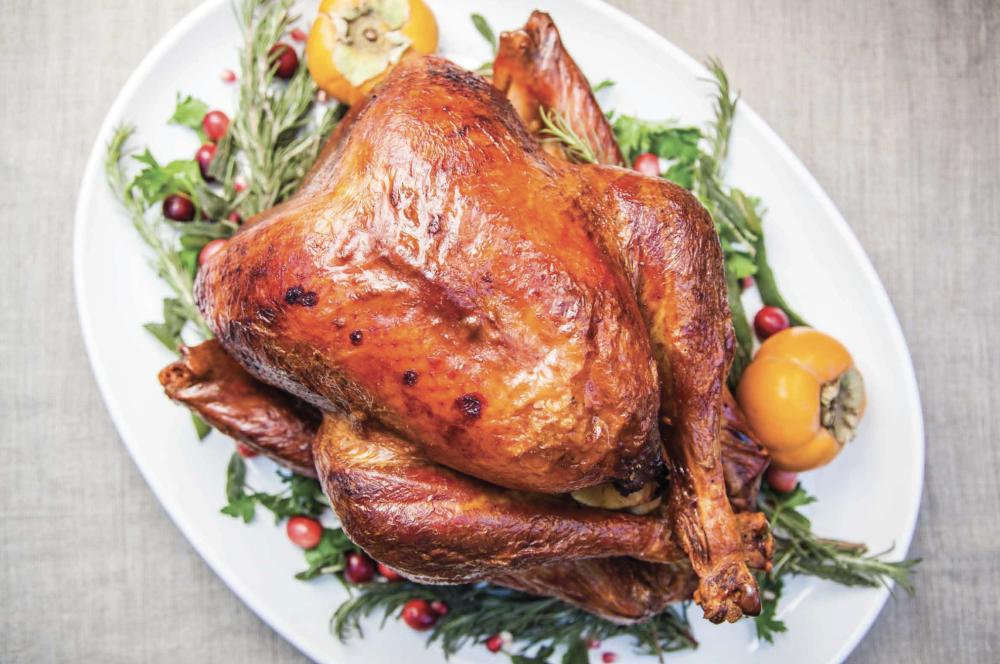 Thanksgiving Turkey. Courtesy of Fresa's.
Huckleberry
The Gulf Coast food truck launched it's killer Thanksgiving menu. Highlights include post oak smoked turkey breast, "Envy" turkey gravy made with Circle Brewing Envy Amber, pimento cheese mashed potatoes, apple hand pies and more. All orders cooked and chilled with reheating instructions. Pick-ups will be available on Wednesday, November 24from 11 a.m. - 3 p.m.
Order online: www.huckleberytx.square.site
Launderette
The Holly neighborhood favorite will be offering Thanksgiving To-Go this year. Menus include the bone-in turkey breast meal  or the beef tenderloin meal and sides include delicata squash, roasted Brussels sprouts, gruyère scalloped potatoes, kale salad, herbed sourdough stuffing, ginger cranberry sauce and classic turkey gravy. And don't forget to add dessert! All items come fully cooked with reheat instructions; pre-order by Monday, November 22.
Order online at launderetteaustin.com or by phone (512)382-1599
Old Thousand
Skip the traditional family meal and opt for something unique. Lucky Family Meals will be available for preorder and consist of Old Thousands classists like General Tso's chicken, green beans, egg rolls, and more. Each Family Meal feeds four and vegetarian options are available. Orders can be picked up from either location the day before Thanksgiving.
Call (737) 222-6637 to pre order
Salt & Time
Pre-order your Thanksgiving menu from the eat Austin butcher shop and salumeria. Meats range from a dry aged wagyu standing rib roast to rack of lamb, and don't forget the mouthwatering sides like roasted sweet potatoes, green bean casserole with mushroom gravy or homemade cranberry sauce.
Order online: www.saltandtime.com/seasonal-orders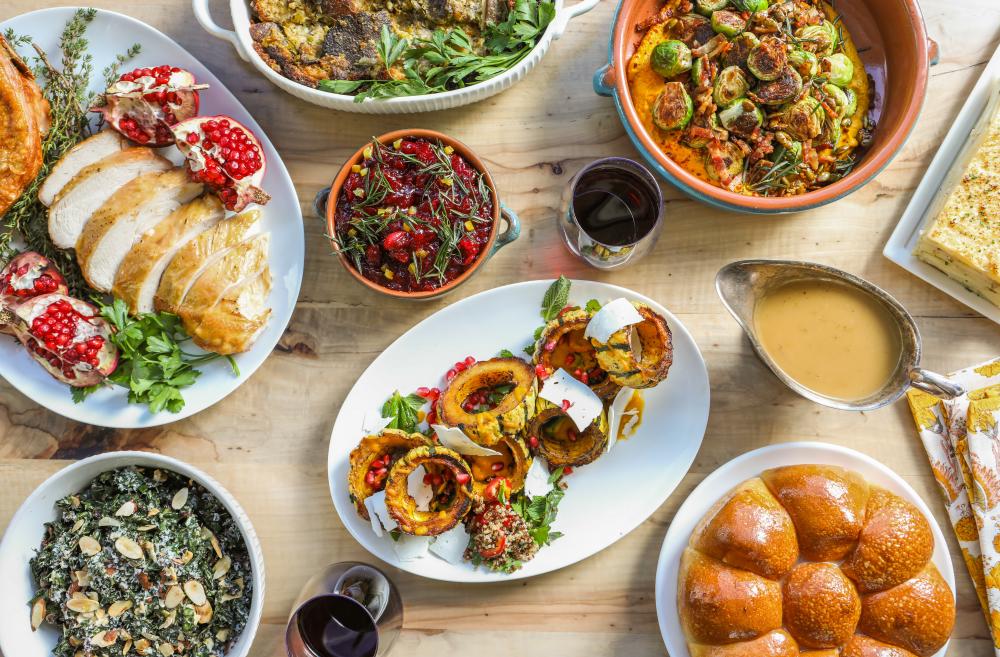 Courtesy of Launderette.
Second Bar & Kitchen
Pre-order your Thanksgiving Feast To Go from Second Bar & Kitchen. This four course meal includes salad bouquets, citrus spiced turkey, a plethora of sides, and pecan bread pudding. Place your order before 2 p.m. on Sunday, November 21.
Order online: www.secondbarandkitchen.com
Schmidt Family Barbecue
If you'll be in the Bee Caves area, let the pitmasters at Schmidt Family Barbecue handle the turkey this year. Order smoked whole turkeys or smoked whole hams, along with poblano cream corn and scallop potatoes and pecan, pumpkin and buttermilk pies to feed the family. Pre-order deadline for whole turkeys, whole hams and pies is November 20, and pick up is available November 21-24.
Pre-order online or by calling 512-263-4060
Southside Market & BBQ
Southside Market & BBQ will be offering holiday meal options for Thanksgiving, available to order through November 21. Pick up days include November 23 and November 24 from 11 a.m. to 6 p.m. The dinner offerings include sausage dressing, roasted garlic mashed potatoes, green bean casserole, turkey gravy and rolls with the option of either a 12-14 lb whole smoked grade A turkey, a 4-5 lb boneless smoked turkey breast or a 4 lb smoked pork loin half. All meats are slow smoked over Texas Post Oak and all sides are handmade​.
Order online for the Austin Arbor walk location here
TLC
Feed the whole family this year with a Holiday Family Meal Pack from TLC. Packages consist of offerings like honey-sage basted turkey, smoked bone-in ham, cornbread stuffing, giblet gravy, sides and dessert.
Pre order online here: www.toasttab.com/tlc-austin
Walton's Fancy & Staple
Order a holiday meal from this quaint deli and flower shop complete with thyme-rubbed airline turkey, white cheddar and gruyere mac and cheese, balsamic Brussels and handmade pies. All of their holiday offerings are available in individual or family style portions.
Order by calling (512)391-9966 or email catering@waltonsfancyandstaple.com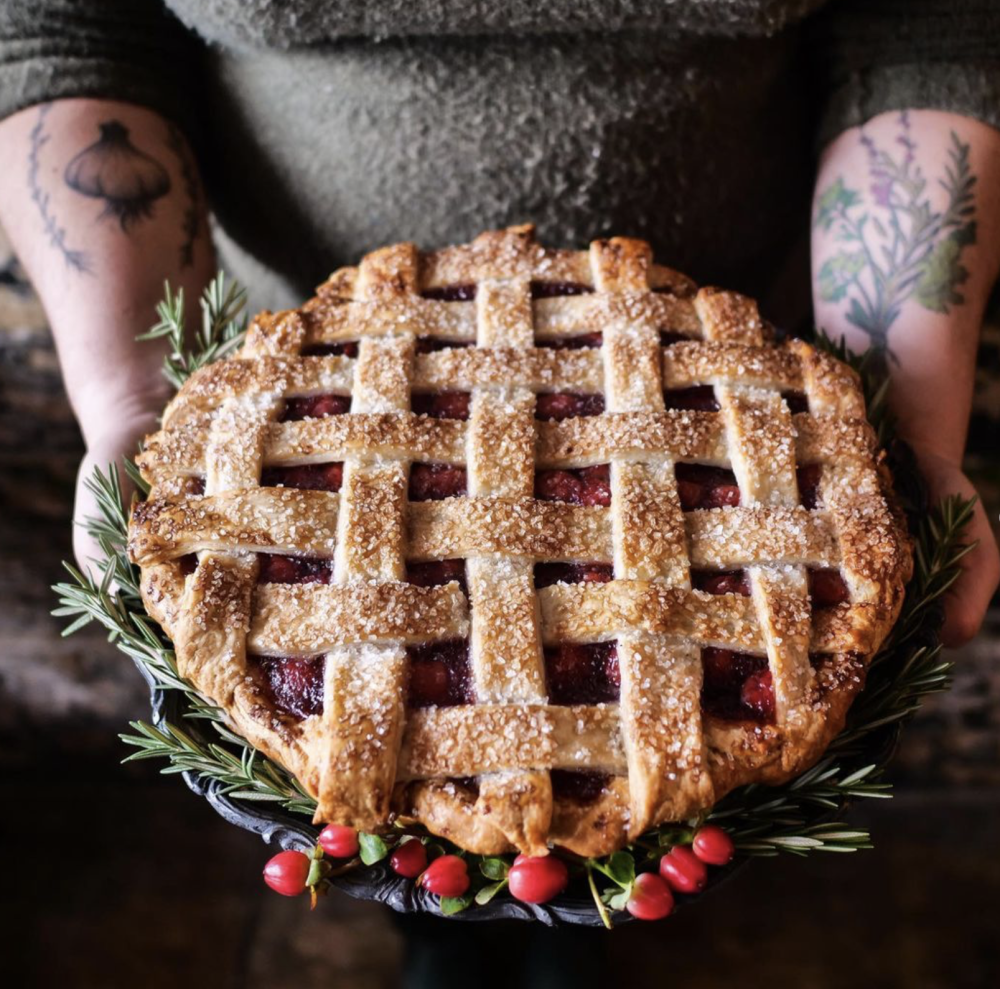 Courtesy of Walton's Fancy & Staple.
Holiday Desserts
Bakery Lorraine
This Thanksgiving, Bakery Lorraine at Domain NORTHSIDE will have their famous Dutch apple pie, a decadent, roasted in-house pumpkin pie and their signature whiskey pecan pie, a boozy twist on the classic pecan pie. Pies are available for pre-order and must be placed by Sunday, November 22, at midnight. Pre-order pickups in-store will take place on Wednesday, November 24. Additional pies will be available at each store on a first-come, serve basis.
Pre-orders online www.bakerylorraine.com/holidaypies
The Driskill Hotel
For Thanksgiving, the historic Driskill is offering 10-inch homemade chocolate cakes from their 1886 Cafe & Bakery. Preorder now through November 18 and pickup Monday, November 22.
Pre order online: www.exploretock.com/thedriskillaustin
Manana
Pre-order delectable holiday pies and sweets from the South Congress Hotel cafe through November 20 at 5 p.m. for pick-up November 23-25. Set the table with curry pumpkin, caramel apple with oat streusel and chocolate bourbon pecan pies. And be sure to add on a pint of classic vanilla or burnt cinnamon ice cream to go with your pies!
Order online