If you're planning to spend Thanksgiving in Austin, let our award-winning chefs minimize your time in the kitchen and dine in or order in from these local restaurants. Find Austin restaurants that are open on Thanksgiving, plus great places to order Thanksgiving meals to take home.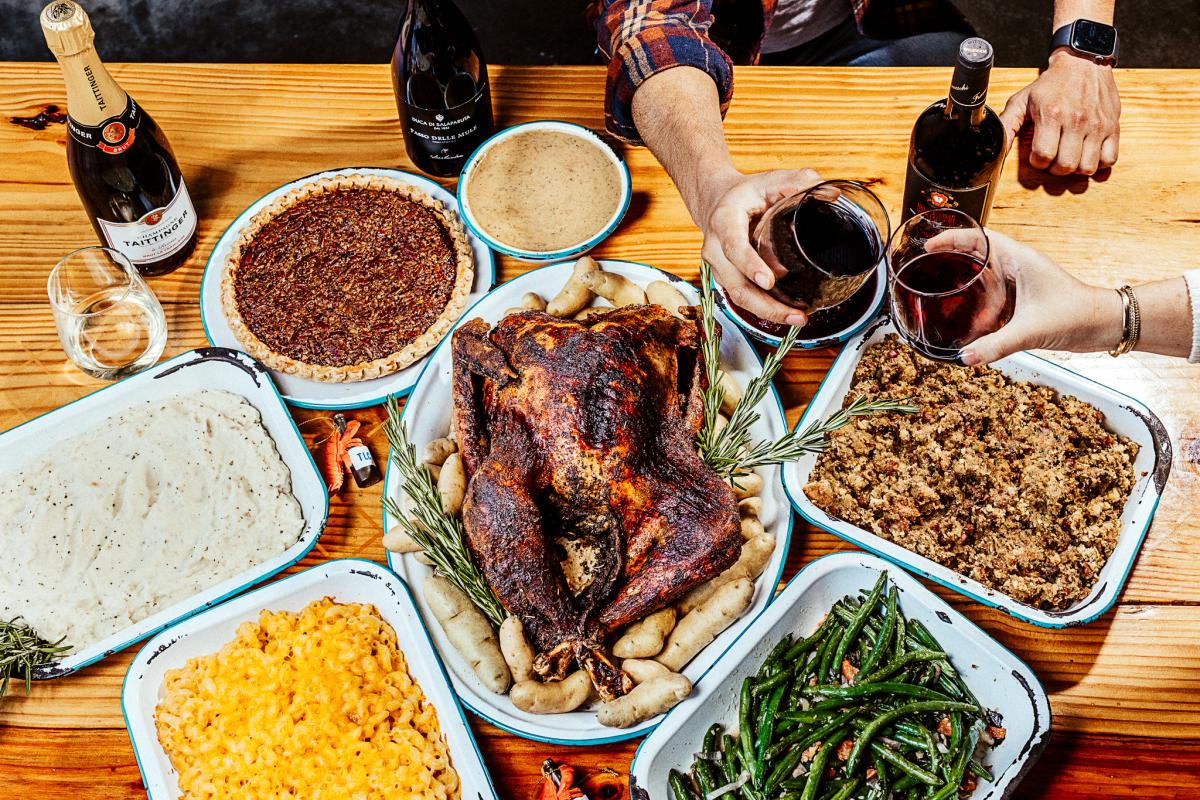 TLC. Credit to Cassandra Klepac.
THANKSGIVING MEALS FOR DINE IN
The Carillon
Take the pressure of yourself this holiday season and take the family to The Carillon for a festive Thanksgiving Brunch. The spread includes a classic breakfast spread as well as seafood and carving stations, charcuterie, caramelized brussel sprouts, green bean casserole, pecan pie, S'mores tarts and more.
Make your reservations by calling 512.404.3655
Carpenters Hall
A delicious Thanksgiving feast will be served up this year at Carpenters Hall at the Carpenter Hotel. The menu features butternut squash bisque, carved roasted turkey, plenty of sides and pumpkin pie all to be enjoyed as a three-course prix-fixe or a la carte. Additionally, a special Holiday Punch cocktail will be available.
Make your reservation: carpenterhotel.com
Diner Bar
Treat you and your family to an incredible holiday meal from James Beard award-winning chef Mashama Bailey at Diner Bar inside the Thompson Austin. The four-course prix fixe meal is served family-style and features traditional Thanksgiving dishes.
Reserve your table: resy.com
Fairmont
Celebrate Thanksgiving with the family by enjoying a delicious feast at the Fairmont. The menu features something everyone will enjoy with flavorful oak-smoked prime rib, traditional sides, and a wide array of decadent desserts. 
Make your reservation: opentable.com
Group Therapy
Hotel ZaZa welcomes you to celebrate the holiday with a delicious chef-prepared meal at their onsite restaurant Group Therapy. The menu includes savory delights like maple-glazed pork chop, caramelized onion & boursin tart, warm sticky toffee pudding and much more. 
Reserve your table: resy.com
Hotel Viata
Get your Thanksgiving Day brunch on with Hotel Viata's brunch buffet full of festive favorites. Buffet items include a carvery selection featuring mesquite smoked turkey, apple cider brined duck breast, honey glazed ham, pistachio crusted tenderloin and an array of festive holiday sides. A drink package addition is available featuring bottomless bubbly. 
Make your reservation: hotelviata.com
Kalahari Resorts & Conventions Round Rock
Join Kalahari Resorts & Conventions Round Rock for their annual Thanksgiving Celebration Buffet. This year's menu features Thanksgiving favorites like turkey, herb stuffing, buttermilk whipped potatoes, green bean casserole, scalloped corn and a children's buffet. Finish off your meal at the impressive dessert station.
Make your reservation: exploretock.com
Luminare
Enjoy a delicious Thanksgiving meal at downtown Hyatt Centric's awarded restaurant Luminare from November 23rd through November 25th. The stacked menu includes chicory salad, heirloom turkey plate, squash casserole, and olive oil cake "Tres Leches" to top it off.
Reserve your table: luminarerestaurant.com
Nido
Austin's newest rooftop restaurant Nido at The Loren at Lady Bird Lake is serving up festive favorites. The meal consists of chestnut soup, brussel sprouts, savory Heritage turkey, classic family-style sides and pumpkin panna cotta to finish.
Make your reservation: opentable.com
Old 290 Brewery and Restaurant
Carter Creek Winery Resort & Spa's Old 290 Brewery and Restaurant will be serving up a special Thanksgiving meal this year. Dinner guests will savor dishes from the 3-course Thanksgiving menu starting with an autumn salad, smoked turkey entree and pumpkin pie for dessert.
Make your reservation: cartercreek.com
Peacock
Grab the family and head over to Austin Proper Hotel for the Peacock's Texas-style Thanksgiving. On top of serving their traditional Mediterranean dining menu, the Peacock is offering Thanksgiving specials featuring turkey breast, dark meat terrine, oak-charred cabbage, mashed potatoes and gravy, corn and merguez sausage stuffing, smoked pecan bar, pumpkin spiced panna cotta and more.
Reserve your table: opentable.com
Summer House on Music Lane
Start a new holiday tradition on South Congress Avenue this year. Summer House on Music Lane at Hotel Magdalena is serving up a festive feast with courses like house-made corn muffins, butternut squash soup, charred green beans, focaccia stuffing and a choice of grilled backyard turkey or smoked ancho short ribs. Their pre-fixe dinner also includes delightful desserts like pumpkin pie or almond cake.
Make your reservation: resy.com
Tillie's
Camp Lucy's onsite restaurant, Tillie's, is hosting a grand Thanksgiving spread for all to enjoy. The family-style four-course meal with include dishes like roasted beets, green apple and butternut squash, confit turkey, braised beef short ribs, smoked carrots, smoked bacon mac and cheese and a plentiful desert bar prepared by their executive pastry chef. 
Reserve your table: tilliesdrippingsprings.com
TLC
Head to TLC on Thanksgiving day for their dine-in turkey plates with all the fixings. Enjoy a classic Thanksgiving feast with honey-sage whole roasted turkey, andouille cornbread stuffing, rosemary garlic mashed potatoes, classic mac & cheese, citrus-vanilla cranberry sauce, classic giblet gravy, and Texas pecan pie.
Make your reservation: tlcaustin.com
Wax Myrtle's
Gather your friends and family and celebrate the holiday with a family-style meal at Wax Myrtle's. The Mediterranean menu includes masa gnocchi, winter squash salad, roasted carrots, potato and green bean gratin, roasted turkey and spiced pumpkin cake. 
Reserve your table: resy.com
Yamas
Try something new this Thanksgiving and dine in at the Greek restaurant Yamas located in North Austin. The chef will be serving seasonal dishes perfect to spice up your holiday celebrations. 
Make your reservation: opentable.com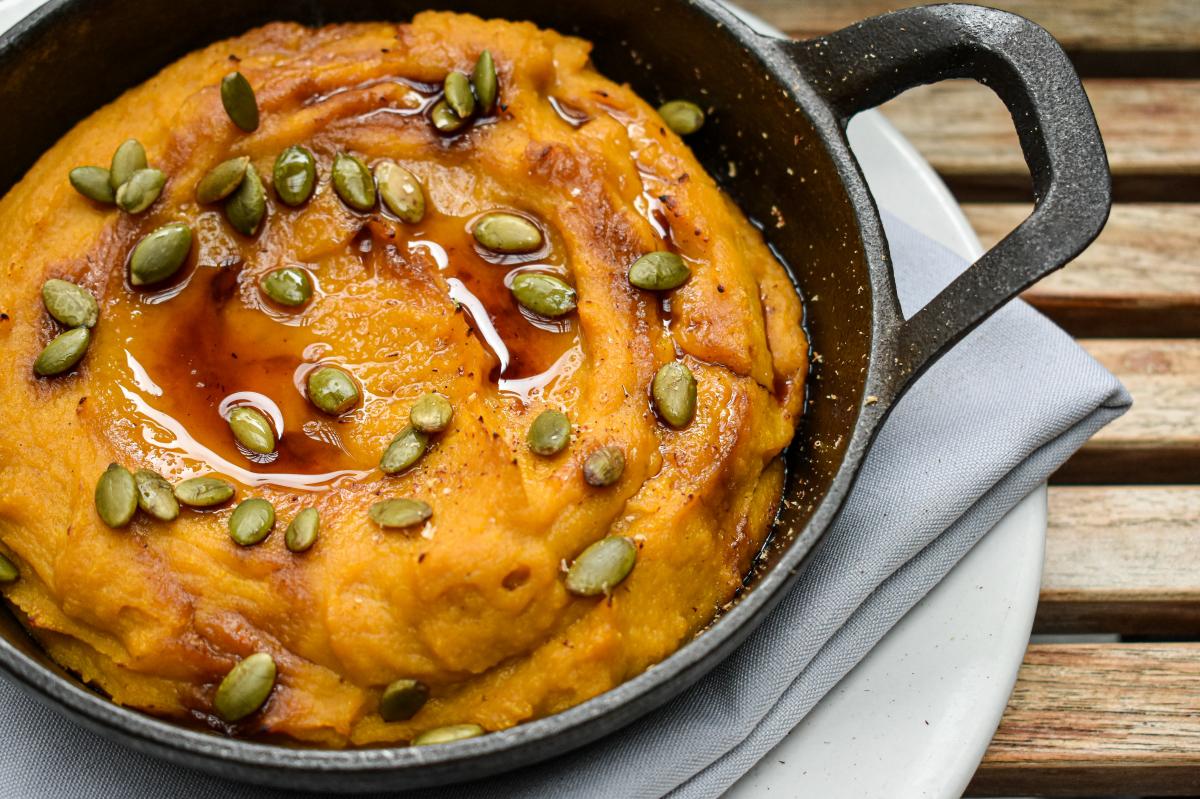 Aba. Courtesy of Giant Noise.
THANKSGIVING MEALS FOR PICK UP
Aba
Aba is offering a Thanksgiving Feast to-go with a Mediterranean twist. Each dinner package serves two guests and includes menu items like pumpkin hummus, black truffle orzo, greek village salad, beef tenderloin kebab, crispy chicken thighs and a sticky date cake. Orders must be placed by Monday, November 20 at noon and pick-up is Wednesday, November 22 from 11 a.m. to 4 p.m. The Thanksgiving Feast to-go comes with reheating instructions.
Order your meal for pick up: exploretock.com
The Carillon
Make Thanksgiving easier than ever this year by ordering The Carillon's curbside pickup Thanksgiving Family Feast for four to six people. The package includes sliced smoked turkey breast, sage and fennel cornbread stuffing, butter potatoes, gravy, numerous sides and two pies with more a la carte add-ons available. Pre orders end November 13 for pickup on either November 22 or 23. Warming instructions will be included.
To place your order, fill out the ordering form here.
Dai Due
The Manor road favorite will have all of your Thanksgiving staples, as well as charcuterie, turducken sausage, brined quail, wild boar ham and much, much more. If you still want to have one home baked item on the holiday table, be sure to add one of their pie doughs (yes, they're made with butter and freshly rendered lard) to your order allowing you to bake your own pie. All orders will have cooking and/or reheating instructions attached. Pick-ups will be available November 21 to November 22  from 12 p.m. to 4:30 p.m.
Pre-order online: exploretock.com
El Raval
Rest easy this Thanksgiving and order your family-sized Spanish-style feast from El Raval this year. The meal includes a whole roasted turkey, your choice of side, basque cheesecake and optional wine add-ons. The meal serves four to six people and orders must be placed by November 20 for pickup time between 9:00 a.m. and 6:00 p.m. on November 22. 
Place your order online: elravalatx.com
Fairmont
Take the stress out of the holiday this year and let the expert chefs at Fairmont prepare a delicious Thanksgiving feast for you and your family. The menu includes rolls, kabocha squash soup, grilled vegetable agrodolce, honey-glazed carrots, roasted brown sugar brined turkey, and your choice of pie dessert. There are two size options with a small package that feeds four people and a large package that feeds eight.
Pre-order online: fairmont-austin.com
Fareground
This year, Fareground food hall is taking a new approach on Thanksgiving consisting of menu options from five of their different eateries, allowing you to pick and choose your favorite offerings..The menu options consist of rosemary chicken or duck and gravy from Austin Rotisserie; mashed potatoes and maple glazed carrots at Four Brothers; market salad, kale salad and energii bites from Freshii; smoked turkey breast, sweet potato casserole, cranberry sauce and mac n queso from Jewboy Sliders; mashed turnips with chinese sausage, sichuan green beans and cabbage salad at Little Wu; and pumpkin cheesecake and original mini cheesecake from Taco Pegaso. Preorder by November 17th for pickup on November 21st or November 22nd.
Pre-order online: faregroundaustin.com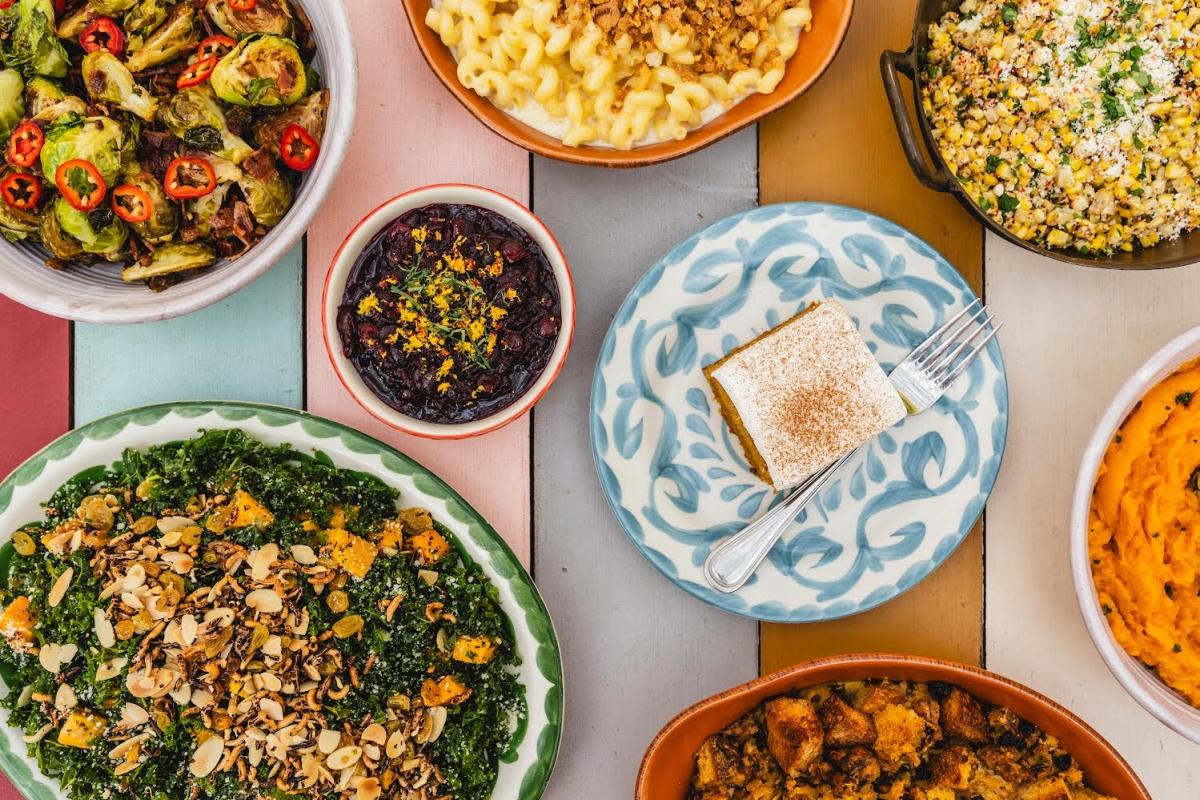 Fresa's. Credit Jane Yun.
Fresa's
Fresa's will be offering a special holiday menu of complete meals as well as a la carte side dishes. The traditional turkey dinner consists of roasted turkey, citrus-serrano cranberry sauce, pan gravy, chorizo stuffing and your choice of sides like roasted brussels sprouts, sweet potato mash and more. The signature whole roasted turkey meal (serves 8-10) or the roasted turkey breast meal (serves 4-6). Orders must be placed no later than November 20 to be picked up on November 23 at Fresa's South First or Westlake locations. Just reheat and enjoy!
Pre-order online: fresaschicken.com
TLC
Feed the whole family this year with a Holiday Family Meal Pack from TLC. Packages consist of offerings like honey-sage basted turkey, citrus-vanilla cranberry sauce, andouille cornbread stuffing, giblet gravy, sides and dessert enough for 8-10 people to enjoy. Pickup starts at noon on November 22nd.
Pre-order online: food.google.com
Violet Crown Wine Bar & Coffee Shop
Elevate your Thanksgiving gathering with a charcuterie board from Violet Crown Wine Bar & Coffee Shop. The shop is offering two special boards for the holiday, a cheese board and a meat board. In addition, to the festive charcuterie boards, purchase a wine pack and choose between three or six-bottle bundles. 
Order online: violetcrownatx.com
Walton's Fancy & Staple
Spend the day relaxing with family this year and order a full Thanksgiving spread from Walton's Fancy & Staple. The family feast includes orange-thyme rubbed airline turkey breast, horseradish mashed potatoes, rosemary & brown sugar glazed roasted carrots, white cheddar-boursin mac and cheese, cornbread stuffing and much more. Pre-order from November 6th to November 18th with pickup on November 21st and November 22nd. 
Place your order by calling 512-542-3380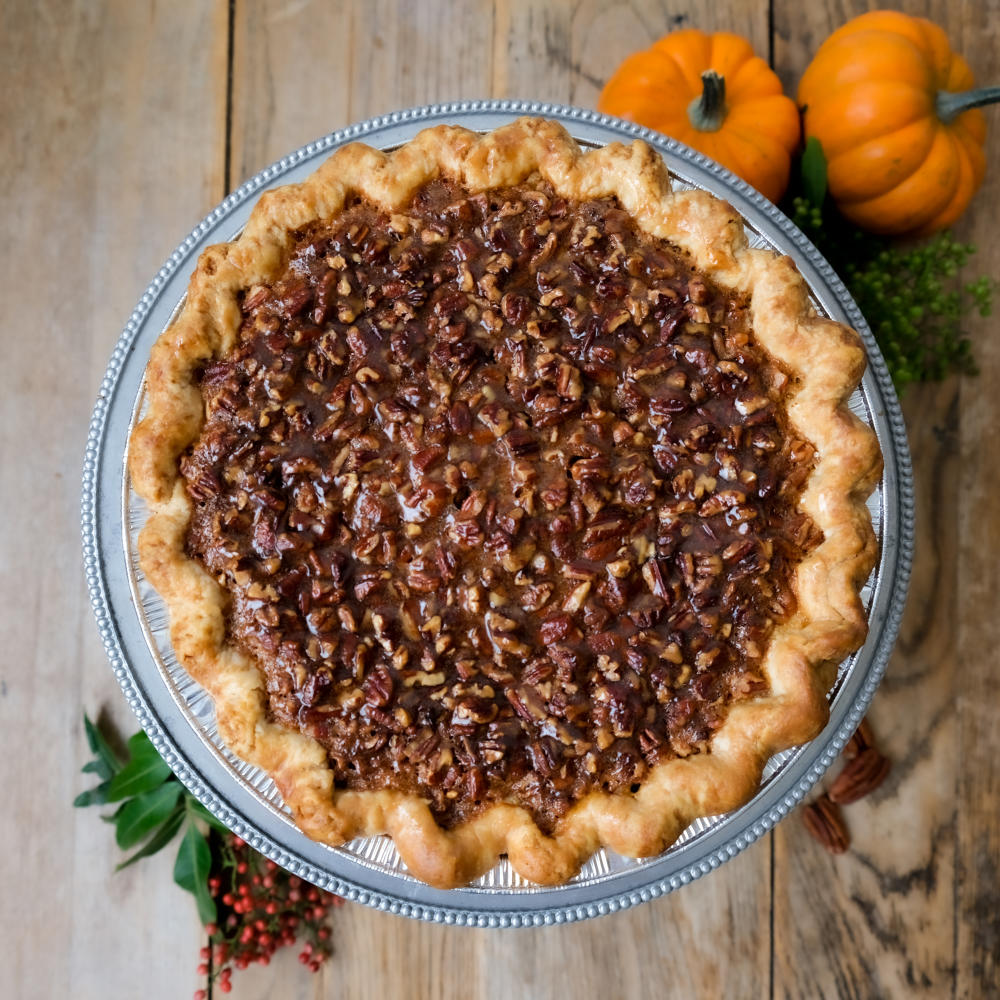 Bakery Lorraine. Courtesy of Giant Noise.
HOLIDAY DESSERTS
Bakery Lorraine
This Thanksgiving, Bakery Lorraine at Domain NORTHSIDE will have their famous 9-inch Dutch apple pie, a decadent, roasted in-house pumpkin pie,their signature whiskey pecan pie, a boozy twist on the classic pecan pie and an apple cranberry pie with five apple varieties and festive color. Pies are available for pre-order and must be placed by Sunday, November 19. Pre-order pickups in-store will take place on Wednesday, November 22. Additional pies will be available at the store on a first-come, serve basis. While ordering, start a new tradition and snag one of their advent calendars.
Pre-order online: bakerylorraine.com
Chez Zee
This classic Austin spot is serving up over the top seasonal desserts that you will want to make sure are on your table this Thanksgiving. Treats like chocolate pumpkin cheesecake, bourbon pecan pie, apple pie with streusel topping, German chocolate pecan pie, pumpkin praline pie and pumpkin spice cake are sure to please your whole family. All orders require 48 hours notice before pickup. ​
Pre-order online: toasttab.com
Dai Due
Pick-up a sweet treat to round out your Thanksgiving feast from Dai Due. The butcher shop is offering ready to bake pie dough for those who wish to do some home baking this holiday season as well as pre-made sweets, no baking required. Order ahead and enjoy brown butter cinnamon rolls, apple pie, buttermilk pie and more. Pick-ups will be available November 21 to November 22  from 12 p.m. to 4:30 p.m.
Pre-order online: exploretock.com/daidue
Foreign & Domestic
This holiday season Foreign & Domestic is baking a plethora of sweet treats for you and your family to enjoy. Pie lovers will love the classic apple pie, buttermilk pie, pecan pie or chocolate pie. However, if you looking for something different try the apple crumble, caramel apple cheesecake, molasses cookies or cinnamon rolls. The restaurant will also have a selection of jam, jellies and spreads. like apple butter, lemon jam, tangy cranberry relish and much more. Order online and allow for a three-day delay in pickup. 
Pre-order online: toasttab.com
Lick Honest Ice Cream
Mix it up this Thanksgiving with an ice cream pie from Lick Honest Ice Cream. The shop is selling two festive ice cream pies this season, the Hazel's pumpkin pie and a vegan chocolate chocolate pie. Order online and pickup in store from November 21 through November 23.
Pre-order online: lick-special-orders.sqaure.site
Summer House on Music Lane
Let Summer House on Music Lane take care of dessert this Thanksgiving. Choose from a pumpkin & cream cheese galette that serves 8-10 people, an almond cake that serves 6-8 people or both! Pre-order yours today and pick it up at 10 a.m. on November 22nd. 
Pre-order online: resy.com
Tiny Pies
Thanksgiving time is Tiny Pies' time to shine, serving up what they do best, pie. Their Thanksgiving menu includes a 12-pack of mini, individual pies with three pies of four different flavors. They have Not So Tiny Pies to share in specialty fall flavors such as pumpkin chai, apple crumb, chocolate cream, Texas pecan and cherry crumb. If you prefer to eat your Thanksgiving dinner in pie shape, snag some of their five-inch Thanksgiving pot pies full of turkey, veggies gravy and mashed potatoes. Thanksgiving orders will be available for pickup on November 20 through November 22.
Pre-order online: tinypies.com