When the weather cools to a gentle 90ish degrees, it's time to blow the dust off your camping gear, fire up the engine on the RV, rile the kids up with talk of s'mores and ghost stories and go! Central Texas is liberally dotted with camping options that range from primitive to premium. Here are our favorite spots, arranged by time-to-drive from the center of Austin (assuming no bathroom stops.) As always, make sure to check each campground's website for the latest information and what's currently available.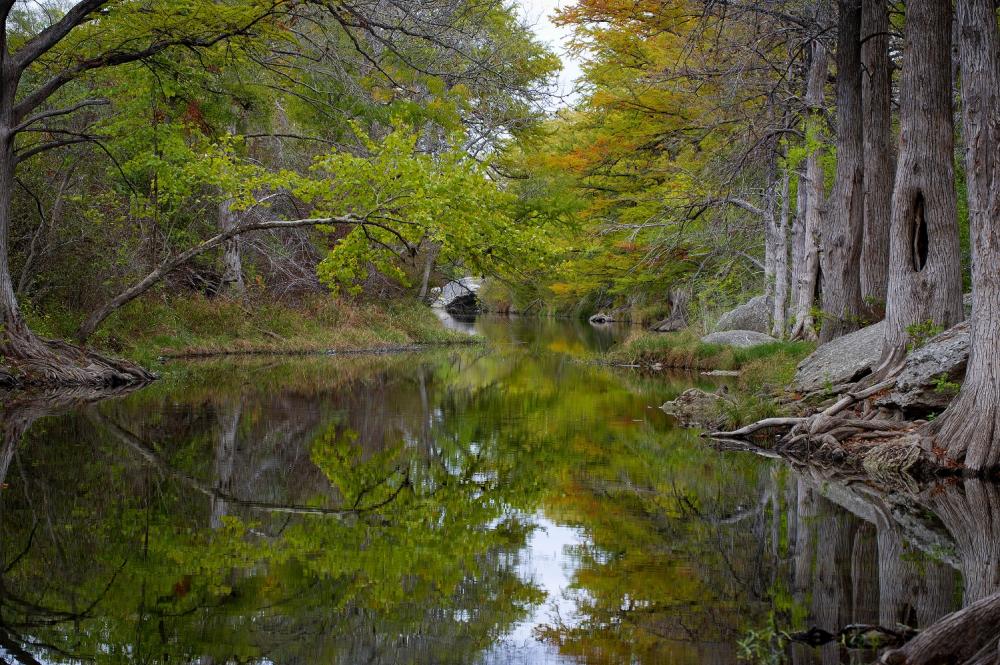 McKinney Falls State Park. Courtesy of Texas Parks & Wildlife.
A quick drive from the energy of downtown Austin is McKinney Falls State Park, a 641-acre natural wonderland. This campers' mecca boasts 80 campsites, two large swimming areas, and 9 miles of winding hiking trails. It's easy to get to and easy to camp in with a few cabins, group camping and RV spots. BYO everything and don't forget water shoes because the swimming at both Upper and Lower Falls is lovely. Spend a weekend here floating around in the water, fishing for the big one, hiking the trails, watching birds and living your best life.
COTA takes everything to the next level and that includes camping. The concert venue/race track attracts some of the biggest names and the splashiest events but finding accommodations nearby can be tricky. Avoid the drive from town and make sure you get the best seat by popping up a tent or pulling in your fancy RV at the COTA Campground. They provide showers and laundry on-site to freshen up before the race or the show, fast wifi and cable, and a gloriously cool pool to take a dip in when things get too hot. Make sure you bring a shade tent as there isn't much on the campground.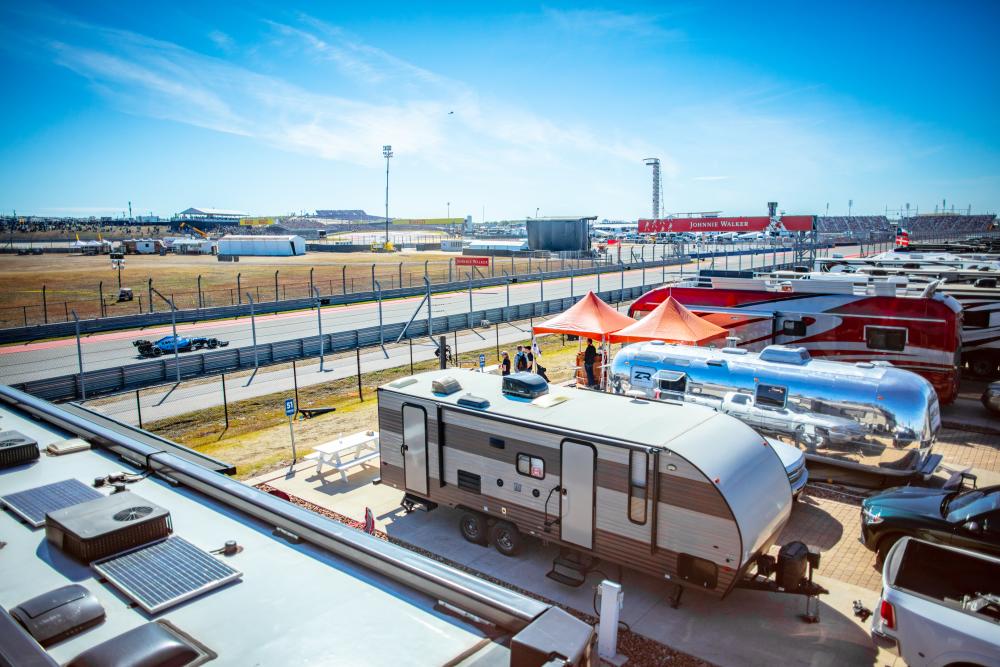 COTA Camping. Courtesy of Circuit of The Americas.
Outside of Zilker, Emma Long Metropolitan Park is Austin's favorite (and most accessible) park. The main attraction is the water, naturally. When the Texas heat starts ramping up, it's time to find someplace to splash in. BYO floaties and spend the days lounging in the fresh water of Lake Austin. The park offers both primitive and utility-enabled camping, with a slightly more expensive option for waterfront. Grills and picnic tables dot the park and there are tons of well-trod trails, a couple of volleyball courts, and lots of open space. It's absolutely dog friendly and most pets are off-leash so take that into consideration before you book.
In theory, camping is about relaxing in nature with no agenda but you'll be hard pressed not to over-plan your time at Lockhart State Park. In addition to swimming at the pool, fishing in Clear Fork Creek, hiking and biking the Persimmon and Wild Rose loops, trying your hand at geo-caching, the family can indulge in a round or three at the historic golf course. Of course, it's also conveniently located near the city of Lockhart where you can dig into some of the best barbecue in the state. Barbecue, nature, and an under par round definitely makes for a 5-star weekend.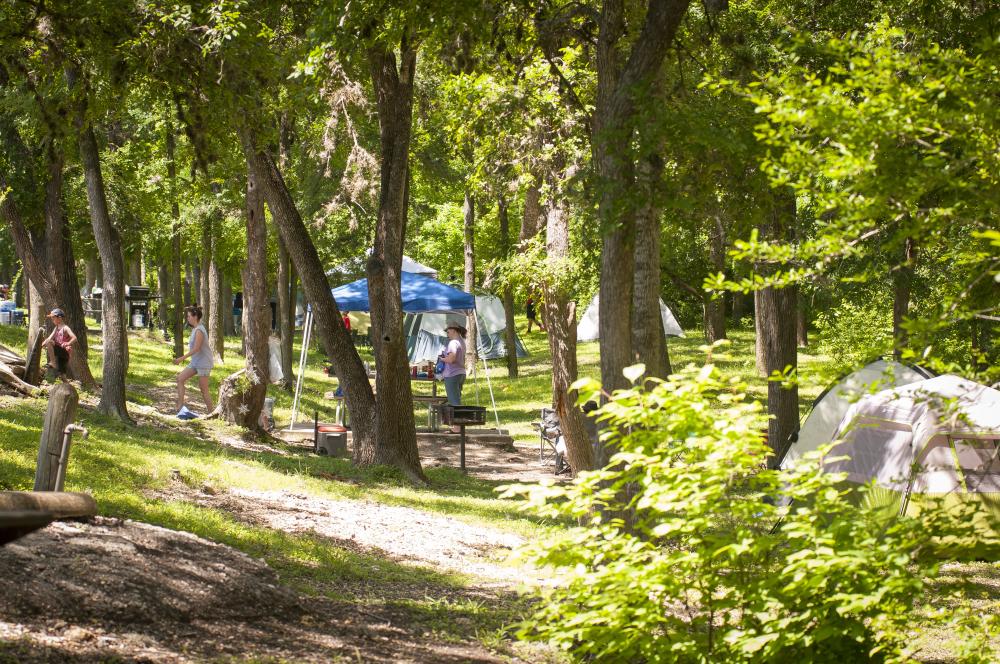 Lockhart State Park. Courtesy of Texas Parks and Wildlife.
The Lost Pines area is flat-out beautiful and Bastrop State Park makes it really easy to spend a weekend there. The park features primitive areas and hook-up sites but they also offer 14 historic cabins, group barracks and a group hall for your gathering needs. Bring a friend or the whole family reunion and hike seven miles of trails, grill out, fish in the ponds for bluegill, bass and catfish, or enjoy your time swimming in the on-site pool. There are also really nice showers and you can rent kayaks and canoes a couple miles down the road.
Not as well known as some of the larger parks, Grelle Recreation Area is an isolated spot on the south shore of Lake Travis. This is the spot for real nature lovers and the camping areas are all primitive camping with no water or electricity. The 15 shaded campsites are equipped with picnic tables and grills and are just steps away from the water. Bring a blanket to lay on the grassy beach, strap on some hiking boots for the 7-miles of woodland trails and bring a blanket to lay out under the stars. Grelle is also horse friendly with a hitchin' post and clearly defined horse trails just in case you were thinking of bringing Seabiscuit with you.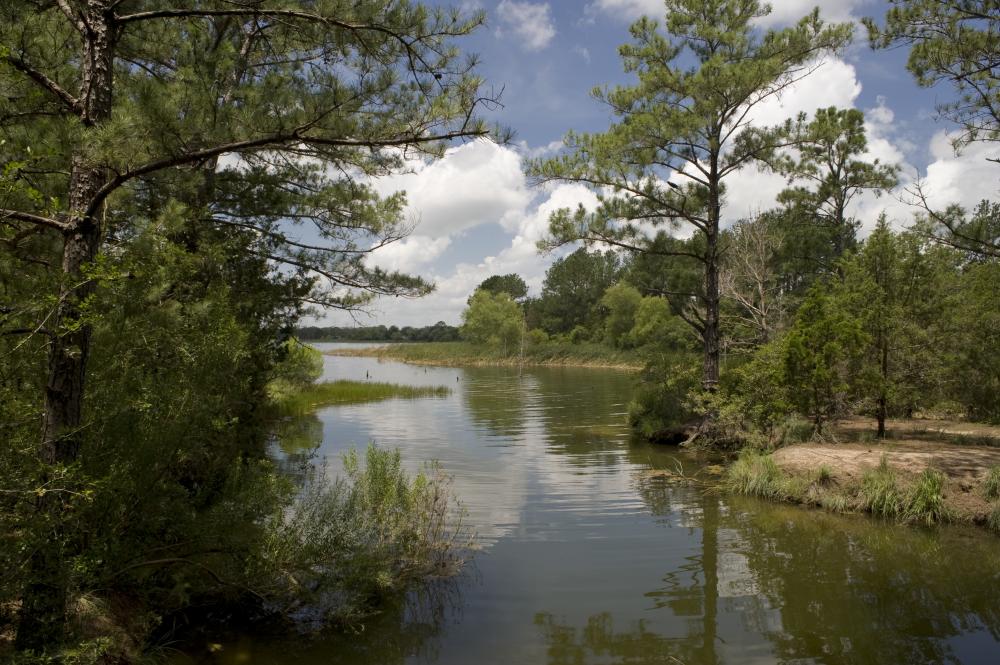 Bastrop State Park. Courtesy of Visit Bastrop.
With 645-acres, you may just feel like you're the lone visitor at this LCRA-run park in Spicewood. Located right on Lake Travis, it's the perfect spot to boat, barbecue, picnic and take in the big skies of Central Texas. If it's bluebonnet season, make sure to reserve well in advance because visitors multiply exponentially. Muleshoe Bend is one of those "is this a stock photo?" places with huge fields of the Texas state flower as far as the eye can see in the spring. The trails are well-marked if you're a walker or a biker and there's some more technical trails for the more advanced rider, too. Oh and they have a 24-hour ice machine which is camping (and cooler) critical.
As the "resort" moniker indicates, this is definitely more glamping than camping. It's like RV park-meets-Instagram dream complete with tiny houses, tipis, wifi, billiards, a pool, ping pong, bocce courts, horseshoe and washer pits and hammocks. Whether you're renting something on-site or pulling in your RV, it's a spot for a party. The Mystic Quarry Resort offers a shuttle to nearby Whitewater Amphitheater concerts and wineries and breweries (if you reserve it.) It's not all fancy fun though—there's nature for hiking and biking around the area as well so bring your sneakers and packs, too.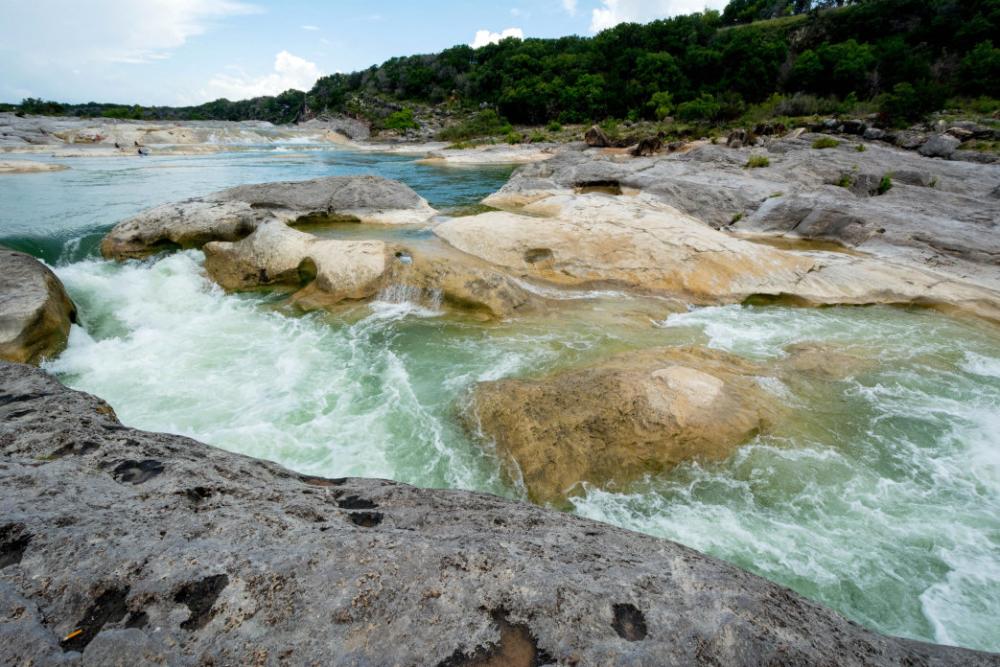 Pedernales Falls State Park. Credit Vance Miller, courtesy of RootsRated.
Load up a bike and a backpack for your weekend at Pedernales Falls State Park. The park has both primitive and RV spots and the latter come with a fire ring, electricity and restrooms with showers. Otherwise, you'll be hiking in about 2 miles to the primitive campsites. This park is popular for its trail system, ideal for any level of physical activity—from a .5 mile nature trail with a scenic overlook to a 10-mile technical single track for advanced bike riders. You can swim, canoe, tube or kayak here too. Check the weather though as the park tends to flood in big rain storms.
Make your vineyard trip to Fredericksburg an overnighter. Family- and dog-friendly, The Vineyards of Fredericksburg RV Park has a ton of amenities—wifi, showers and bathrooms, soccer fields, a kids playground, an outdoor pavilion for gatherings, a gym, pool and hot tub. Plus they're located about five minutes away from town so you can take a quick nap before shopping, sightseeing, or (more likely) hitting another vineyard. If you don't have an RV, the park also offers covered glamping wagons. It's old west meets wine.