There are few things as refreshing as a sunny morning in Austin, surrounded by fresh produce, colorful bouquets, hot coffee and the sound of a local musician wafting through the stalls at one of our many farmers markets. Whether you're in town for a few days or a few weeks, a visit to one of our area markets is a great way to have the authentic Austin experience. In total, there are more than 40 markets in and around town every week but to help narrow down the list, we have put together a list of some of our top weekend markets in Austin. So get up, get outside and get shopping!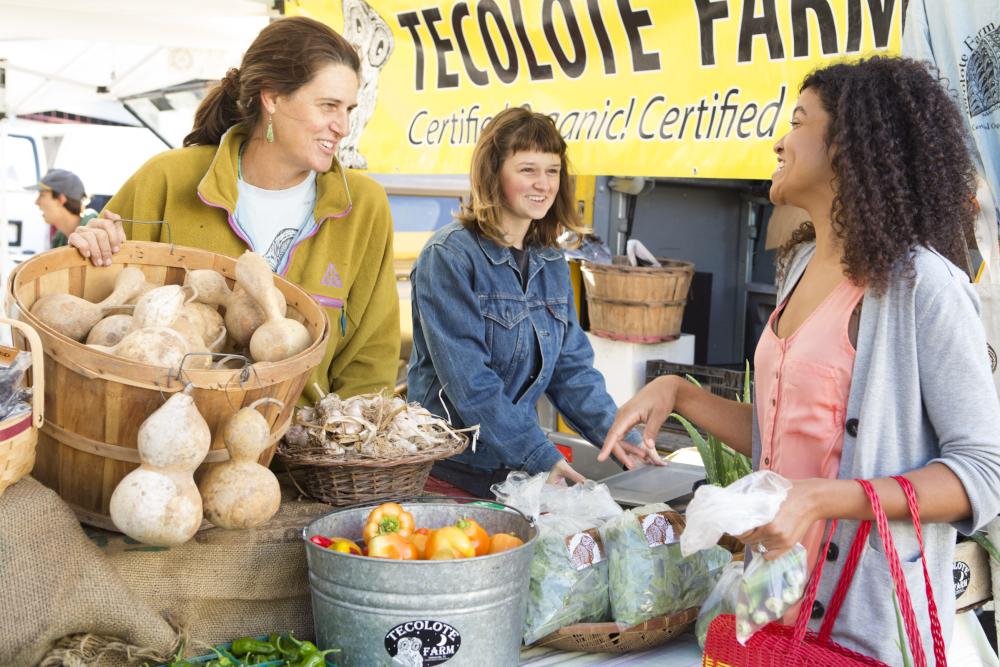 SFC Farmers' Market. Courtesy of the Sustainable Food Center, credit Buff Strickland.
Boggy Creek Farm
Wednesday–Saturday (September–July), 8 a.m.–1 p.m.
Wednesday & Saturday (August) – 8 a.m.–1 p.m.
If you're looking for an authentically Austin experience, visit East Austin's Boggy Creek Farm to tour the grounds, meet the farmers and explore the hen house. This no-till urban farm has been in business since 1992 and sells seasonally harvested, organic produce supplemented with dairy products, meats, eggs and more from other local farmers and ranchers.
Texas Farmers Market at Mueller
Wednesdays, 5 p.m. – 8 p.m. & Sundays, 10 a.m. – 2 p.m. (year-round)
Make a Wednesday evening or Sunday morning trip to the idyllic Mueller Lake Park for this Texas-sized farmers market. Situated across the pond from the Thinkery children's museum, the market boasts a food truck park in addition to the selection of food and craft vendors. Don't miss Fredericksburg's Engel Farms for a seasonal selection of fruits and veggies and Elgin Meadery for a taste of their small batch honey wine.
SFC Farmers' Market Downtown
Saturdays, 9 a.m. – 1 p.m. (year-round)
Every Saturday morning, this massive market transforms Republic Square into a lively community of locals, visitors, students, families, farmers, artists, musicians and more. Browse food, drink and arts vendors selling everything from farm-fresh eggs to locally-brewed kombucha. Be sure to stop by the Urban Roots stand to support this sustainable farm program led by local youth.
Barton Creek Farmers Market
Saturdays, 9 a.m. – 1 p.m. (year-round)
This market is located at the Barton Creek Square mall and boasts a fantastic view of the downtown Austin skyline. Enjoy live music while you explore the vendor booths selling freshly baked breads, Fredericksburg peaches (during late spring/summer), fresh cheeses and milk and other organic, farm-fresh goods.
SFC Farmers Market at Sunset Valley
Saturdays, 9 a.m. – 1 p.m. (year-round)
This sizable south Austin market is a Saturday morning staple. Let the kids play at the Imagination Playground station while you pick up an organic roast from Texas Coffee Traders, homemade tamales, free range eggs, seasonal fruits and veggies and more.
HOPE Farmers Market
Sundays, 11 a.m. – 3 p.m. (year-round)
Experience the authentic East Austin community at the HOPE Farmers Market on Sundays. This compact market packs in the energy with live music on the picturesque Plaza Saltillo, and an array of vendors, handmade jewelry and apparel artisans, food trucks and free yoga.
Get a taste of true Austin while supporting local agriculture and small businesses at these fun, family-friendly markets during your visit. Share your farmers market snaps with us using #TrueAustin on Twitter or Instagram!