Summer days and nights in Austin are best spent indulging in the city's renowned dining and drinking scene. So go ahead and post up on a patio, seek out a popular food truck or pull up a bar stool and sample some of Austin's best summer treats.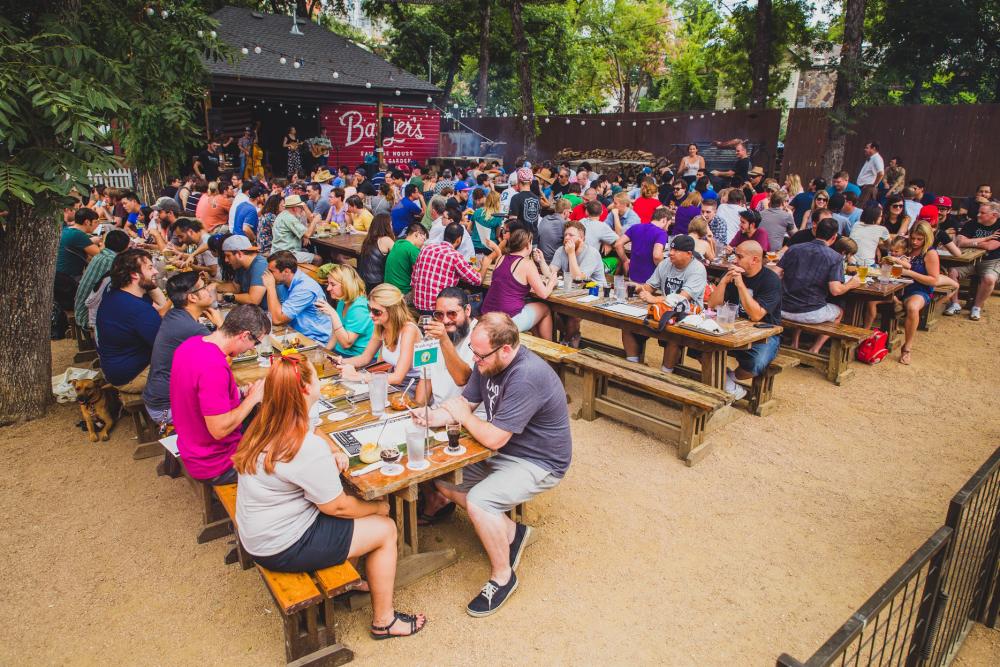 Courtesy of Banger's Sausage House & Beer Garden.
PATIOS
At fun-loving Banger's Sausage House & Beer Garden, the picnic tables are communal, 200+ beers are served (be sure to check out the huge new outdoor tap wall) and the menu consists of 30 different house-made sausages (ranging from wild game to veggie) cooked on a sizzling grill. Live country music and pig roasts are part of the raucous Banger's experience.
Come for brunch, make it an all-afternoon affair at the new location of Easy Tiger Bake Shop & Beer Garden at The Linc. Pair your corned beef-and-potato hash with a mimosa in the sprawling 150-seat beer garden sporting an outdoor stage, then take a swing at one of the ping-pong tables after your meal. 
For stunning Lake Travis sunsets, join the crowd at The Oasis. This scenic lakeside restaurant features a massive multi-storied deck where you can dine on shrimp fajitas and toast the evening with a signature Oasis Sunset (a blend of rums, lemonade, orange juice and grenadine). Don't be surprised when fellow diners applaud the dramatically setting sun.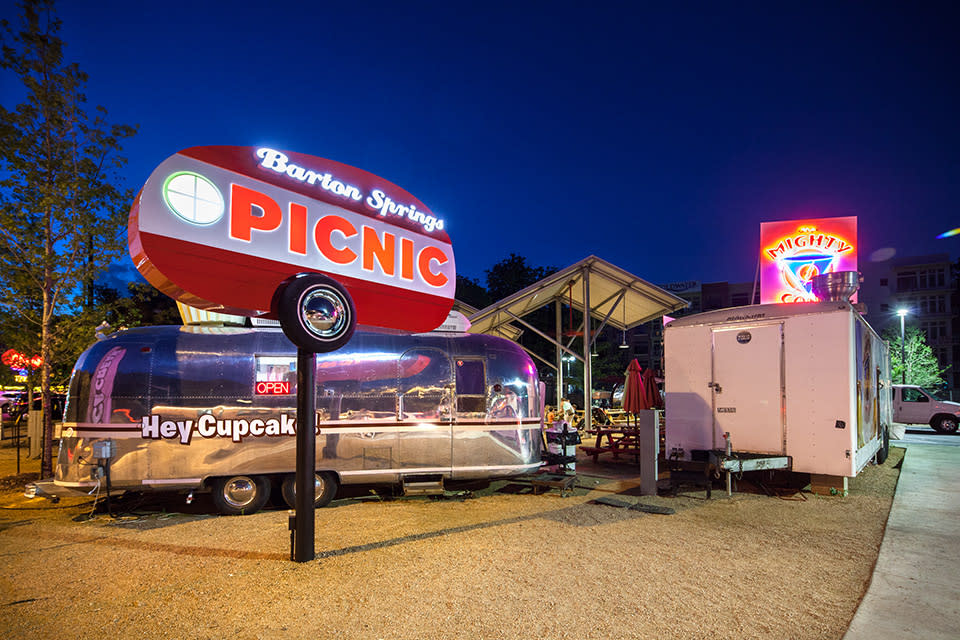 The Picnic Food Truck Park at Barton Springs. Photo Credit Lars Frazer.
FOOD TRUCKS
Veracruz All Natural, parked at the popular Radio Coffee & Beer, was founded by sisters Reyna and Maritza, who honed their cooking skills working in their mother's restaurant in Veracruz, Mexico. Veracruz is famous for its migas breakfast tacos stuffed with eggs, tortilla chips, avocado, pico de gallo and Monterey jack cheese.
Valentina's Tex Mex BBQ combines the foods that Austinites love most: tacos and barbecue. Belly up to the counter, where you can choose from tempting taco fillings like smoked brisket topped with guacamole, tomato serrano salsa and sea salt, all rolled up in a freshly made flour tortilla. Valentina's was recently visited by celebrity chef Guy Fieri and featured on an episode of his hit show Diners, Drive-Ins and Dives.
Try a variety of eats at food truck park The Picnic, where you'll find crunchy chicken tenders served up by The Mighty Cone, sweet treats like the red velvet confection from Hey Cupcake! and authentic Thai cuisine at Coat & Thai that can all be enjoyed under The Picnic's shady pavilions.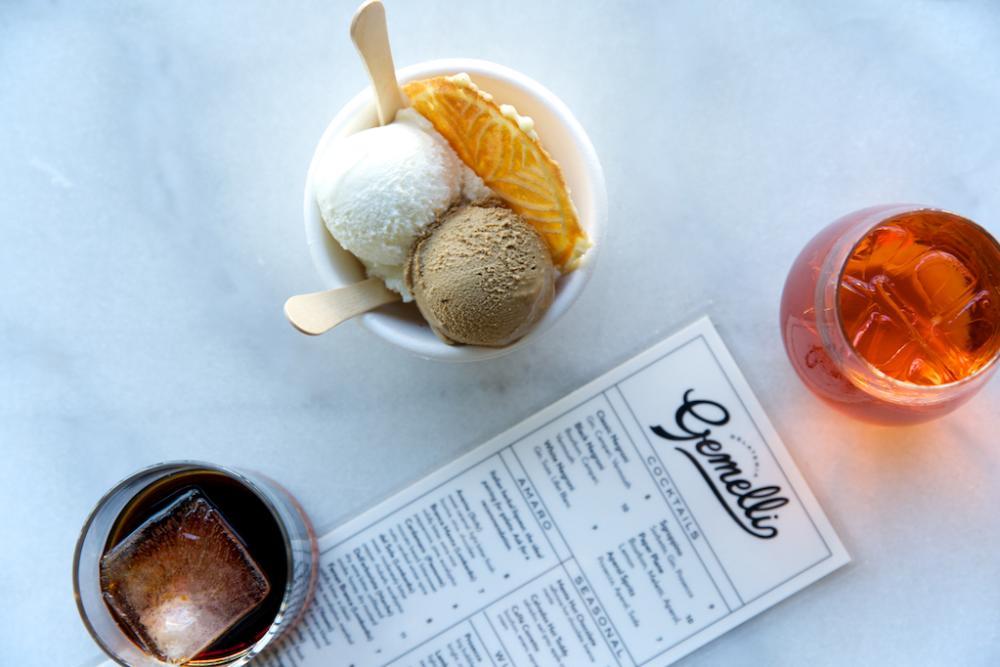 Gelateria Gemelli. Courtesy of Kate LeSueur.
ICE CREAM, GELATO & SNOW CONES
You're sure to find your new favorite flavor (Beer and Pretzels, anyone?) at Amy's Ice Creams. There are 350 specialty ice cream flavors in rotation (the Mexican vanilla is a favorite), or you can build your own signature flavor with their crush'ns (toppings) that include everything from fresh strawberries to ginger snaps.
You can't get much more authentic than Gelateria Gemelli. The owners traveled to Italy and studied with the world's best gelato makers, discovering that the sweet stuff is best washed down with a cocktail. When they returned to Austin they opened their gelateria, offering tempting flavors like Vietnamese Coffee and Coconut Sorbetto, alongside traditional Italian cocktails that include the classic Negroni (gin, Campari and vermouth) and bubbly Prosecco.
Open since 1996, the family-run Casey's New Orleans Snowballs offers more than 70 homemade syrup flavors drizzled over ice and served in a cup. You'll find traditional New Orleans-style chocolate and cream syrups, including customer favorites like Orchid Cream Vanilla and Boston Cream Pie.
REFRESHING BOOZY BEVERAGES
The frozen Bee's Knees at King Bee Lounge is almost (almost!) too pretty to drink. The pale yellow confection is mixed with gin, honey and lemon, and garnished with a colorful flower. If you want your cocktail "stung," ask for a spicy Ancho Reyes chili liqueur floater.
Have you even done Austin if you haven't lingered over a Frosé at Hotel San José? The hip hotel mixes its famous, pretty pink frozen rosé with homemade lemonade. Kick back with one in the lush courtyard, where the people watching is just as delicious as your cocktail.
Headed out for a day on the water? Whether you're relaxing on a boat or tubing down the nearby Guadalupe or Comal Rivers, Mighty Swell's locally made spritzers are a great companion to your adventure. Try summery, sessionable flavors like the Head Over Heels Watermelon Mint or Way Chill Cherry Lime.
Boozy ice cream creations are the specialty of the house at part-ice cream shop, part-cocktail bar Prohibition Creamery. Small batch ice creams and vegan sorbets are blended with everything from bourbon to wine to create sweet combinations like Whiskey Chocolate and Sangria Sorbet.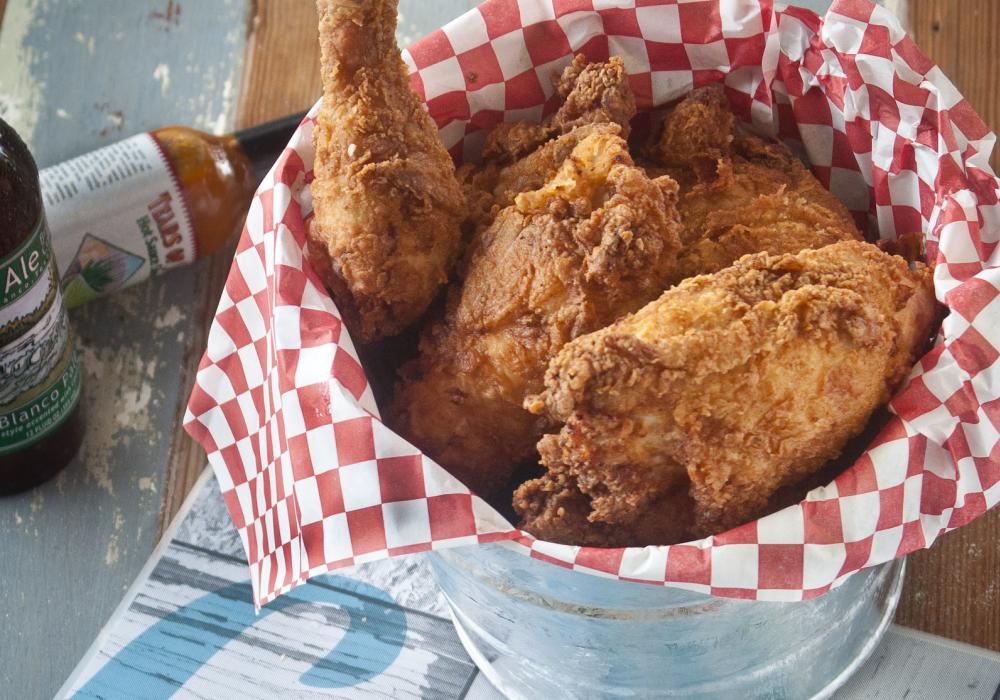 Courtesy of Lucy's Fried Chicken.
FRIED CHICKEN
T22 Chicken Joint offers a tasty Austin version of hot chicken. Order your fried chicken in a spice level ranging from Wimpy (mild) to Cluckin' Hot (cayenne adds a kick to the secret blend of spices). Pair your chicken with deviled eggs or collard greens and cool things down with an Adult Lemonade mixed with Deep Eddy vodka.
Get a taste of Korean fried chicken at the recently opened Charm BBQ Chicken. Order it straight-up fried or tossed in a sauce like spicy barbecue or honey garlic. While you're there try some of the other Korean dishes on the menu, like dumplings or deep-fried squid. Indulge in the snow ice flake with fruit topping for dessert.
Austin original Lucy's Fried Chicken serves up the bird in a variety of ways. Order a four-piece mixed basket (that comes with pickles and jalapeño peppers), boneless chicken tenders, a chicken sandwich or fried chicken spaghetti topped with cheddar cheese. Don't miss a slice of homemade pie, like the Elvis (a layer of chocolate topped with peanut butter cheesecake and bananas).
CRAWFISH BOILS
Nestled on the banks of Shoal Creek, the popular Shoal Creek Saloon offers a crawfish boil seven days a week (Mon.-Fri. beginning at 5 p.m., Sat.-Sun. from noon to close). Order crawfish by the pound and add on corn, potatoes and Andouille sausage links.
Quality Seafood Market, a staple on Austin's seafood scene, offers a crawfish boil on Thursday nights only. Beginning at 4 p.m., dive into a Louisiana-style feast that includes fresh crawfish, corn on the cob, potatoes and sausage.
Big Easy Bar and Grill is known for its authentic Cajun cuisine. Go for the traditional crawfish boil served with smoked sausage, or sample other specialties like the crawfish cakes or crawfish etouffee. Sides include gumbo or red beans and rice with sausage.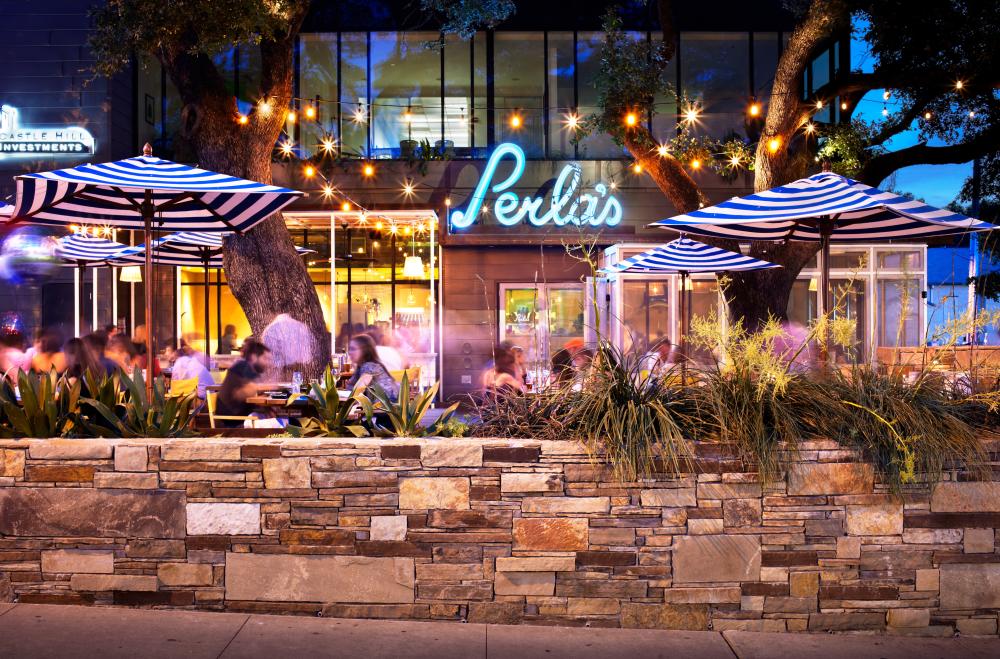 Perla's. Credit Casey Dunn.
FRESH SEAFOOD
Throw back some freshly shucked oysters on the beachy wooden deck at Perla's Seafood & Oyster Bar. A must for any seafood fan, this upscale South Congress seafood spot offers an amazing selection of oysters on the half-shell, appetizers like ahi tuna tartare and main courses that include crispy Texas Gulf Snapper.
You can't get much fresher than the seafood from Truluck's. Florida stone crab comes direct from Truluck's own traps to diners' tables within hours. Try the fresh crab claws, served chilled and pre-cracked with a special mustard. Or go for the pan-seared Japanese Hokkaido scallops with parmesan mashed potatoes and lemon-garlic butter.
Garbo's serves up New England cuisine with an Austin drawl. Try the fresh lobster roll prepared Maine style (chilled with homemade mayo, celery and a blend of special seasonings) or Connecticut style (warm, brushed with lemon-tarragon butter and sprinkled with scallions). Side it with homemade New England clam chowder and a Maine Root soda and you're good to go.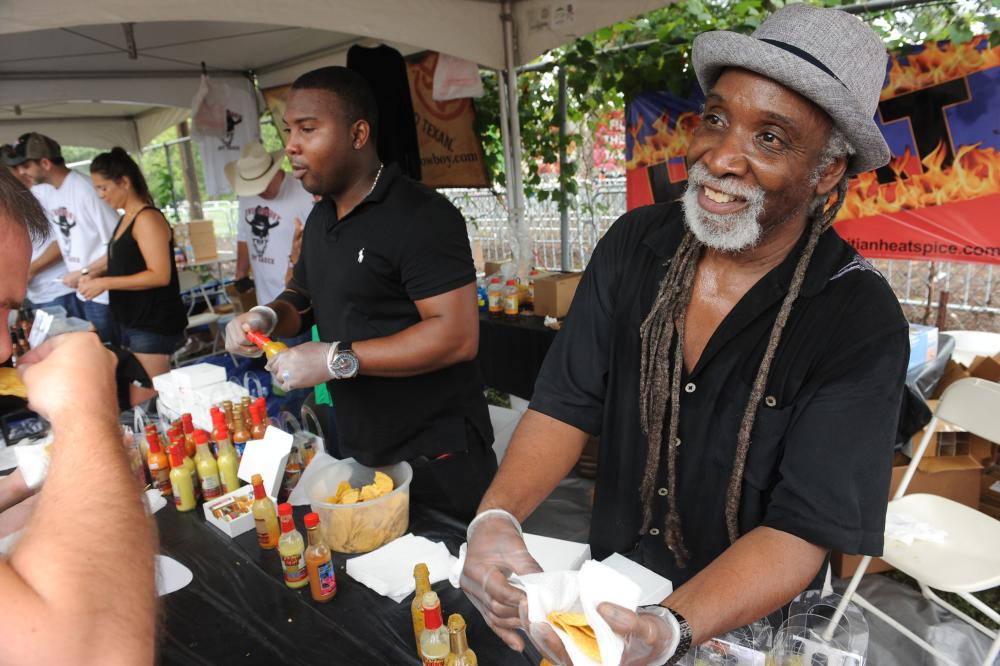 Austin Chronicle Hot Sauce Fest. Credit John Anderson, The Austin Chronicle.
SUMMER FOOD FESTS
The annual Quesoff, a celebration of all things melted cheese, returns to the Mohawk bar on July 27, 2019. Some 30 vendors, from top chefs to home cooks, will compete in four queso categories: Meaty, Spicy, Veggie and Wild Card. Buy a bag of chips and get a taste of an Austin favorite.
Head to Fiesta Gardens on August 25, 2019, for The Austin Chronicle Hot Sauce Festival, the largest hot sauce festival in the world. In addition to the hot sauce competition, where judges name the best red, green and specialty sauces, festival-goers can enjoy food from local restaurants, live music and hot sauce tastings.