Although Austin doesn't show off its cowboy culture as much as other Texas cities, it does have its fair share of honky tonks and country bars. Honky tonkin'—like the Hank Williams song—is a lively Texas tradition that likely originated as a form of entertainment at rural juke joints. Williams himself was a country music legend who performed his final show at the legendary Skyline Club, a former North Austin honky tonk. Although the Skyline Club is no longer open, its legacy remains in the form of Austin's many late-night country music venues. Here's a guide to some of the best honky tonks in town.
There's likely not a more legendary venue in Austin than the Broken Spoke. The bar, founded in 1964, is known for its spacious dance floor, two-steppin' lessons, and even its chicken fried steak. Although it's a popular tourism destination, the Broken Spoke has long been revered by locals and has always been more than just a fun bucket list item for visitors. The venue has hosted many great country and rock legends, even serving as an early launchpad for stars such as George Strait. Come enjoy an ice-cold beer and a live show at the Broken Spoke, and have yourself a truly legendary Texas experience.
In 1978, Donn's Depot started as a $300 real estate purchase, a few railyard cars, and a Goodyear tire salesman-turned-piano man named Donn Adelman. Now, Donn still sits behind the piano over 40 years later at least once a week to entertain patrons of Donn's Depot. This historic and lively honky tonk has been described as the "Oval Office" of the Live Music Capital. The Donn's community is a colorful cast of characters who are all part of its legendary story.
The oldest bar on Menchaca Road is Giddy Ups, a long-enduring music venue that has been a staple of South Austin for over a quarter of a century. The bar is a local favorite, having a great selection of drinks, an eclectic and impeccably stocked CD jukebox with everything from classic rock legends to music by local homegrown artists, and a warm community atmosphere. Its regular live music programming includes blues, country and rock 'n' roll. Come tune in to its live music offerings or join in on the shuffleboard tournament every Wednesday evening on its patio. 
If you're looking for a little place with a big heart, look no further than Little Longhorn Saloon, declared by the Washington Post as one of America's most authentic dives. This Central Austin institution off of Burnet Road may be tiny but it's one of the liveliest bars in Austin. It's hard not to get on board with the venue's live music offerings, ice-cold beer and no cover. Be sure to visit on Sundays for its original and infamous chicken s*** bingo. There's something for everyone at Austin's favorite little dive bar and honky tonk, the Little Longhorn Saloon!
Out in Spicewood, Poodie's Hilltop Roadhouse provides not only magical sunsets but also unforgettable live music experiences. In the past, this hill country honky tonk has hosted legends such as Willie Nelson, Ray Wylie Hubbard, Billy Joe Shaver, Jerry Jeff Walker, Freddy Powers, Asleep at the Wheel, and others. There are no bad days at Poodie's! Drive up, sit down, enjoy a cold one, and tune in to some live music on the hilltop.
The White Horse's younger sibling saloon, Sagebrush, is located along the deeper end of South Congress. The stone-brick venue features a stage indoors with a roomy dance floor. Out back, patrons are welcome to chill on the spacious patio space outside. The on-site food trailer BBQ Frank serves hungry customers with Mexican feastings, and the bar is fully stocked with beer and liquor. Not to mention, this South Austin watering hole is equipped with pool tables and good-time vibes.
On the east side of town, the White Horse can be the start of a wonderful night or the end of a long day. Either way, the venue will have you dancing, singing along, and having a great time. Enjoy the whiskey-slingin', the jukebox jammin', on-site taco truckin', and of course, the live music. Seven nights a week, crooners, rockers, and country bands hit the stage while a mass of locals and visitors alike gather for a night of fun, music, dancing, and drinks. This East Austin gem has become a local institution. If you're visiting, it's a can't-miss experience!
To learn more about Austin's country roots, check out our music history guide.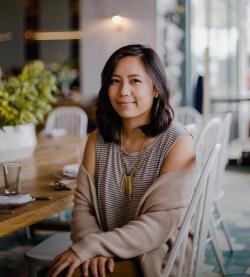 Contributed by Nathalie Phan.
Nathalie Phan is a local music connoisseur and the founder of On Vinyl Media and SoundSync Music. She is passionate about helping Austin musicians and the local music industry.
Twitter: @natphantastic