As far as cuisine goes, Austin is probably best known for barbecue, Tex-Mex and breakfast tacos. But the Austin Indian food scene grows every year, with some real powerhouses making themselves known within in city-limits and beyond. Here are some of our favorite places featuring bold flavors, traditional dishes, and fusion options.
Named for the city where the owner Sunil Kumar Yadav hails, Jaipur Palace focuses on classic Indian dishes with flair from the Rajasthan state in Northern India. It's a warm and inviting venue that has been a welcome addition to South Austin since it opened in 2019. Their onion-paneer kulcha, which is tandoor baked naan stuffed with cheese and onions, is always baked to perfection and pairs well with their wide range of flavorful curries.
One of the better-known restaurants on this list, Clay Pit is a contemporary Indian restaurant located in the historic Bertram building. They have all of your favorite traditional dishes alongside contemporary additions like curried mussels. They are also known for having a massive wine list as well as a long happy hour every day at the bar from 3:30 to 6:30 pm. Drop in Downtown or reserve a table online.
The Whip In is a unique venue with a down-to-earth atmosphere. Their star attraction is their regular slate of live music, trivia nights and other events. It's a bit of a hidden gem with an easy-to-miss location off of I-35, but it's been serving great vibes and quality Indian food since 1986. They have excellent snackables like lamb samosas and gobi manchurian (crispy fried cauliflower), alongside larger dishes like saag paneer and butter masala. 
With multiple locations in town, Tarka is a fast and affordable Indian restaurant that doesn't sacrifice quality for speed. It has been a rapidly growing Austin staple since 2009, and they have plenty of delicious options to show you why. The menu is highly customizable with your choice of curries, proteins, and spice levels with plenty of vegan, vegetarian, and gluten-free options. As a nice bonus, the City of Austin has classified Tarka as a certified "Green Restaurant," meaning that have environmentally-friendly practices and packaging. 
Coming from executive chef and owner Prabhakar Reddy, this food truck on South First Street makes for a perfect lunch spot. Reddy specializes in chicken tikka masala, chicken tikka kebab and chicken 65. At Bombay Dhaba, they know how to handle their spices. The whole experience makes for an excellent option for affordable Indian food. Their dosas (thin and savory pancakes), in particular, tend to receive a lot of well-earned praise.
Nasha is an Indian fusion restaurant located on East 7th Street. Their menu adds a Tex-Mex twist to Indian classics. Their chicken paneer comes with quesadillas instead of naan, and their taco plates can feature chicken tandoori. They offer flavor combinations you won't find in many other kitchens. It's a relaxed setting with a very colorful exterior, making for a wonderfully fun night out.
Over in the Northwest Hills area, this underrated spot offers Indian cuisine that embraces a Nepalese influence. Saffron Indian & Nepalese Cuisine has a self-proclaimed eclectic menu, but that doesn't stop it from being one of the most authentic Indian food experiences in town. A certified hidden gem, it's a charming and cozy place with beautifully designed murals inside and giant booths. Perfect for a special friend group hangout or a date night. They also have a south location in the Bee Caves area. Make a reservation online.
A South Austin favorite, Asiana Indian Cuisine knows what they are doing. There's nothing fancy about the set-up with them having a pretty minimal interior design. But they've clearly put all of their effort into their homestyle Indian cooking. It's a massive menu. They have delicious kadai chicken, gobi manchurian, lamb hyderabadi, and shrimp tikka masala, to name a few. Stop by for the lunch buffet or order take-out for dinner.
Looking for more options? Check out our restaurants page for a full list of places to eat in Austin that can be filtered by cuisine type and area of town.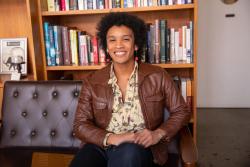 Jade Fabello is an Austin-based freelance writer who primarily writes personal essays about culture, art, grief, and love. You can find his work in publications like Texas Monthly, Starwars.com, Study Hall, and I love words and you, his newsletter that covers the craft of writing.