Resonating as the Live Music Capital of the World®, Austin easily boasts some of the most renowned working musicians of the past and present. From country and electronic blues artists to indie experimental rock bands, many household names have staked their claim from the beginning in this town's stomping grounds.
Involved in punk and chicano rock acts like Rank and File and The Nuns, Alejandro Escovedo hails from a musical-oriented background and has remained closely involved in the music scene in Austin since the late 1970's. Winning the Townes Van Zandt award at the Austin Music Awards celebration last year, Escovedo has remained driven while dedicating his life to digging at the essence of what constitutes the heart of rock and roll.
Persevering for fifty years, country and western swing act Asleep at the Wheel continue to sustain their thriving career. Winning nine Grammys and releasing over two dozen albums, the group boasts a wide array of musical virtuosos who have toured with the likes of Bob Dylan and George Strait. Showcased on the very first episode of Austin City Limits, Asleep at the Wheel endures as one of Austin's most beloved acts.
Famously recognized for his "Hi, How Are You?" mural, musician and visual artist Daniel Johnston's significance in his outsider status remains palpable, even after his passing in 2019. Honing in to an analog/lo-fi sound and seemingly youthful lyrics in his records emphasizes the fact that there can be genius in the simplicity.
Influenced by Jimi Hendrix and The Roots, Gary Clark Jr.'s modern take on R&B, rock and hip-hop are fused together to culminate in his prolific musical career. With his 2019 album This Land receiving high praise, Barack Obama has also honored Clark Jr after his White House concert, declaring of the young musician that "he's the future."
Marking their start in 2000, Austin's eclectic nine-piece Latin/funk act Grupo Fantasma combines a unique force of sound showcasing a multitude of cultural identities. Backing the legendary Prince on numerous occasions, Grupo Fantasma continues to evolve and grow in their expansive compositions and impactful live showcases.
Claiming gospel, folk and blues music as her very own, Janis Joplin made a name for herself by rebelling against the norms of what constituted a female musician in the '60s. Associated with highly profiled acts like The Grateful Dead and Kris Kristofferson, she was recognized for her distinct and explosive vocals while stunning her audiences with an exuberant stage presence, earning her an impressive degree of success before her death in 1970.
Three-time Grammy winner Lucinda Williams is living proof that quality consistently wins over quantity. Sharing her country and Americana chops that are simultaneously distinct and commercial in sound has won over a following of loyal fans as well as gathered acclaim from critics for her unwavering songwriting skills.
Performing under the moniker Shakey Graves, Alejandro Rose-Garcia has an innate knack for vulnerable storytelling as he digs his heels into country and blues roots. Taking home the Best Emerging Artist award at the 2015 Americana Music Awards, the musician's youthful persona and charismatic live shows have garnered attention from his start in 2007 and throughout his steadfast career.
Formed in the mid-'90s, experimental rock act Spoon have remained pervasive in Austin's indie music scene. Combining raw instrumental talent with an underdog credibility, the ever-evolving group has won over their fans with their infectious songwriting capability, simultaneously never teetering past the line of showy and overblown rock-stardom.
Emanating a blues-rock swagger, Stevie Ray Vaughan's guitarist sensibilities earned him a place in the Blues Hall of Fame in 2000. With a soaring professional career and consistently sold out concerts, he became recognized for his eclectic and fervent style of playing. Despite his relatively short lived career before his death in 1990, Vaughan is often cited as one of the greatest guitarists and artists of all time.
And, of course, no list of Austin musicians would be complete without Willie Nelson. Symbolized with a prominent statue outside downtown's Austin City Limits, Willie Nelson arguably remains one of the most recognized artists in our collective knowledge of country and Americana music. Collaborating with a myriad of artists and with songs like "Crazy" and "Always On My Mind" covered by a host of others, Nelson has written a plethora of memorable songs that paint the soundtrack to our lives. He remains active as a touring musician and recording artist to this day.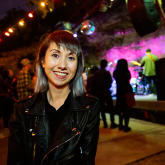 Contributed by Trish Connelly.
Trish Connelly is an Austin booker and promoter at downtown venue Cheer Up Charlies. Going under the moniker The Nothing Song, she primarily works with local and indie touring acts to curate collaborative events on any given night of the week. She also runs her own indie record label and conducts music interviews and reviews for various blog outlets.
Instagram / Twitter / Facebook / Website