New & Notable Developments in Austin
With a slate of new hotels, event spaces and restaurants opening in Austin, you might find it hard to keep up with us. But don't fret. We've created a hot list to help you keep track of all that's new in the city.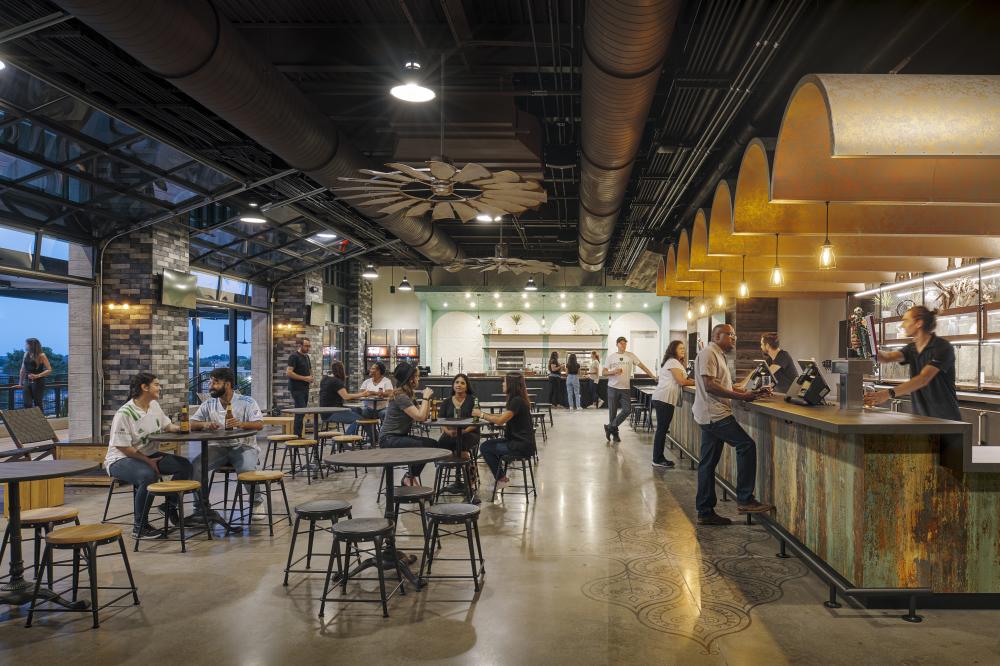 Q2 Stadium, Captain Morgan Club. Credit Gensler.
New Event Spaces & More
Moody Center was built in partnership between the University of Texas at Austin (UT), Live Nation and Matthew McConaughey. The 15,000-seat Moody Center will play host to UT basketball games, along with a number of the best and biggest acts in live entertainment. Austin-based McConaughey will act as the "Minister of Culture" at the venue, ensuring that Longhorn and Austin cultures are front and center and helping create a fan experience unlike any other. Moody Center opened in April 2022.
Designed by world-renowned architects Thomas Phifer & Partners, the Moody Amphitheater is situated in the heart of 11-acre Waterloo Park. With its Great Lawn and the Texas State Capitol as a dramatic backdrop, the outdoor amphitheater is a vibrant venue that can hold 5,000 attendees for concerts and events.
Catch live sports in action at the new 20,500-seat Austin FC Stadium, where the newest MLS team, Austin FC, began play in June 2021. Expect to see co-owner and Oscar-winning actor Matthew McConaughey cheering the team on in the stands.
Opened in Spring 2022, The Pitch is a food and entertainment destination for soccer fans and visitors. Located adjacent to the Austin FC training facility, the space will house four restaurants, two bars, a coffee shop and plenty of room for events of all sizes.
Ping pong palace Smash ATX combines sports, nightlife and dining all under one roof. Play a game or two, then settle in for comfort food like crispy chicken sandwiches sided with a local beer or cocktail.
The new location of HOPE Outdoor Gallery is expected to open across from Austin-Bergstrom International Airport in 2022. The 18-acre, open-air cultural center will feature large-scale public art, a collection of shipping containers housing shops and gallery spaces, a rooftop bar and food trucks.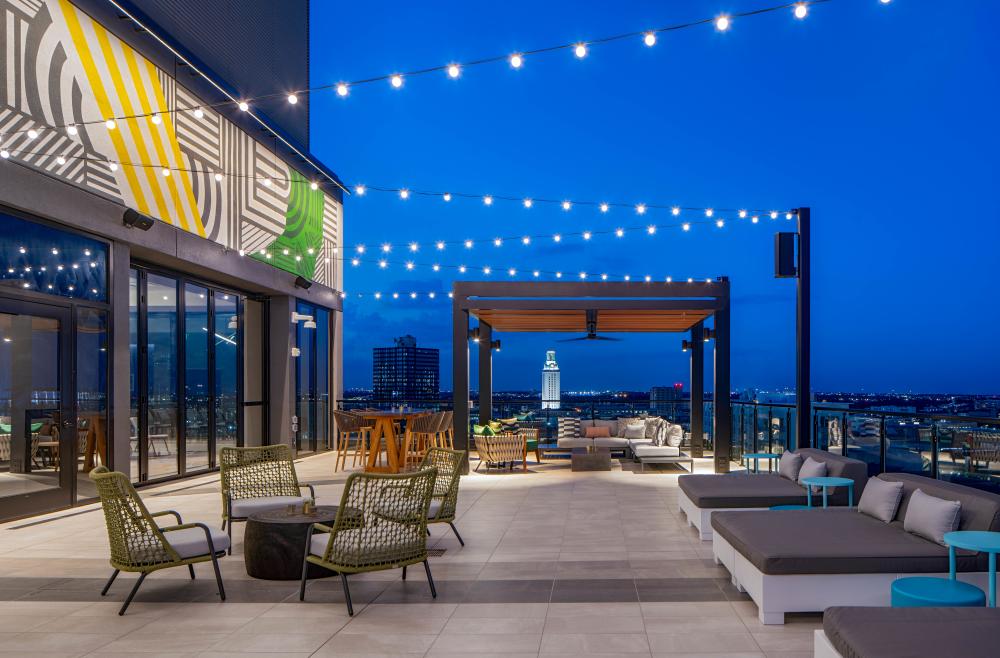 Courtesy of Hilton Garden Inn Downtown Capitol District.
Hotels Opening Soon
Origin Hotel
Aldrich and McBee Streets
Early 2022
Located in the Mueller neighborhood, this five-story boutique hotel offers 120 rooms and a restaurant with courtyard dining. It's located just east of the Aldrich Street Paseo pedestrian promenade, featuring shopping, nightlife and entertainment.
Hyatt Centric
Congress Ave. and Eighth St.
September 2022
This boutique property from Hyatt will offer guests 246 rooms and an estimated 2,000 square feet of meeting and event space. The 1,400-square-foot presidential suite will also be available as a private event space. Guests can enjoy a vibrant ground-floor restaurant and bar, a second-floor bar, an eclectic eighth-floor outdoor lounge and bar, and a 24-hour fitness center.
EVEN Hotel by IHG – Austin North Near the Domain
The Domain
June 2022
As the first EVEN Hotels brand property to open in Texas, the Austin location will offer 129 rooms within Austin's Domain shopping area and near the city's technology corridor. Guests can expect to stay healthier and happier with a wellness-savvy staff that offers best-in-class fitness experiences, healthier food choices and relaxing spaces. The hotel will have 2,500 square feet of meeting space, a business center, an Athletic Studio and onsite parking.
The Loren  
211 S. Lamar Blvd.
Summer 2022
The luxurious comfort of The Loren will feature a panoramic view of the Austin skyline and Lady Bird Lake. The hotel will include 108 rooms, a rooftop restaurant, event space, and a bar and lounge.
Cambria Hotel North Austin Near the Domain & Cambria Hotel Austin Airport
13201 Burnet Rd. | 7900 E. Ben White Blvd.
North Austin Opening December 2022 | Airport Opened April 2022
The E. Ben White Blvd. location  will offer 119 rooms, and is conveniently located close to Austin-Bergstrom International Airport. A second location on Burnet Road, within a mixed-use development in Austin's high-tech corridor, will include 135 rooms, spa-style bathrooms with Bluetooth-enabled mirrors, a fitness center and pool, 5,500 square feet of meeting space, a bistro and a bar serving local craft beers, and an outdoor courtyard with a fire pit and gathering space.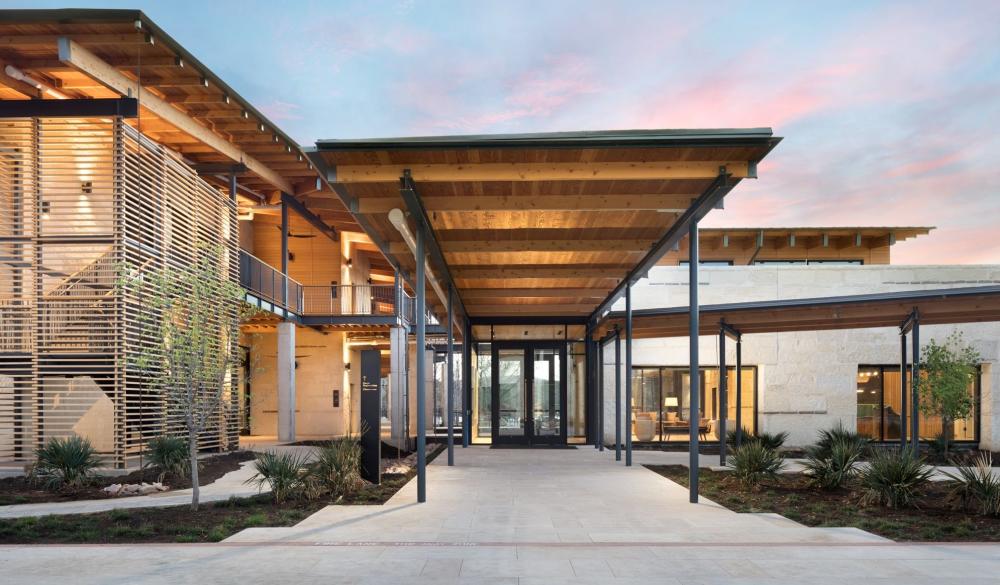 Courtesy of Campus on Lake Austin.
Recently Opened Hotels
Thompson/tommie Austin
506 San Jacinto Blvd.
Opened January 2022
This dual-brand hotel incorporates luxury in one locale and lifestyle in the other, housed within a new 32-story, mixed-use tower. The Thompson and tommie Austin are both Hyatt boutique hotel concepts. The Thompson is the larger of the two, with 211 hotel rooms, and the tommie features 190 rooms. 
AC Hotel Austin Hill Country
7415 Southwest Pkwy.
Opened November 2021
Experience modern sophistication at the new AC Hotel Austin Hill Country, perfectly situated in the beautiful central Texas foothills, yet only minutes from downtown Austin. Sip cocktails at Salt + Stone, a rooftop bar with spectacular views of the Texas Hill Country. The hotel features 929 square feet of event space and three meeting rooms.
Hilton Garden Inn Austin University Capitol District
301 W. 17th St.
Opened August 2021
Austin's newest Hilton Garden Inn location will feature 18 stories, 214 rooms, 126,029 square feet of hotel space, and an additional 1,900 square feet of restaurant space on the ground floor. Located just a few blocks from the University of Texas, Darrell K Royal - Texas Memorial Stadium, The Moody Center, the Texas State Capitol and a short distance to Downtown Austin nightlife and entertainment.
Campus on Lake Austin
4907 Ranch Road 2222
Opened April 2021
Tucked into the shores of Lake Austin, the Campus is a premier event venue that allows for seclusion, focus, and relaxation. Our diverse meeting space, comfortable sleeping rooms, and one-of-a kind location offer variety and serenity. Furthermore, all proceeds from the Campus directly fund the mission of The Holdsworth Center to improve public education in Texas through leadership development.
Austin Marriott Downtown
304 E. Cesar Chavez St.
Opened March 2021
This new hotel is situated in a prime location across from the Austin Convention Center and includes more than 600 rooms (including 25 stunning suites), nearly 60,000 square feet of meeting space, a rooftop pool, bars and locally inspired restaurants.
Moxy Austin-University
2552 Guadalupe St.
Opened January 2021
This millennial-focused, boutique-style hotel from White Lodging features 154 stylish, tech-enabled rooms, Bar Moxy (open for lunch and dinner), the 24-hour Zombie Taco truck and interactive gathering spaces.
Colton House Hotel
2510 S. Congress Ave.
Opened January 2021
Taking inspiration from HomeAway, Airbnb and the local Austin neighborhood, this three-story boutique hotel includes 80 spacious studio, one-, two and three-bedroom suites. Guests will also find a 5,000-square-foot lawn for events, a rooftop space and Simona's, offering craft coffee and cocktails (ideal for private parties).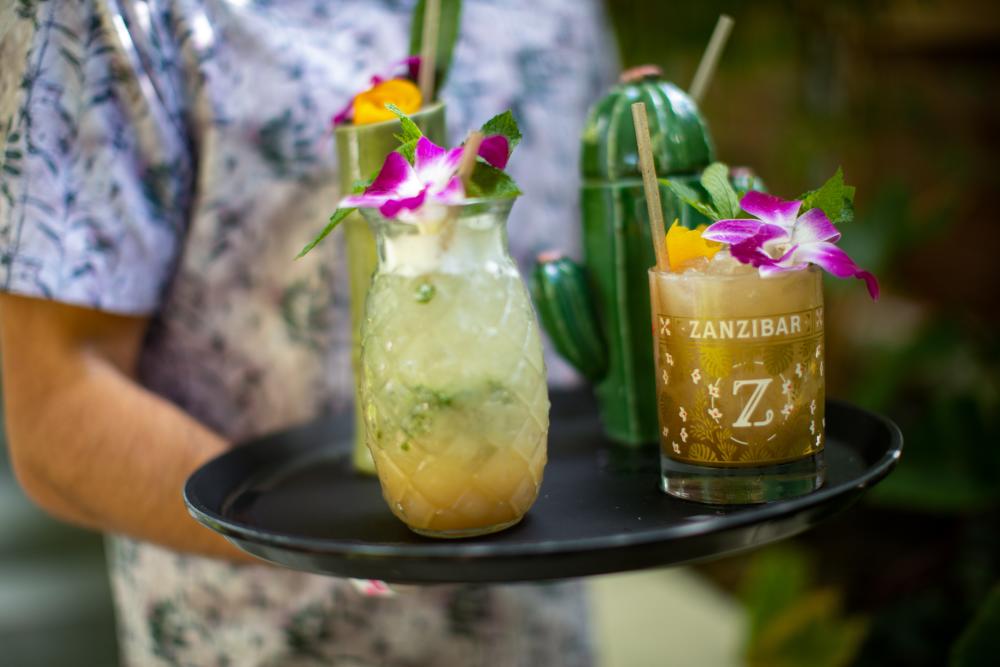 Zanzibar. Courtesy of Austin Marriott Downtown.
Dining & Drinking
Opened in March 2021, the Austin Marriott Downtown offers a variety of dining and drinking options, including contemporary regional dishes served at Corinne, or tiki cocktails and a taste of the islands at Zanzibar.
Anchored by a charming historic home, Ani's Day & Night offers something for everyone. Inside is a cafe and bar serving coffee and cocktails. The expansive, shady outdoor space features two food trucks, plus room for live music, pop-ups and events.
Grey Diner Bar and Grey Market at the downtown Thompson Austin hotel are helmed by James Beard Award winner Mashama Bailey. Opened in January, Grey Diner Bar features sandwiches, charcuterie and cocktails, while Grey Market's Southern-style bodega offers grab-and-go sandwiches and boxed lunches.
Celis Brewery, the granddaddy of Austin craft breweries, has opened a huge new outdoor beer garden and taproom. CTX Beer Garden at Celis Brewery, the Belgian brewery's 12,000-square-foot space, has plenty of seating, a stage for live music and events, plus food trucks. The indoor taproom features staple and seasonal Celis beers, including its new Mexican lager.
The team behind acclaimed Emmer & Rye has opened Canje, a new Caribbean restaurant in East Austin. The menu is based on executive chef Tavel Bristol-Joseph's favorite foods from his childhood in Guyana, as well as the cuisine of Puerto Rico and Jamaica. Don't miss the fruity Caribbean-influenced cocktails.
Fareground is Austin's spectacular downtown food hall, housing outposts of favorite local restaurants and bars. Newly opened eateries here include Little Wu (Chinese dumplings and noodle soups), Austin Rotisserie (French roasted chicken), The Market (salads, pizza and sandwiches) and Taco Pegaso (tacos and burritos).
Named by Eater as one of the 11 Best New Restaurants in America, Distant Relatives food truck raises the bar on barbecue. Pitmaster Damien Brockway looks to his African ancestry for unique ingredients to sauce his meats, such as molasses and chile-vinegar butter, and cooks up sides like fresh corn grits. Distant Relatives is parked at Meanwhile Brewing Co.
Dripping Springs Vodka & Gin in the Texas Hill Country has opened Distillers Hall. Post up in this new space that houses the distillery's tasting room, a craft cocktail and wine bar, and a kitchen serving Southern eats.
Brand new to Austin's beer scene is Koko's Bavarian. This German Texan brewery celebrates the historical German culture of Central Texas with a menu of house made sausages, schnitzels, Belgian-style fries and more. Koko's is a great spot for events with it's large and open warehouse setting, and 400-seat outdoor biergarten.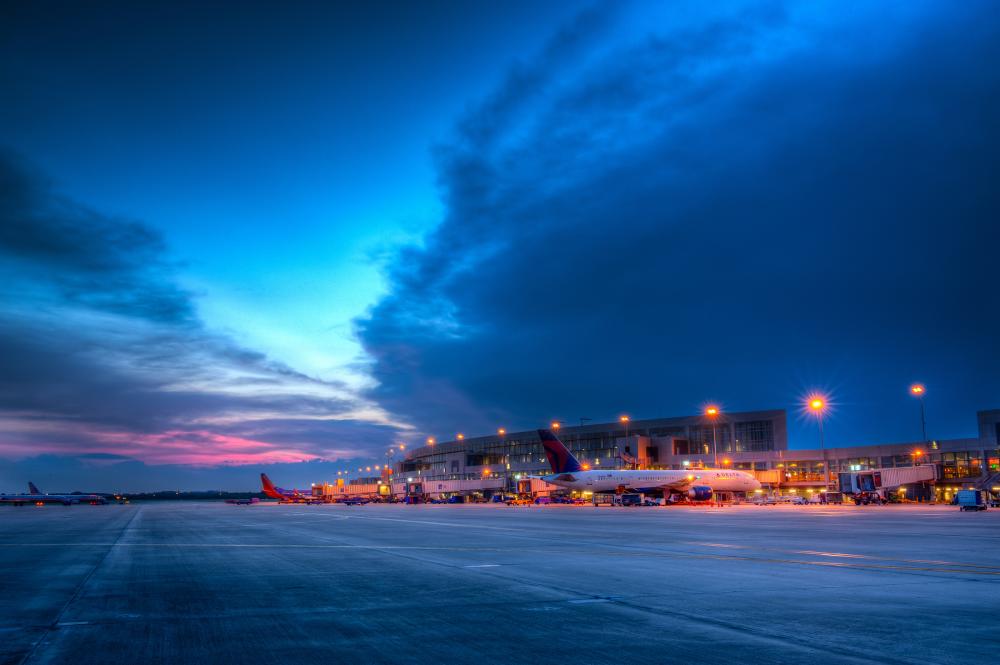 Austin Bergstrom International Airport. Credit Dave Wilson.
Airport Updates
American Airlines announced plans to break ground on a new 15,000+-square-foot Admirals Club at Austin-Bergstrom International Airport (AUS). The lounge will seat more than 250 customers, making it the largest airport lounge in Austin. The inspiration for the lounge is taken from the city itself, reflecting the urban fabric of downtown entertainment districts, city parks, and local art and music. Once open, travelers will also be entertained by local musicians. Construction on the new lounge will begin 2022.
In January 2022, AUS announced new nonstop service between Austin and London Heathrow via Virgin Atlantic. Beginning in May 2022, the four-times-a-week service will be the airline's first new route from the US since 2015. Service will operate on the airline's 787-9 aircraft boasting 31 Upper Class, 35 Premium and 192 Economy Delight, Classic and Light seats.
KLM Royal Dutch Airlines also began nonstop service to AUS from Amsterdam Airport Schiphol in March 2022. The route will fly three times a week on Mondays, Thursdays and Saturdays between Austin and Amsterdam on an Airbus A330-300.
In March, American Airlines also announced 10 new, returning and seasonal routes to AUS, in response to customer demand. New and increased service to year-round destinations include Las Vegas (LAS), Nashville (BNA), Raleigh-Durham (RDU), Washington Dulles (IAD), New Orleans (MSY), Orlando (MCO) Tampa (TPA) and more.
Hawaiian Airlines began a new nonstop route between AUS and Honolulu's Daniel K. Inouye International Airport (HNL) in April 2021. Flights operate twice a week, with the HNL to AUS flight arriving Wednesdays and Saturdays at 10:10 p.m. and departing Austin at 10:10 a.m. the following morning. This new route is the first nonstop air service to Hawaii for Central Texas travelers, and the first Pacific route from AUS. This is Hawaiian Airlines' first connection into Texas.
For the third year in a row, Austin-Bergstrom International Airport (AUS) has been named among the top 10 Best Airports in the United States by the readers of Condé Nast Traveler. AUS earned 10th place on the list and was the only Texas airport to win a Readers' Choice Award this year. The award cited Austin-Bergstrom's easy navigation, live music and local Texas food as reasons readers listed the airport among the best.