New & Notable Developments in Austin
Austin continues to be one of the most exciting cities in the country, with new event and sporting venues, hotels and restaurants debuting throughout the city. Check out our hot list to keep up with all that's new in Austin.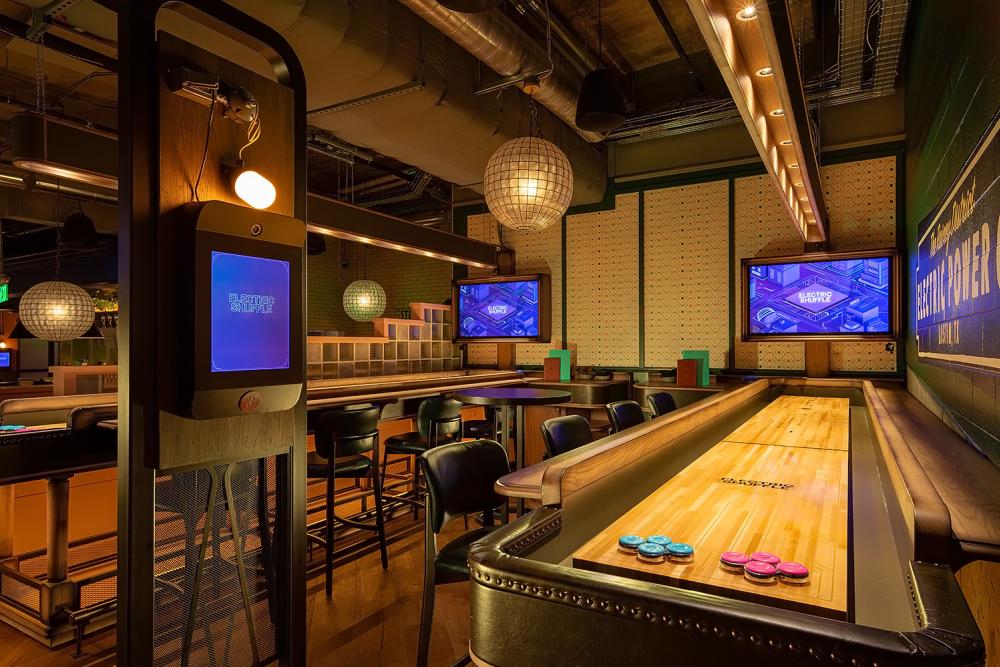 Courtesy of Electric Shuffle.
Special Event Venues
Book your next team building event at Electric Shuffle, just a short walk from picturesque Lady Bird Lake. High-tech electric shuffleboard game competitions are the draw here, although the venue is also known for its drinks and bar fare. Pair a craft cocktail with pizza and sliders, or platters meant for sharing. Groups can splurge on The Celebration Package that includes a magnum of bubbly and 10 cake pops for dessert.
Make it a one-stop night at side-by-side Brushy Street venues Parish and My Oh My. At My Oh My, DJs play world music — from African beats to hip-hop classics and Latin grooves. Next door, at Parish's new location, see bands, tribute artists and comedians onstage. Check Parish's events calendar for upcoming shows.
Planning indoor/outdoor parties just got easier with the opening of Highbrow House/Lowbrow Garden. Opt for an intimate gathering inside the antiques-filled Highbrow House, or invite 450 people to a cocktail party in the tree-shaded Lowbrow Garden space outdoors. For something different, ask about the silent disco rental —imagine everyone wearing a headset, dancing to their own tunes. It's fun to watch (and hear if you take off your headset and listen to everyone singing).
The Pitch lives up to its promise of food, fun and fútbol in the Parmer Pond District, home of the Austin FC pro soccer training center. Watch games in the beer garden or at Parmer Field, or reserve a court for your group to play pickleball. Food and drinks are available from The Pitch's four restaurants and two bars.
HiHello Is a new underground venue with speakeasy vibes. Its three customizable spaces can accommodate 10 to 400 guests, from stylish small dinners to grand galas. Added bonus: Attendees will love the convenience of the location, which is near the Austin Convention Center, hotels, and Rainey Street bars and restaurants.
Consider creating your own exclusive event reminiscent of a 1970s dance party at Superstition nightclub. Superstition offers private lounges, or you can rent the whole nightclub, complete with a balcony, dance floor and shiny disco balls.
Redevelopment is underway at the 19-acre Austin-American Statesman's former office site at 305 S. Congress Ave. Plans for the high-profile property with prime Lady Bird Lake views include a hotel, condos, stores, restaurants and offices.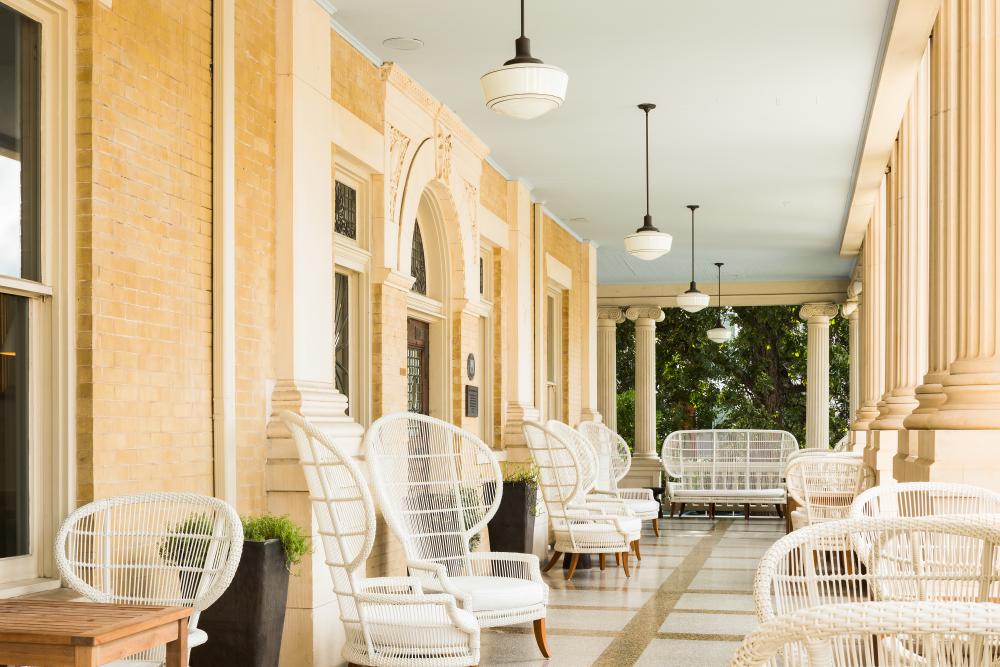 Hotel Ella. Credit Jake Holt Photography.
Hotels Opening Soon
Fairfield Inn & Suites Austin Downtown
76 East Ave.
August 2023
​The 17-story Fairfield Inn & Suites Austin Downtown is scheduled to open August 2023 in the popular Rainey Street entertainment district. With 126 rooms and suites, the high-rise hotel will offer downtown views, a rooftop terrace, balconies and a central location within walking distance to the Austin Convention Center, attractions, nightlife and dining.
Cambria Hotel Austin Downtown
68 East Ave.
October 2023
Near the end of 2023, guests can begin checking in to the 14-story Cambria Hotel in the Rainey Street district. Its upscale plans include 212 rooms, a fitness center, pool and terrace, and lobby bar. Guests can easily walk to events at the nearby Austin Convention Center and enjoy the trails of Lady Bird Lake.
CitizenM Austin Downtown
617 Colorado St.
October 2023
Dutch hotel brand CitizenM is making it's Texas dubit with a new 17-story, 344-room hotel. Less than a mile from the Austin Convention Center, all CitizenM rooms offer XL king beds and the hotel will boast a rooftop pool, along with the canteenM Bar & Kitchen.
EVEN Hotels Austin Uptown Near the Domain
13205 Burnet Rd.
December 2023
As the first EVEN Hotels brand property to open in Texas, the Austin location will offer 129 rooms within Austin's Domain shopping area and near the city's technology corridor. Guests can expect to stay healthier and happier with a wellness-savvy staff that offers best-in-class fitness experiences, healthier food choices and relaxing spaces. The hotel will have 2,500 square feet of meeting space, a business center, an Athletic Studio and onsite parking.
Hotel Ella 
1900 Rio Grande Street
Renovation plans continue to evolve for the historic, 47-room Hotel Ella. The stylish boutique property, which includes an 1898 Greek Classical Revival mansion known as the Goodall Wooten House, will undergo an estimated $100 million in improvements. Plans include quadrupling the number of rooms and adding a rooftop garden, parking spaces, fine dining, and cigar, scotch and wine bars.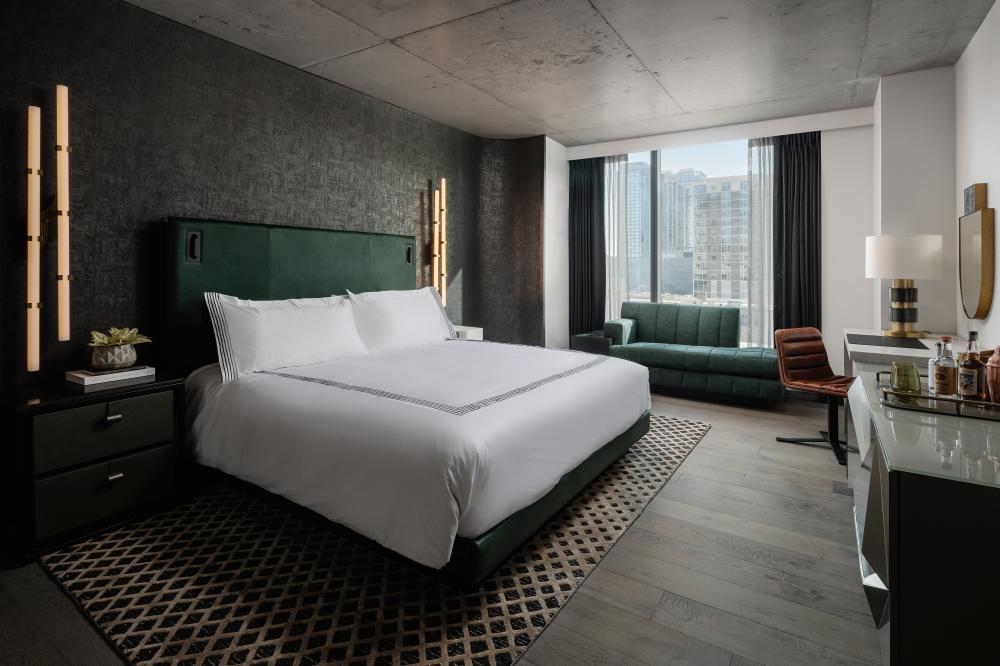 Thompson Austin. Credit Chase Daniels.
Recently Opened Hotels
Hyatt Centric
Congress Ave. and Eighth St.
Opened February 2023
Opened in February 2023, the music-themed Hyatt Centric boutique hotel offers 246 guest rooms and 2,560 square feet of flexible event space, less than a mile from the Austin Convention Center. The three meeting spaces feature built-in audiovisual capabilities and eye-catching floor-to-ceiling windows. Reserve a meeting venue overlooking Congress Avenue for a presentation or cocktail reception. Alternatively, opt for the 225-square-foot Recording Lounge to stage a six-person gathering in a unique space inspired by Austin's rich musical history. Elevated food and beverage options from Chef Steve McHugh set the tone for any occasion.
Cambria Hotel North Austin Near the Domain & Cambria Hotel Austin Airport
13201 Burnet Rd. | 7900 E. Ben White Blvd.
North Austin Opened December 2022 | Airport Opened April 2022
The E. Ben White Blvd. location  will offer 119 rooms, and is conveniently located close to Austin-Bergstrom International Airport. A second location on Burnet Road, within a mixed-use development in Austin's high-tech corridor, will include 135 rooms, spa-style bathrooms with Bluetooth-enabled mirrors, a fitness center and pool, 5,500 square feet of meeting space, a bistro and a bar serving local craft beers, and an outdoor courtyard with a fire pit and gathering space.
The Loren at Lady  Bird Lake
211 S. Lamar Blvd.
Opened October 2022
The Loren at Lady Bird Lake features a panoramic view of the Austin skyline and Lady Bird Lake, just over a mile from the Austin Convention Center. The luxe hotel includes 108 rooms, a rooftop restaurant and poolside terrace, event space, and a bar and lounge.
Thompson/tommie Austin
506 San Jacinto Blvd.
Opened January 2022
Hyatt's dual-branded Thompson Austin and tommie Austin hotel incorporates luxury and lifestyle, housed downtown within a 32-story, mixed-use tower that includes restaurants, ballrooms, bars and a pool. The Thompson is the larger of the two hotels, with 211 hotel rooms, while tommie Austin features 190 rooms. 
Origin Hotel
1825 McBee St.
Opened June 2022
Located at Aldrich and McBee streets in the Mueller neighborhood, the chic Origin Hotel offers 120 rooms, a fitness center and the Blue Lacy restaurant with courtyard patio dining. The five-story boutique hotel is just east of the Aldrich Street Paseo pedestrian promenade, featuring shopping, nightlife and entertainment.
Renaissance Austin Hotel
9721 Arboretum Blvd.
Renovation Completed October 2022
​One of the city's largest hotels, Renaissance Austin, has $10 million in renovations to show off. The 492 rooms received makeovers and the indoor and outdoor public spaces, including meeting venues and the fitness center, were freshened up. The Knotty Deck & Bar features an inviting patio, and Choza serves breakfast tacos and coffee.
Hotel Viata
320 S Capital of Texas Hwy.
Rebrand Completed November 2022
The luxury resort Hotel Viata, formerly known as Hotel Granduca, recently upgraded and rebranded. In addition to excellent Spa Viata services, guests can now dine at Laurel, its new Italian restaurant.  What hasn't changed are the spectacular hill views, refreshing pool and glorious gardens.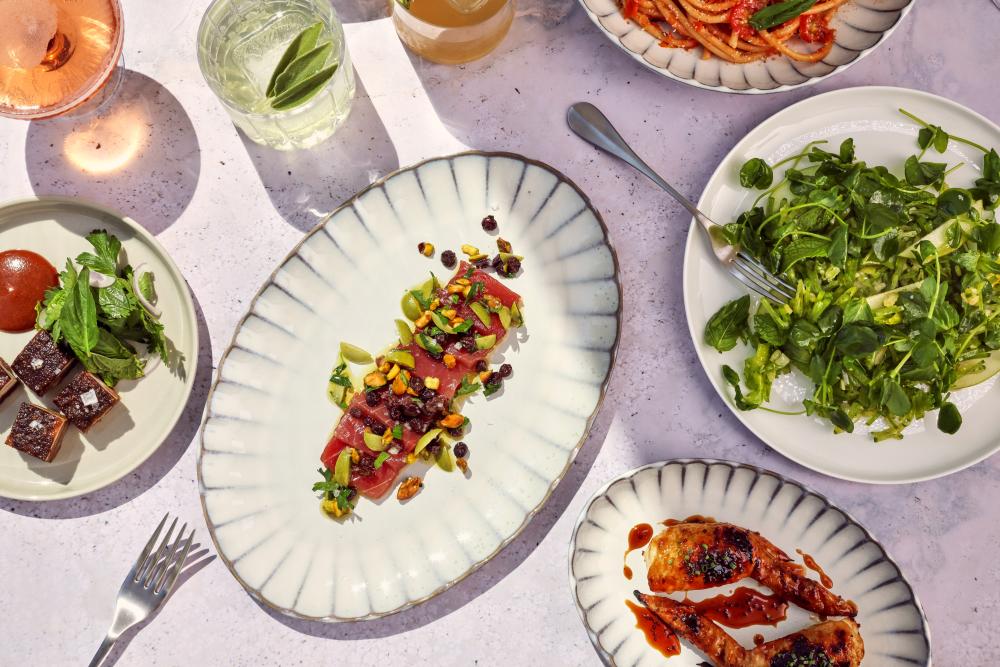 Nido at The Loren. Credit Mackenzie Smith Kelley.
Dining & Drinking
Austin is proud to have two chefs and restaurant owners who are 2022 James Beard Award winners. Iliana de la Vega, of El Naranjo, won the Best Chef award for Texas. Edgar Rico of Nixta Taqueria won the Emerging Chef category (he also made the TIME100 Next list of most influential people in 2022).
Luminaire restaurant opened in February 2023 on the street level of the Hyatt Centric hotel. Six-time James Beard Award-nominated Chef Stee McHugh helms the new Congress Avenue restaurant that specializes in seasonal Texas fare. Also opening in February is the hotel's eighth-floor Las Bis terrace bar, which will serve small bites, craft cocktails and wine.
The elegantly appointed Loren at Lady Bird Lake opened Nido, a new restaurant and cocktail lounge on the hotel's rooftop. Enjoy exceptional service and expansive lake and Austin views while dining on seasonal fare served at breakfast, brunch, lunch and dinner.
Maie Day steakhouse is one of the six bar and restaurant options in the hip South Congress Hotel. Start with the grilled oysters glistening with bourbon barbecue butter, then move on to main courses like the pepper-glazed big pork chop accompanied by a selection of sides that include charred okra with ham bits.
Savor the Texas flavors at Ember Kitchen and Subterra Agave Bar on Cesar Chavez Street. Puerto Rican chef María Mercedes Grubb's menu features wood-fired food accented with a Latin flair. Menu standouts include the Texas Wagyu skirt steak. Start or end a meal downstairs with cocktails in the Subterra speakeasy.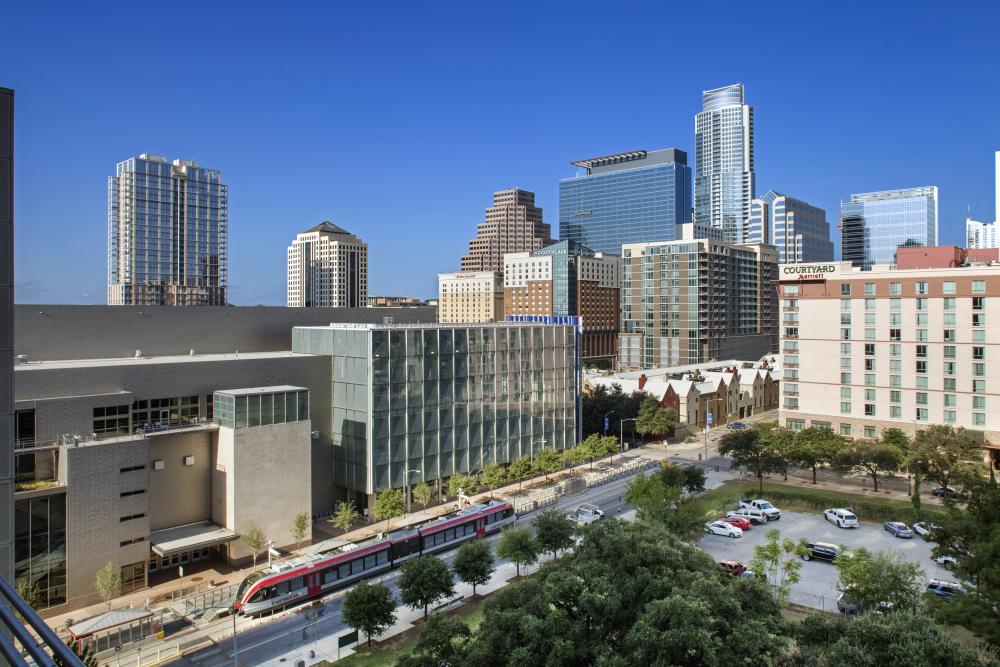 Austin Convention Center.
Austin Convention Center
In May 2023, the City of Austin announced plans to seek a qualified professional design and engineering firm for the redevelopment and expansion of the Austin Convention Center. The project has been studied and planned for several years to meet the demand from larger conventions and meeting groups that desire to come to Austin. Currently, the Austin Convention Center has 376,000 square feet of rentable space. The expansion and redevelopment target is to nearly double the amount of rentable space allowing the Center to remain competitive in the marketplace. The current project timeline estimates that building closure, demolition, and construction activities will begin in 2025 with the new, larger facility reopening in 2029. Learn more about the Austin Convention Center here.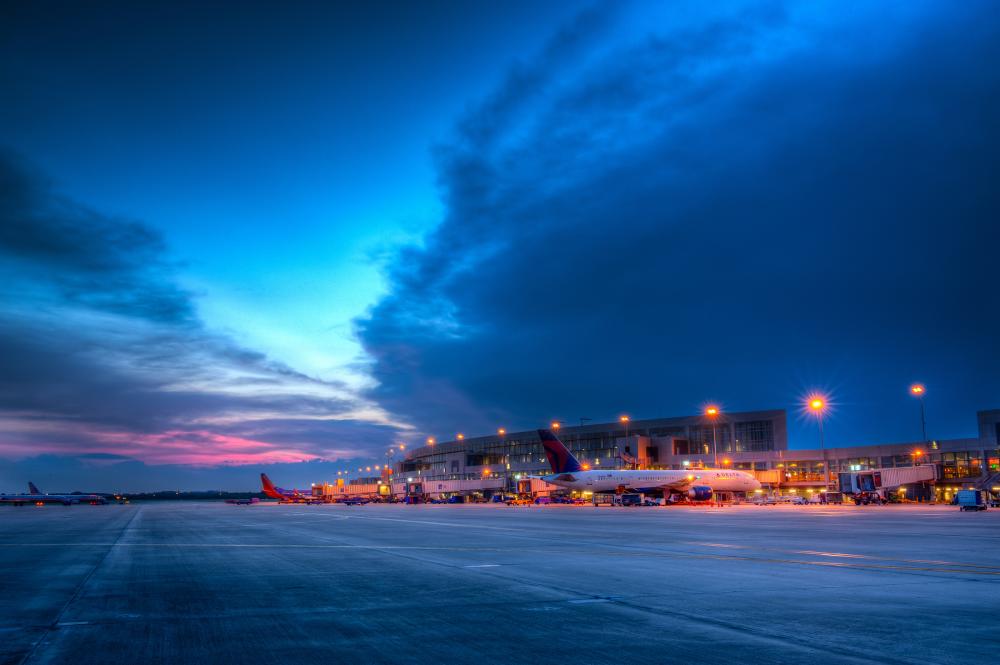 Austin Bergstrom International Airport. Credit Dave Wilson.
Airport Updates
On Oct. 25, 2022, Austin-Bergstrom International Airport (AUS) set a record for its busiest passenger day. A total of 43,177 passengers were on flights departing Austin following the U.S. Grand Prix. In other big news at AUS, the airport achieved carbon neutrality at Level 3+ for the second year in a row — it's one of only two airports in North America to do so.
In July 2023, AUS began nonstop service from Panama City, Panama via Copa Airlines, marking the carrier's first destination in Central Texas. The airline, based out of Panama, is the sixth international airline at AUS and the fourth new carrier to launch since 2020. AUS is now Copa's 15th US destination and the route increases Copa Airlines' network to 80 destinations in 32 countries in North, Central, and South America and the Caribbean.
In May 2022, AUS began nonstop service between Austin and London Heathrow via Virgin Atlantic. The four-times-a-week service was the airline's first new route from the United States since 2015.
KLM Royal Dutch Airlines also began nonstop service to AUS from Amsterdam Airport Schiphol in March 2022. The route flies daily. And Lufthansa resumed five-times-weekly flights to and from Texas' capital to Frankfurt, Germany, offering a connection between two culture-rich cities and an important link for the region's ever-expanding technology ecosystem and global technology hubs.
In June 2022, Air Canada began nonstop service between AUS and Vancouver International Airport, connecting Austin to the new destination of Vancouver, Canada, and a trans-Pacific airport hub that provides more nonstop flights to China than any other North American or European airport.
American Airlines continues to expand service to Austin, including from Southern California, Florida and Vail, Colorado. The nonstop service to Vail's Eagle County Regional Airport connects travelers to the popular ski resort area. New California destinations area Palm Springs International Airport and John Wayne Airport in Orange County. Florida-bound passengers can now fly to Southwest Florida International Airport and Sarasota Bradenton International Airport.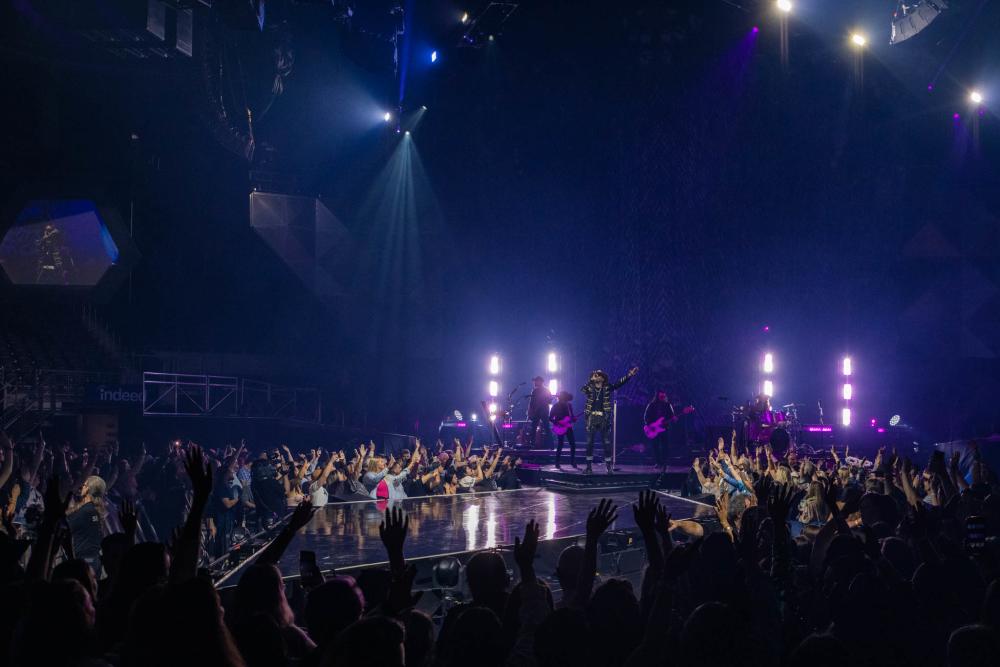 Moody Center. Credit David Brendan Hall.
Sports/Entertainment News
The prestigious ATX Open professional Women's Tennis Association tournament was held from Feb. 27 through March 5, 2023 at Westwood Country Club. It was the first event in the new 1,500-seat stadium built exclusively for tennis. The ATX Open will return in spring 2024 and attendees can purchase group tickets for daytime or evening events to see top players from around the world play in exciting matches.
The Moody Center, which opened in April 2022, was built in partnership between The University of Texas at Austin, Live Nation and Matthew McConaughey. The 15,000-seat venue hosts UT basketball games, along with a number of the best and biggest acts in live entertainment. On April 2, 2023, the Moody Center hosted the record-setting CMT Music Awards.