"Summer time and the living is easy" here in Austin, Texas. This summer, spend your time soaking up the sun in the Live Music Capital of the World®. Austin provides you with water, music, nature, eats, drinks and many more exciting things to do. And to help you navigate the cool waters of summer entertainment, we have put together this list of the top 20 essentials for an epic summer trip: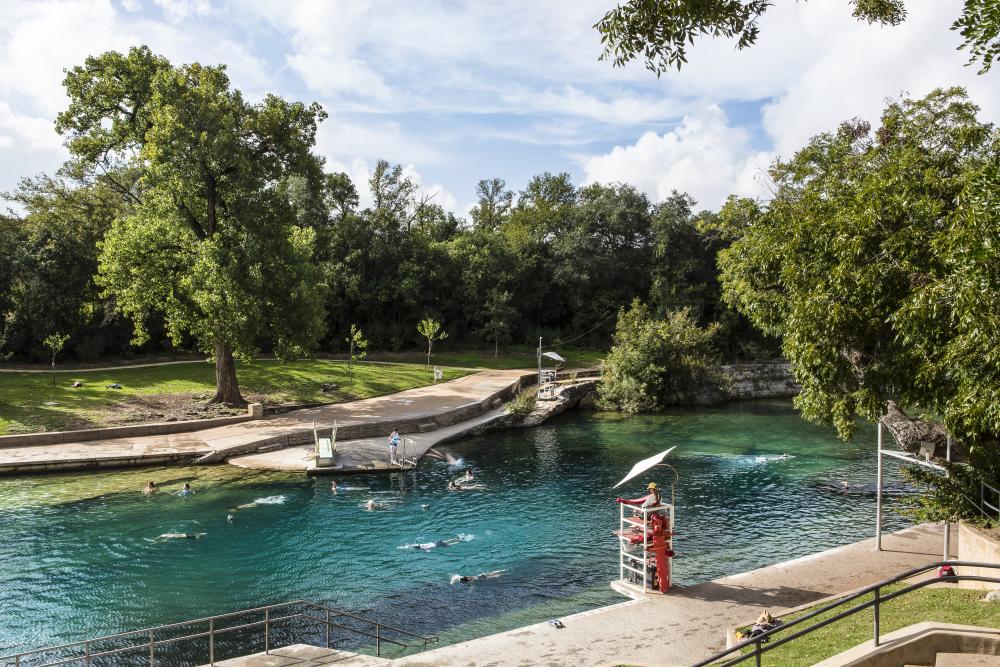 Make Waves at Barton Springs Pool
It's no shocker that water would be at the top of our list as Austin contains some of the best watering holes in Texas. In the heart of Zilker Park, minutes from downtown, lies this 200-yard swimming paradise. Barton Springs Pool features year-round, 68-degree clear water, with space for deep diving, shallow areas for the kids and grassy hills for sunbathing. Closed Thursdays, entry fees apply.
Get Live at Blues on the Green
Once a month, the city comes together in the heart of Zilker Park to jam out to local Austin artists at this much-revered summer music series. Bring a blanket, a cooler and a few good friends, then pick a spot and enjoy live music while the sun sets over the Austin skyline. Admission is free and food is available for purchase.
Take a BBQ Tour
Ah, barbecue – we love it here and if our clothes smell of smoked meats for the remainder of the day, that's A-ok. Try some of the best barbecue Austin has to offer by visiting the stops on our list or simply have the experts show you around.
Hit the Trails and Go Camping
Find out what the folks at Hipcamp have to say about the "Ten Best Parks to Visit & Camp Near Austin" including Perdernales Falls State Park, where portions of the Oscar-nominated film "Boyhood" was filmed. Or pack up your gear and explore these local bouldering hotspots.
Unplug and Unwind at Unplugged at the Grove
Shady Grove, an Austin favorite eatery partners with KGSR to bring your local artists every Thursday throughout the summer. This free event is one of Austin's longest running free live music series. Here you can enjoy a meal, drinks or simply the vibe, bring a blanket and get there early, spots fill up fast.
Spend the Fourth of July in Austin
Still looking for a destination to spend the fourth? Look no further, we have you covered; from fried chicken to fireworks, Austin serves up its best events on our country's Independence Day.
Check out a Craft Brewery or Distillery
These micro facilities seem to keep popping up around Austin these days, and who's complaining? Connoisseur or not, check out an Austin brewery or distillery for some refreshing summer drinks, keep you cool throughout the summer.
Experience Jaws from the Water
We cringe at the thought, but it's an exciting event to say the least. Take Steven Spielberg's classic "Jaws" projected on a giant screen and you dangling in the water on an inner-tube - do you dare? Grab your tickets quick! Shows will take place at the new Next Level Ride Austin and food and drinks will be on-site for purchase at this Amity Island-style cinema event.
Schedule a Tee Time and Hit the Greens
This year brought the 2016 World Golf Championships – Dell Match Play to Austin and it was an exciting time around here. Come see for yourself why Austin was chosen among many cities to host this prestigious event. The pros at The Austin Golf Trail can help you plan your next golf vacation to central Texas.
Get classy with the Austin Symphony's "Concerts in the Park"
Now in its 14th summer season, this free ensemble concert series takes place in the Hartman Concert Park in front of the Long Center City Terrace and runs on Sunday evenings from June 5 through August 28, 2016 (except July 3rd) at 7:30 p.m. Be sure to pack a picnic blanket and your dancing shoes!
Cool Off at Hamilton Pool Preserve
One of the most inviting geological phenomena of the Texas Hill Country, Hamilton Pool provides excellent hiking and trail running trails, as well as a stunning swimming hole with a 50-foot waterfall. Hop on in - the water is nice and cool. Reservations required between May 15 and September 30.
See the Stars at the Lady Bird Johnson Wildflower Center
Head to the Wildflower Center on Thursday evenings during the summer for free Nature Nights, packed with family fun. Learn about the ecology of Central Texas, craft and hike - plus, kids 12 and under get a free gift!
Sing along with Shrek at the Zilker Hillside Theater
Nestled across the way from Barton Springs Pool, the Zilker Hillside Theater continues to bring musical enjoyment to people of all ages. Bring a blanket and pick your spot to enjoy "Shrek the Musical" after taking a swim in Barton Springs Pool. July 8 – August 13, 2016. Thursdays through Sundays at 8:15pm.
Watch the Sun Set at Sound & Cinema
So many free events under the stars! Do512 and Alamo Drafthouse have teamed up to pair local live music with a classic movie to follow. Food and beverages can be purchased on-site from food trailers as part of the Long Center's "All Summer Long Series." Select Wednesdays in July and August at 7pm.
Kayak, Canoe or Paddle Board on Lady Bird Lake
This body of water runs directly through the middle of the city, offering views of downtown and relaxation at it's best. You can rent these watercrafts from various vendors lining the shores of Lady Bird Lake. After you're done cruising, enjoy a walk along the Ann and Roy Butler Hike-and-Bike Trail, providing a scenic 10-mile loop around the lake. Rates vary, about $15/hour.
Get Weird at the Keep Austin Weird Fest and 5K
Mark your calendars for June 25, 2016! Although Keep Austin Weird is not the official slogan of Austin, we certainly own it and encourage visitors to join in on the funky festivities at this annual event. Benefiting the Central Texas Food Bank, there will be food vendors, live music and, well, plenty of weird characters.
Catch a Classic at the Summer Classic Film Series
Take a break from the sun and head over to the historic 100-year-old Paramount and State Theatres for the 41st Summer Classic Film Series. Exciting new additions at the theatre include digital cinema (DCP), a new crystal-clear sound system and a new screen. $12 admission.
Get the Local Live Music Experience
Blues on the Green and Unplugged are just two of the many live music events happening this summer in Austin, check-out out our blog to see where to catch the best shows in the Live Music Capital of the World.
Zipline over Lake Travis
Thrill seekers: take a canopy tour at Lake Travis on the longest zip line in Texas and the 8th largest in the world! Each adventure from Lake Travis Zipline Adventures includes a boat ride, 5 zips and full day pass to hang out at the private lake front park!
Park it on a Patio
Looking to enjoy great eats and drinks with great friends for hours on end? Patio sitting has become a way of life here in Austin, check-out our top recommended spots – "Best of: Austin Rooftops & Patios."
What are your Austin summer essentials? Let us know and show us your summer pics with #TrueAustin on Twitter and Instagram!
Contributed by Samantha Been.