Summer, spring, fall or winter, there's rarely a bad time to get out on the water for a paddle session in Austin. So grab a kayak or paddle board, drop your camera in a waterproof bag, and enjoy the sun from one of the many sparkling bodies of water nearby. Here are the best places to kayak and paddleboard in and around Austin.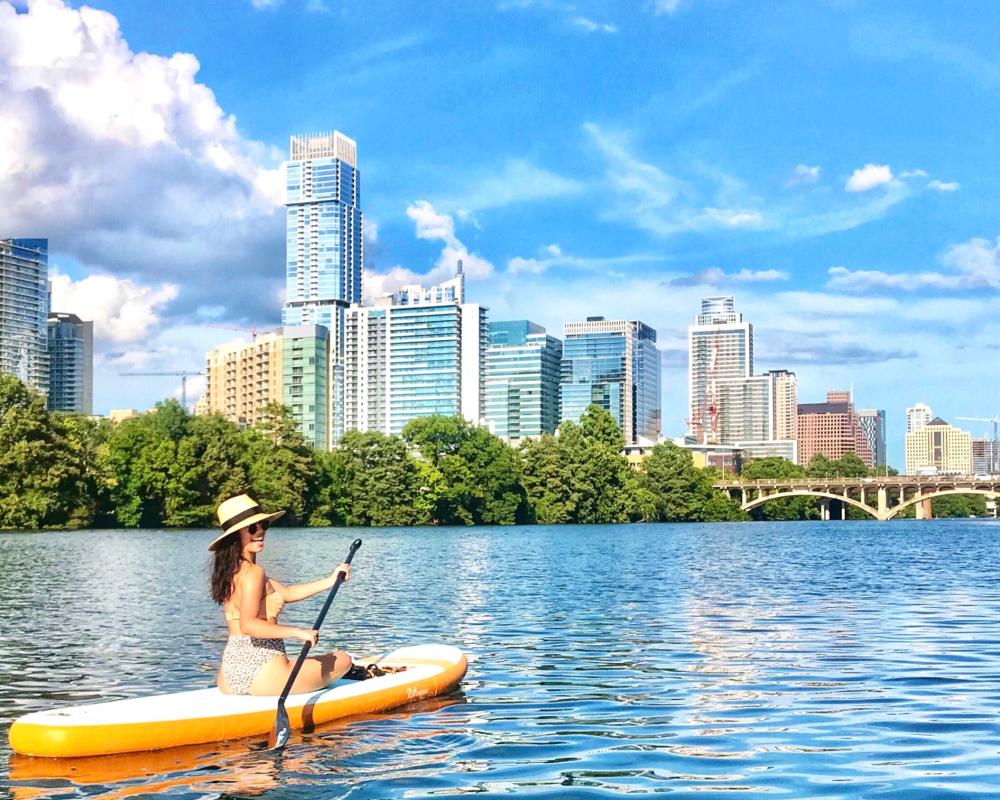 Lady Bird Lake SUP. Credit Rachel Phillips.
Lady Bird Lake
Lady Bird Lake is perhaps the most popular spot to kayak in the city because of its calm, motorized watercraft-free waters and stunning views of the city. Plus, there are plenty of launch points and boat rentals along the lake and easy paddling access to peaceful Barton Creek. The three most easily accessible launch points are the Austin High Boat Launch or the Festival Beach boat ramp on the north side of the lake or the Rowing Dock on the south side.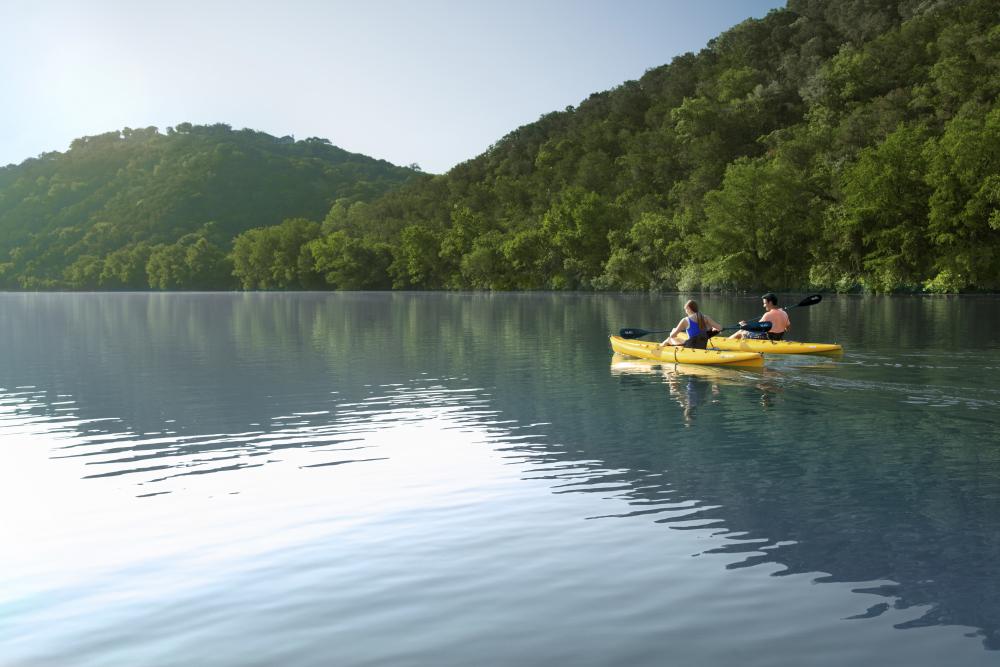 Courtesy of Lake Austin Spa Resort.
Lake Austin
While kayakers may have to deal with occasional motor boat traffic in Lake Austin, there are typically far fewer kayakers on this dammed portion of the Colorado River and still plenty of choice nature views. Launch from Walsh Boat Landing (parking across the street costs $5 for the day) and paddle up the lake and back or take a detour down Bee Creek for a quiet paddle surrounded by old trees and lakefront homes.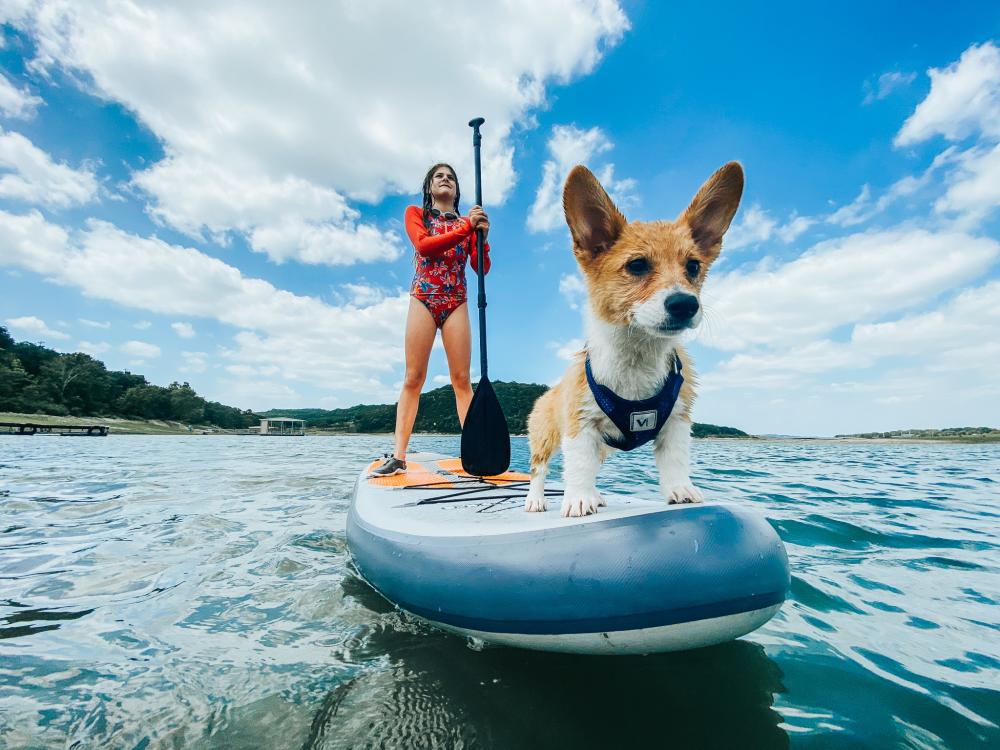 SUP on Lake Travis. Credit Everstream and Co.
Lake Travis
Escape the city and take a turn around Lake Travis for an enjoyable day on the water. A popular destination for pontoon and other boats rentals, you can also paddle along the shoreline or out to a handful of small islands in the natural Hill Country setting. Launch at Mansfield Dam Boat Ramp, Tom Hughes Park, or Cypress Creek Park (all of which involve entry or parking fees).

Lake Georgetown
Located in Georgetown, Lake Georgetown is a popular spot among residents in the northern end of the city. There are paved multi-purpose paths, plenty of space for fishing, playgrounds and shelters and a boat launch area. The lake isn't a huge one, but if you plan to fish from your boat, relax on the lake, or take the kids out for an easy, leisurely paddle, this is the place.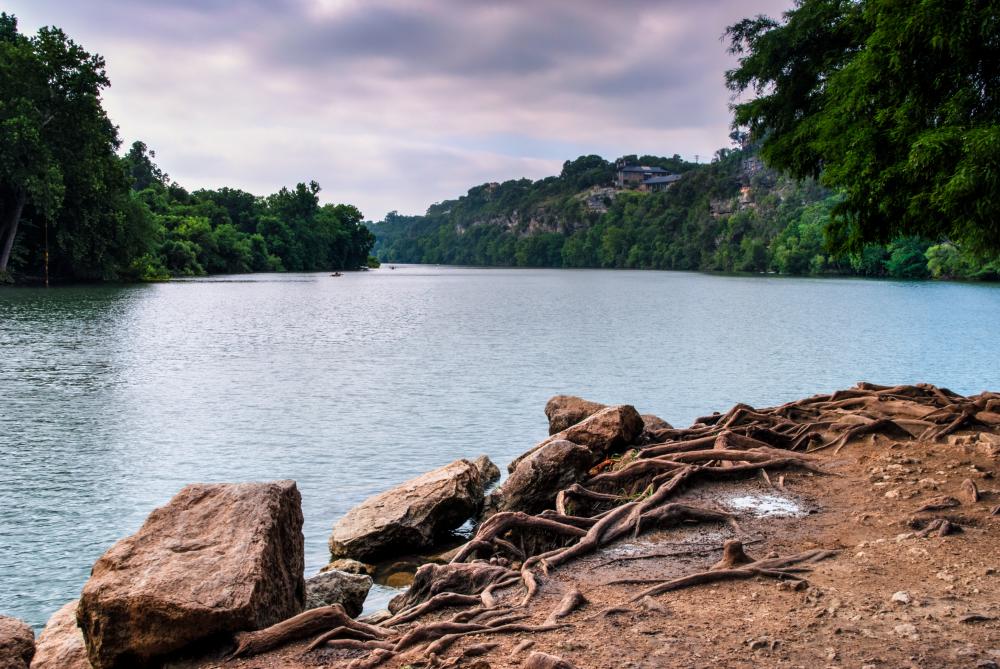 Red Bud Isle. Credit Jim Nix.
Red Bud Isle
Red Bud Isle on Lady Bird Lake is a destination unto itself. A quiet, dog-friendly park with easy, shaded trails, it's also an exceedingly pleasant place to kayak. Launch near the parking lot and paddle in a loop around the island for a quick trip, or venture farther out to enjoy views of hilltop mansions and wildlife like herons and swans. Pro tip: the point of the island offers a picture perfect spot to sit in the shade and enjoy a picnic.
Inks Lake
Located an hour and a half Northwest of Austin, but worth the drive, Inks Lake State Park is the perfect place to paddle if you're also looking to indulge in a refreshing dip and maybe a bit of cliff jumping. The state park also has hiking trails and a sprawling campground if you want to make a day or weekend of it. You can even rent canoes and kayaks at the park store if you didn't bring your own. Entrance to the park is $6 per day for adults and free for children 12 and under.
San Marcos River
Prefer a paddle where you're not going in circles? Head just a few miles south to San Marcos and paddle down the San Marcos River. It's a one-way paddle on fairly slow-moving water, so you'll need to schedule a pickup, but several rental companies can oblige whether or not you rented boats from them. FYI, you may have to portage past one or two dams if you plan to go far.
Where to Find Kayak and Paddle Board Rentals in Austin
Lady Bird Lake
Lake Austin
 Lake Travis
Looking for more water activities? Check out our Guide to Swimming Holes in and Around Austin.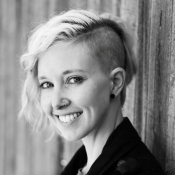 Contributed by Alisha McDarris.
Alisha McDarris is an Austin-based writer who specializes in writing about the outdoors, vegan food, and sustainable travel. She is the co-founder of sustainable travel and adventure blog Terradrift.com and accompanying YouTube channel (youtube.com/terradrift) and her outdoorsy tips and tricks, plus vibrant photos of wild spaces and places, can be found on Instagram (instagram.com/terradrift).