Get to Know Austin's Entertainment Districts
You're headed to Austin and want to experience the amazing nightlife scene that you've heard so much about. But where do you begin? Whether you're looking for a dance party at a club, want to jam to local bands, or prefer to check out the artisan craft brew scene, our dynamic city has options for every preference. Check out this guide to Austin's entertainment districts and find your niche for a night on the town.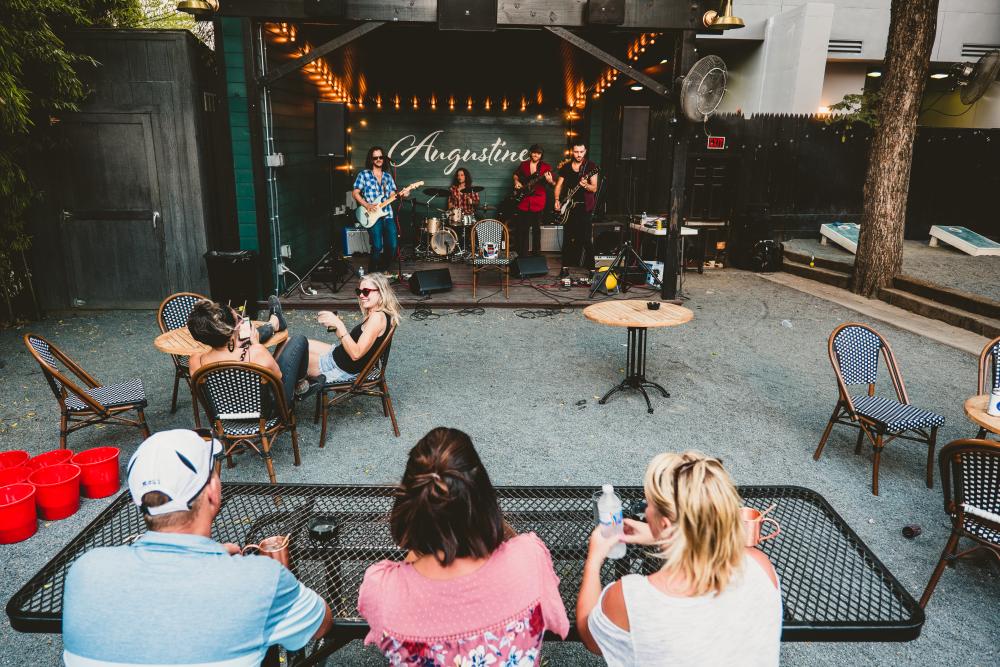 East Austin is a growing favorite for the young and hip who are looking for a more alternative vibe. Walk this area east of Highway 35 on Sixth Street to experience food trucks and a variety of casual and quirky bars, graffiti-style murals and alternatives for dancing, dining and coffee.
Top Picks: Celebrate an all-out fiesta at Suerte. Post up on the patio overlooking East Sixth Street and dig into elevated Mexican cuisine like the oak-grilled carne asada with peach pico and carrot-habañero salsa, sided with a rosé sangria. Other neighborhood favorites include Whisler's, The Liberty, and The White Horse (don't forget your dancing shoes!).
This unique entertainment district is lined with historic houses converted into bars with as much personality as the city itself. Here you'll find local brews, great food trucks and rousing games of backyard corn hole. Rainey Street is perfect for a laid-back night of socializing with co-workers, attendees or new friends over live music, and is located just east of the Convention Center, near Highway 35.
Top Picks: Yes, there is a tattoo on the Banger's menu. And yes, it's free. Walk the block to check out these other spots on Rainey: Half Step, Lustre Pearl and Idle Hands. Make it a Sunday Funday and begin the morning with mimosa specials at any of the Rainey Street bars, and a stop at Icenhauer's to dance during Super Soul Sundays with a live band.
Looking to go out with a younger crowd? Sixth Street is the place to be, and is arguably one of the most famous nightlife districts in town. Complete with inexpensive drinks, dancing, music and Greek life, this stretch of road rests between Congress Avenue and Highway 35 and kicks off around sunset through 2 a.m. This crowd definitely likes to celebrate, and street traffic is closed for pedestrians Thursday-Saturday nights.
Top Picks: Dance on the rooftop at Maggie Mae's and enjoy people-watching below as you listen to live bands. Other favorites include Firehouse Lounge for a fresh take on classic cocktails (hint: the bar is hidden behind a bookcase), Midnight Cowboy (an underground cocktail speakeasy; reservations required), or Blind Pig Pub and Flamingo Cantina for live music.
As the name suggests, many of these bars and restaurants have been renovated from former warehouses in the heart of downtown. More mature crowds hang here, and live entertainment and good food make for dynamic nightlife scenes and gorgeous rooftop views.
Top Picks: Expect live outdoor music at Cedar Street Courtyard seven nights per week. Enough said. Also check out skyline views from Speakeasy, cocktails at retro-inspired basement lounge Dumont's Down Low, or get your dance on along rainbow row at Rain or Oilcan Harry's.
From South Congress or "SoCo," to a variety of music venues and restaurants off of South Lamar and South First Street, this district below the river gets its funky flair from its locally-oriented shopping, live music and cuisine, and boasts some of the most photographed and famous street art in the city.
Top Picks: Be sure to hit up Continental Club, an iconic Austin live music venue on South Congress, for local staples of the rock and blues scenes, as well as national touring artists. Other South Austin faves include The Golden Goose for craft cocktails or Loro for a unique Asian smokehouse-meets-Texas barbecue flair. Get a two-step lesson at Broken Spoke or listen to live tunes seven nights a week at Saxon Pub. 
For the ultimate music fan, this district is your scene. From big-name acts to local newbies, this street blares with the sounds of live bands at a variety of bars and clubs along the block. Here, the Live Music Capital of the World® successfully showcases its refreshing appreciation for diversity through sound. This crowd is a toss-up of people there to listen to artists, and is located northeast of the Sixth Street district.
Top Picks: Stubb's BBQ's local live music legacy dates back to Willie Nelson and Johnny Cash singing for their supper at the original location. Also be on the lookout for raw acts popping up at Cheer Up Charlies, Mohawk (a cornerstone of the Red River music scene) and Empire Control Room.
2ND Street boasts large selections of locally owned shops, restaurants and entertainment venues on the south side of downtown. The nightlife scene here is trendy and chic, luxurious and sophisticated; perfect for the cocktail-sipping, upscale crowd.
Top Picks: The longest-running music television series in U.S. history is filmed at ACL Live at the Moody Theater, a 2,750 person-capacity concert hall. For a low-key evening, check out ACL Live's smaller sister venue 3TEN. Head to Lamberts for slow-smoked barbecue in a restored historic building, or Violet Crown Cinema, before heading out for the evening.
Often referred to as the "Market District," this district is Sixth Street fun with the more mature crowd. Twenty and 30-somethings can be found here with a variety of bars for dancing, dining and open-porch bars.
Top Picks: Popular stops on this street include Irene's and Ranch 616! Raise a beer to the man in black at Mean Eyed Cat, a Johnny Cash-themed bar, or two-step at Donn's Depot, built in an old train car.
Domain NORTHSIDE
Spend some time at Domain NORTHSIDE, where you can do a little shopping at Golden Bones and Frye or Free People, then have dinner at Flower Child. Explore the hoppin' Rock Rose nightlife district with a pint at Jack & Ginger's or a rooftop beverage at 77 Degrees.
The Arboretum
The park-like Arboretum features a collection of stores that include Pottery Barn and Orvis. But it's also worth checking out for the nearby dining and nightlife options. Enjoy a drink on the overlook at the Renaissance Hotel's Knotty Deck + Bar.
Last but not least, be sure to get a safe ride home! More details on local ride share companies, buses, cabs and more can be found here!