From wildflower-draped hillsides to historic relics from the Old West, the Texas Hill Country offers a peek into simpler times and the state's storied past. Today, you'll even find a few newcomers calling the countryside home, such as boutique wineries, craft breweries and farm-to-table restaurants.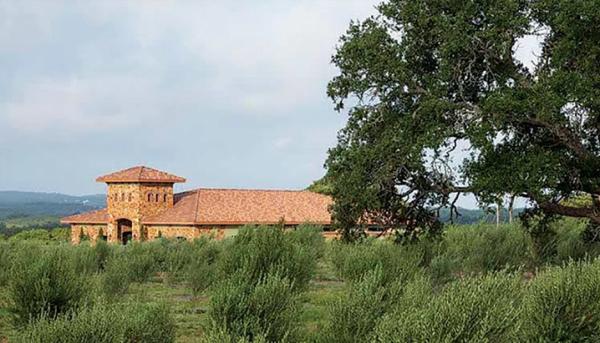 Courtesy of Texas Hill Country Olive Company.
1. Take a tour of the gorgeous orchards at Texas Hill Country Olive Company, and then sample their premium olive oils and inventive balsamic vinegar flavors (think wild cherry, vanilla fig and white lemon). Dripping Springs
2. Cool off in the jade-green waters of Hamilton Pool Preserve, where a grotto and a 50-foot waterfall give this swimming hole an exotic vibe. Requires a reservation in peak months. Dripping Springs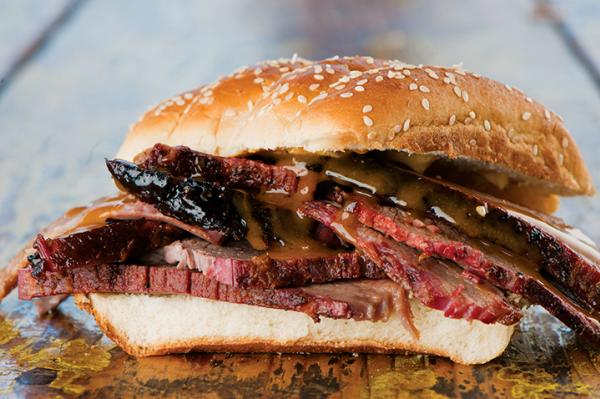 Brisket Sandwich. Courtesy of The Salt Lick BBQ.
3. Grab a picnic table beneath the old oak trees and dig into a piled-high plate of brisket, pork ribs, sausage and more at The Salt Lick BBQ, a cash-only BYOB barbecue joint. Driftwood
4. Get an insider's look at the "Texas White House"—and the birthplace, home and final resting place of the 36th President of the United States—at the Lyndon B. Johnson National Historical Park. Johnson City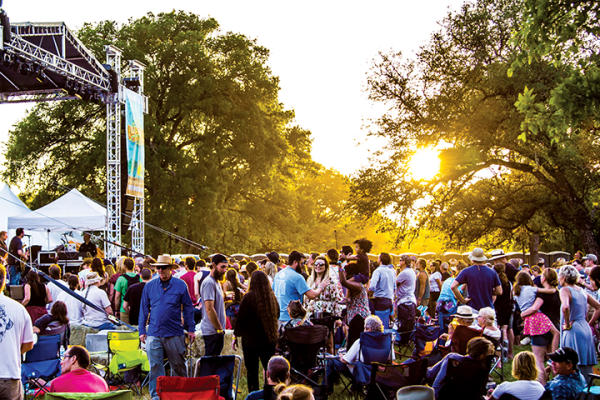 Old Settler's Music Festival. Credit Sigi Gonzalez.
5. Set up your campsite, and get ready to clap your hands and move your feet at the annual Old Settler's Music Festival, where roots and Americana music fills the air. Dale
6. Order a plate laden with classic Southern sides and juicy, oak-smoked meats, from charred brisket to sauce-mopped spare ribs, at The Original Black's Barbecue—family-owned since 1932. Lockhart

Luckenbach General Store. Credit Robynn Dodd.
7. Pick out a souvenir at the legendary Luckenbach Texas General Store (housed in an 1800s trading post), or catch a country western concert any night of the week at Luckenbach Dance Hall. Fredericksburg
8. Spend the night in a country-style cabin at The Back Forty of Fredericksburg, a bed-and-breakfast ranch with a relaxing European-style spa and picturesque pasture views. Fredericksburg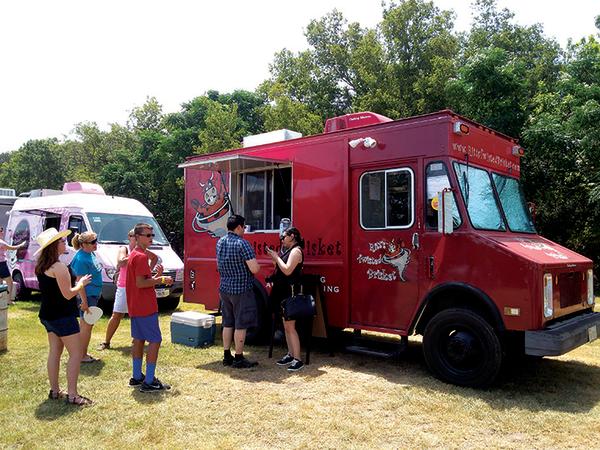 Hill Country Food Truck Festival. Credit A. Koone.
9. Bring your appetite to the annual Hill Country Food Truck Festival (June), where you can fill up on regional specialties, Texas Hill Country wines and local craft beers while listening to live music. Fredericksburg
10. Tee off at the resort-like Lady Bird Johnson Golf Course, an 18-hole, par 71 public golf course boasting firm, fast greens and challenging water and sand bunker features. Fredericksburg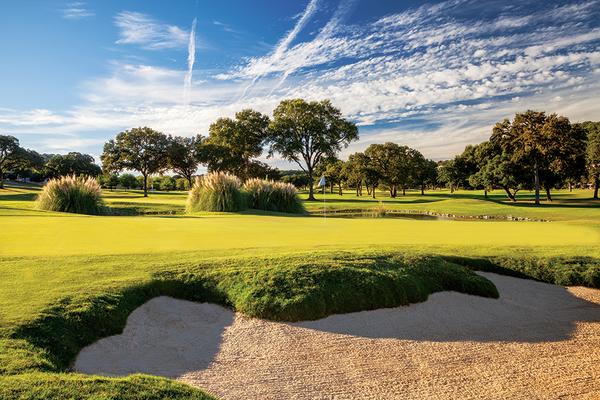 Courtesy Tapatio Springs Hill Country Resort.
11. Live in luxury at Tapatio Springs Hill Country Resort, where you can spend your days on the golf course, reclining by the pool or getting pampered at the spa. Boerne
12. Crunch on some of the best darn pickles around at Carousel Antiques & Fickle Pickles, where you can enjoy the weird (and wonderful!) combination of antique shopping and pickle sampling. Boerne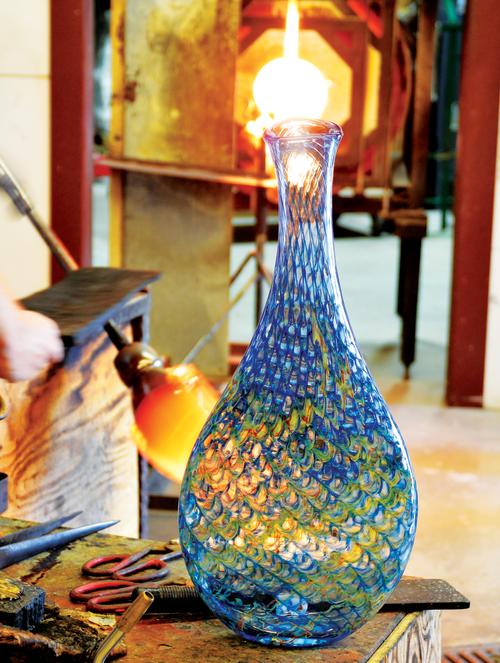 Courtesy Wimberley Glassworks.
13. Watch artisans in action as they handcraft delicate pieces of colorful vases, sculptures and glassware at Wimberley Glassworks, and then browse the gallery to take a piece home. San Marcos
14. Auto enthusiasts will be swooning at the pristine automobiles (we're talking 1930s roadsters, 1950s convertibles—even a 1901 Curved Dash Olds) at Dick's Classic Garage and Car Museum. San Marcos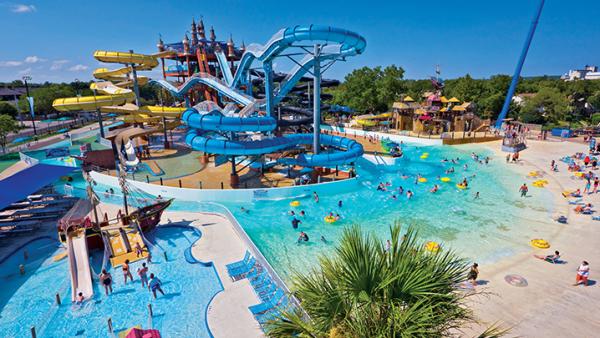 Schlitterbahn. Courtesy of New Braunfels Convention Center & Visitors Bureau.
15. Zoom down a super-fast waterslide or kick back in an ultra-chill endless river; at Schlitterbahn Waterpark & Resort, the choice is up to you. New Braunfels
16. Let your kids' imaginations run wild at McKenna Children's Museum, where interactive exhibits mean they can play in a pretend hospital, campground, outer space and more. New Braunfels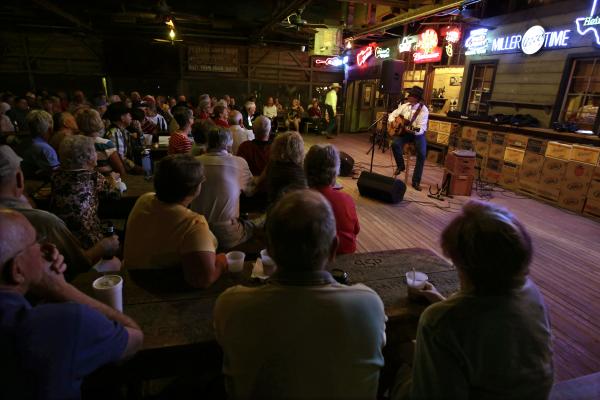 Gruene Hall. Courtesy of Erich Schlegel.
17. Grab a beer and boot scoot along the wooden floors of Texas' oldest dance hall, Gruene Hall, where music legends and up-and-comers have been performing since 1878. Gruene
18. At Wimberley Zipline Adventures, soar above Texas Hill Country as you zoom over canyons and creeks on a course consisting of 10 separate zip lines for about a mile of aerial adventures. Wimberley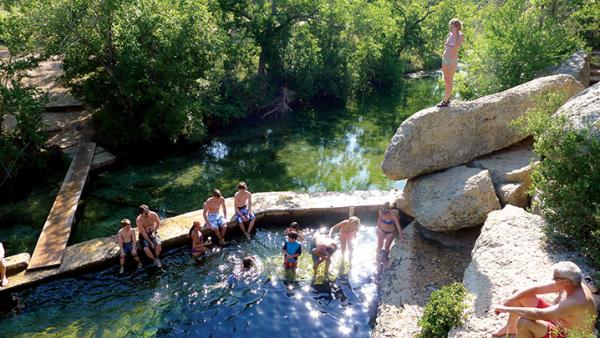 Jacob's Well. Credit Patrick Lewis.
19. Fancy yourself a bit of a daredevil? Test your courage, and take the plunge into the cold, dark waters of Jacob's Well, a spring-fed swimming hole with underwater caves. Wimberley
20. Tour the magnificent red brick Caldwell County Jail Museum to step back in time and see where outlaws were held. Then, walk by the 1894 Caldwell County Courthouse in the town square for another breathtaking example of historic architecture. Lockhart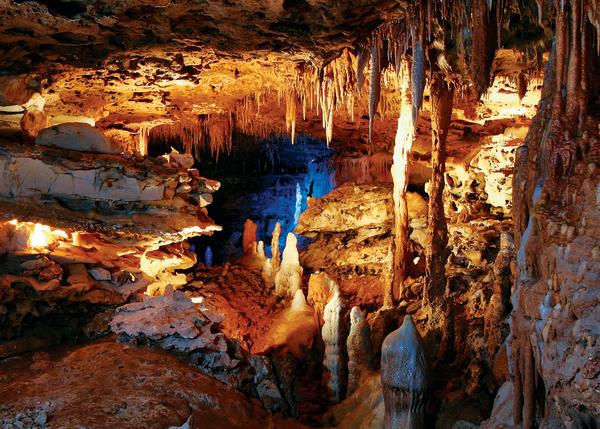 Inner Space Cavern. Credit Dr. Richard Wills.
21. Explore massive caverns dripping with stalactites and passageways with awe-inspiring rock formations at Inner Space Cavern, one of Texas' best-preserved caves. Georgetown
22. Castle-like towers, twisty slides, climbing structures and play features for all ages make the Creative Playscape at San Gabriel Park a fun stop for little ones. Georgetown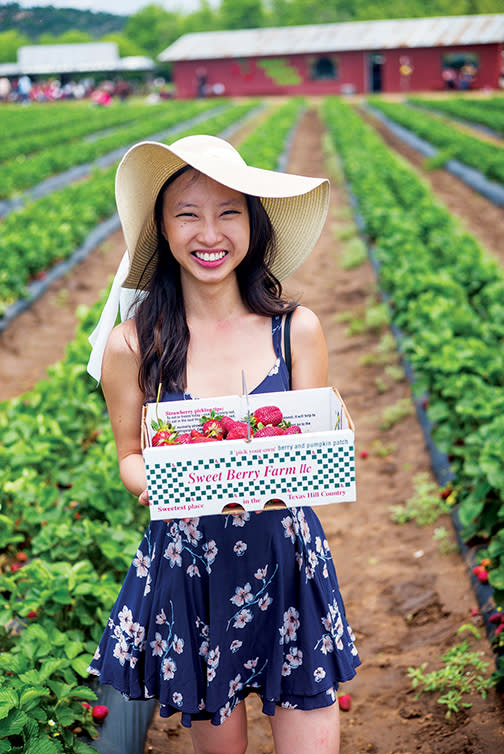 Sweet Berry Farm. Credit Jane Ko, A Taste of Koko.
23. Pick your own fruit right from the fields at Sweet Berry Farm, where sun-ripened strawberries, luscious peaches and burst-in-your-mouth blackberries beckon. Marble Falls
24. Go treasure hunting in the Big Red Barn to unearth rare finds like fine glass, period furniture, vintage silver and classic Americana, at The Original Round Top Antiques Fair. Round Top
25. Get a taste of homemade pie at Royers Pie Haven, where decadent sweets like sugary pecan pie and tart key lime chess pie are served from the cutest little clapboard bakery. Round Top