Austin is one of the top cities to visit in the US, and it's no surprise since there's a plethora of things to do, see and eat. Whether you want to cool off with a quick dip or embrace the live music and nightlife scene, it's nearly impossible to get bored in this thriving city. The buzzy, casual and friendly vibe of the city is perfect for a solo traveler, and we have you covered with this solo traveler's guide to Austin.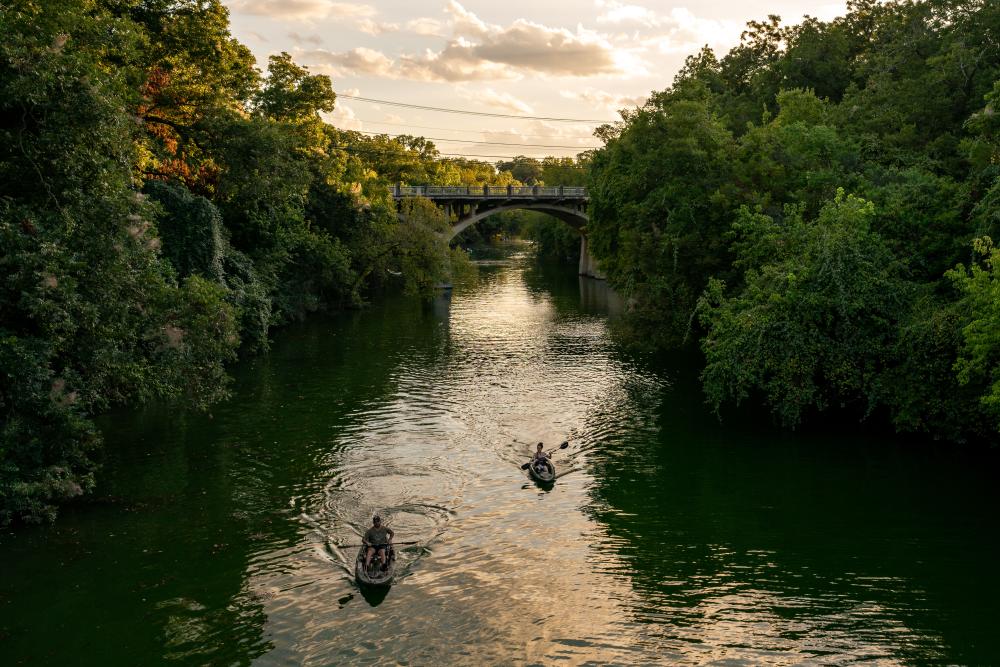 Kayaking on Barton Creek. Credit Ryan Kyte.
When to Go
One of the (many) reasons to love Austin is our year-round, mild temperatures and sunshine. Spring and fall have warm but moderate weather, generally 70-80 degrees, while the winter season is mild at 60 degrees. Summer is hot, so embrace those outdoor, shaded patios and make sure to spend plenty of time on the lake. If your timing is flexible, you may want to check out a list of festivals and plan your trip to coincide with an event of interest to you.
Where to Stay
Downtown
This is the heart of the city, where you'll find the majority of museums, upscale restaurants and a happening nightlife scene. Staying here will put you close to all the action, but can also be a bit pricier than other neighborhoods. Just off Congress Avenue and Sixth Street, the Aloft Austin Downtown, perfect for solo travelers who like to be in the middle of all the action. This stunning high rise hotel boasts trendy decor, an indoor/outdoor rooftop bar and a coffeehouse serving local coffee and breakfast tacos.
South Congress
Just across the river from downtown is South Congress, where you'll find a funkier, more eclectic side of Austin in the shopping, dining and arts scene. There are also several bus lines, making it a great central location. The boutique Kimber Modern hotel is located in South Congress, but close to downtown. The location is amazing, and it gives you the feel of living in a modern condo (so you can pretend you're a local).
East Austin
Populated by creatives, there's always a concert, art show or film series going on in East Austin. The bar scene is also thriving. This is the most rapidly changing part of the city and the perfect up-and-coming place to stay. Native Hostel is a luxury hostel, or co-living space, that provides the elegance of a luxury hotel with the convenience, comradery and affordability of a hostel. If you prefer more unique accommodations and you're itching to embrace the "Keep Austin Weird" mentality, this is for you.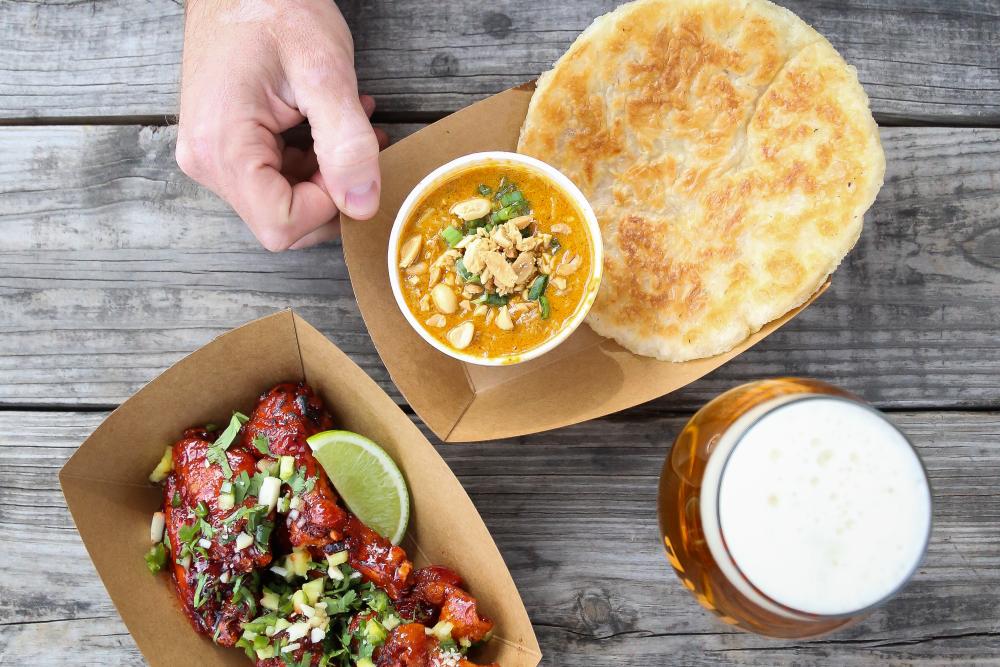 Zilker Brewing and Spicy Boys. Credit Eva Vaughn.
Where to Eat
Food Trucks
The food truck game is strong in Austin. We even have dedicated food truck parks with multiple options! Here are a few favorite trucks and trailers to check out:
Via 313: Detroit-style pizza served out of several pizza trailers throughout the city
Pangea Lounge: A food truck park with all kinds of international cuisine, live music, and local artisan booths
Patrizi's: Freshly made pasta? What could be better!
Emojis Grilled Cheese: You can't beat these upgraded grilled cheese sandwiches
Spicy Boys: Located at the Zilker Brewing Co. taproom, this trailer specialized in fried chicken (+ vegan options!)
Get Your Drink On
Plan to visit at least one of Austin's many wineries, distilleries and breweries. All these spots are lots of fun and great places to meet lively locals, enjoy some good beverages and maybe listen to some cool tunes.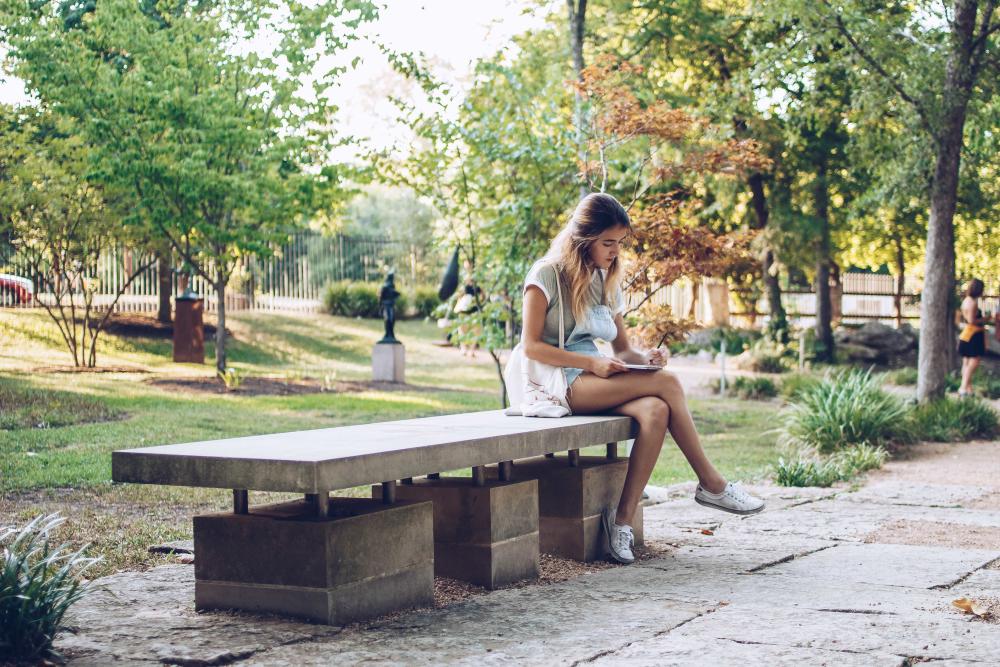 Courtesy of UMLAUF Sculpture Garden & Museum.
What to Do
Shop for Vintage Finds
Shopping is one of my favorite things to do solo and Austin has a ton of great vintage stores. Here are a few to add to your list:
North Loop Vintage Shops: Go here to find a collection of vintage clothing and furniture stores, ranging from antique to mid-century modern
South First Street: A chic, walkable neighborhood in South Austin, away from the hustle-and-bustle of South Congress. Find galleries, vintage shops and murals on almost every corner
East Austin: A beautiful selection of vintage clothing and gift shops, spaced out between hip restaurants, sidewalk cafes, historic attractions and more
Listen to Live Music
As the Live Music Capital of the World®, catching a live show is a must when visiting Austin. With more than 250 live music venues, there's bound to be a perfect spot for every visitor. These are fantastic spots for solo travelers.
Get Artsy
There is such a great art scene in Austin! Here's what we recommend for your perfect solo trip:
Contributed by iExplore.