Looking for the best places to explore and stay while visiting Austin? We've put together a hit list of the city's most happening neighborhoods. Just pick an area of town and discover the unique districts that are home to some of the hippest restaurants, shops and live music venues in Austin.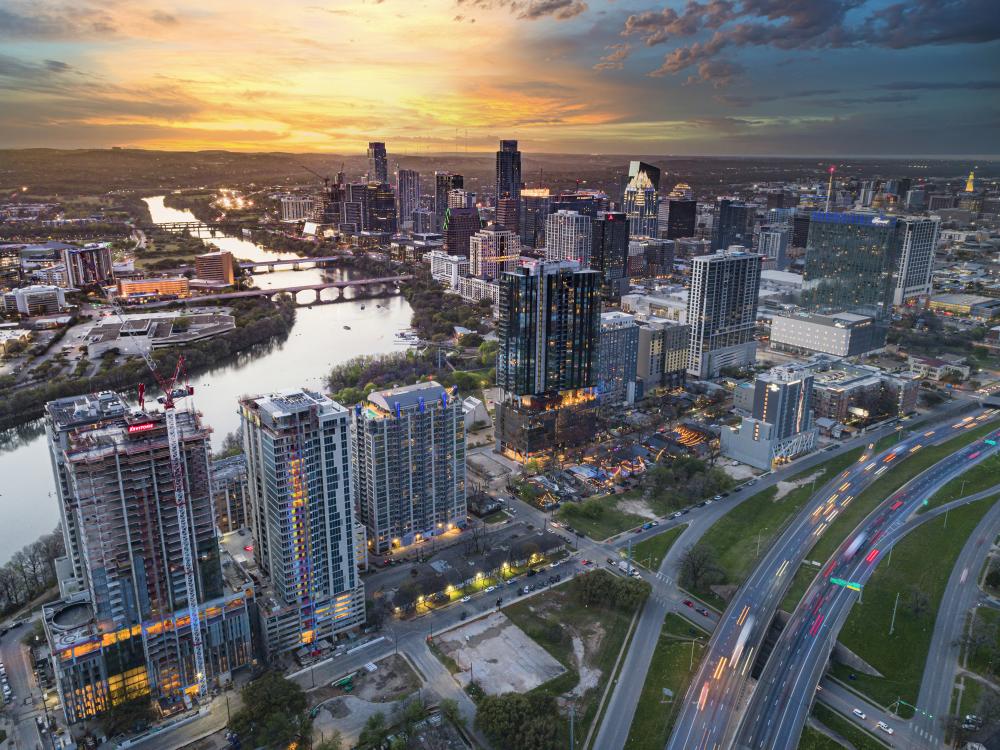 Downtown Austin. Credit Gino Barasa.
The heart of Austin beats in the Downtown area, home to live music venues, historic theaters, museums and trendy 2nd Street District boutiques. Find hotels in Downtown Austin.
Rainey Street
Rows of cute bungalows have been transformed into Rainey Street, a lively scene of restaurants, bars and food trucks. Have brunch at Banger's Sausage House & Beer Garden or dinner at Emmer & Rye, hailed by Bon Appétit as one of the best restaurants in the country. Afterwards, play bar games and have a drink with friends at Lustre Pearl. Find hotels near Rainey Street.
Red River Cultural District
Live music venues of all stripes can be found on Red River Street, including Stubb's Bar-B-Q, Mohawk rock club, hip-hop at Empire Control Room & Garage and local up-and-coming bands at the queer-owned Cheer Up Charlies. Stop in at Hoboken Pie after the bars have closed, when the people watching is outstanding and New Jersey-style foldable pizza slices hit the spot. Find hotels near Red River.
Sixth Street
Sixth Street has always had a quirky allure, with its loud bars sharing space with world-class hotels. Maggie Mae's rooftop is a great place for dancing and drinking. You won't get in without a reservation, but Midnight Cowboy, a speakeasy that takes pride in its creative cocktails, is well worth the extra effort. Stop in at Casino El Camino for a late-night burger. Or enjoy Tex-Mex cuisine with a frosty margarita on the rooftop patio at Iron Cactus. Find hotels near Sixth Street.
Warehouse District
Fourth Street is home to some of the city's best LGBTQ+ bars, where you can dance the night away at Highland Lounge, grab a drink and watch a drag show at Oilcan Harry's, or lounge on the back patio at Rain on 4th. Catch concerts at ACL Live at The Moody Theater or Parker Jazz Club. Find hotels near the Warehouse District.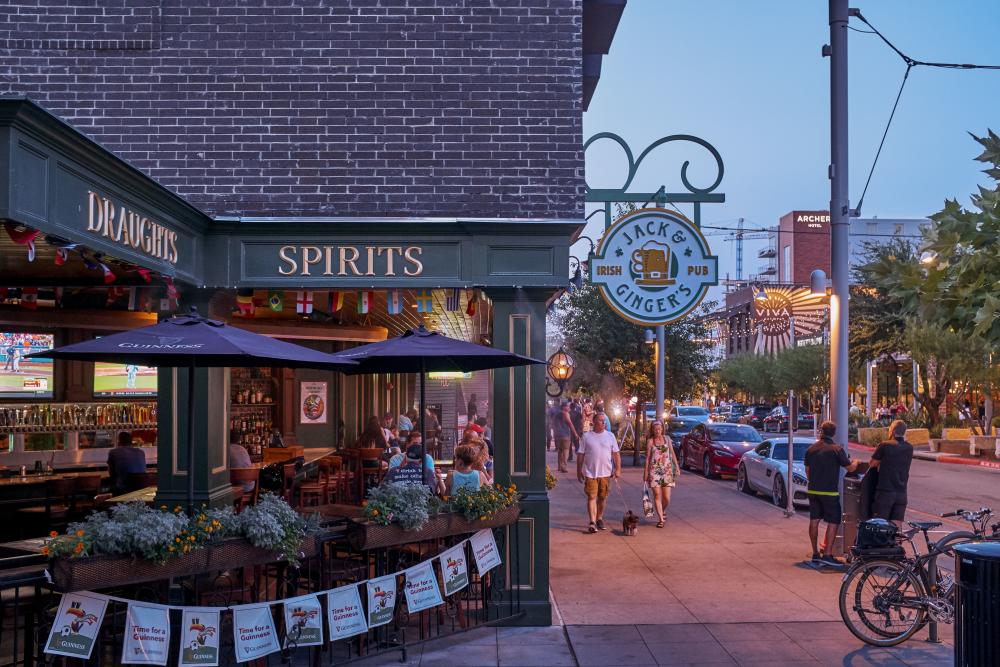 Jack & Gingers on Rock Rose. Credit Alex Hayden.
North Austin offers something for everyone, with award-winning breweries and restaurants, mixed-use shopping developments and family-friendly entertainment. Find hotels in North Austin.
The Arboretum
At The Arboretum, a park-like outdoor shopping center, try family-style classics at Juliet Italian Kitchen or sweet scoops from Amy's Ice Creams. Then shop for fancy olive oils at Austin-owned Con' Olio or taste regional Mexican fare at Manuels. Find hotels near The Arboretum.
Domain NORTHSIDE
At  Domain NORTHSIDE, dig into Italian comfort food at Taverna or gastropub fare at Culinary Dropout. Once fueled up, set off on a shopping spree at Kicking It for a pair of cool, new sneakers, or find a signature piece by jewelry designer Nina Berenato. Find hotels near Domain NORTHSIDE.
Rock Rose
Wander down Domain NORTHSIDE's Rock Rose entertainment corridor and pop into Thai-Kun for Thai food or Second Bar + Kitchen to try the bacon-and-bleu pizza with truffles. For a high-energy DJ experience, check out 77 Degrees, a Miami-style rooftop with craft cocktails. Or settle on the expansive patio with pub grub and a pint at Jack & Ginger's, an Irish bar with 80+ beers on tap and an extensive selection of Irish whiskeys. Find hotels near Rock Rose.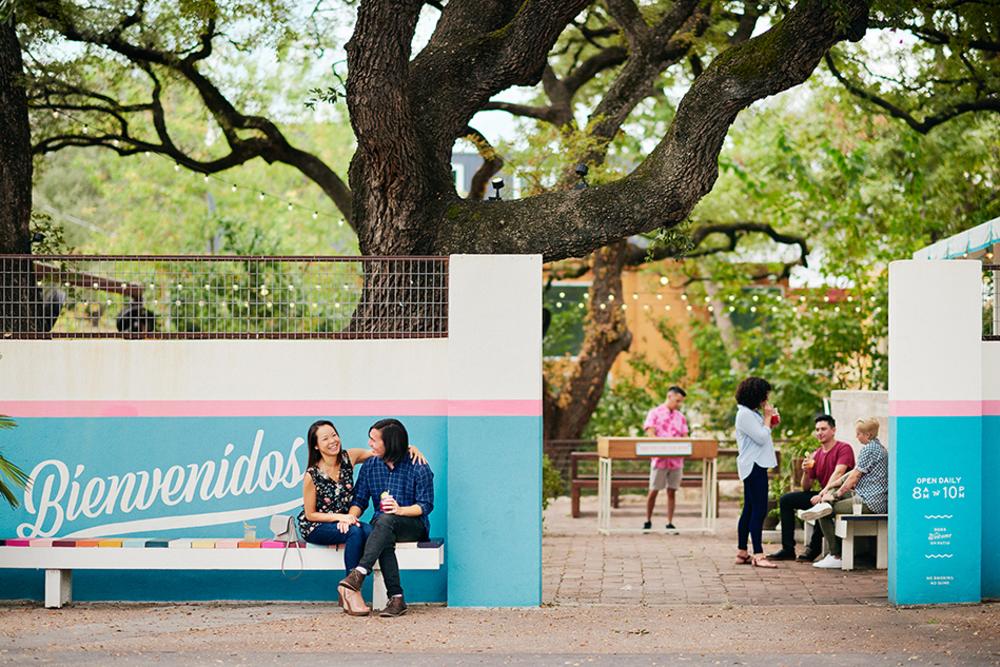 Fresa's. Credit Nick Simonite.
South Austin is a melding of old and new, with trendy restaurants and bars interspersed among long-time Austin originals. Find hotels in South Austin.
South Congress Avenue
Start your day with an iced turbo coffee at Jo's Coffee and a selfie snapped in front of the famous I love you so much mural painted on the wall. Then wander down South Congress Avenue and shop for kicks at Allens Boots, locally made crafts at Parts & Labour, or jewelry at the gorgeous Kendra Scott flagship store. Take a break with a frosé on the patio at the hipster Hotel San José, fresh oysters on the beachy deck at Perla's, or  Mexican food and live music at Güero's Taco Bar. Find hotels near South Congress.
South First Street
South First Street is a fashionista's dream, home to jewelry stores, vintage shops like Bloomers and Frocks, and modern boutiques. Be sure to take a pic of the iconic Greetings from Austin mural. Dine under the majestic live oak trees at Fresa's or enjoy the all-day vegetarian breakfast served up at Bouldin Creek Cafe. Find hotels near South First Street.
South Lamar
South Lamar is a thriving neighborhood in the center of Austin's booming dining and entertainment scene. Check out Austin Art Garage for affordable local art in a funky setting, and MOSS for consignment designer fashions. Feast on seafood and sushi at the contemporary Japanese Uchi, or sample the Korean barbecue and Mexican fusion fare at Chi'lantro. And don't miss the multistory location of local favorite Easy Tiger Bake Shop & Beer Garden, overlooking Barton Creek. Later, do some boot scootin' at the famed Broken Spoke dance hall. Find hotels near South Lamar.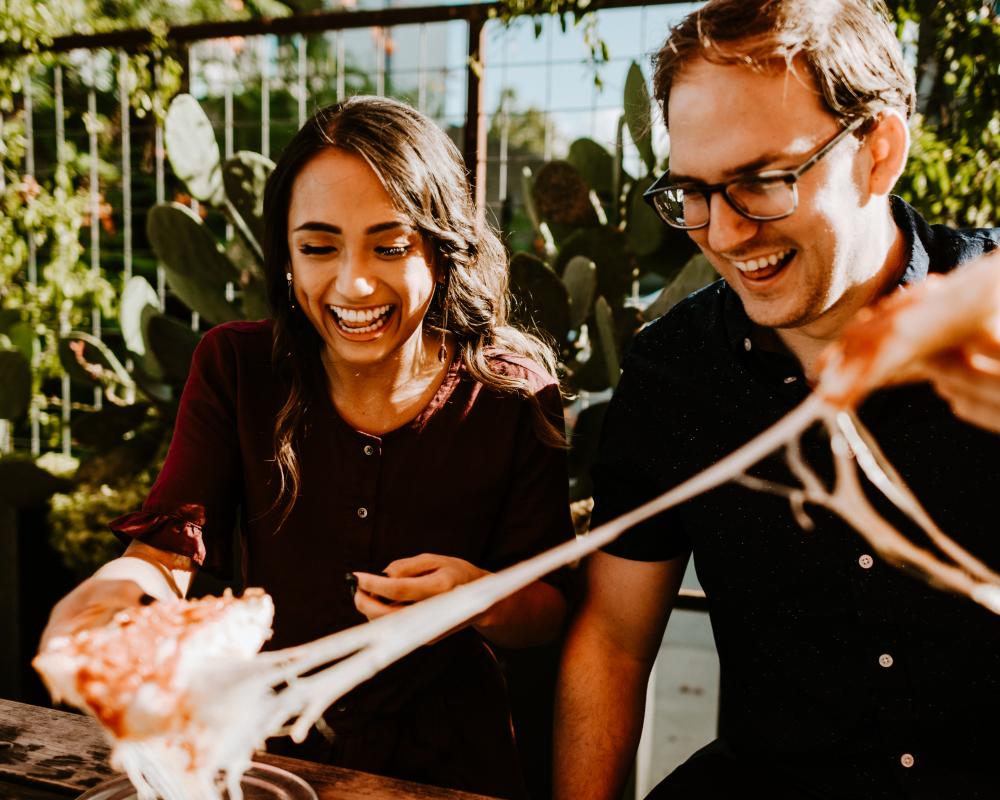 Via 313. Credit Stephanie Rogers Photography.
East Austin is one of the city's biggest and most diverse neighborhoods, where you'll find an ever-growing range of cuisine and culture. Find hotels in East Austin.
East Sixth Street
Indulge in global cuisine, including empanadas at Buenos Aires Café, Mexican snacks at the nearby Hay Elotes and Japanese noodle dishes at Ramen Tatsu-ya. Then sip a craft cocktail at Whisler's or get to two-steppin' at the White Horse honky-tonk. Sober up at one of the many food trucks parked at the East Sixth bars, like Via 313 for cheesy, Detroit-style pizza. Find hotels near East Sixth Street.
East Cesar Chavez
Drop by the famous la Barbecue for brisket and ribs. Or try the Don Juan taco at Juan in a Million. Browse Resistencia Bookstore for Chicano, Latino, Native American and queer bilingual literature. Then grab a cocktail and comfort food and settle onto the patio at Drinks Lounge. Find hotels near East Cesar Chavez.
Mueller
The Mueller planned community includes popular spots like Colleen's Kitchen—known for its clever cocktails, Lick Honest Ice Creams (try the sweet persimmon), Alamo Drafthouse Cinema and Thinkery children's museum. Find hotels near Mueller.
Cherrywood/Manor Road
Cherrywood Coffeehouse offers a bit of everything, from all-day breakfast to beers on tap and live music on the weekends. Try Hoover's Cooking, a Manor Road staple known for its soul food specialties. Check out the nearby Bird Bird Biscuit (open for takeout with advance online orders only), serving house-made buttermilk biscuit sandwiches. Or order a hearty sandwich paired with a craft beer at Haymaker. Find hotels near Cherrywood and Manor.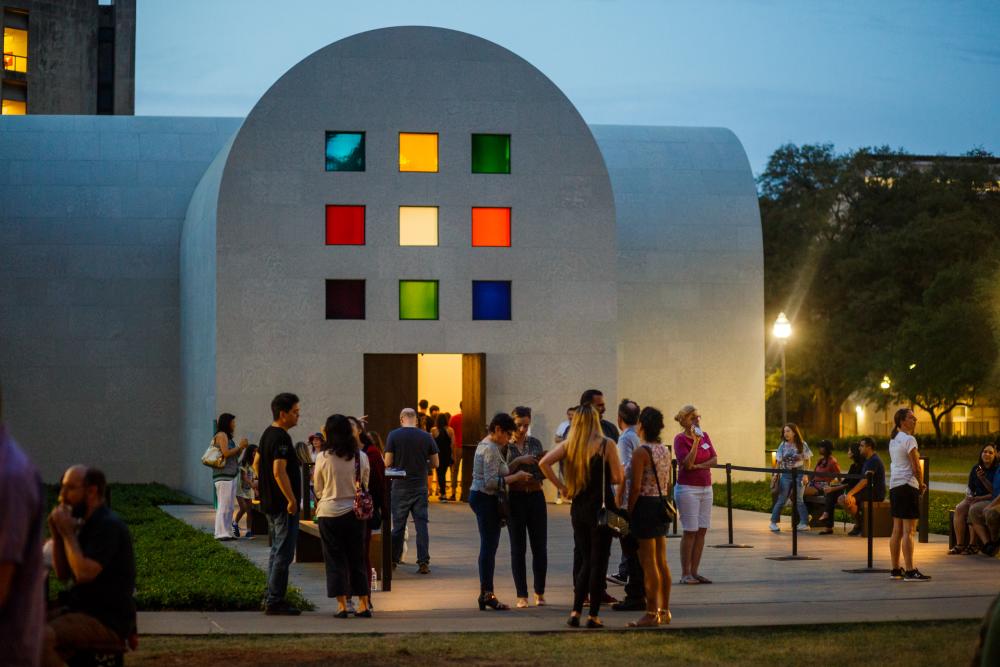 Ellsworth Kelly's "Austin." Courtesy of Blanton Museum of Art, The University of Texas at Austin.
Eclectic Central Austin is located just north of the University of Texas at Austin campus, and is home to everything from country bars and record shops to cutting-edge restaurants and lounges. Find hotels in Central Austin.
University/The Drag
The University of Texas at Austin's sprawling campus houses several impressive museums, including the LBJ Presidential Library, Harry Ransom Center and the Blanton Museum of Art. See live music at Hole in the Wall, where famous folks like Spoon and Gary Clark Jr. have played the small stage, or The Ballroom at Spider House Cafe. Don't miss the old-fashioned burgers and shakes at Dirty Martin's Place. Find hotels near the University and the Drag.
Hyde Park
Nestled in the shady hamlet of Hyde Park is the Elisabet Ney Museum, housed in what was once the German-born sculptress' studio. The museum displays the largest collection of Ney's work in the world, including portrait sculptures of notable 19th century Texans. Stop in for a homey meal at Hyde Park Bar & Grill, situated in a beautiful 1920s home. Or grab a deli sandwich from Avenue B Grocery & Market, the oldest grocery store in Austin. Find hotels near Hyde Park.
Anderson Lane
This happening road is lined with must-eat stops. Sample a handcrafted beer and juicy burger at Hopdoddy. Pick up a healthy wrap stuffed with farm-fresh veggies at Baby Greens. Or stop in for an Iced Mojo (the house specialty) and a curried chicken salad sandwich at Epoch Coffee. Find hotels near Anderson Lane.
Burnet/North Loop
Both Burnet and North Loop and are home to fantastic dining and relaxed nightlife options along with several vintage shops selling retro clothing, home decor and mid-century modern furniture. Room Service Vintage and Blue Velvet are good bets for fantastic, affordable finds. Try the incredibly inventive dishes at Barley Swine, the brainchild of James Beard Award finalist Bryce Gilmore. Or go for Asian-Southern comfort food at The Peached Tortilla. Cap off your night with a craft cocktail at the cozy Tigress Pub. Find hotels near North Loop.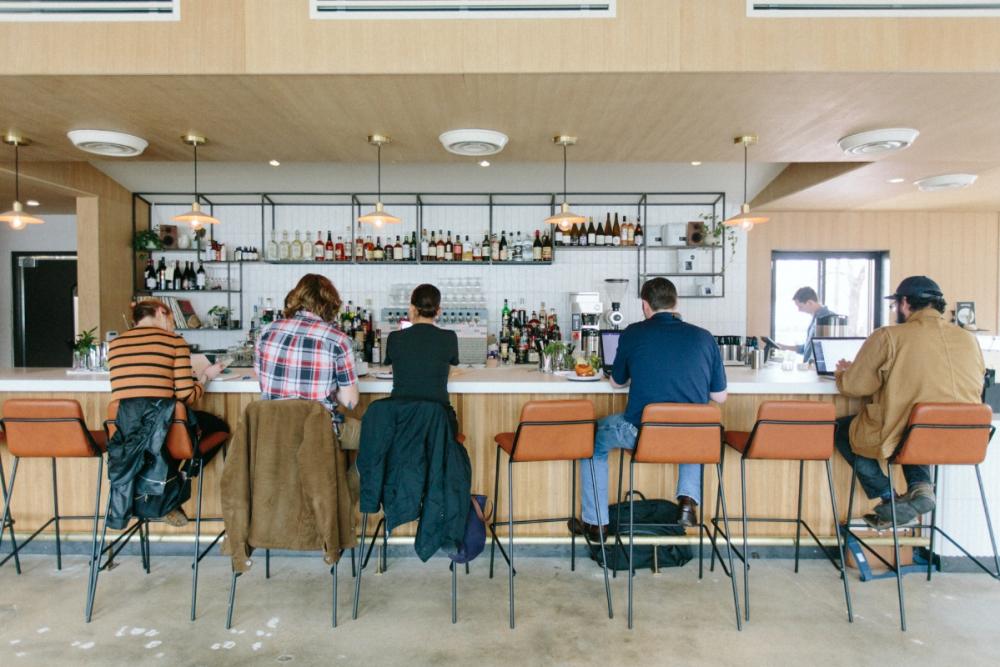 Better Half Coffee & Cocktails. Credit Alison Narro.
Escape the urban sprawl in West Austin, which gives way to rolling hills, scenic drives and postcard-perfect lakes. Find hotels in West Austin.
West Sixth Street
Experience the Whole Foods Market flagship store, which features restaurants, a beer and wine bar, a food truck, and a rooftop that hosts live bands and events. Flip through records and catch in-store jam sessions at Waterloo Records. Or attend an author event at BookPeople. Dip fried oysters in creamy green goddess sauce, sided with a tequila-spiked Ranch Water, at Ranch 616. Sample the legendary soup dumplings from Wu Chow. Or dip into Taquero Mucho, where the pink decor, drinks and tacos make for the ultimate Instagram moment. Find hotels near West Sixth Street.
Clarksville Historic District
Check out the art galleries in the Clarksville Historic District, including works by regional artists at Wally Workman Gallery, master artworks by Chagall and Picasso at West Chelsea Contemporary art gallery, and paintings by local artists at Davis Gallery. Have a drink on the patio at Better Half Coffee & Cocktails. Or try the Italian-spiced rotisserie chicken at Swedish Hill, a combination cafe, bakery and deli that offers an all-day menu. Find hotels near Clarksville.
Tarrytown
This affluent neighborhood is located between downtown Austin and Lake Austin. Stop in at The Beer Plant, Austin's first vegan gastropub, serving a fully plant-based menu and craft beer in a farmhouse pub atmosphere. Sit on the charming patio at Littlefield's Tacos + Coffee and enjoy to Austin favorites together: Fleet Coffee and Veracruz All Natural tacos. Explore the art museum and outdoor sculpture garden at the beautiful Contemporary Austin-Laguna Gloria, set on the Lake Austin waterfront. Find hotels near Tarrytown.
Westlake
The Westlake area features natural wonders like the Wild Basin Wilderness Preserve, featuring a 227-acre habitat for native flora and fauna and almost three miles of hiking trails. Try the modern Thai dishes at the award-winning Sway. Grab a pancake breakfast at Kerbey Lane Cafe. Or enjoy a craft cocktail made with local spirits and Texan cuisine at Jack Allen's Kitchen. Find hotels near Westlake